You can't go wrong with this Greek Yogurt Cheesecake that is light and fluffy and topped with fresh blueberries.
Summer by far is my favorite season of them all, not only do I get to spend it by the lake with the kids, but it also the prime time for berry picking. No matter how many we pick or buy they never seem to last long in our house between the kids and the adults. Just last week I purchased two large containers of blueberries with the plans to freeze one container to use in a couple different recipes I wanted to make, but of course I didn't freeze them quick enough and opened the fridge to an empty container.
When Bruegger's recently asked me to put a personal twist on a summertime favorite using items from the Bruegger's limited-time summer menu I immediately thought about a cheesecake once I spotted the Greek Blueberry Whipped Cream Cheese. I have been craving cheesecake for the last few weeks with fresh berries on top. This time I only used blueberries, but I already have plans to make a mixed berry cheesecake when we have friends visit in a few weeks.
Blueberry Cheesecake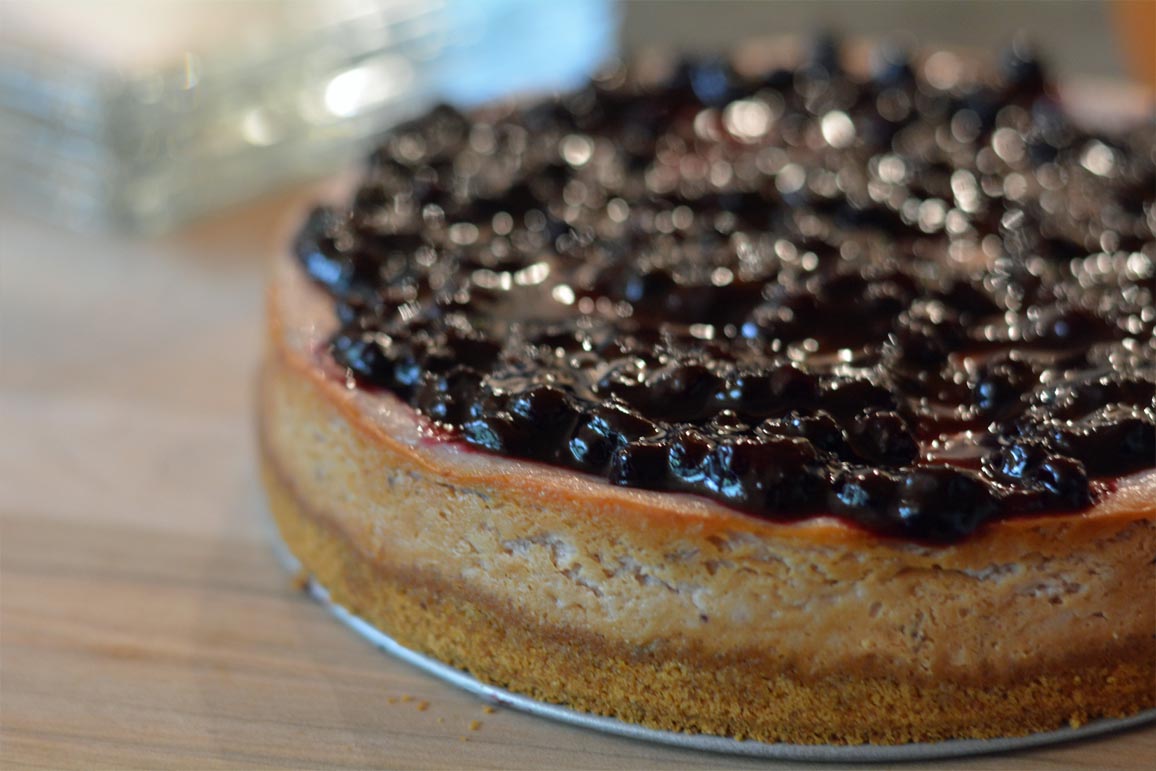 How to Make a Greek Yogurt Cheesecake:
I swapped out a few ingredients in my Greek Yogurt Cheesecake recipe with fresh blueberries, blueberry cream cheese, and blueberry Greek yogurt to give a twist on a family favorite.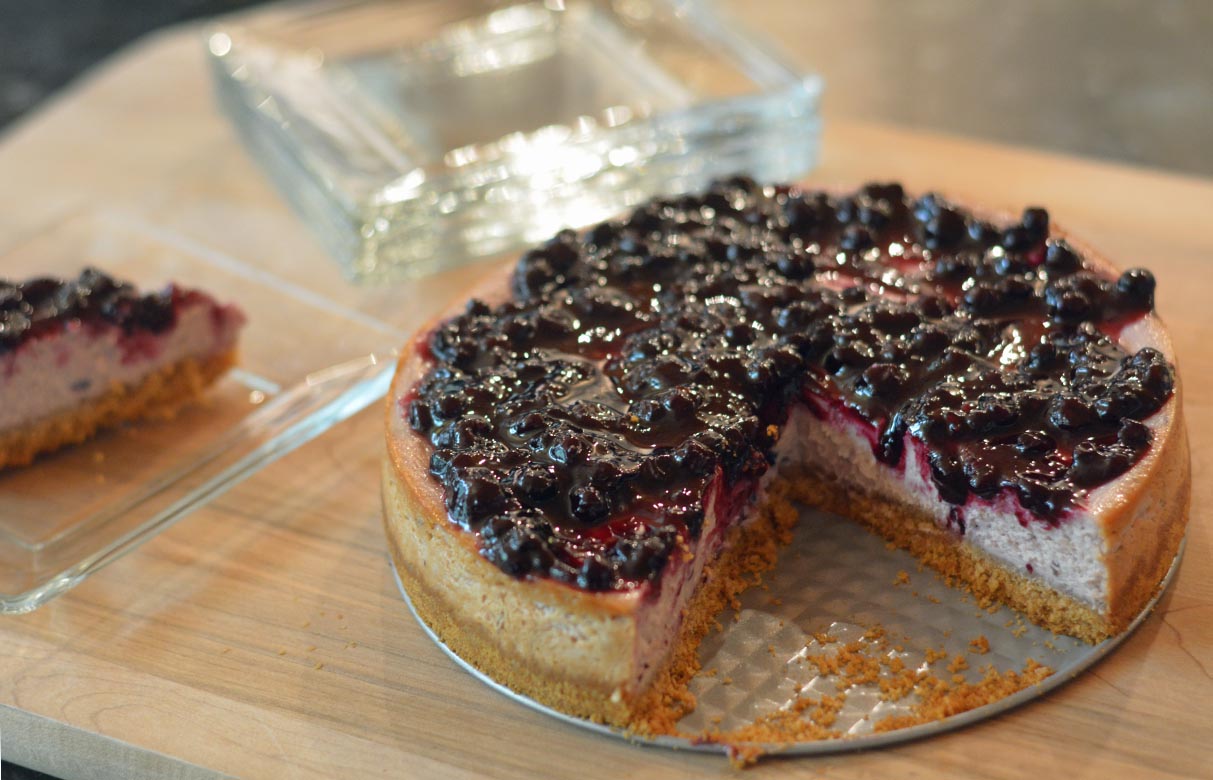 What You'll Need to make this Blueberry Cheesecake
Crust:
1 cup graham cracker crumbs
1/4 cup unsalted butter, melted
Filling:
(2) 6.5 oz container Greek Blueberry Whipped Cream Cheese
3 eggs
1 cup sugar
(2) 5.3 oz Blueberry Greek Yogurt
1 teaspoon vanilla extract
2 tablespoon lemon juice
1/8 teaspoon salt
1 tablespoon cornstarch
Blueberry Sauce:
2 cups blueberries
1/4cup sugar
1 tbs lemon juice
1½ tablespoon cornstarch
Blueberry Cheesecake Recipe:
Preheat oven to 325 degrees F.
To make the crust:
Mix graham cracker crumbs with melted butter until evenly moistened.
Press the crumb mixture onto the bottom of a 9-inch springform pan. Bake the crust until golden brown, about 8 to 10 minutes. Remove from oven and set aside to let cool.
Cheesecake filling:
In a mixer, cream the cream cheese on medium speed until smooth. Gradually add in the eggs one at a time.
Add in sugar and mix together until everything is blended. Mix in Greek yogurt, vanilla extract, lemon juice, salt and cornstarch.
Pour into pre-baked crust.
Bake at 325 degrees F for about 40-50 minutes.
Remove from the oven and let cool at room temperature for 30 minutes.
Loosely cover with foil and place in refrigerator for at least 4 hours. The middle will continue to set as it cools.
Top with Blueberry Sauce
Blueberry Sauce:
Using a fork smash up blueberries
In a small saucepan whisk together blueberries, lemon juice, and sugar.
Bring to a boil for 1 minute.
Whisk in cornstarch and boil for 1 additional minute.
Remove from heat and let cool.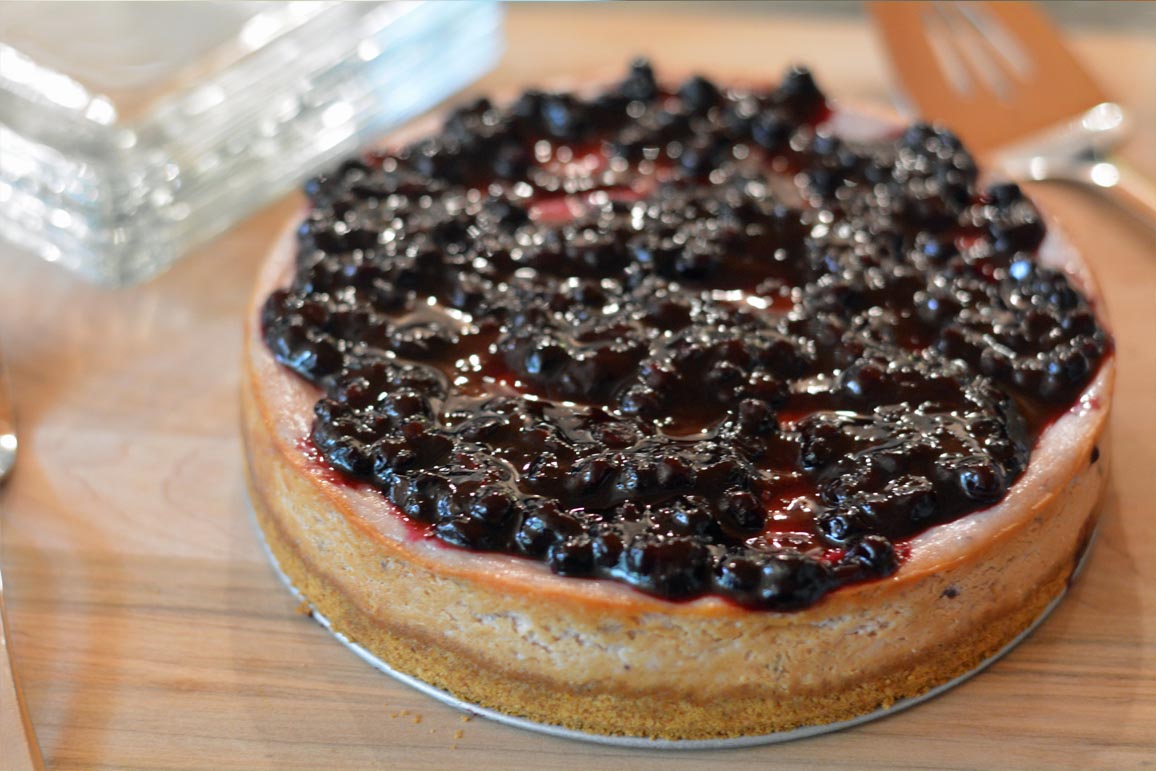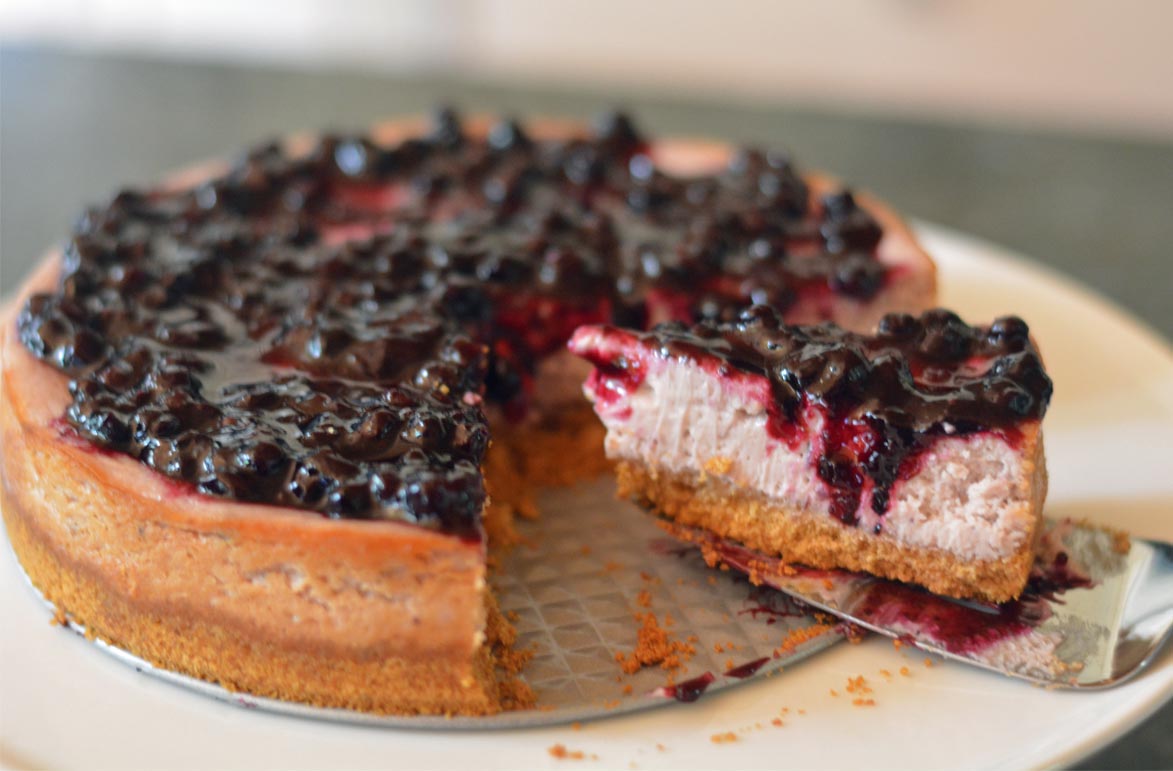 *The Greek Blueberry Whipped Cream Cheese from Bruegger's is only available for a limited time, so stop in before you miss it!
Gift card, information and giveaway prize provided by client. All opinions are my own personal and honest thoughts.  By entering this giveaway you agree to the Giveaway Rules. This giveaway will end on September 15, 2016 at 11:59pm EST. The winner will be chosen via Rafflecopter. The winner will have 24 hours to respond or a new winner will be selected. You must be 18 years or older. Open to U.S. residents only.