I participated in an Influencer Activation Program on behalf of Mom Central Consulting for Sea Tow. I received a promotional item to thank me for participating.
Every year I look forward to Memorial Day weekend when we can put the boat in the water. I grew up boating, and love that I can now enjoy boating with my children and husband. We spend most weekends out on the water, water-skiing, tubing, wake-boarding, fishing, and taking relaxing sunset cruises. The boys enjoy boating just as much as I do, often tubing every time we visit the lakehouse. We just ordered them their first pair of training water-skis and I'm looking forward to watching them learn how to water-ski next week.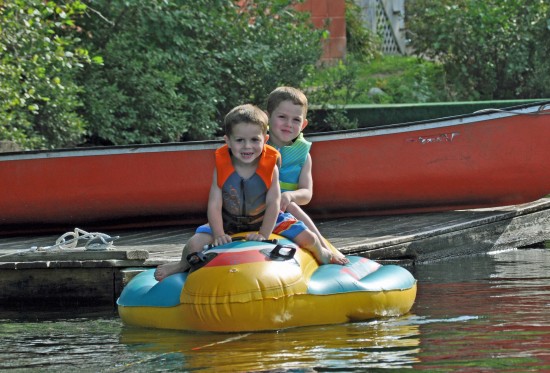 Most of the weekend days are spent on the boat so we make sure to always bring along sunscreen,  snacks, and drinks. Next week I'm planning on making Kickin' Corn Salad to enjoy, you can find the recipe as well as other fabulous snack ideas by checking out these Kid Friendly Snack Recipes.
While we make sure to always try to be prepped for our days out on the lake there have been a few instances where assistance was required.  I can remember one time being anchored down near the opposite end of the lake to watch fireworks, we ended up running the battery dead and needed a tow back to the dock. While there were hundreds of boats around, everyone was in a rush to leave after the fire works ended, we eventually found someone to tow us back but it took some time. For times like that, Sea Tow would have come in handy.
Become a Sea-Tow Member This Summer!
Run out of fuel? Off shore in your boat and need a tow? Get stuck in a sandbar when the tide goes out? Become a Sea Tow member and boat worry free knowing an expert is just a call a way. Sea Tow is the #1 choice for boaters nationwide for expert on-water assistance.
As a Sea Tow member you'll receive
Free towing
Fuel drops
Jump starts
Priority service
Automated Radio Checks
24/7 nationwide coverage
Disentanglements
Covered Ungroundings
There are two different options for a Sea Tow membership.
Gold Card is $169 a year
Lake Card is $119 a year.
If you are running low on Life Jackets, visit a Sea Tow Loaner Life Jacket Stand Location.
Do you enjoy boating? Have you ever used the Sea-Tow service?