I participated in an Influencer Activation on behalf of Influence Central for LISTERINE. I received samples for this review and a promotional item to thank me for participating.
Now that school is back in session and the fall sports have begun, we are finally getting settled and back into a routine. While our day to day activities are always changing, our nighttime routine is always the same. As soon as 6:45pm rolls around it's time take a bath/shower, brush teeth, floss, mouthwash, pajamas, storytime and then tucked into bed for 7:30pm. By sticking to a routine there is no whining about watching tv for another 5 minutes, or playing for just a little bit longer, as soon as the clock hits 6:45, the boys know that it's off to the bathroom.
Build Heroic Habits in Your Family:
The past couple of weeks we have been improving our oral care with a few new products from LISTERINE.  As a teenager, I didn't have the best oral care habits, I did brush my teeth, but it was mainly at night and I rarely flossed. By not flossing during the time I had braces resulted in a number of cavities in between my teeth that could have been prevented. I didn't realize the benefit of flossing and mouthwash and now that I do, I make sure to instill in my children that flossing and mouthwash are a part of our oral care routine in order to achieve a healthier mouth. Flossing and mouthwash have always been a part of their routine and they don't even think twice about it.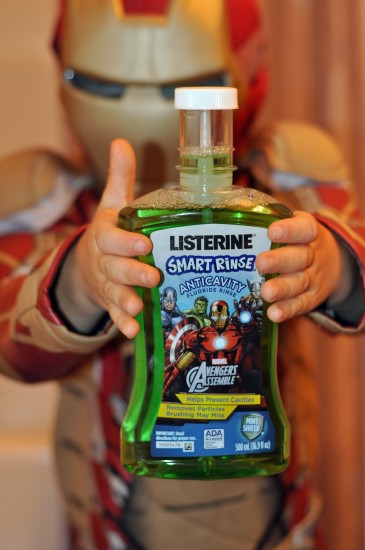 While Jonathan has always enjoyed brushing his teeth, flossing, and swishing the fluoride rinse, Trevor went through a phase where he wanted  nothing to do with toothpaste or mouthwash. I have found that with a few fun characters and a little family competition, Trevor has improved his oral care habits. Mouthwash has become family game time, as the boys try to swish mouthwash longer than mom & dad. After seeing a few of their favorite characters; Iron Man, Hulk, and Captain America on the new LISTERINE  Smart Rinse Anticavity Fluoride Rinse they now look forward to brushing their teeth even more. At first Trevor could only swish for about 5 seconds the most, but he has improved significantly. The excitement from the new Smart Rinse Anticavity Fluoride Rinse may push him over the top.
In addition to the new LISTERINE Smart Rinse Anticavity Fluoride Rinse, there are now four types of LISTERINE floss available.
Cool Mint Floss
Ultra Clean Mint Floss
Healthy White Mint Floss
Gentle Gum Care Floss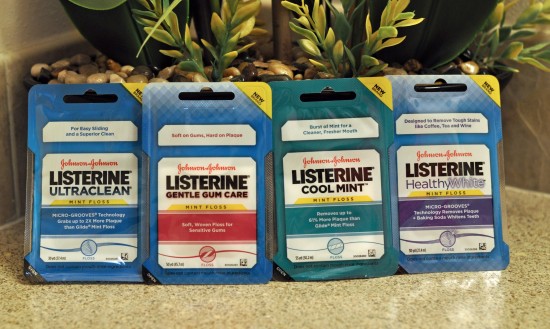 For those hard to reach places, the LISTERINE Ultra Clean Access Flosser features a long, ergonomic handle and non-slip grip to help make sure those back teeth are staying healthy and clean. While at home, my husband and I prefer the Flosser to remove the plaque without having to put our whole hand in our mouths to reach our back teeth. For on-the-go, at least one package of the regular floss can always be found in my purse, it's small and fits perfectly in the pocket for those food-stuck-in-teeth emergencies.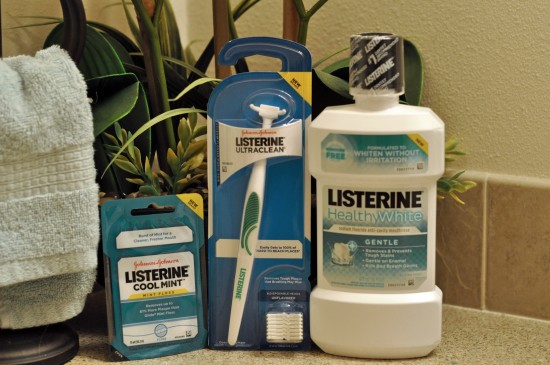 Have you spotted these new LISTERINE products?
To view a list of stores where LISTERINE products are available for purchase, visit http://www.listerine.com/shop-now.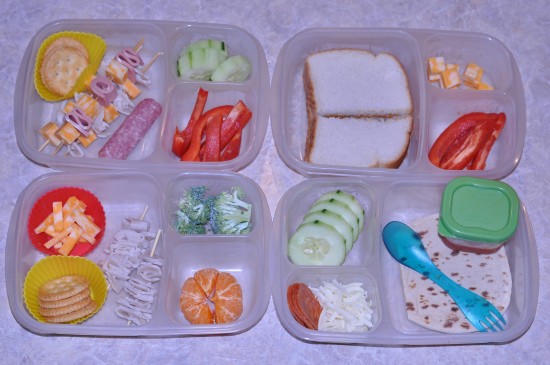 Having healthy habits doesn't just include oral care, but staying active, and making healthier food choices. Each day Jonathan's lunch box is filled with fruits and veggies that he helps me pick out instead of chips and sweets. We limit the number of cookies and chips in our house and make sure the fridge is filled with carrots, cucumbers, peppers, and the fruit baskets are full. I was surprised when I noticed the only supply listed on Jonathan's 1st grade school supply list was a reusable water bottle, no crayons, no markers, no scissors, just a leak-proof water bottle. The water bottle is brought to school daily and left on the child's desk, not only does it give the student access to water daily at just an arms reach away, but it allows them to make healthier choices instead of drinking juice. I love seeing the school instill this healthy habits at young age.
Have you ever thought of a clever way to create healthy habits in your home?
See how a few parents inspired healthy habits by visiting the LISTERINE YouTube page featuring the Healthy Habit Heroes video series.