This post was developed in partnership with Similac. All opinions are my own.
My husband often complains that it feels like there's a few bricks in the diaper bag, but just like I tend over pack when we go on vacations, I like to be prepared. You never know, a well stocked diaper bag can save the day.
As the weather warms up, our family has been spending more time outdoors and on-the-go. Some days we're only out of the house for 20 minutes, but others we can be gone all day. Not all of our day trips are planned so I like to have everything all ready in the diaper bag just in case, including a stock of diapers, toys, and snacks.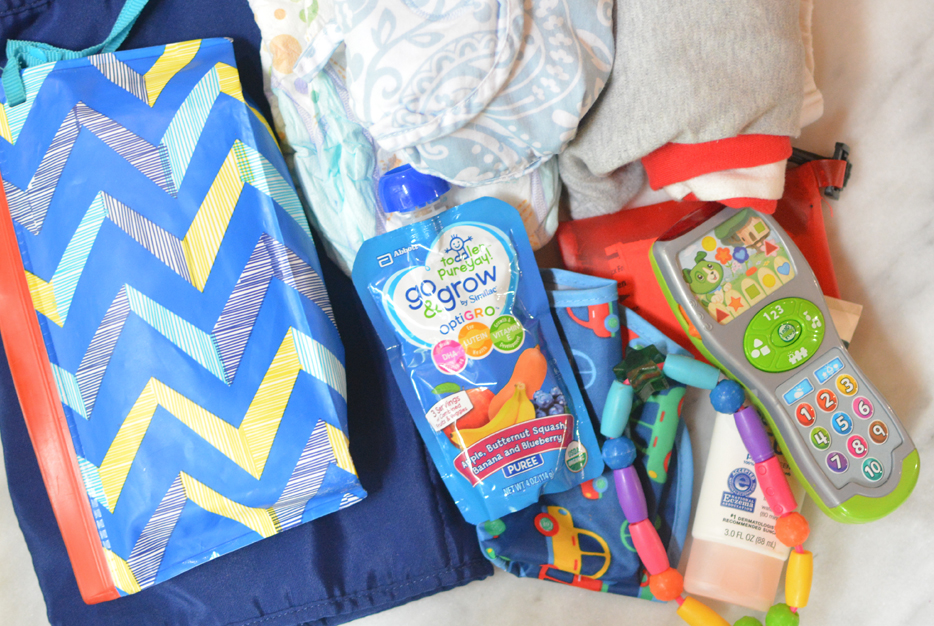 What's in My Diaper Bag?
Diapers

I try to keep at least 3-4 in the diaper bag at all times, if I know I'll be out longer I'll throw in a couple extras

Wipes

They're not just for diaper changes, but also to clean up messy hands and faces.

Changing Pad

Most diaper bags comes with a reusable changing pad, if not you can purchase one separately or use disposable pads.

Nursing cover
Change of clothes for the baby
Plastic bag

You never know when your child will have a blowout or don't have a trash nearby for that stinky diaper.

Tylenol

adult, children, & infants

Bandaids
Water bottle
Small toy

2-3 in case one falls and gets dirty

Sunblock
Snacks
Nail clippers/tweezers
Tissues
Chapstick
Pen
Bib
Wallet
With a little one who is now on solids, we're finding the Go & Grow by Similac pouches a great addition to our diaper bag. At least four days a week we are at the ball field for 2-4 hours for the older kids so the Go & Grow by Similac pouches provide an easy and convenient way for me to feed baby boy. There's no utensils needed, I just can just screw off the cap and baby boy can feed himself. With two older brothers in the house, he like to be independent and quickly adapted to drinking out of a pouch.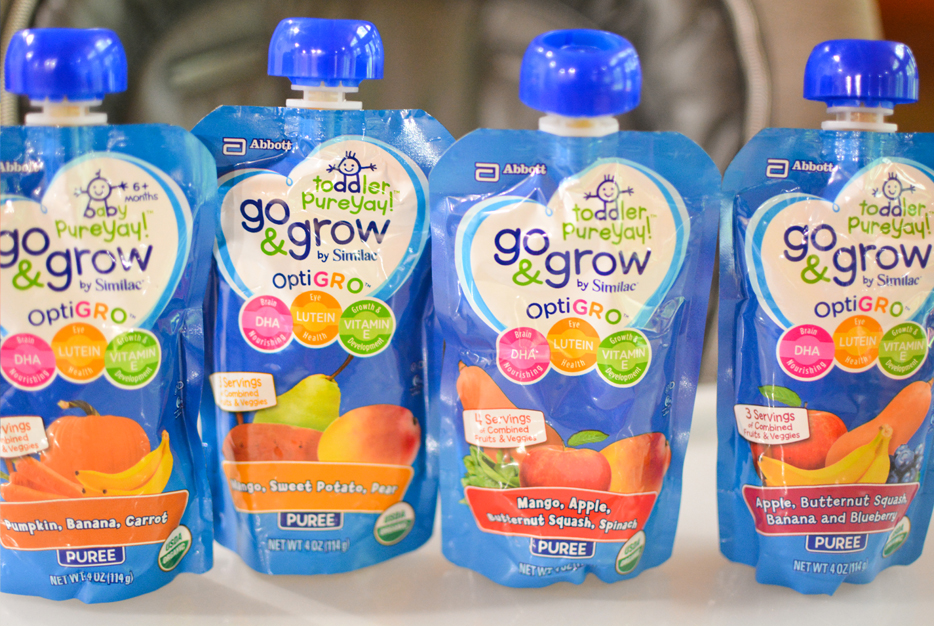 The Go & Grow by Similac pouches are Certified USDA Organic, Non-GMO, contain no fillers, artificial flavors or colors and are gluten free. They're the only toddler fruit and veggie puree pouches with OptiGRO, the nourishing blend of DHA, Lutein, and Vitamin E that supports brain, eye and overall growth and development. The Go & Grow by Similac pouches come in a variety of flavors and are for infants 6+ months and toddlers 12+ months. All of the varieties contain three to four servings of fruits and vegetables per pouch.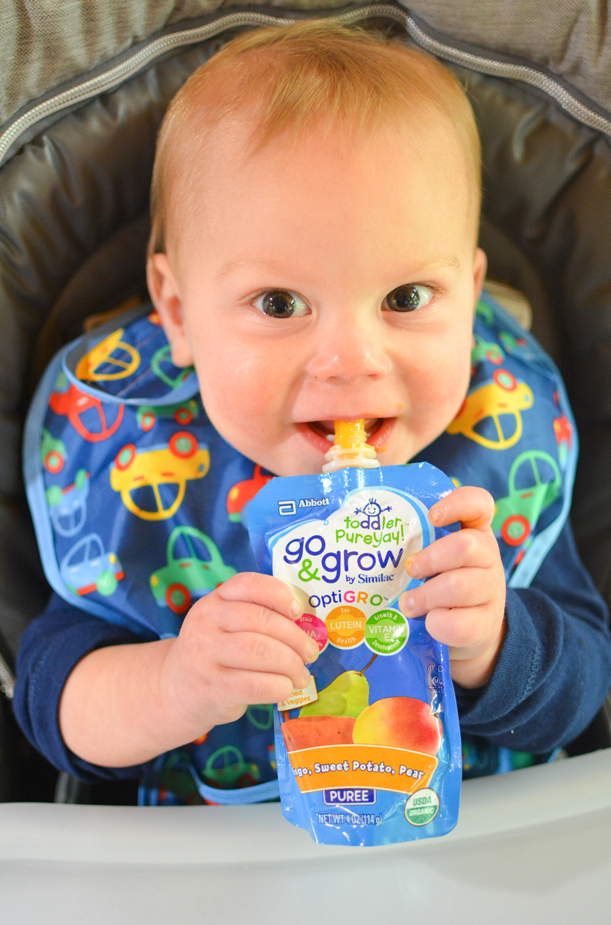 This week we have been exploring new flavor combinations, so far baby boy's favorite is the Mango, Sweet Potato, and Pear – he takes after his Dada with his love for mango and sweet potato.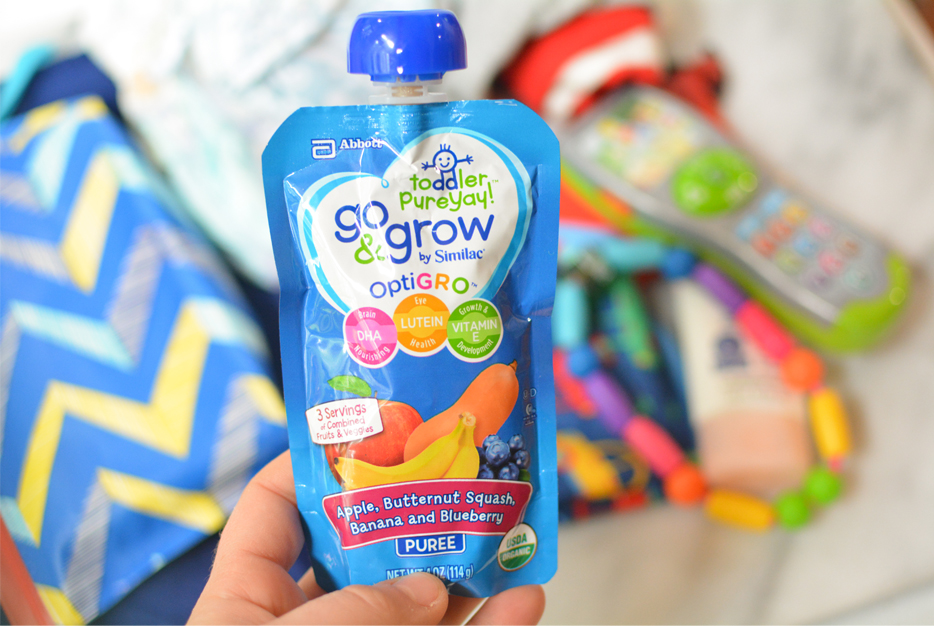 Look for the Go & Grow by Similac pouches at Walmart in the baby food isle. If they're not available at your local store yet, you can order them on Walmart.com and have them shipped to either your house or free pickup at your local store.
Save on Go & Grow by Similac Pouch with the ibotta app:
Right now you can get $0.50 back on any one Go & Grow by Similac Pouch though the ibotta app. If you don't already have the ibotta app, make sure to sign up today to start receiving cash back on select purchases.
What are your diaper bag must-haves?