Are you looking for a unique baby shower gift? Check out the Motorcycle Diaper Cake tutorial that includes a unique way to gift newborn essentials including diapers, burp clothes, receiving blankets, and more.
When I learned a good friend of mine was expecting twins I couldn't wait to make her a diaper cake for her baby shower. But just as I was reading tutorials on a three tier diaper cake I spotted a motorcycle diaper cake . My friend and her husband enjoy motorcycles so it couldn't have been a more perfect fit. After reading and watching a few different Youtube videos on How to Make a Motorcycle Diaper Cake I wrote down the list of products needed and headed to Buy Buy Baby with her gift registry in hand to purchase the burp clothes, receiving blankets, bottles, and mittens she had requested. I could have purchased any color, but after spotting the needed products on her baby registry I decided to use the theme she picked out.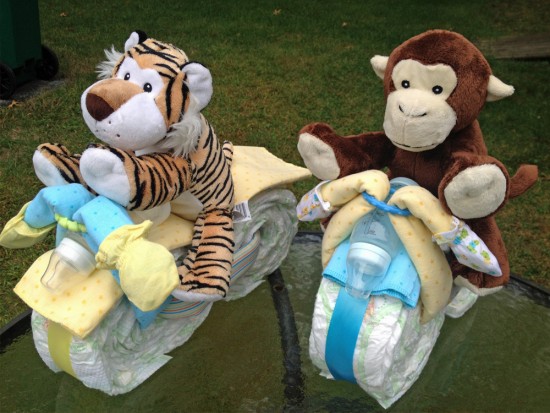 Of course I had to make two Motorcycle Diaper Cakes for her two precious baby boys!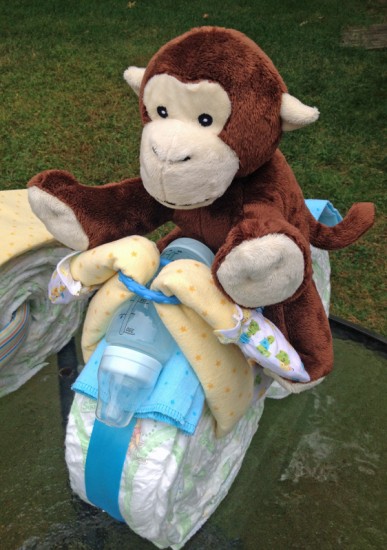 The motorcycle diaper cake was easy to make, in fact my husband made one of them, while I made the other. He never helps out during craft time, but I think the motorcycle diaper cake idea caught his attention, he is a huge motorcycle fan himself.
Motorcycle Diaper Cake
Supplies needed:
34 Diapers – 17 for each wheel – I used size 1
2 Receiving blankets (approx 30″ X 40″)
1 Burp cloth – or 2 bibs for the fender
1 Bottle
4 Rubber bands
2 Mittens or Socks
Stuffed Animal
Ribbon
1 Chain Link Toy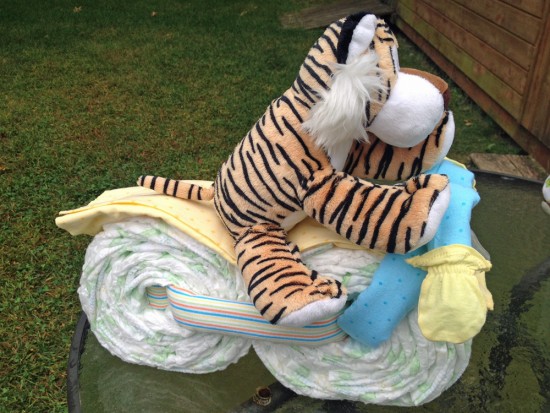 Directions:
To make a motorcycle diaper cake, take one diaper and roll it up, then continued adding diapers to the outside until all 17 diapers were used. Adding one diaper to the outside at a time in a circular motion and holding it in place with a large rubber band.
Once the tires are compete, wrap each tire with ribbon of your choice. Place a small piece of tape or safety pin to secure ribbon.
Fold one receiving blanket in half then roll it up and place a rubber bands on both ends to hold it together & prevent it from unraveling. This receiving blanket will be used to secure the tires together.
Thread the rolled up receiving blanket through the center of one tire, then thread it through the center of the 2nd tire, pull tight so the tires are touching each other. Tuck in the ends of the receiving blanket into the tire.
Roll up the second receiving blanket – this will be the handle bars. Thread through the center of the front tire. Lay the burp cloth on the top of the tires, or if you choose to use 2 bibs, lay one bib on the top of each tire. Place the bottle on top of the front tire. Pull the receiving blanket up to look like handle bars and secure with a chain link toy. Add on the mittens or socks to ends of the receiving blanket.
Top with a stuffed animal of choice.