I participated in an Influencer Activation on behalf of Influence Central for MedImmune. I received product samples to facilitate my review as well as a promotional item to thank me for my participation.
Five years ago I had never heard of RSV (Respiratory syncytial virus), that was until my son was admitted to the hospital for difficulty breathing, wheezing, and a persistent cough. He had been sick for over a week, and after one trip to the doctor's office, he was just not getting any better, his breathing was getting worse and I was starting to get worried. After a second trip to the doctor's office, his oxygen level was low after a two nebulizer treatments so his doctor called for an immediate transfer to the local hospital by ambulance. We spent all afternoon at that hospital before being transferred to the local Children's Hospital to be admitted. I will never forget those days in the Children's Hospital and how helpless I felt seeing my son in that condition.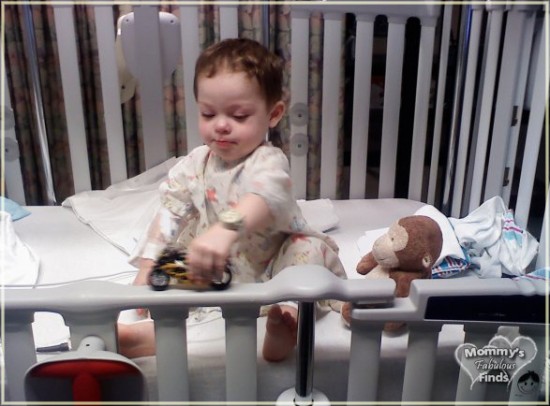 RSV is a common seasonal virus that can cause mild to moderate cold-like symptoms including fever, persistent couching & wheezing, rapid, difficult or grasping breaths, and blush color around mouth. While it is similar to a cold, if you notice any of the symptoms, make sure to contact your child's pediatrician as early detection is key. While my son was feeling much better after the second day in the hospital, for preemies RSV can cause more serious problems, and can even result in death. While every child is at risk of contracting RSV, premature babies are twice as likely to be admitted to the hospital with RSV symptoms than are full term babies as their undeveloped lungs and immature immune systems put them at heightened risk for developing severe cases.
This past year, my best friend gave birth to twin boys three months early, right in the middle of an RSV epidemic. When the boys were finally released from the hospital in mid December there were a few unwritten rules that were in place to help prevent RSV including not exposing them to other young children, staying away from crowds and keeping them away from anyone who was sick or who had recently been sick. Unfortunately, runny noses and coughs were running through our family so I chose not to visit for over a month for the fear of spreading a cold or a virus that could be deadly as they were at a heightened risk for RSV being premature.
Facts About RSV:
Epidemics typically occurs most often from November through March.
Very contagious and can live on surfaces and on skin for hours.
Spread though coughing, sneezing, or touching
Main cause of hospitalizations in the U.S. for children under 1 year
Tips For Preventing RSV:
Always wash hands and ask others to do the same
Try to stay away from anyone who has been sick, or is sick.
Keep baby away from crowds
Keep toys, clothes, blankets clean
Never let anyone smoke near your baby

World Prematurity Day – November 17
Despite how common RSV is, one-third of mothers have never heard of it and if it was not for my son being so ill, I would have not known about it as soon as I did. With tomorrow, November 17th, being World Prematurity Day, it's an important reminder to spread RSV awareness, and develop healthy habits to prevent RSV.
To learn more about RSV and prevention, visit www.RSVprotection.com.