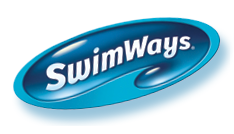 If Tyler had his way, he'd be in the lake as soon as he woke up in the morning until it was time to go to bed at night. He loves swimming and from day one he has never had a fear of the water, and still doesn't – he swears he can breathe underwater. I was thrilled when I opened up my second package as a SwimWays Swim Steps Ambassador, a Spring Float for Mom and Penguin & Shark Pooligans for the kids. At first Jacob & Tyler didn't realize that they could bring the plush animals in the water, their facial expressions were priceless when they found out they could get wet!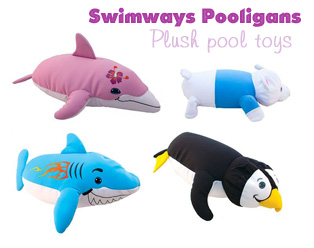 The Pooligans come in 4 fun, collectable styles: Pink Dolphin, Penguin, Polar Bear, and Blue Shark and are plush pool animals that are made from anti-microbial, fast drying outer fabric and stuffing. They're perfect for in the water as well as out of the water – Penguin loves to play in the sand and make sand castles with the boys. I was a bit hesitant thinking that they would take a while to dry, but we just lay them on the bench in the sun when playtime is over and they are dry by the next morning.
Jacob & Tyler love throwing their Pooligans in the lake and then jumping in after them, often pretending they are the same animal as the Pooligan. The Pooligans have also been helpful as we teach the boys how to swim, as they are strong enough to hold the boys above the water. The boys use the Pooligans like a kick-board, they extend their arms and hold the sides of the Pooligan as they kick their feet behind them. Both of the boys move their arms pretty well, but they have struggled to get their feet behind them, so their plush pool animals promote kicking their feet behind them while being fun at the same time.
In addition to being a fun pool toy and swim aid, these super soft plush animals also double as a seat cushion. I have found myself sitting on them on the cement stairway that goes into our lake.
Looking for new water toy this summer?
The Pooligans are a must have! Jacob, Tyler, and Mom all give them two big thumbs up!
Buy It: The Pooligans are currently available to purchase at SwimWays.com for $21.95, regularly priced $24.95.
To learn more about SwimWays products and the Swim Steps learn-to-swim program, visit www.Swimways.com and www.TeachMeToSwim.com.
Disclosure: As part of the 2013 Swim Steps Swim Team, Swimways has provided products. All opinions are my own personal and honest thoughts.