This post was sponsored by SwimWays as part of an Ambssador Program for Influence Central and all opinions expressed in my post are my own.
Introduce baby to the water with the SwimWays Baby Spring Float Sun Canopy available at Target. Learning how to swim is an important skill that can be used for a lifetime not just for cooling off in the summer or having fun with family, but it could also be lifesaving.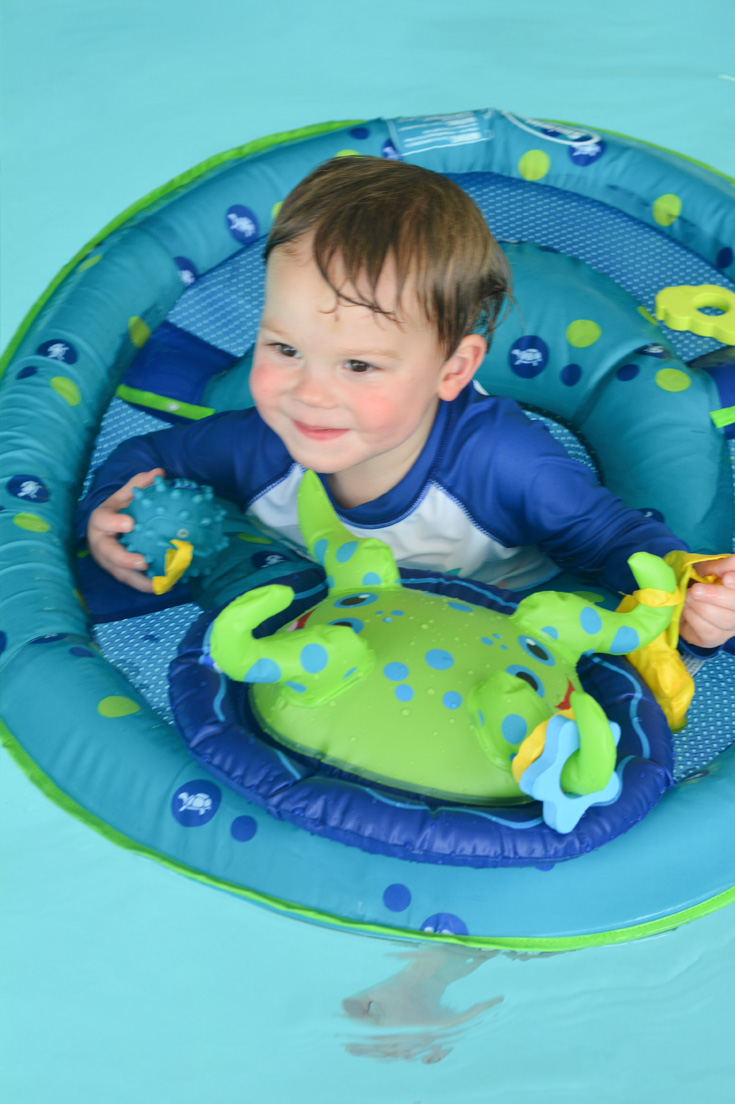 Swimming is always my children's favorite part of any vacation. Whether it's a trip to the beach, a week at our lake house, a staycation at the local hotel, or traveling for hockey, it's always "can we go swimming?" Since we spend so much time around the water it was important for the boys to learn how to swim at a young age. I enrolled my two oldest in swim lessons at the age of 3 & 4 and along with the SwimWays Swim Steps products I taught them both how to swim.
While I grew up around water and spending summers at my family's lake house, my husband didn't learn how to swim until he was an adult. It was a constant worry that he would not be able to help his own kids in an emergency. When my two oldest children learned to swim, he also taught himself.
Swimming is a great way to stay active, it also is a great stress reliever and perfect way to create memories with the family. Since it's still a little cool for the beach, we recently packed up the swim toys, and the Baby Spring Float Sun Canopy and headed to the local hotel for a night of swimming as a family. One of our local hotels offers a family membership for their pool and my children would visit 7 days a week if I let them. It's a special activity that all three enjoy, even my toddler. While the two older boys play catch, swim for dive toys and play Marco Polo, me and the littlest get to splash around and bond.
Baby Spring Float Sun Canopy:
The Baby Spring Float Sun Canopy can be found at Target and is the #1 selling baby float in the U.S. It was designed for babies 9-24 months and is made by SwimWays, the industry leader in helping children learn to swim. Having two other children who learned to swim using the SwimWays SwimSteps products, it's a brand I know and have trusted for years.
The Baby Spring Float has a large oval circumference with patented inner spring around the edges for added stability. There are two air chambers for safety that are covered by fabric and a soft mesh seat that is comfortable for baby.The adjustable and removable canopy is perfect for when it's sunny outside and offers 50+ UPF sun protection.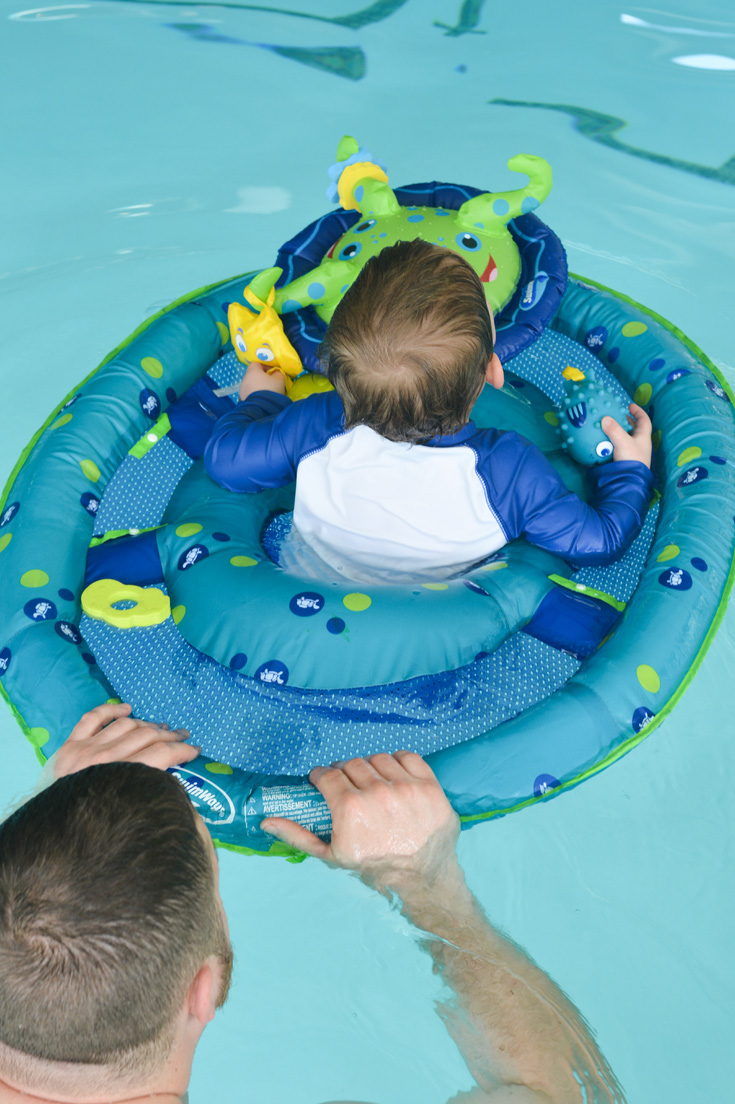 One of my favorite features of the Baby Spring Float Sun Canopy is how easy it is to travel with. It folds flat into three compact circles and fits into a carrying bag. It's compact and even fit into my carry on luggage when we recently traveled from Boston to Orlando.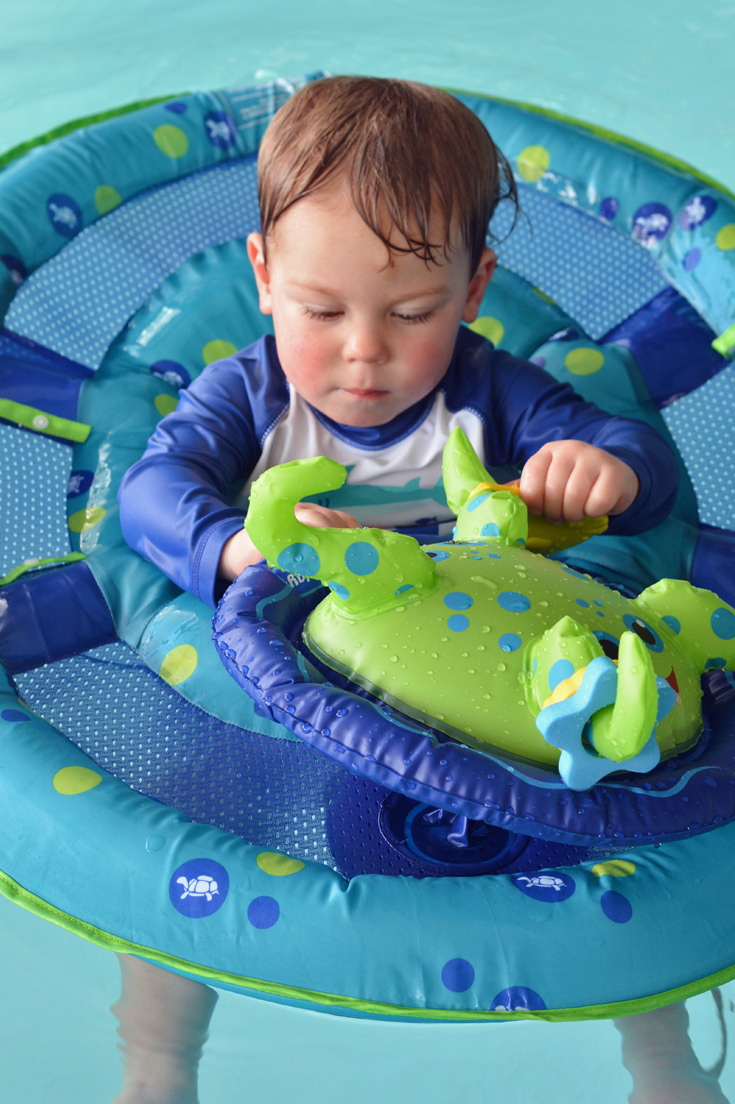 The mesh play space provides an area for baby to have fun and become comfortable with the water. It is a place to hold toys without them floating away and allows enough water in for splashing.
I'm so glad that baby boy has a love for the water like his big brother. I'm looking forward to many trips to the state park for swimming and water fun at the lake house. As the weather starts to warm up and school vacation begins it's an important reminder to go over some water safety tips with the kids.
Tips for water safety:
Teach kids to swim
Stay in arms reach of young children.
Choose the right baby float

check age/weight requirements

Establish rules

no running around the pool, no diving

Never turn your back when children are in the pool.
Give your children your full attention.

put down your phone, electronics, or your book
Do you have any summer plans that involve swimming?