I can't believe in just over a month my little guys will be heading off to Kindergarten and Preschool, where have the past 5 years gone? They have grown into two independent little boys, boys that have quite an opinion and have their own sense of style. While Jonathan doesn't mind the clothes that I buy him, Trevor on the other hand is not usually a fan and he like to choose his own clothes – almost always clothes that look like daddy's. This past week we headed to our local Gymboree to check out some of their Back-to-School apparel – and thanks to the gift card that Gymboree sent us each of the boys went home with a few stylish outfits for the new school year.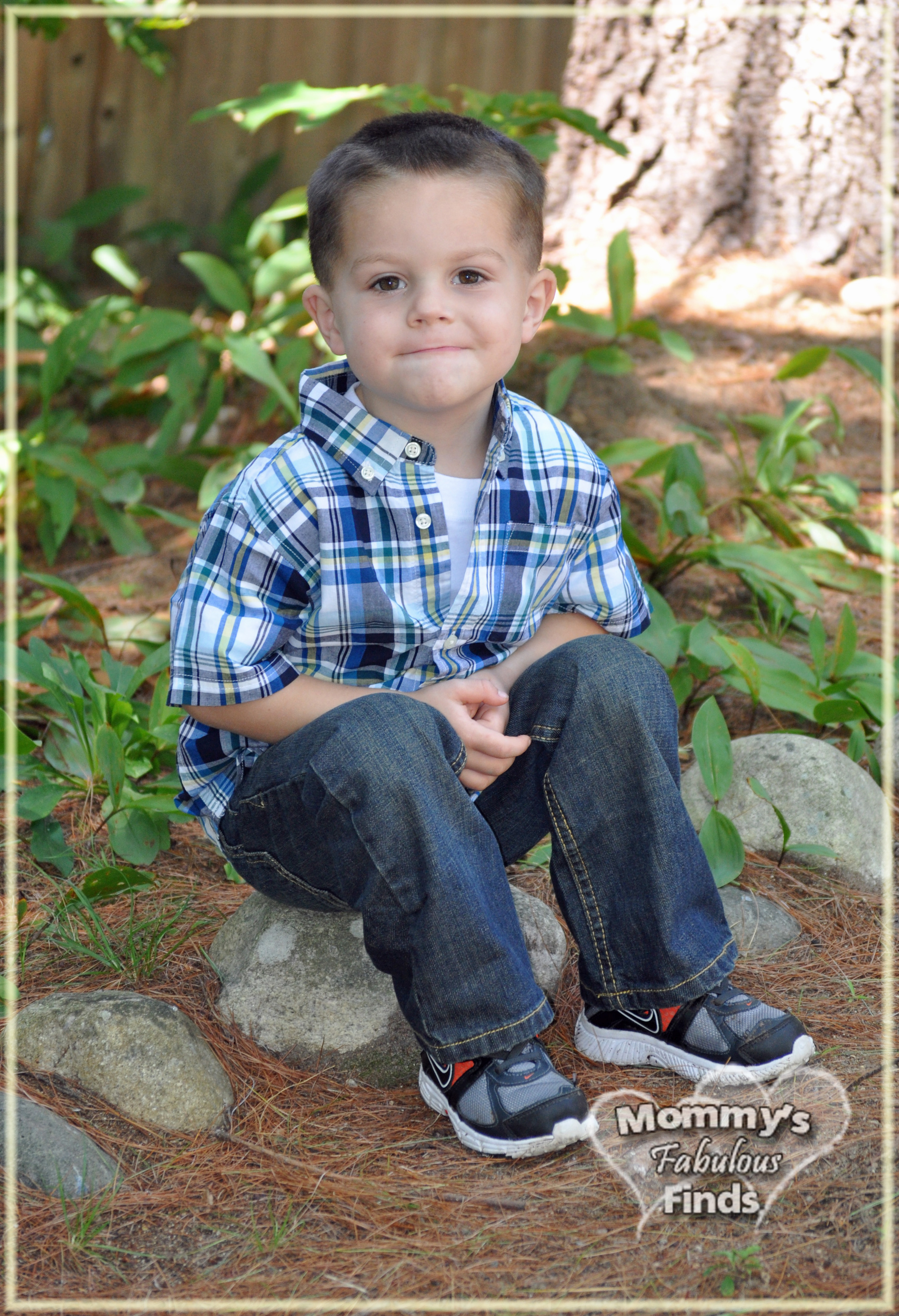 Jonathan has outgrown all of his pants from last fall/winter, so our first stop was to pick out a couple pairs of jeans. In addition to the high-quality, one feature that attracted me to the denim is the variety of sizes available as well as the adjustable waist feature which is a must-have on Trevor and Jonathan's denim. They are both thin, and then adjustable waist allows them to wear jeans without having the struggles of their pants falling down or a belt. While I was looking though the pants Dad wanted to pick out a couple shirts. He's a huge fan of the button up shirts with a white t-shirt underneath, and he quickly found one for each of the boys – both on the sale rack with an additional 20% off the sale price. If Trevor had his way, he'd always wear a button up shirt, just like Daddy.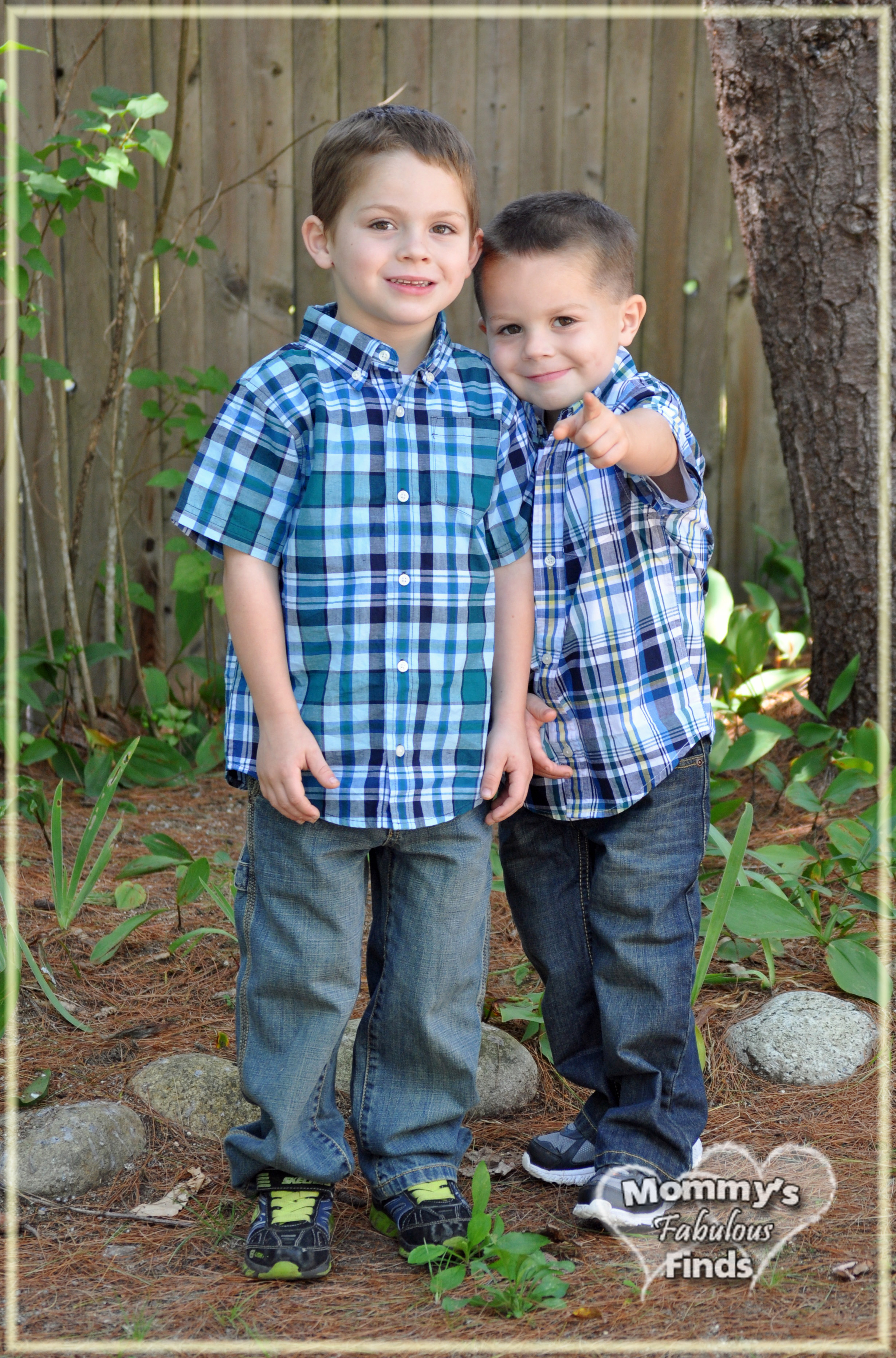 Pocket Plaid Shirts with White Undershirt. Carpenter Jeans (Left) Bootcut Jeans (Right)
The boys enjoyed walking around the store looking at the large selection of shirts, pants, pajamas and accessories. It didn't take long before Jonathan spotted the Soccer Two-Piece Gymmies, he's a huge fan of soccer and loves wearing anything with a soccer ball on it – he quickly picked out his size and placed it on the checkout counter with the rest of our purchase that was being held. It was nice not to have to hold our purchase the entire time we were shopping, the store staff provided an area on the counter with a hold sign so we could shop while not having to worry about loosing the clothes we already picked out, or have to walk around trying to hold onto 10 different things.
Throughout our entire visit the store associates were exceptionally friendly, from the moment we walked in the door till the time we were walking out with our purchase, they were always there to offer assistance whether it was looking for an item or a size or helping to match an outfit. We had a fun time back-to-school shopping at Gymboree, were so many cute outfits that it was hard to narrow down our favorites, I can't wait to head back and shop a little more with the $50 in Gymbucks that we received.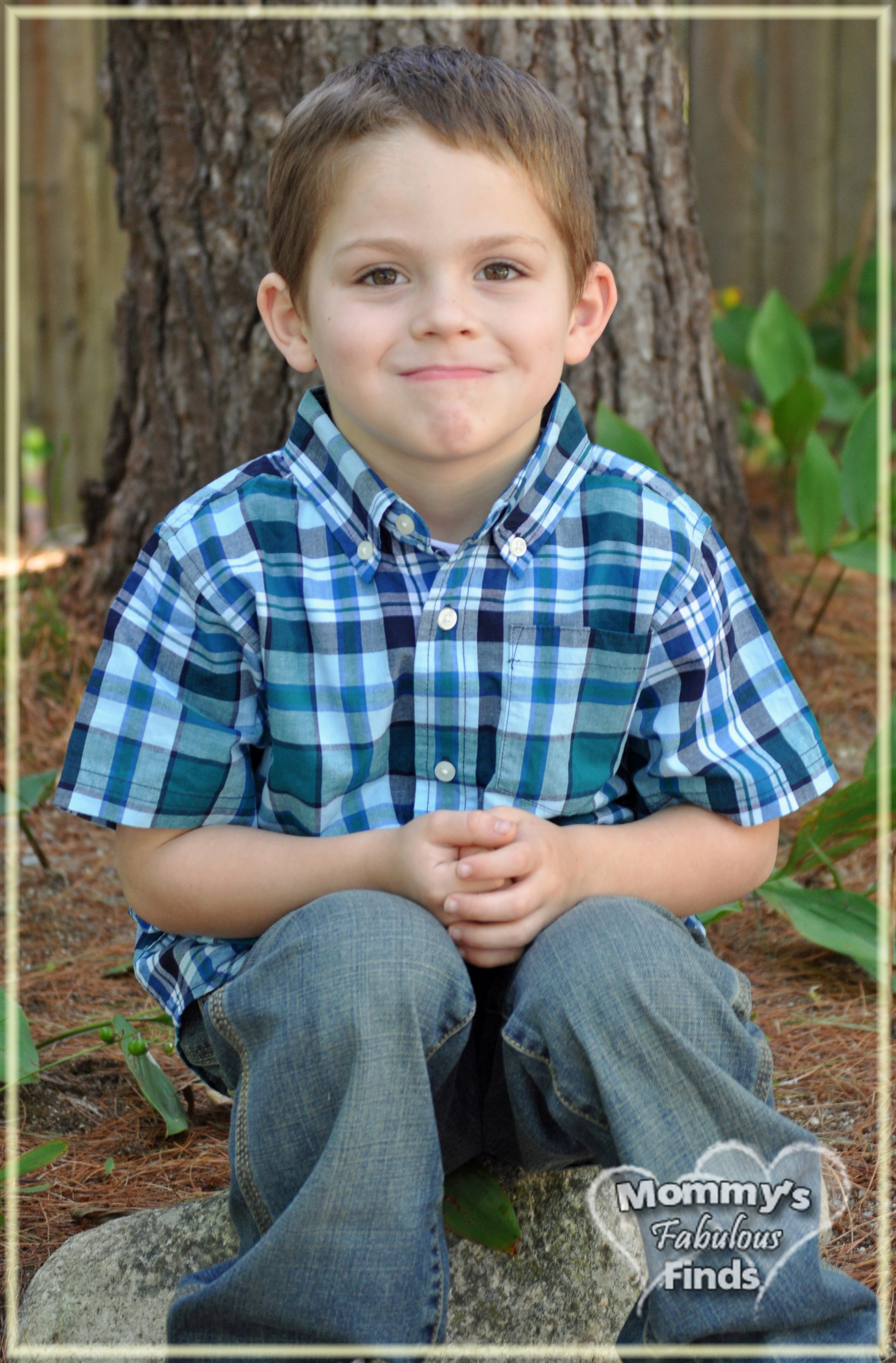 Gymboree Back-to-School Sale:
Right now Gymboree is running a Back to School sale where you will receive 30% off all regular price items and 20% off previously reduced items! Plus you can pair this sale with coupons to score an even better deal. I found a 20% off coupon in the recent Parents magazine that I planned to use, but just as we were getting ready to head out the mail came with a $25 off $100 purchase, I was super excited! So, if you haven't signed up for the free Gymboree Rewards program, I highly recommend signing up today – I'm always receiving coupons in the mail.
Plus, Gymboree is also running their Gymbucks promotion, my total came to $102 so I received $50 in Gymbucks to use at a later date! I'm loving all these coupons and promotions!
Gift Card, giveaway prize, and  information have been provided by the representing PR/Sponsor. All opinions are my own.