I participated in a Blogger Activation on behalf of Mom Central Consulting for Stonyfield. I received coupons to facilitate my shopping trip and a promotional item to thank me for participating.
If there is one thing I can guarantee the kids will eat no matter what time of day it is, it's yogurt. It's by far their favorite food item for breakfast and for snack time. J is always asking for yogurt for snack but being a kindergartener the messy spoon usually ends up  all over his lunch box.  Lucky for us, Stonyfield has come out with new three new products– YoBaby, YoToddler, and YoKid yogurt pouches.
J & T are both big into the convenient pouches, but we usually only see baby ones at the store, they were excited to see some available for older children and with organic yogurt! The whole time we were shopping they kept asking for a pouch, knowing how easy they are to eat. Of course as soon as we walked in the door they had to have one, it was soon devoured.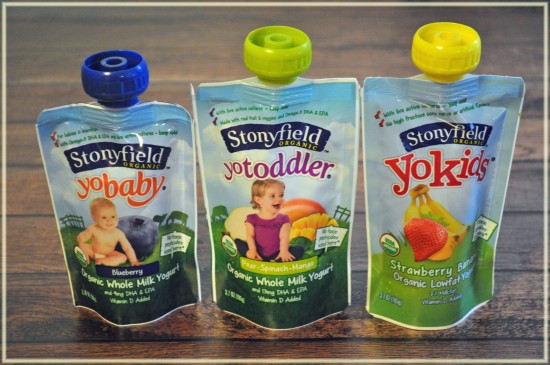 The Stonyfield YoBaby, YoToddler, and YoKid yogurt pouches are the first refrigerated organic yogurt pouches available. The organic yogurt pouches contain pure organic ingredients and never any high fructose corn syrup or artificial flavors.
Stonyfield Organic Yogurt Pouch Varieties:
YoKids Pouches: Strawberry, Blueberry, Strawberry Banana (3.7oz pouches)
YoToddler Pouches: Strawberry Beet Berry, Pear Spinach Mango, Strawberry Beet Berry (4-pack)Pear Spinach Mango (4-pack) (3.7oz pouches)
YoBaby Pouches: Blueberry, Mango, Vanilla, Sweet Potato, Blueberry & Mango (4-pack)Vanilla & Sweet Potato (4-pack) (3.4oz pouches)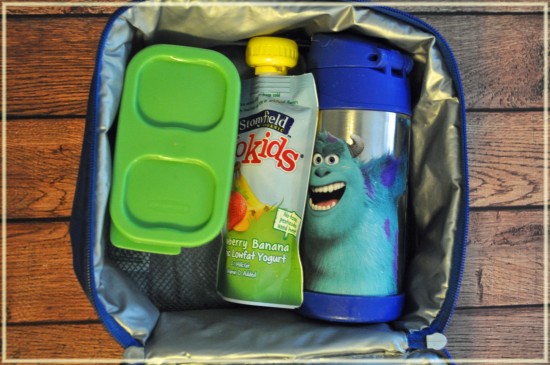 Not only do J & T like the convenience of the pouches but so do I. During the spring and summer months we spend a lot of time on the go and at the park, I'm always looking for easy snack and lunch ideas that don't make a lot of mess and don't require a lot of clean up. The new Stonyfield pouches are great for not only the park but also for on the go.
Whether we're running errands, or going to sporting events, or even on long road trips I can pack a few pouches in a cooler and just hand them to the kids, no spoon, no cleaning, no mess! We're prepping for a 36 hour drive in the coming weeks and I already have the fridge filled with Stonyfield organic yogurt pouches to bring.
Visit the Stonyfield website to learn more about their products, you can also visit the store locator to see if the Stonyfield organic yogurt pouches are available near you.
Connect with Stonyfield on Facebook, Twitter @Stonyfield, Instagram @Stonyfield, and Pinterest.