A few months ago I decided that enough was enough and that it was time for our family to start switching to "better for you" meals and more wholesome snacking. I went through the cabinets and started switching out products and during our grocery store trips I would ask myself the same question before putting an item in the cart "would I feel guilty after eating this?" which helped me curb out some of the unneeded products.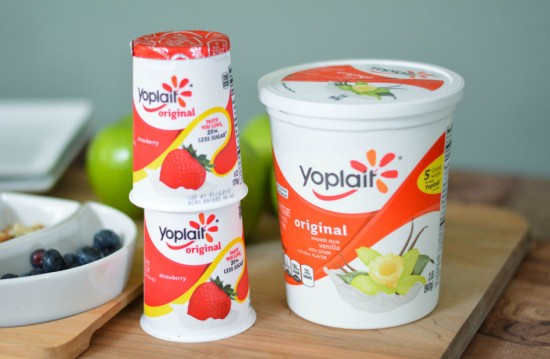 Yoplait Yogurt isn't just for breakfast, like it was for me growing up, it can be used as a wholesome snack option as well. There is a large amount of flavors to choose from, and everything from fruits to desserts – like Raspberry Cheesecake, Boston Creme Pie, and Key Lime Pie for those wanting to satisfy their sweet tooth without over indulging.
Yoplait Yogurt varieties include:
Yoplait Go-Gurt Strawberry Splash/Berry Blue Blast Portable Low Fat Yogurt
Yoplait Strawberry Light Yogurt with Granola
Yoplait Greek 100 Calories Tropical Fruit Fat Free Yogurt
Yoplait Light Raspberry Cheesecake Fat Free Yogurt
Yoplait Original Mango Low Fat Yogurt
One of our favorite family snacks especially during the summer months after picking fresh berries from outside has been Yoplait Yogurt mixed with a variety of berries and nuts. I often purchase the Yoplait Original Smooth Style Vanilla Low Fat Yogurt, 2 lbs container or the black cherry Greek yogurt and throughout the week the children and I will mix it with strawberries, blueberries, raspberries, and almonds, or we'll blend it into a smoothie with fresh strawberries, bananas and ice.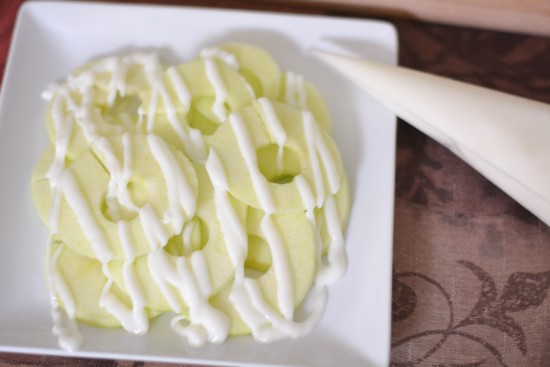 Yoplait Yogurt & Apples.
The children also enjoy using it as a dip for their apple slices, or we pour it into popsicle containers mixed with fresh fruit and freeze it, one of my childhood favorites. Every summer my grandmother would buy a 2 lb container of Yoplait Yogurt and she would pour it into individual plastic cups with sliced bananas or strawberries and freeze it. Every time we would visit throughout the summer, it would be our special treat and it is something my siblings and I would always look forward to.
Learn more about Yoplait Yogurt and the varieties available at Walmart.
How do you enjoy Yoplait Yogurt throughout the day? Do you have a favorite flavor?
This is a sponsored conversation written by me on behalf of Yoplait®. The opinions and text are all mine.