Birthday parties can easily get over budget and out of hand. If you're planning a party check out our 5 Tips for Hosting A Birthday Party. Plus, learn how easy it is to make these  baseball cupcakes using a Baseball Bounce Ball.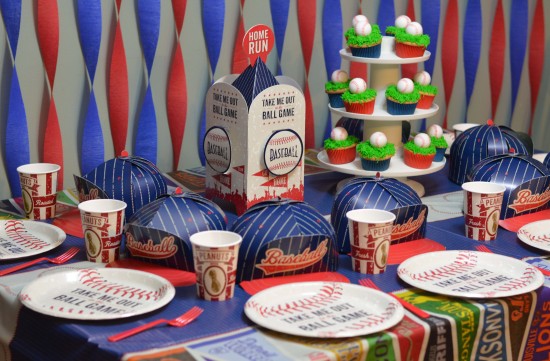 This post is brought to you in partnership with BirthdayExpress.
As much as I try to prepare myself, planning a birthday party can be a fun yet stressful especially when I have to plan two back to back, but through the years the process has become easier and easier. I love decorating the house, preparing the party food, and hosting friends so at least two months ahead of time I sit down with the children to narrow down a theme for each of their birthday parties, that way I have time to shop for different birthday party supplies and fun bowls and plates to serve the food.

5 Tips for Hosting a Birthday Party:
Pick a theme:
Choosing a theme is a fun and exciting way to celebrate a birthday plus it helps to cut down on stress on trying to decide what to buy and what to serve. BirthdayExpress makes choosing a theme easy, and their Party in a Box options make it easy and convenient to order the essentials you need to host a party with savings of up to 25%. There are four different options to choose from Basic, Deluxe, Deluxe with Favors or Ultimate with party supplies for 8 guests or 16 guests with the ability to add customized products including banners.
Make a list:
Making a list allows me to stay within budget as I tend to go overboard when it comes to hosting parties. What supplies do you need to purchase? What recipes do you plan to make? Are there any ingredients you will need?
Choose simple snacks:
Stick to easy finger foods especially if there are a lot of children involved, it helps to cut down on messes and kids are often too consumed in the excitement and will just pick here and there. A cheese & cracker tray is easy to make and always a favorite along with fruit trays. Another fun bite sized snack is Knox Blox, made with Jell-O with Knox, we often make a few different colors and cut them into bite sized squares & serve them in a festive bowl, or use cookie cutters to add to your parties theme.
Add a fun touch to food presentation:
Serve party food in a fun bowl or container, or even on a stick! Alternate bite sized fruit and place it on a kabob stick, for fun fruit kabobs. When given the choice, you may be surprised at how many children choose the fruit because it looks fun even if they are not normally a fruit eater, fruit kabobs are always a huge hit at our parties.  While your shopping, be on the lookout for fun containers to match your parties theme. I found these cute red baskets at our local dollar store (4 for $1) that were perfect to serve our hot dogs and hamburgers.
Inexpensive decorations:
Crepe Paper is an inexpensive way to transform a simple wall into a bright and colorful wall for a party. With a little tape and time, simply alternate the colors along a wall, tape at the top of the wall, twist the crepe paper to allow a swirl look, and place another piece of tape at the bottom.
Baseball Birthday Party:
Baseball party favors and decorations: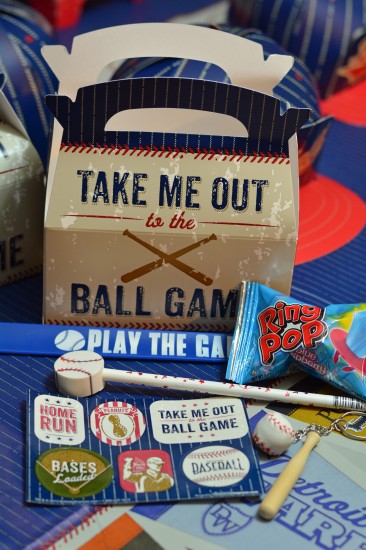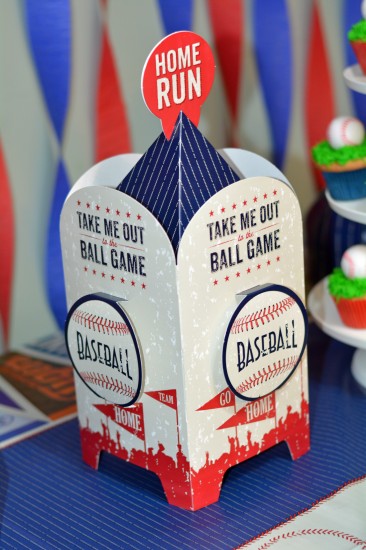 Jonathan has been all about sports, so it didn't take him long to decide on a Baseball party. Once The Baseball Time Party in a Box arrived, it was time to start putting the finishing touches on our birthday party planning.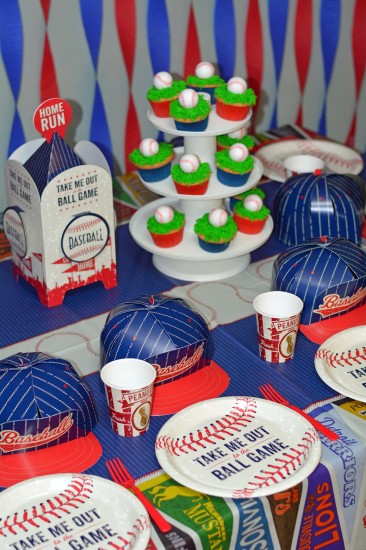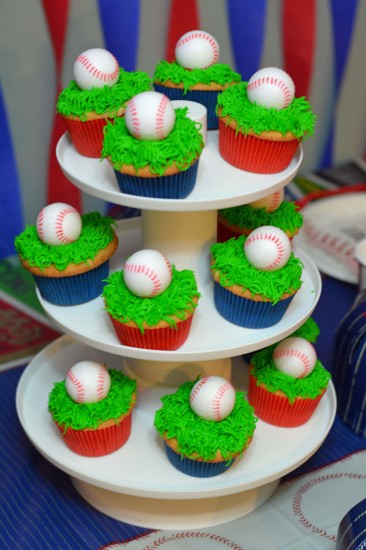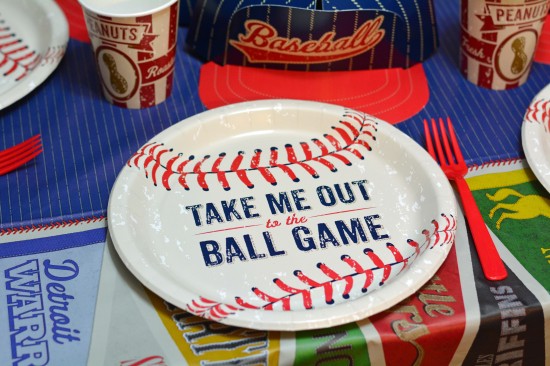 For our main course for the sports birthday party we served hot dogs and hamburgers along with a number of baseball themed snacks including Cracker Jacks. We also had a buffet table going with a fruit tray, cheese & cracker tray, Jell-O blocks, assorted chips, and refreshments. For the baseball cupcakes, I used a Wilton tip #233 to pipe grass on the cupcake, and topped it with a Baseball Bounce Ball.
Instead of the typical birthday party hat, these Baseball Time Trucker Hats added a fun touch to our Baseball themed party and along with the Baseball Time party boxes, each child went home with a variety of fun baseball goodies.
How to make Baseball Cupcakes:
Bake cupcakes according to directions on box, and use green frosting and Wilton tip #233 to pipe grass on the cupcake. Top it with a Baseball Bounce Ball.
Save