You'll be on target for hosting the ultimate Nerf birthday party with these fun Nerf party ideas. Find ideas for Nerf games, a cake, decorations, and a snack table.
On any given day you'll find Nerf ammo, guns, and sunglasses scattered all around our basement. Nerf Guns have become quite the hit in our household and our basement is the "go-to" for the ultimate neighborhood battle in the winter months. The kids (and Dad too) love it when I save shipping boxes so that the can stack them up and make forts. We used to have a rule with no Nerf guns in the house, but with zero degree temps throughout the winter months the battles have come inside….until the weather warms up and the snow melts.
How to have an awesome Nerf War Party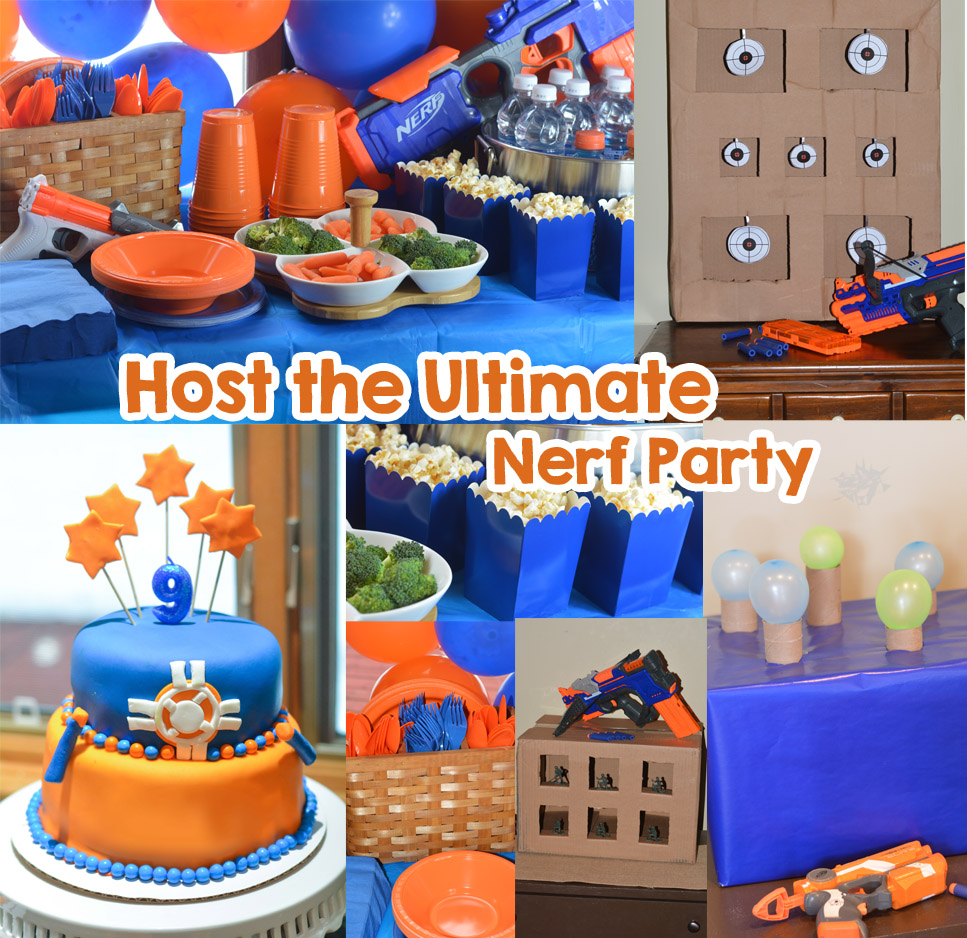 Nerf Party Ideas:
It was no surprise when the boys decided they wanted a Nerf Birthday party, but with no "Nerf" party favors & decorations available at our local party store, it was time to start coming up with ideas. As you can see we went with a blue and orange theme based off their favorite Nerf guns. You can also do orange and green for the Zombie Strike line. Thanks to Oriental Trading for sending Nerf party supplies, we were able to host the Ultimate Nerf Party.
In addition to the Nerf battles made with homemade forts using cardboard boxes, I set up three different games. One game included shooting at paper targets, the second was army men knock down, and the third game was to knock down mini balloons.
Nerf games
Read our step by step directions on how to make Nerf Games:
Army Men Knockdown
Target practice + printable targets
Balloon Knockdown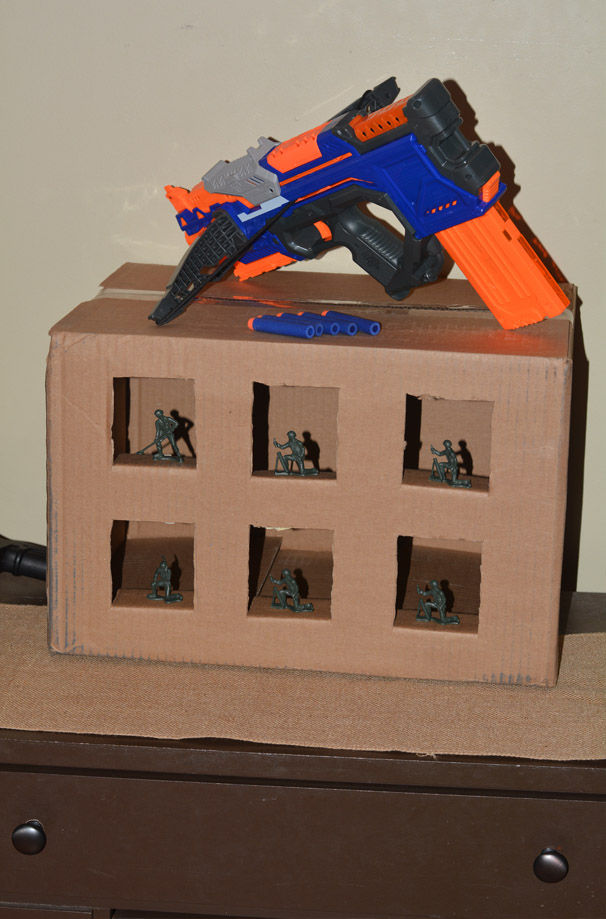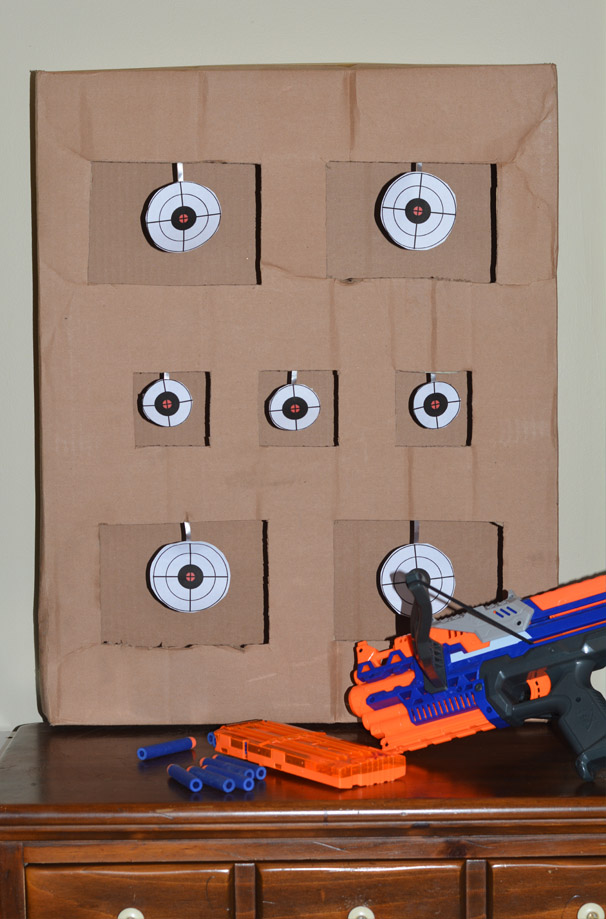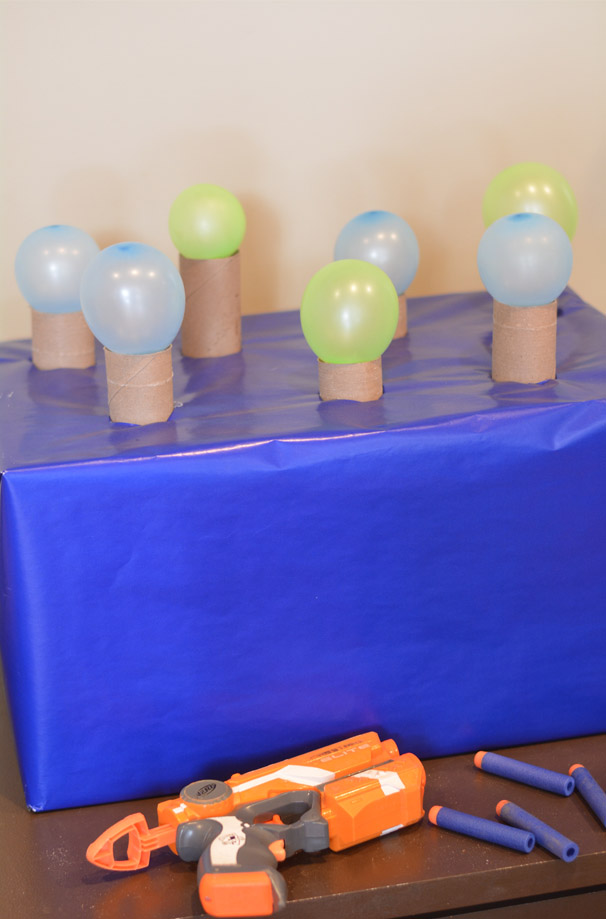 Nerf Party Supplies
Party food – cake, ice cream, snacks, beverages

Utensils & bowls/plates to serve
Nerf Guns & ammo – include in invitation if guests can bring their own.

Check Amazon for deals! Get 300 darts for only $14.99 shipped.

DIY Games
Eye protection (the small was a good fit for our 6-10 year olds.)
Tablecloth, Spoons, forks, plates, bowls, cups
Blue and orange party favor bags & treats to put inside
Make your Nerf Birthday a success with our top picks:


Nerf Cake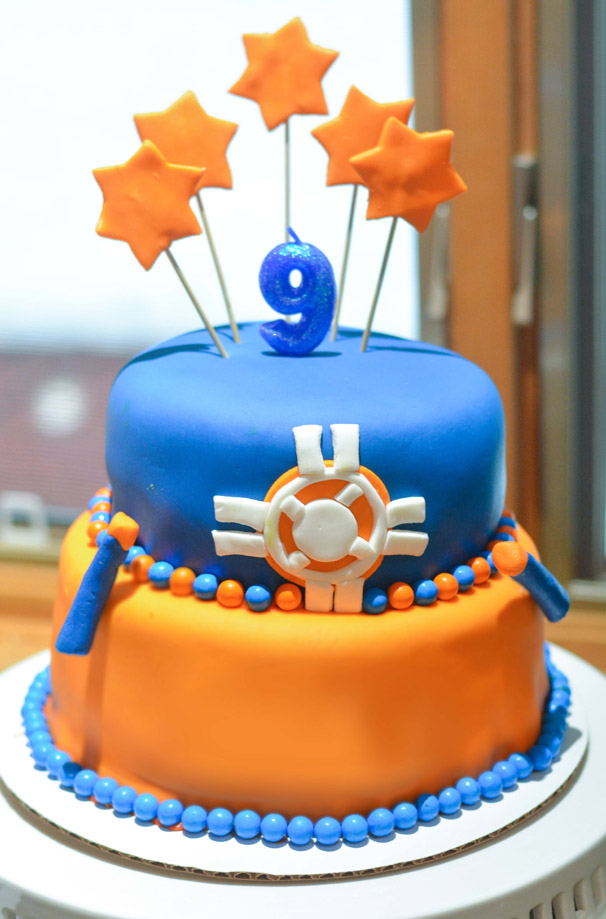 Nerf Party Food:
When Jonathan turned one I made his first birthday cake, and it has been a tradition to make his birthday cakes year after year. I'm no professional and the tiered fondant cakes are still a work in progress, but each year I'm getting better and better at cake decorating. This Nerf cake was one of the more simple cakes but still time consuming as I made the fondant for the first time instead of using store bought. I've never been a fan of the taste of the store bought fondant but this homemade marshmallow fondant was popular among all of the party guests including myself. I will definitely be making the marshmallow fondant again instead of using store bought.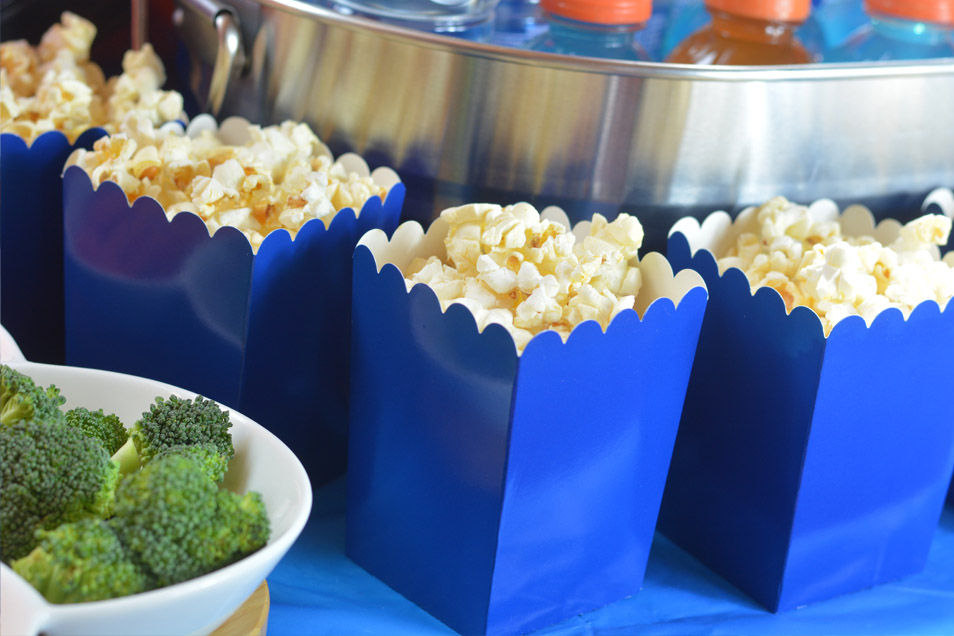 Instead of a big bowl, these mini blue popcorn boxes added a decorative touch to the snack table and were a fun way to serve the popcorn.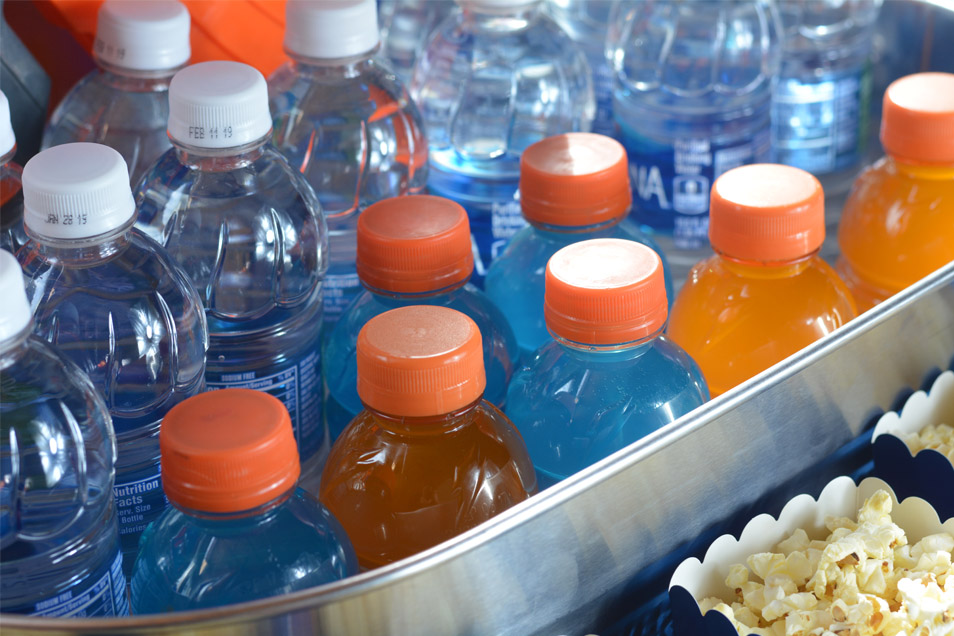 To go along with the blue and orange theme, we choose the smaller Gatorade bottles that I ordered from Amazon. I also left a marker beside them so that the kids could write their initials on the cap.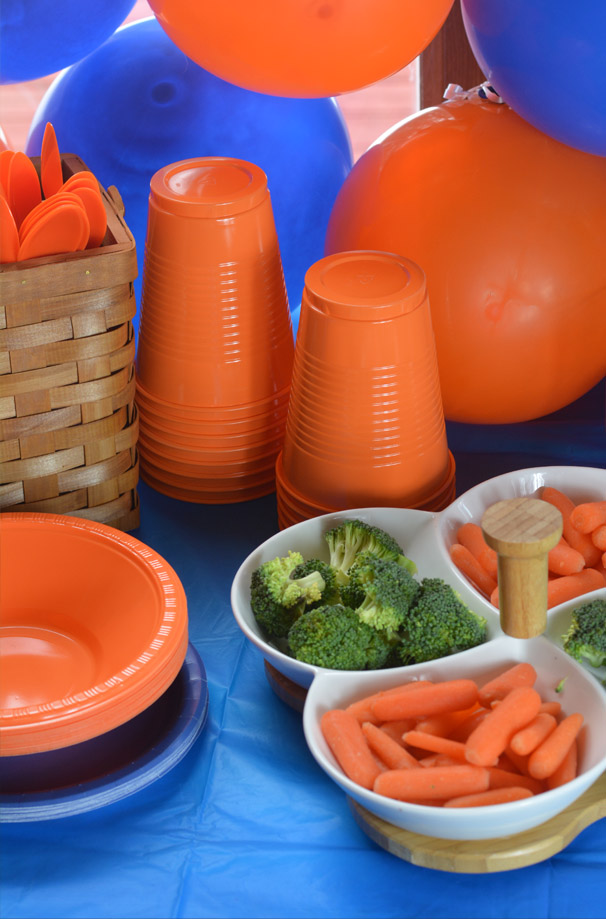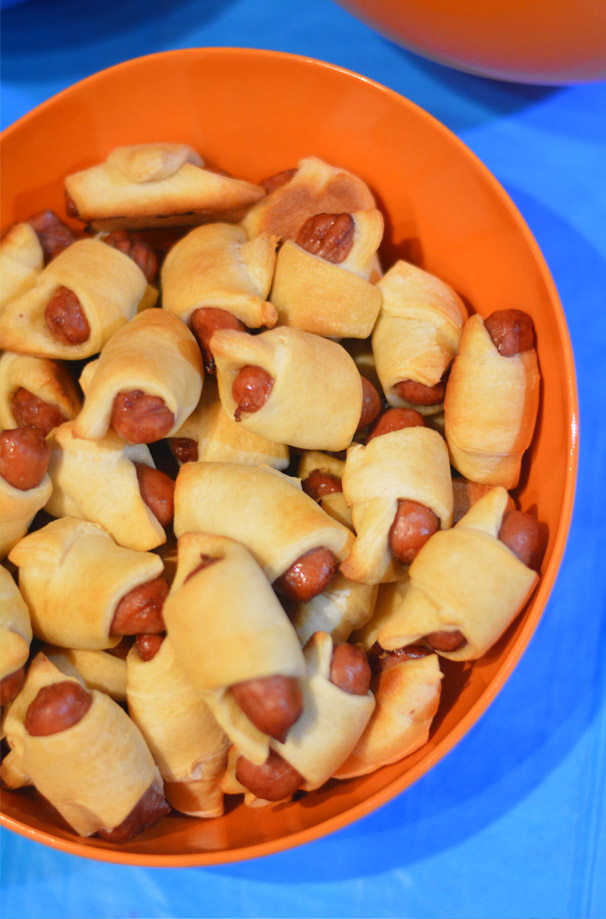 Along with cake and ice cream, we served snacks including a veggie tray, mini hotdogs wrapped in croissants, and Blue Raspberry Licorice.
Nerf Cupcakes
All the kids loved these fun Nerf Cupcakes. Ice Cream Cone Cupcakes are always a hit and the orange and blue colors went along with our party theme.

We had so much fun at our Nerf Party that I plan to host one this summer for all of the neighborhood kids and bring the Ultimate Nerf Battle outside. I already have a few other nerf party ideas for fun outside games and look forward to planning an exciting afternoon once school is out.
Learn how to Make Your Own Nerf Games.