Dirt cups with gummy worms make the perfect afternoon snack for kids. This 4 ingredient dirt recipe is made with chocolate pudding, crushed Oreos and are topped with a gummy worm.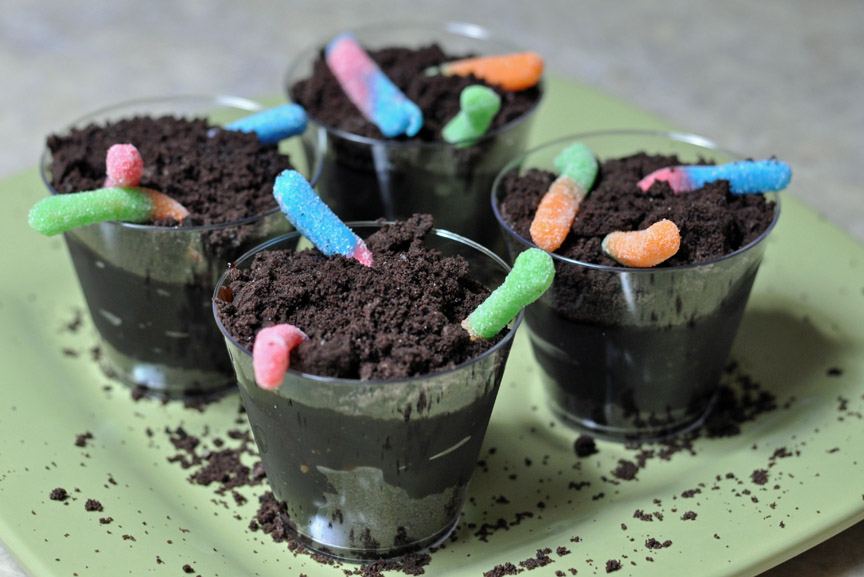 We recently moved into the perfect neighborhood that is full of children. My kids instantly bonded with them, and they have been best friends since day one. This neighborhood reminds me of a lot of when I was younger, kids always playing outside and not on video games. We were only allowed Nintendo on the weekends, and were outside from sunrise till the street lights game one.
In our new neighborhood the kids love to spend time outdoors away from technology, participating in outdoor activities that inspire their imagination, creativity and discovery. They're always riding bikes, drawing chalk roads, playing street hockey and building forts in the woods.
I surprised them all last week with a fun afternoon snack, dirt cups with gummy worms- chocolate pudding, gummy worms, and oreos. I'm glad I was able to get in a few pictures before the kids spotted them, they were gone in the blink of an eye.
These dirt cups with gummy worms are so easy to make. Just 4 ingredients, 5 minutes to make and some very happy kiddos.
Dirt Cups With Gummy Worms: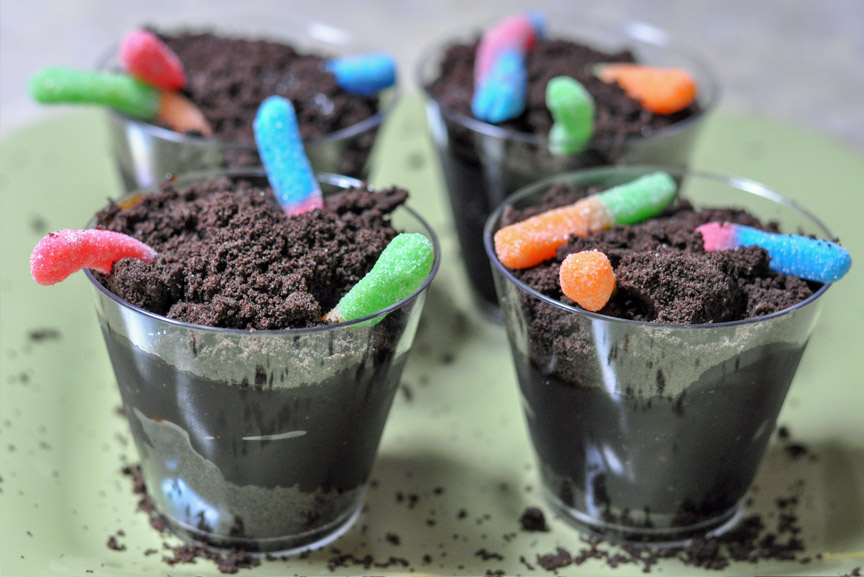 What you'll need to make this dirt cup recipe:
1 – 15 oz package of chocolate cookies – I used Oreos
1 – 3.9 oz package chocolate instant pudding mix
2 cups cold milk
24 gummy worms
9oz clear plastic cups or smalls serving bowls
How to make dirt cups:
Place the cookies into a resealable plastic bag, crush with a rolling pin into crumbs – or you can use a food processor.
In a large bowl, whisk together the chocolate pudding mix and milk, stirring for 2 minutes
Sprinkle 1/3 of the cookie crumbs into the bottom of a small serving bowl, add chocolate pudding mixture on top.
Top with remaining crushed Oreo cookies.
Add 2-3 gummy worms on top.
Refrigerate the dirt cups until serving.
Dirt Cup Variations:
Make a dirt cake. Follow the dirt cups recipe, but instead of using individual plastic cups, use a casserole dish or cake pan and make a dirt cake. Sprinkle 1/3 of the crushed oreo cookies on the bottom. Layer with pudding and additional oreos. Top with gummy worms.
Save time & use pre-made pudding cups: Top with crushed oreos and a gummy worm for a tasty dessert within minutes.
[mv_create title="Dirt Cups With Gummy Worms" key="7″ type="recipe"]If you enjoyed this dirt cup recipe, you'll also have to try our Shark cups!