This post brought to you by Listerine. All opinions are 100% mine.
We recently moved into a new house, and now that we have plenty of cabinet space in the bathrooms I was determined to keep the counter tops free of clutter. I used to hate having my bathroom counter tops covered with products, but these days I don't mind having a bottle of LISTERINE® on top. I'm loving these new decorative bottles from LISTERINE® – the bottles offer a simple way to add color and freshness to my mornings, and the Cool Mint chevron pattern matches perfectly with our decor.
Johnson & Johnson has recently released these exclusively designed Listerine (UltraClean & Total Care) bottles that that are only available at Target for a limited time. These bottles are available in four refreshing flavors/colors to match any decor: Cool Mint, Fresh Mint, Arctic Mint, & Fresh Citrus.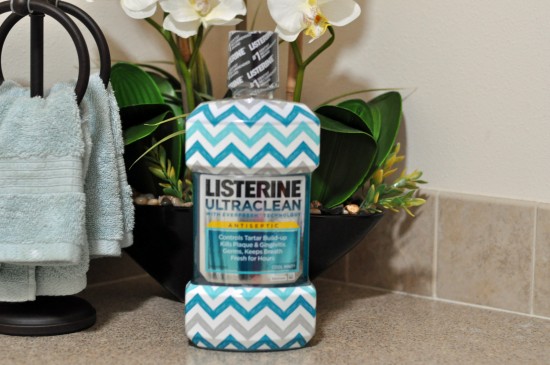 Which flavor/color would match your bathrooms decor? Cool Mint (Green), Artic Mint (blue), Fresh Mint (purple) or Fresh Citrus (orange)? I plan to pick up Fresh Mint the next time we visit Target as our guest bathroom is purple. To help celebrate the newly designed LISTERINE® (UltraClean & Total Care) bottles join us for the #ListerineDesign twitter party.
Join the #ListerineDesign Twitter Party!
When: August 7, 2014 1pm – 2pm EST
Host/CoHost: Follow hosts/CoHost @TammileeTips / @ModernDayMoms
Prizes: $1,000 in prizes – (2) $100 Target gift cards, (1) $300 Target gift card and (1) $500 Target gift card
Hashtag: #ListerineDesign *Winners announced through out party, must attend in order to win.
Will you be joining us for an hour filled with fun, freshness, and fabulous prizes including a $500 Target gift card? RSVP here
Is this your first Twitter Party? If so, check out these helpful Twitter Party tips.