Made from layers of Oreo cookies and pudding and topped with Easter PEEPS, jelly beans, and edible grass, these Easter Dirt Cups are a fun and easy Easter treat that every bunny will love!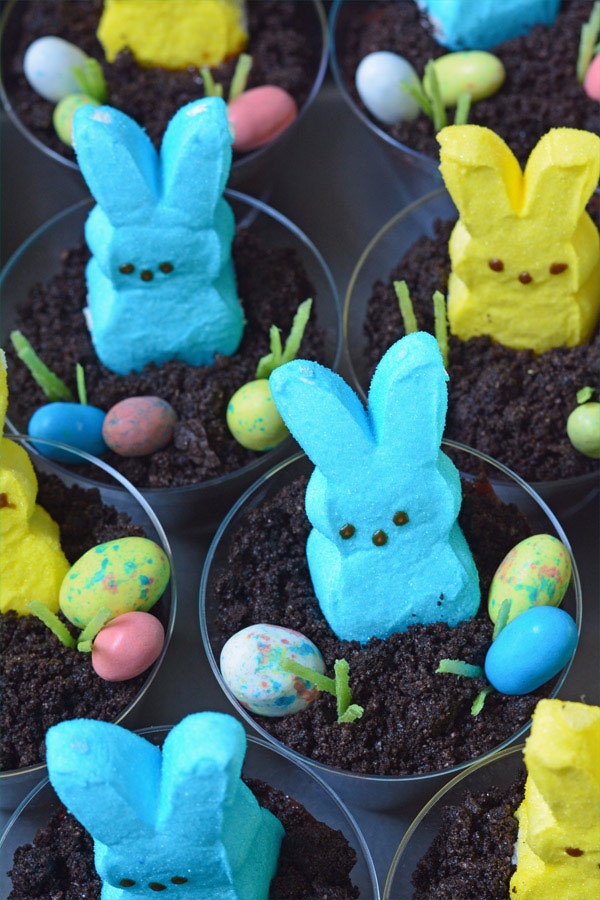 Chocolate dirt cups have been a long time favorite in our family, not just with the kids, but the adults as well. We make them in the summer topped with gummy worms, and during Halloween with spooky eyeballs oozing out. When we were trying to decide on individual Easter desserts to make with Easter PEEPS, Jonathan shouted Dirt Cups. Instead of the typical gummy worm, we decided to top these Dirt Cups with Easter PEEPS, chocolate jelly beans and edible candy grass that I spotted at Walmart.
Easter PEEPS Dirt Cups:
These Easter dirt cups are so easy to make, anyone can do it! Even if you're in a time crunch!
Turn a chocolate pudding cup into a fun Easter snack in seconds.
These Easter dirt cups take just a few minutes to make, and if your crunched for time, you can even pick up the individual serving chocolate pudding cups from your local grocery store or Amazon and top them with crushed oreos, an Easter PEEP and a couple jelly beans.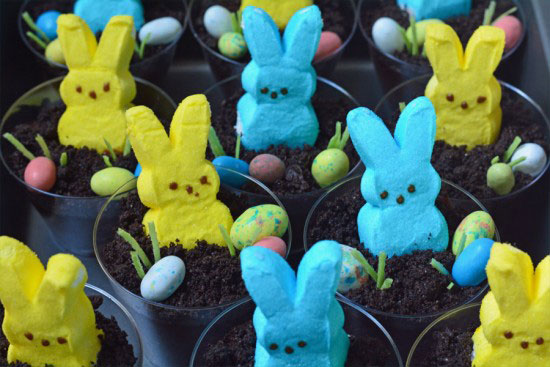 Dirt Cup Ingredients:
The amount of chocolate pudding and oreos you will need depends on how many dirt cups you plan to make and the size of the cups. I used 5oz cups in the pictures.
To make about 12 pudding cups, you'll need
1 package of oreos
2 packages of chocolate Jello pudding or premade pudding cups
PEEPS
jelly beans or chocolate eggs.
How to make Easter Dirt Cups:
Add the Oreos in a food processor and blend until a fine consistency. Mix the Jello pudding together according to directions on the box (or pick up the single serve pudding packs.) Spoon pudding mixture into small cups. Place a PEEPS bunny in cup and press down lightly.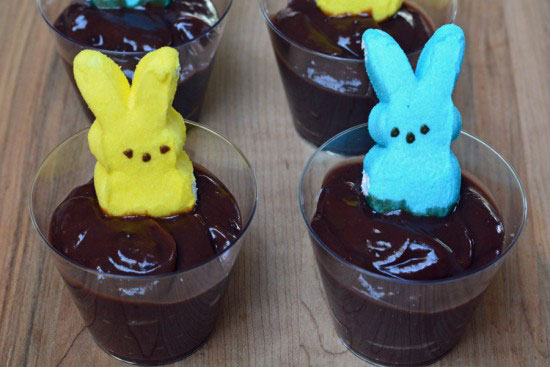 Sprinkle crushed Oreos around the Easter PEEPS Bunny, press down lightly.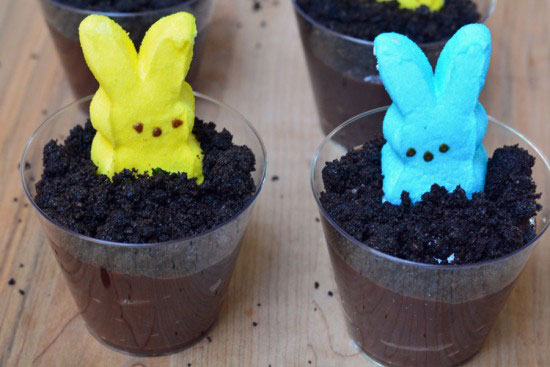 Add in small strips of edible Easter grass. If you can't find edible grass, you can use green frosting.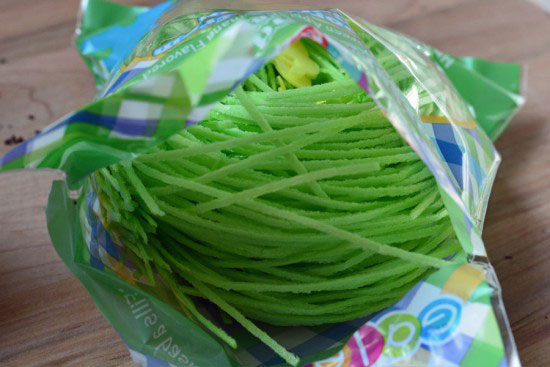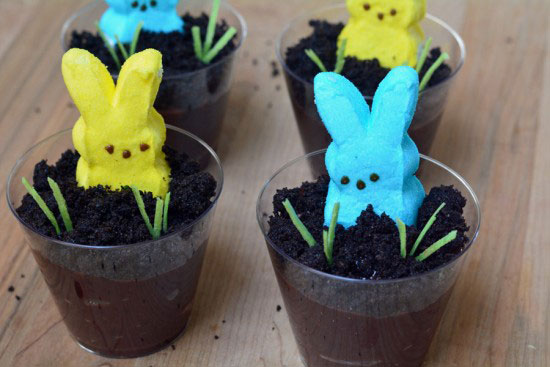 Top with a few of your favorite jelly bean candies.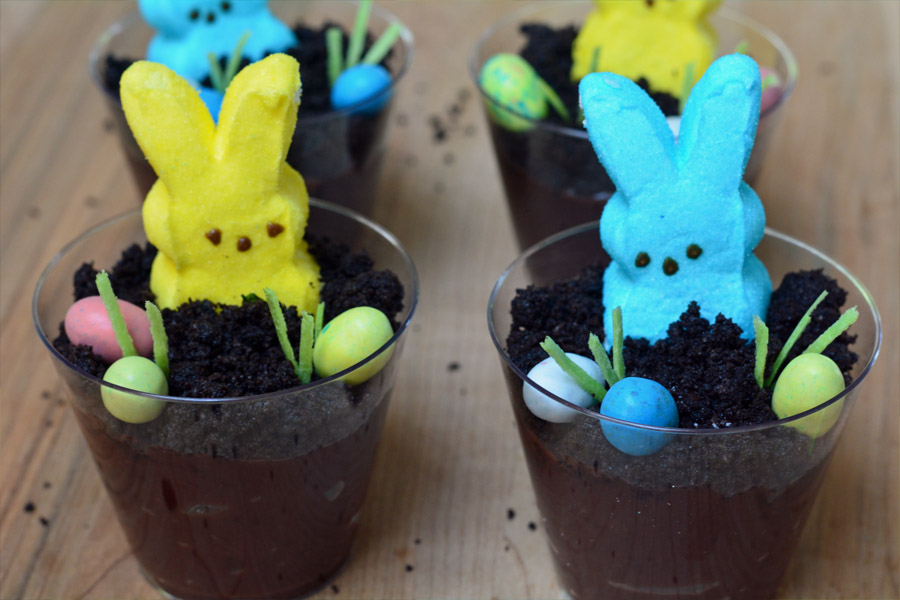 Store the oreo dirt cups in the fridge until ready to serve.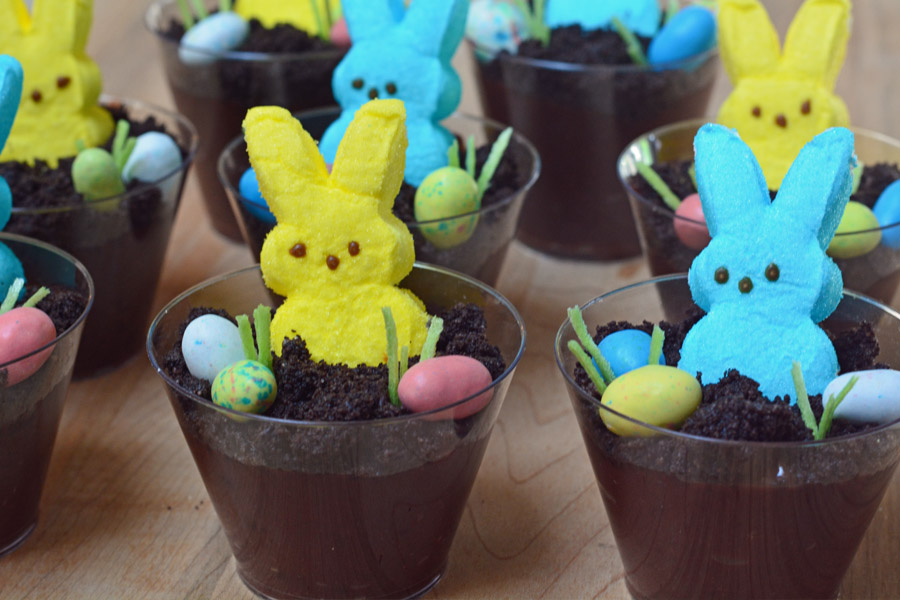 Additional Ideas for Easter bunny pudding desserts:
Crushed Oreos on the bottom with pistachio pudding
Oreos and Vanilla Jello Pudding dyed green
Substitute edible Easter grass in these dirt cake cups for coconut dyed green
Make Easter Trifle with layers of Oreos and chocolate pudding, top with PEEPS
Save time making this Dirt Cup recipe:
Don't have a lot of time to make an Easter dessert? Buy pre-made pudding cups, and top with PEEPS. Instead of using a food processor, place the oreos in a ziplock bag to crush. In just a few minutes you can turn a simple store bough pudding cup into a cute Easter dessert.
Easter Dirt Cake:
Instead of making individual dirt cake cups follow the jello pudding dirt cup recipe but make into an Easter dirt cake. Instead of placing the pudding into individual cups, dump it into a casserole dish or a cake pan. Place PEEPS around the chocolate pudding and top with crushed Oreos. Add the edible Easter grass and top with Jelly beans or chocolate candy eggs.
Kids will love the Easter Oreo Dirt Cake and will be the most requested dessert for years to come.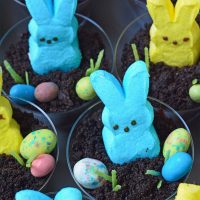 PEEPS Easter Bunny Dirt Cups
Made from layers of Oreo cookies and pudding and topped with Easter PEEPS, jelly beans, and edible grass, these Easter Bunny Dirt Cups are a fun and easy Easter treat.
Print
Pin
Ingredients
PEEPS Bunnies

Oreos - crushed

Chocolate Pudding

Edible grass

Candy Easter Eggs

Plastic cups
Instructions
Make pudding according to directions.

Separate pudding into individual cups


Press a PEEPS bunny gently into the pudding

Cover with crushed Oreos

Add edible grass and Easter egg candies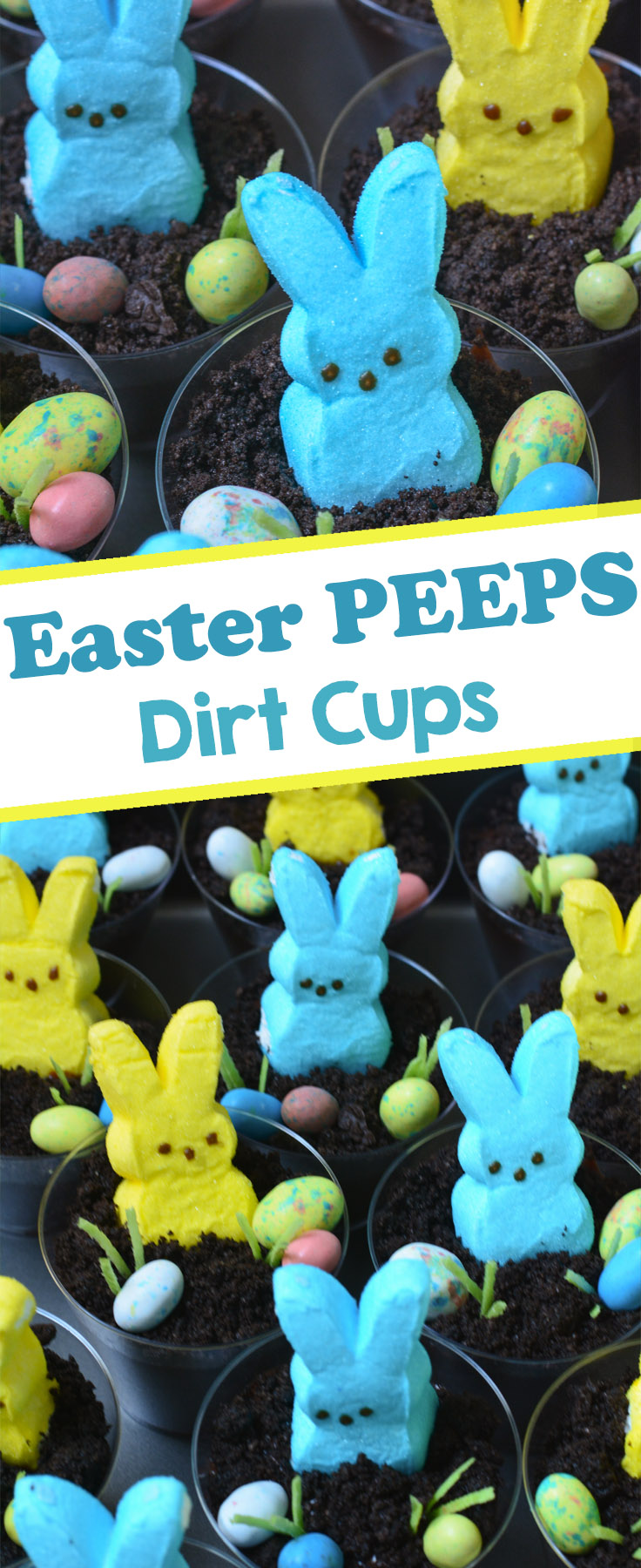 Looking for other Easter desserts to make?
Try the PEEPS Easter Cake, easy Easter Bunny Cake, Rice Krispie Easter Eggs or Jello Eggs.