Are you looking for Ninja Turtle party ideas? Learn how to make these fun Ninja Turtle Goodie Bags with this TMNT Goodie Bag tutorial.

This year the boys decided to combine both of the boys' birthdays and have one big Teenage Mutant Ninja Turtle bowling party with all of their friends. While I always make their birthday cake this year I decided to make Ninja Turtle goodie bags as well. After deciding on green gift bags we picked up green, red, blue, purple, orange, white & black craft foam sheets at the craft store.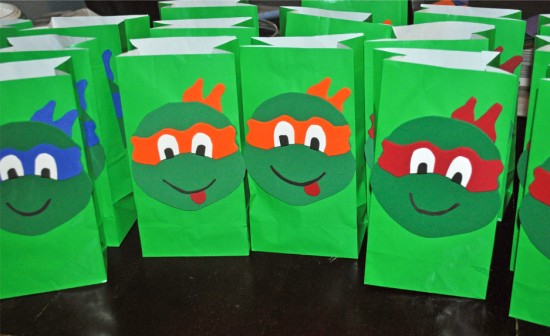 I printed out a template and started tracing and cutting. I spread the work over a couple days so I wasn't overwhelmed making 20 different goodie bags at once. When I had free time throughout the day I would sit down, trace and cut until I had twenty heads, face masks, eyes, and mouths. A glue stick worked great to stick the heads together and onto the bag. I let the bags sit overnight to make sure the glue hardened before I started filling them.
How to Make Ninja Turtle Goodie Bags:
Supplies Needed:
Scissors
Marker or ball point pen to trace
Teenage Mutant Ninja Turtle face template (print)
Directions:
Print out template, and cut out all of the pieces.
Trace the face, masks, eyes and mouths onto foam sheets, cut them out.
Using a glue stick, attach the mask, eyes, mouth and tongue to face. Put a little glue on bottom of ribbon and place it on the back of head.
Attach Teenage Mutant Ninja Turtle face onto gift bag, let dry.
If you're like me and prefer to order online whenever possible, all of these supplies including the foam sheets and green gift bags can be ordered from Amazon and delivered right to your door.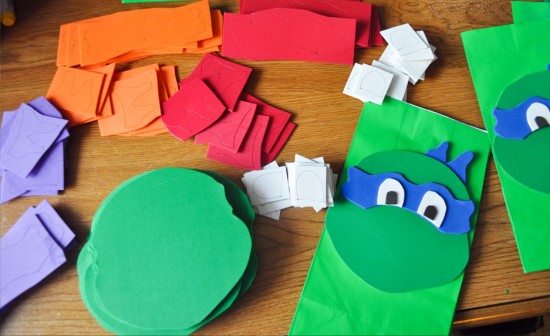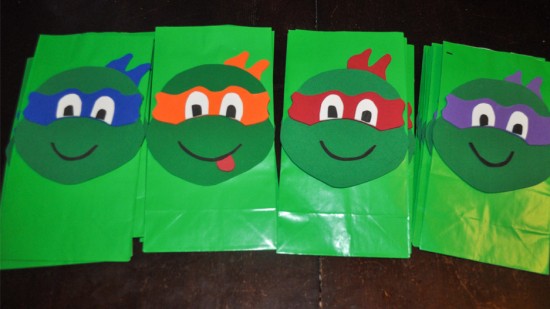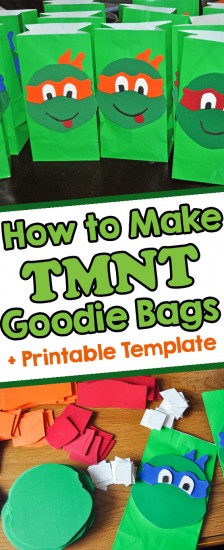 Looking for ideas to put in the bag? Check out these Teenage Mutatnt Ninja Turtle party favors.