Are you looking to purchase a new all in one car seat? Check out the Graco 4 in 1 car seat. The Graco Extend2Fit car seat is the only car seat you'll need from infant and toddler years to grade school. This convertible car seat grows with your child and easily converts from baby to booster mode.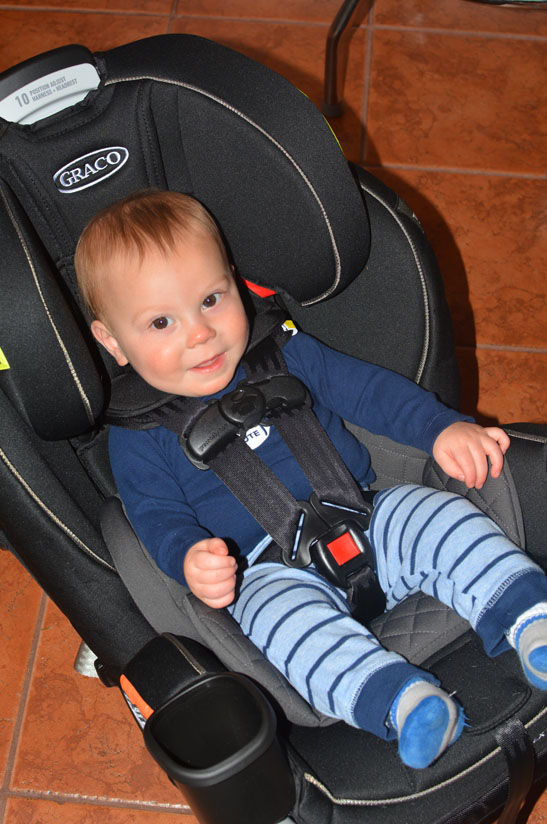 After being involved in a head on accident in 2004 one of my biggest fears is getting into an accident with my children. As a mother I do everything I can to protect my them, but sometimes protecting them is out of my control. In my case, two teenagers were drag racing, one on the wrong side of the road when I was hit head on. Although I can't always prevent them from getting hurt, I can take steps to protect them including making sure they are always properly restrained in the car. Before putting my car in drive, I always make sure to ask my older kids if their seat belts are on, my 9 year old is in a backless booster, my 7 year old is still in a 5-point harness, and the baby is rear-faced.
In recent years, extended rear-facing has become a popular topic, and I plan to rear-face baby boy until at least 2 years old. My older two children quickly outgrew the rear facing mode in their convertible car seat and were turned around shortly after they turned 1. Now there are all in one car seats on the market with higher weight and height capacities including the new Graco 4Ever Extend2Fit 4-in-1 Car Seat that Graco recently provided for baby boy to try out.
The correct name is the Graco 4Ever Extend2Fit car seat, but many call it the Graco Forever Extend2Fit.
9 Reasons to Love The Graco 4Ever Extend2Fit 4-in-1 Car Seat
1. It's a 4 in 1 car seat

The Graco 4ever car seat is an all in one car seat that grows with your child. This car seat gives you 10 years of use, from 4 – 120 lbs.

Rear-facing infant car seat

Graco Extend2fit rear facing limits (4–50 lbs)

Forward-facing 5-point harness seat (22–65 lbs)
High-back belt-positioning booster (40–100 lbs)
Backless belt-positioning booster (40–120 lbs)
2. Easy to install in rear facing mode

To help achieve the proper fit and eliminate installation guesses, there is an easy-to-read level indicator located on the side of the car seat. Check the level indicator to make sure it is in the correct area for rear-facing a child under 3 months vs. over 3 months. The InRight™ LATCH system also provides an easy, one-second LATCH attachment.
3. Safety
The Graco 4Ever Extend2Fit 4-in-1 Car Seat was built to help keep your child safe when traveling. It has been side impact tested and the steel-reinforced frame provides strength and durability. The TrueShield Advanced Side-Impact Protection protects the child from their head to their hips.
4. Extended rear-facing
Children can be rear-face in the Graco 4Ever Extend2Fit 4-in-1 Car Seat until they reach 50 lbs as long as their head is at least 1" below the headrest adjustment handle. To allow for additional leg room the pull out extender provides 5″ additional leg room and has 4 different positions.
5. No Rethreading
The Simply Safe Adjust™ Harness System and 10-position headrest allows you to adjust the harness and headrest together with one hand in seconds. There is no having to rethread. As your child grows, simply adjust the headrest to a higher level which will also move the harness higher.
6. 2 cup holders
There are 2 integrated cup holders to keep your child's drinks, snacks, or toys close by. They are easily removed for easy cleanup. For those that spend an extended amount of time in the car, like our family, cup holders are a convenience especially as the children grow older.
7. Comfortable for child
As a family who travels often and spends hours upon hours in the car it is not only important for their car seat to be safe, but also comfortable. The Graco 4Ever Extend2Fit 4-in-1 Car Seat has plush inserts & padded harness covers to help keep the child comfortable as well as a 6-position recline.
8. Washable seat cover
For those unexpected spills, explosive diapers and the dreaded throw-up, the washable seat cover can be removed without removing the harness.
9. Easily store harness when in booster mode
The 4 in 1 car seat easily converts from baby to booster seat mode. The built in harness storage compartment holds unused harness straps while in the belt positioning booster mode. In previous years I've had to fully remove the harness straps to switch a car seat into the booster mode, the built in feature would have prevented having to search for them years later when I wanted to use the five point harness again.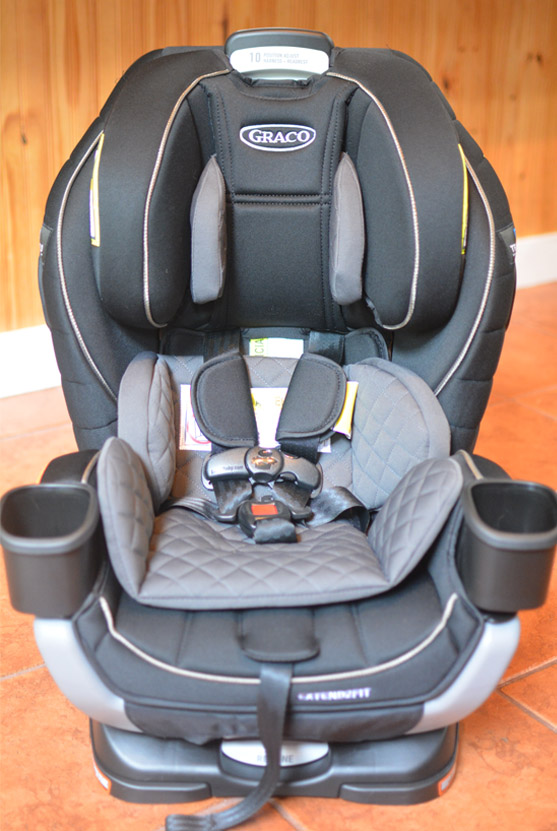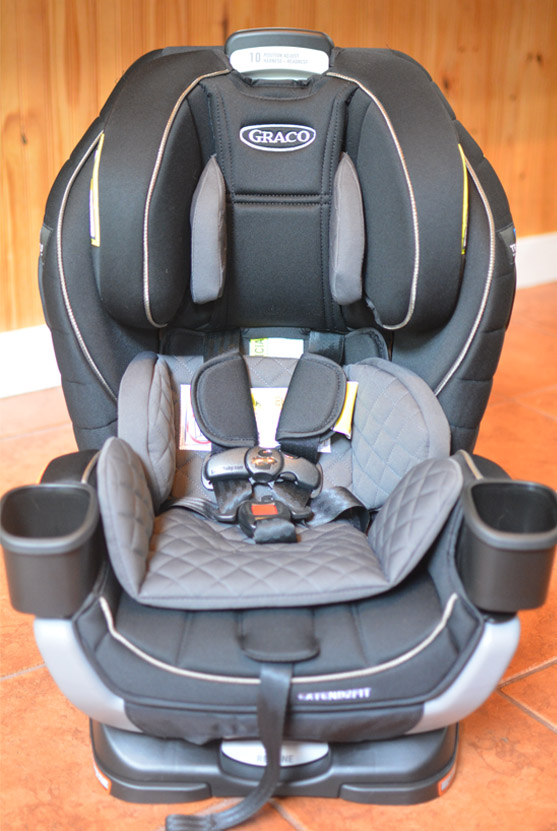 Graco 4 in 1 Car Seat

– Seat Extender in:
To 4 in 1 car seat grows your child. As you child becomes older, you can pull out the extender for more leg room. and has 4 different positions.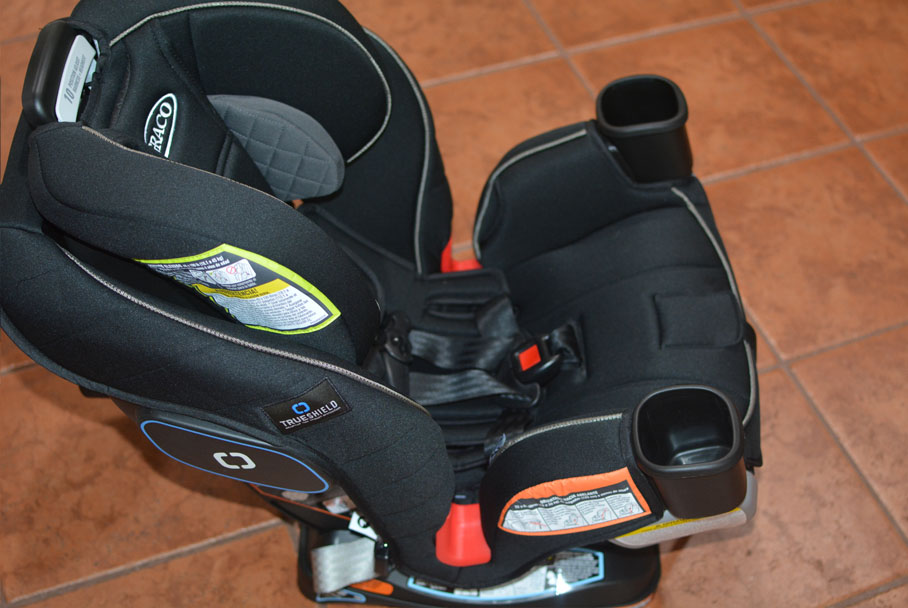 Seat Extender pulled out:
Six recline positions: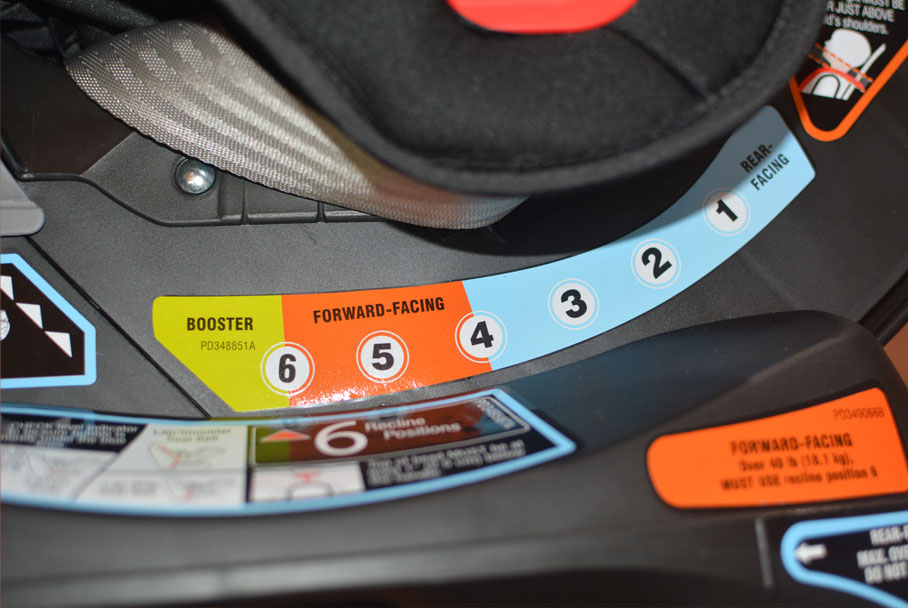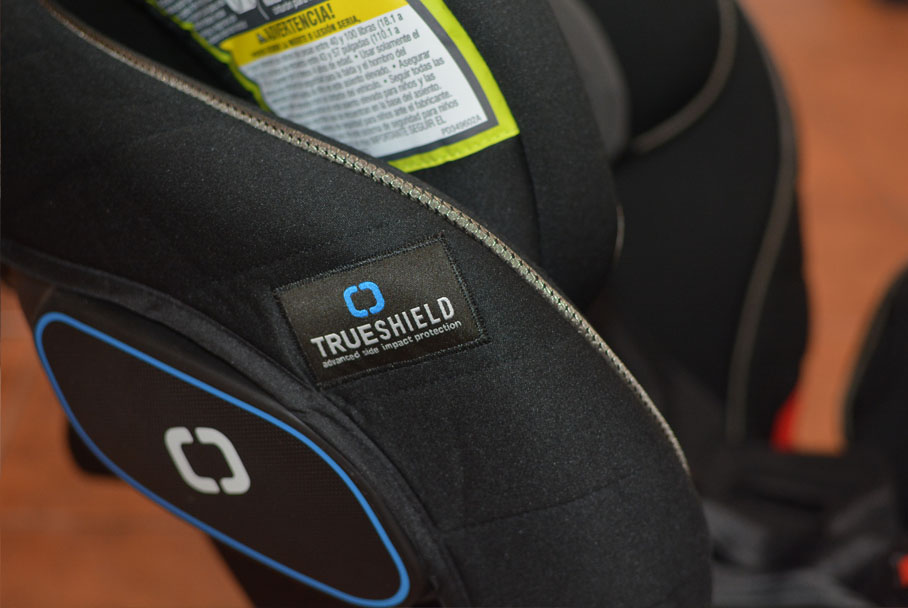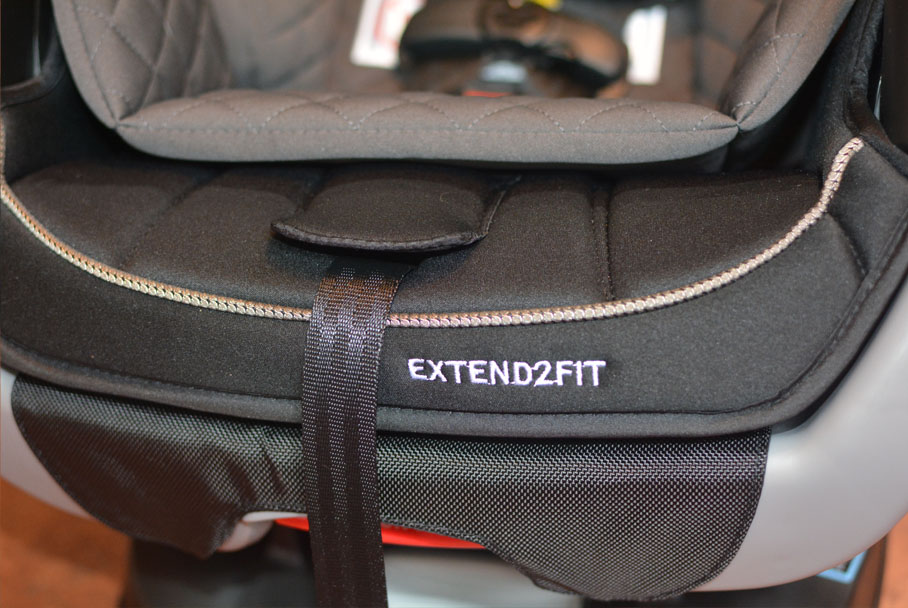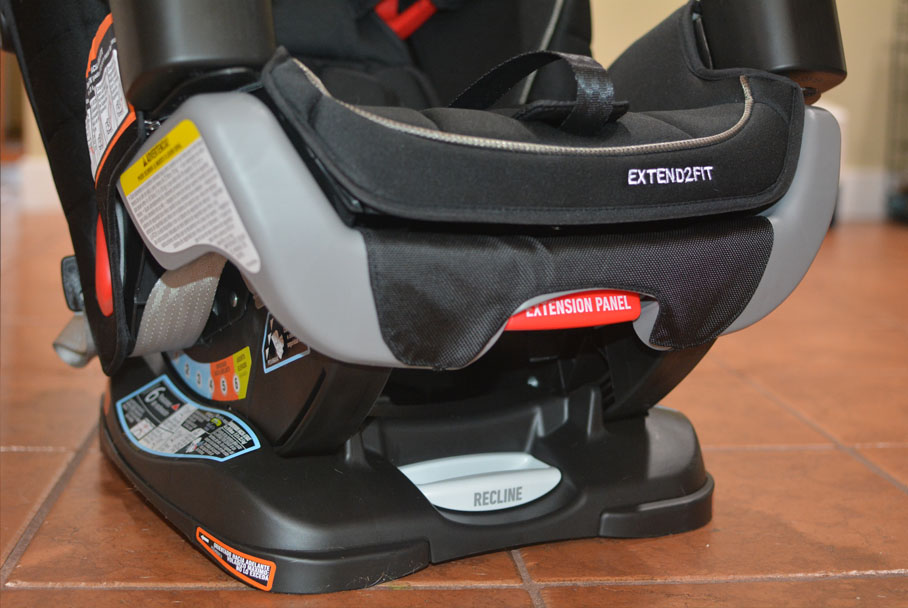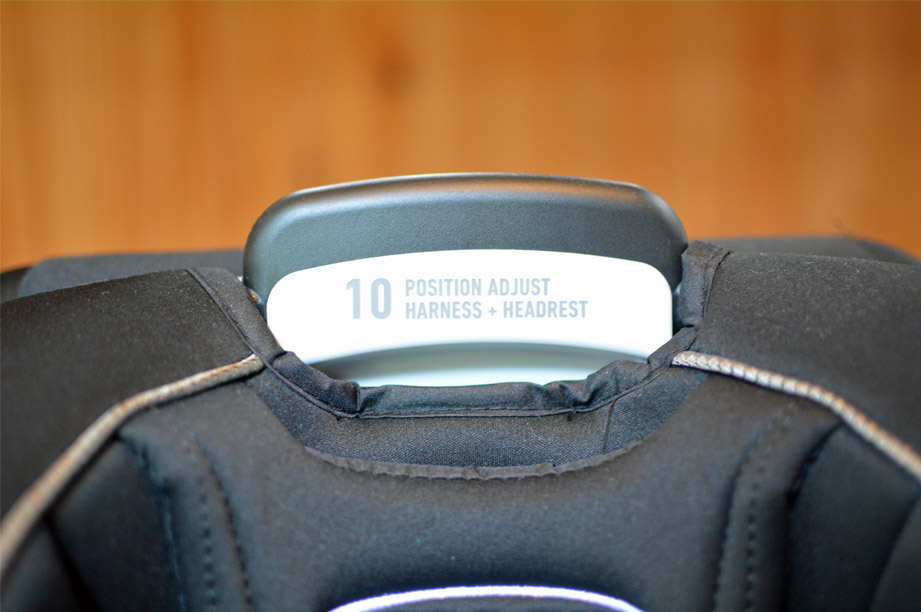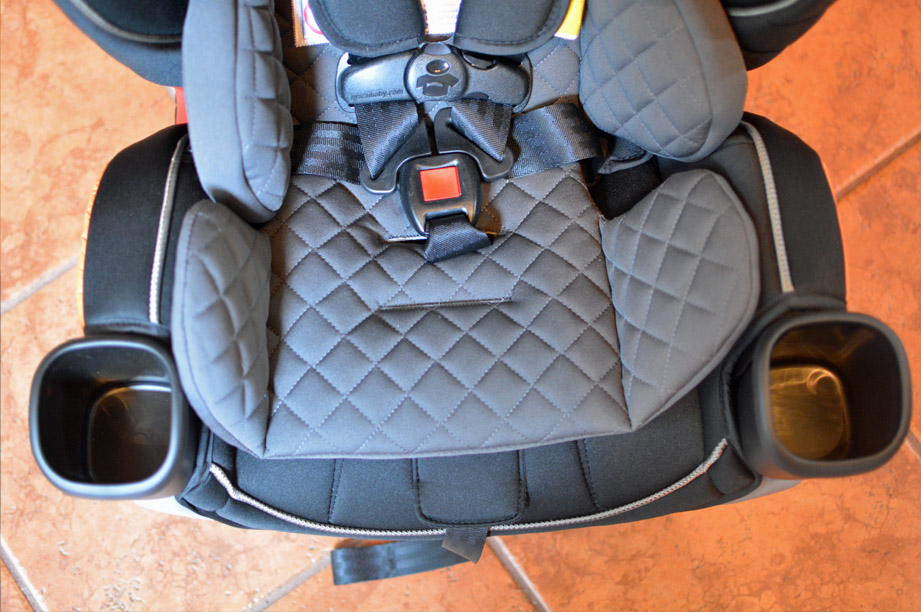 *The body support must be used for children 25 lb or less.
This all in one car seat is the only car seat that you'll need. Buy the Graco Extend2Fit at Walmart,  Amazon, and Target.
Learn more about the Graco 4Ever 4-in-1 Car Seat featuring TrueShield Technology, also known as the Graco Forever extend2fit by visiting the Graco website.