This is a sponsored post written by me on behalf of Luvs®. All opinions are 100% mine.
As the mother of two children, I know how expensive it can be to buy clothes, food, and diapers. With two in diapers at the same time, we went through our fair share, and I was always on the lookout for coupons, sales, and reward programs to help us save. Walmart, our go-to grocery store carries some of the best baby brands, including Luvs® and their Luvs® Super Absorbent diaper.
The Luvs® Super Absorbent diaper features NightLock, Luvs' largest absorbency area, providing even more absorbency than than regular Luvs®, which we needed mainly during the night when the boys started sleeping in 9-10 hour stretches. Waking up to a child soaking wet, and having to give baths, change bedding at 3am, is not something I looked forward to after a long day.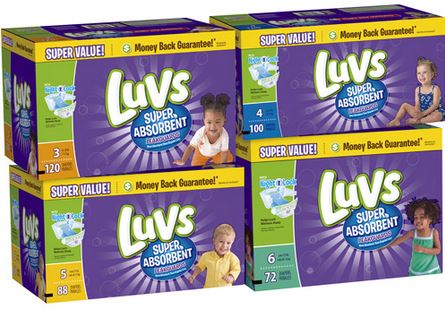 In addition to the Luvs® Super Absorbent diaper, I'm excited to announce that the Luvs® diaper brand has introduced the Luvs® loyalty program.
Not only have they launched this fabulous program, but they will be giving one member a year's worth of diapers!
Through the years one thing that was missing from Luvs® compared to other major diaper brands was a loyalty program. With the new loyalty program, members will receive the latest Luvs' offers & savings, baby-related news, videos and tips, plus much more!
Don't wait to sign up!
Luvs® is giving away a $5 Walmart e-gift card to the first 2,000 registered members and a chance to win the grand prize of free diapers for a year! That is $1,000 value!
The free diapers for a year drawing will be held in April 2015, so head on over now and submit your registered entry.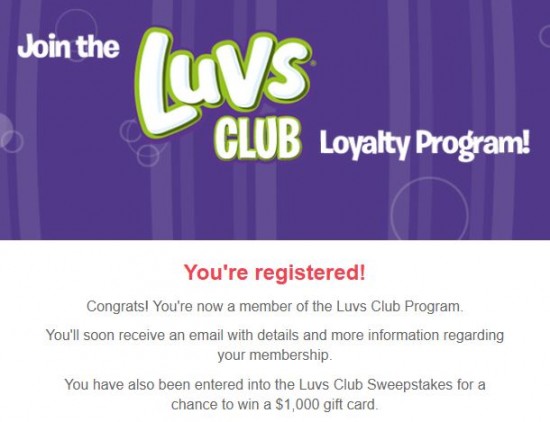 I just registered for the #LuvsClub, will you?