For over 60 years, Graco has been designing baby gear with safety and convenience in mind. Through the years, there have been a number of improvements in high chairs and strollers, most recently the Ready2Dine Highchair & Graco Breaze Click Connect lightweight stroller. These two new products that Graco recently sent us are now available and offer convenience for parents while providing comfort for their babies.
Graco Ready2Dine Highchair: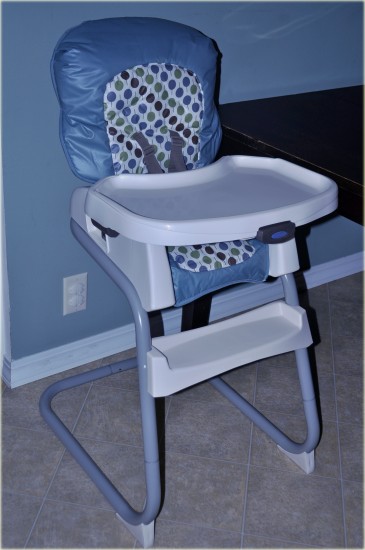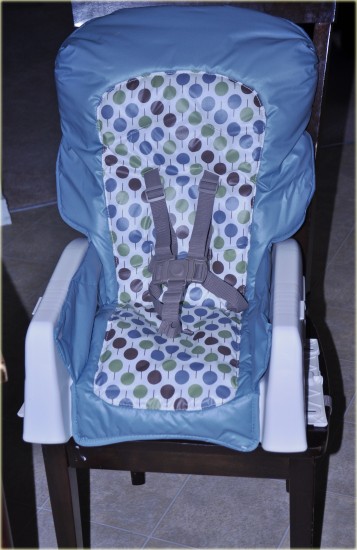 Graco High Chair Features:
15% smaller than most highchairs.
Use highchair with or without tray
2-in-1 feature: converts from high chair to booster
2-position recline
Carry handle & lightweight
Convertible 3 and 5 point harness
Recommended for up to 3 Years Old, 40 lb weight limit
Available in two styles Darla & Dakota
MSRP: $99.99 – Available at Target.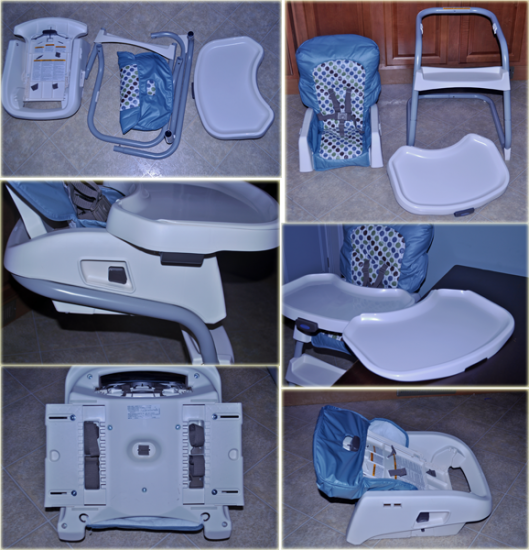 The Ready2Dine Highchair space saving frame is 15% smaller than most high chairs, although the frame does not fold up, it does easily come apart for storing. Use it as a high chair with our without the tray, then easily convert it into a booster seat when the child is ready, simply press the button on each side of the frame and the booster will release. The 2-in-1 feature adds the convenience of not having to purchase an additional booster seat, and the availability of switching from a high chair to a booster in a moments notice.
The Ready2Dine booster seat folds up easily, and the carry handle makes it perfect to bring on-the-go, the straps are stored in the bottom of the seat when not in use. Pack the Ready2Dine in the trunk to head to grandma's house, or to a function hall for a birthday party. When mealtime is over, remove the tray with one hand and place the tray insert in the dishwasher. The seatpad can be wiped clean or easily detaches and is machine washable making cleanup a breeze.
Graco Breaze Click Connect: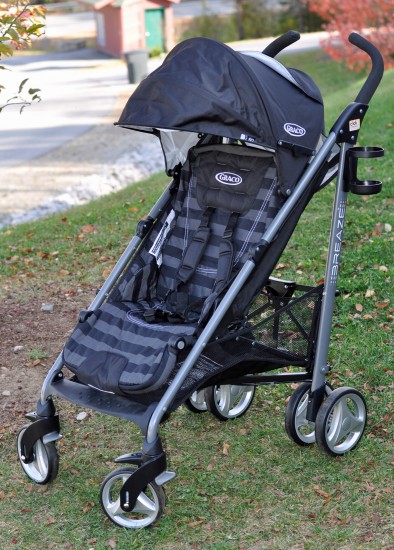 When our first child was born one of the most convenient purchases was a travel system as we were easily able to place a sleeping baby out of the car and into the stroller without having to unbuckle him. The only thing is I wanted a lightweight stroller instead of a full size as we didn't' always have the room and need for a full size stroller. At the time all of the travel systems were full size strollers, a lightweight travel system was not an option. With Graco's new Breaze Click Connect lightweight stroller, you can easily connect a Graco Click Connect car seat to convert it into a lightweight travel system.
Graco Breaze Features:
Birth up to 50 lbs.
Accepts all Graco Click Connect™ infant car seats
Multi-postion, reclining seat, lays flat
Removable parent cup
Extra-large canopy with UV 50 protection
Carry strap for easy transport & storage
Lockable front swivel wheels
Convertible 3- or 5-point harness grows with your child
Stroller Weight: 17.75 lbs
Available in 7 Styles/Colors
MSRP $169.99 Available at Buy Buy Baby.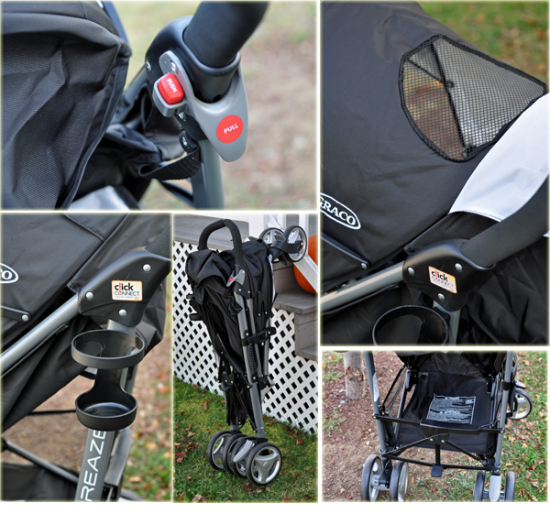 Extra-large storage basket:
While the Graco Breaze is a light weight stroller, it has many features that are available in a full size stroller including an extra-large, easy to access under storage basket. A large storage basket is one of my "must haves" when it comes to strollers.  Strollers offer convenience, and there's no convenience if the storage area is not large enough to hold a couple of shopping bags, the diaper bag, or travel essentials when we visit local attractions or the park.
One hand Fold With Auto Lock:
When it comes to packing up the car, simple and convenient is the key. There's nothing like having to struggle closing a stroller when you are preoccupied with a hungry crying child, and trying to pack in the trunk.  I've been there multiple times, and it's not fun. The Graco Breaze is one of the easiest folding umbrella strollers with an exclusive one hand fold.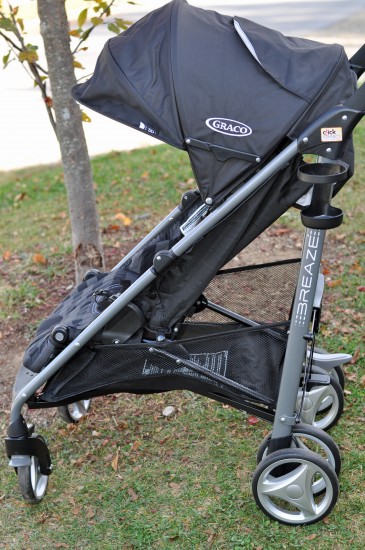 Which new product are you most excited about? The Graco Breaze, or the Graco highchair?