When it comes to grocery shopping, I tend to do it all myself and leave my husband at home as much as possible. He is not one to look for sales or coupons, he just picks up what he wants without even thinking twice about the price and it drives me crazy. I am more of a frugal shopper when it comes to groceries and I am always looking for sales, coupons, and if a product is too expensive and we don't absolutely need it, I'll pass on it, like the $8 bacon my husband loves.
Each weekend I'll browse though the ads and make my list depending on what is on sale. I prefer to do most of my shopping on Saturdays or Sundays so that I can prep all of the kids lunches on Sunday night. I can't count how many times I have spent all morning clipping coupons and making a list only to forget them on my kitchen counter. With the Shaw's app and new MyMixx savings program, I don't have to worry about loosing my list or forgetting my coupons as they are stored on my iPhone which is always on me.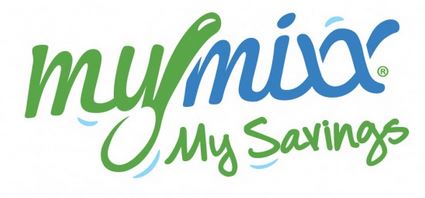 Last week was my first time using the MyMixx, savings program, as well as the Shaw's app, and it has become my new favorite app. I love the convenience of being able to view the weekly add, create my shopping list,  clip digital coupon, and browse through recipes to get ideas for dinner. I have always prepped my list and cut coupons at home, now I can do it on my smartphone while I'm sitting in the parking lot waiting for the kids to get dismissed from school.
MyMixx Savings App:
Download the Shaw's App on your mobile phone
Register for MyMixx
Clip digital coupons to store on your account
Browse sale flyer and add items to your shopping list
During checkout enter your phone number at the register to redeem digital coupons
*Option to sign up for digital receipts via sms text or email
*If you do not have a smartphone, you can also sign up for a MyMixx account on a PC, laptop or tablet to clip coupons. During checkout, simply provide the phone number associated with the account and the digital coupons will be redeemed.
When you sign up for the new MyMixx savings program at Shaw's, make sure to clip the digital coupon to save $5 off your next $20 purchase! The money off coupon was my favorite coupon last week, this week I'm looking forward to the $0.99 cent strawberries and $0.29 2 liter Pepsi to save for Jonathan's birthday party.
This past week I saved $29.52 (20%) off of my grocery bill by using the digital coupons at Shaw's. I'm on a mission to increase my savings each week, this week I'm shooting for at least 25%. Check back next week to see how much I saved.
Learn more and register for the MyMixx Savings Program.
This is a sponsored conversation written by me on behalf of Shaw's. The opinions and text are all mine.