I participated in this program on behalf of Wonder Workshop and The Motherhood. All opinions are my own.
Over the past few weeks Jonathan has learned a new way of play that is filled with adventure and learning. At just six years old, he is already being introduced to coding, and with all of the advances in technology over the past two years, it is certainly a skill that can make him succeed.
Meet Dash & Dot from Wonder Workshop: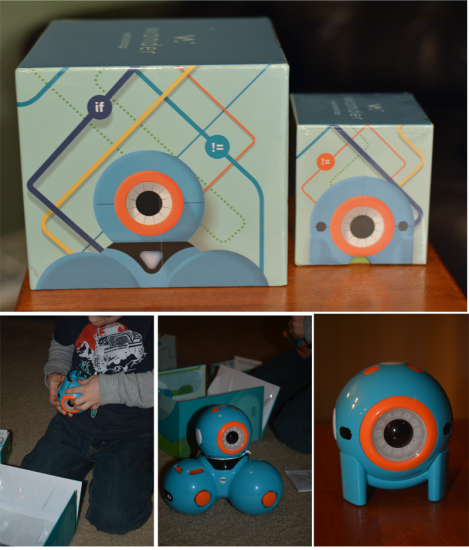 Dash and Dot, also known as Zach & Dot in our house, provide children with visual, hands-on programming. Children can start by sending simple commands to their robot, like turning right, or turning left, or moving forwards or backwards. As they play around with the app and their robots, they learn programming concepts and can progress to creating more complex algorithms. Program Dash with the Bulldozer bar to help clean up a room, or put on your favorite movie and program Dash to dance to the beats.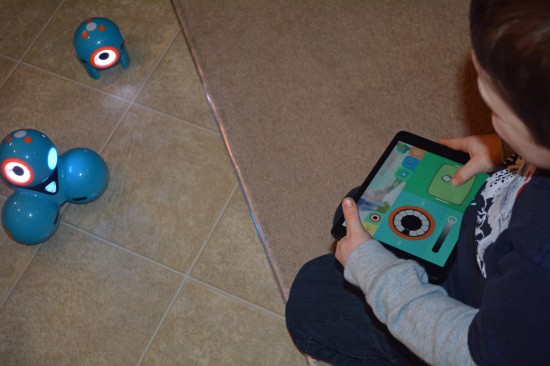 Dash & Dot were very simple to set up, but do require at least one free app that can be downloaded in the Apple store or Google Store on a compatible device. Compatible devices include: iPad 3, 4, Pad Air 1, 2, iPad Mini 1, 2, 3,  iPhone 5, 5s, 5c, 6, 6+, iPod Touch 5, and a variety of Android devices that can be viewed on the Make Wonder website.
4 Available Apps:
Go (ages 5+)- Get started with Dash & Dot & learn all of the fun features + personalize with colors. Recommended age 5+
Path (ages 5+)- Draw a path with your finger for Dash to follow.
Blockly (ages 8+)- Program Dash & Dot by making sequences with code, features drag & drop programming.
Xylo (ages 5+)- Play music with with Dash, requires additional purchase of Dash's Xylophone.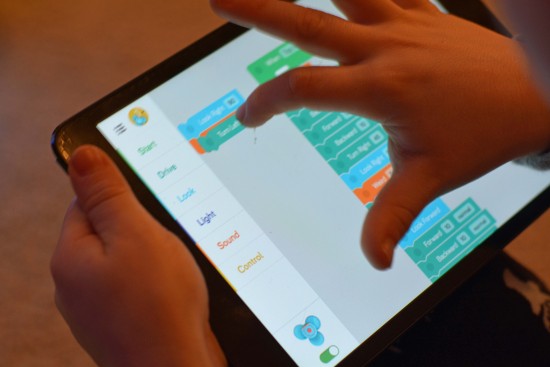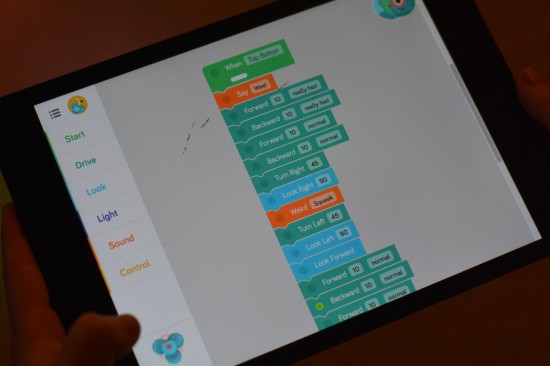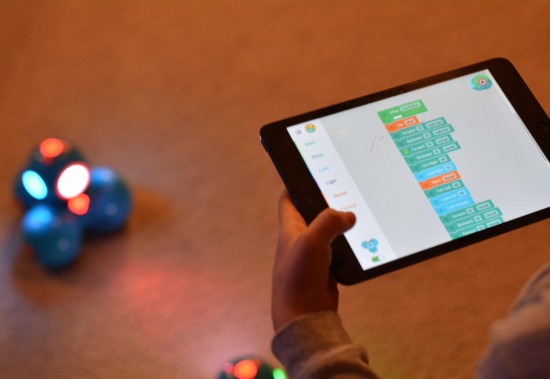 We started with the Go app so that Jonathan could get used to the features and so that we could customize Dash and Dot, personalizing them with colors and different names. We then moved on to the Path app where Jonathan enjoyed drawing a path for Dash (Zach) to follow, and then moved on to the Blockly app where I helped him to code. The Blockly app is recommended for ages 8+ but with my help reading a few of the commands, I was able to help Jonathan code a sequence of moves, his favorite was having his robots make dinosaur sounds and pretend that they were dinosaurs.
Also included with our Dash & Dot was the Building Brick Connectors that are compatible with Lego® bricks, Technics, Mindstorms kits and Hero Factory. Children can dress up their robots and let their imaginations soar as they pretend they are race cars, animals, planes and more. All of their Lego® bricks are at their grandmother's house so they cannot wait to visit her and bring Dash & Dot so that they can dress up up like dinosaurs.
In addition to Dash and Dot themselves, there are a number of accessories that can be purchases, Jonathan has his eyes set on the bulldozer bar so that he can program his robots to help clean up his room!
 Additional Accessories:
Dash's Xylophone
Bulldozer bar
Bunny ears
Bunny tail
Tow hook
Smartphone Mount
Play Ideas:
Want to learn more about Dash & Dot and their ability? Check out these fabulous play ideas.
Order your robots today from the Wonder Workshop.