This post is brought to you in partnership with The Motherhood. All opinions are my own.
Every year the boys and I purchase school supplies to donate to a local child in need. We are fortunate to be able to afford school supplies, but I am always reminding my children that there are many children out there that are not as fortunate enough and that they can help me give back. In fact there are more than 16 million American children living in poverty. Last year the boys and I participated in a Champions for Kids SIMPLE Service Project to help children receive the resources they need to thrive and this year Champions for Kids along with Elmer's, Purell, Unilever and Walmart are once again participating in a SIMPLE Giving initiative to help children receive the school supplies needed to succeed academically and creatively.
This SIMPLE Giving initiative is taking place in over 3,000 Walmart stores across the United States. Anyone can participate in the campaign by visiting a participating Walmart store through August 1st and purchasing a  backpack full of school supplies to donate. In addition to being filled with school supplies, each backpack will also contain a coupon booklet valued at over $50. Once purchased, remove the coupon booklet from the backpack to use yourself or give to a friend and place the backpack full of supplies in the yellow school bus donation bin.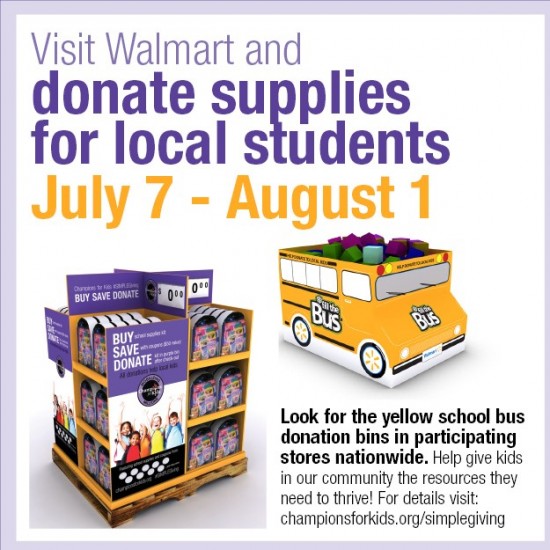 The backpacks and school supplies will then be distributed throughout the school district by school nurses, social workers, and student services coordinators. The first SIMPLE Giving program started with just 24 Walmarts last spring and now includes over 3,000 Walmarts. In just one year over 3,000 joined, will they double that next year?
Every children deserves a chance to learn, help them to receive the needed school supplies and encourage them to thrive.
For a full list of participating Walmart stores, click here.