This post is brought to you by Wonder Workshop and The Motherhood. All opinions are my own.
Growing up, most of my days were spent either outside with my siblings or engaging in creative play. We didn't have tablets or smartphones, laptops, or even a desktop, our every day life consisted of using our imagination and being creative with  whatever was in our basement or yard. In the summer we would transform the sandbox into a mini town with roads and buildings as we drove our dump trucks all around and on rainy days and during the winter, our playroom was turned into a mini city with building and houses made out of building blocks as we drove our Micro-Machines and Hot Wheels around. Cardboard boxes were transformed into space ships, and my mother's sewing material was often transformed into a cast when we played house and pretended we broke our arm.
Like my parents, I try to inspire my children to use their imagination and be creative. It's not too hard as I receive an endless supply of card board boxes that are quickly transformed into houses, space shuttles, dinosaurs, and even a 2 foot fire truck that's been sitting in my office for over a month now, but can't be recycled as it is Trevor's pride and joy. Both of the kids love designing their own projects with cardboard boxes, give them markers, scissors, tape, and a cardboard box and they'll stay busy for hours, if not days. I have a whole area in my office dedicated to random craft supplies and by allowing them to explore, there are no directions to follow, it's simply trial and error, if one thing doesn't work then find a creative way to make it work.
Here's to creativity: Discover a new way to play with Dash and Dot.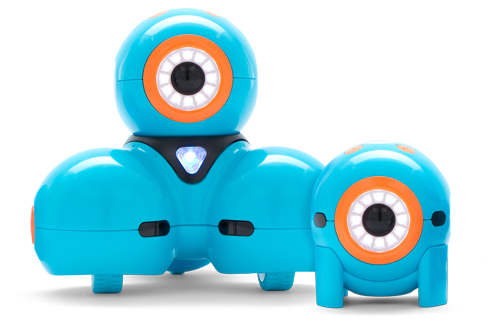 With Dash and Dot, children can learn how to code and program their very own robot to do what they want. Dash and Dot is designed for ages 5+, start by sending simple commands and then move on to creating more advanced algorithms. Over the next few weeks I'm looking forward to watching Jonathan and Trevor discover new ways to play with their Dash & Dot that we will be receiving.  Just like the video, I can already see Dash and Dot joining in on the fun as they play with vehicles on their road rug or bring their paper projects to life as Dash and Dot drive around their creations.
How do you inspire creativity with your child?