I was invited to the 22nd Annual Inn To Inn Cookie Tour & provided accommodations & tickets.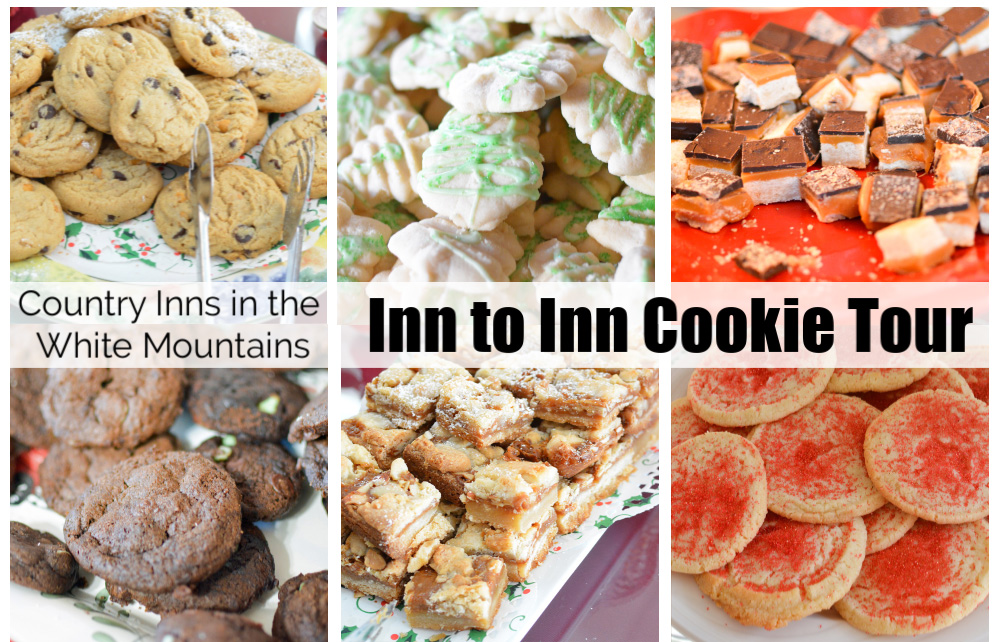 A quiet night away without the kids, cookies, candy, holiday shopping, and beautiful mountain views, I couldn't have asked for a better way to celebrate my 33rd birthday than on the Inn to Inn Cookie Tour. It was a much needed Mom's weekend away with lots of cookies and holiday shopping while the dad's took over hockey duties at home.
The Inn to Inn Cookie Tour is organized by Country Inns in the White Mountains and is now in it's 22nd year. Eleven inns in the Mount Washington Valley participated in the tour, and no inn was more than fifteen minutes from the next. The tour stretched from Jackson to Eaton, NH, with with a number of inns in North Conway Village.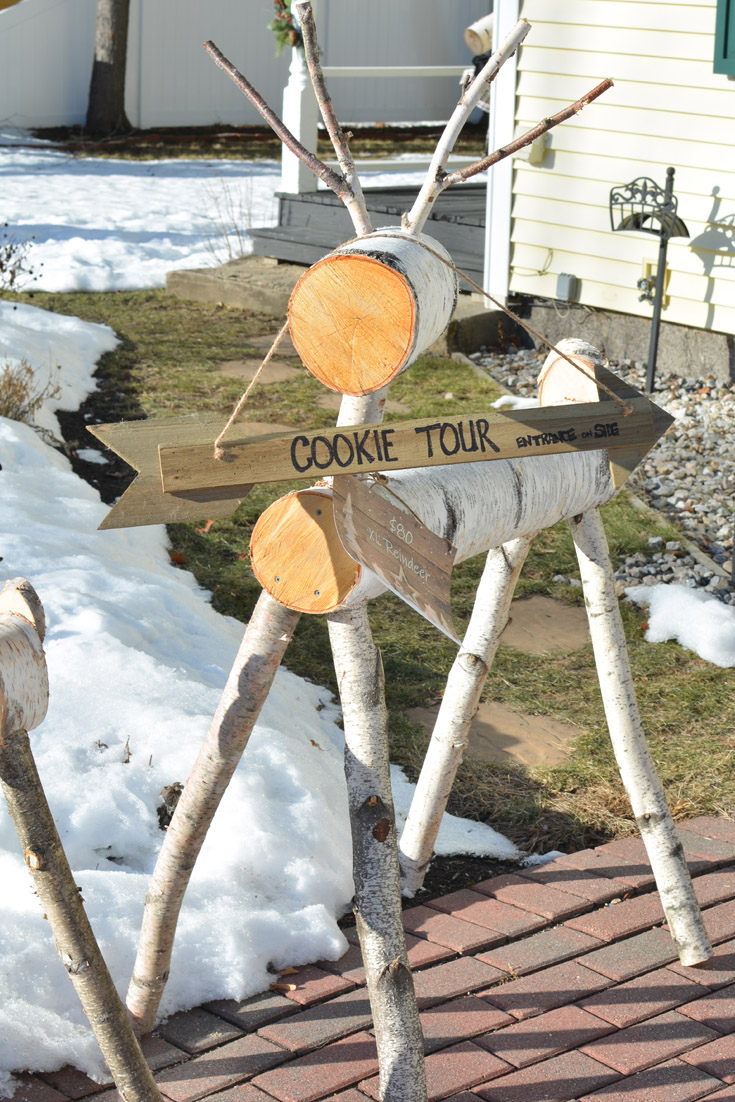 Each inn featured fabulous cookies, artists or craft sales for holiday shopping, and decorating ideas. Not only do you get to sample and take home delicious cookies at each inn, but a Holiday Recipe Cookbook is provided so you can make your favorites at home.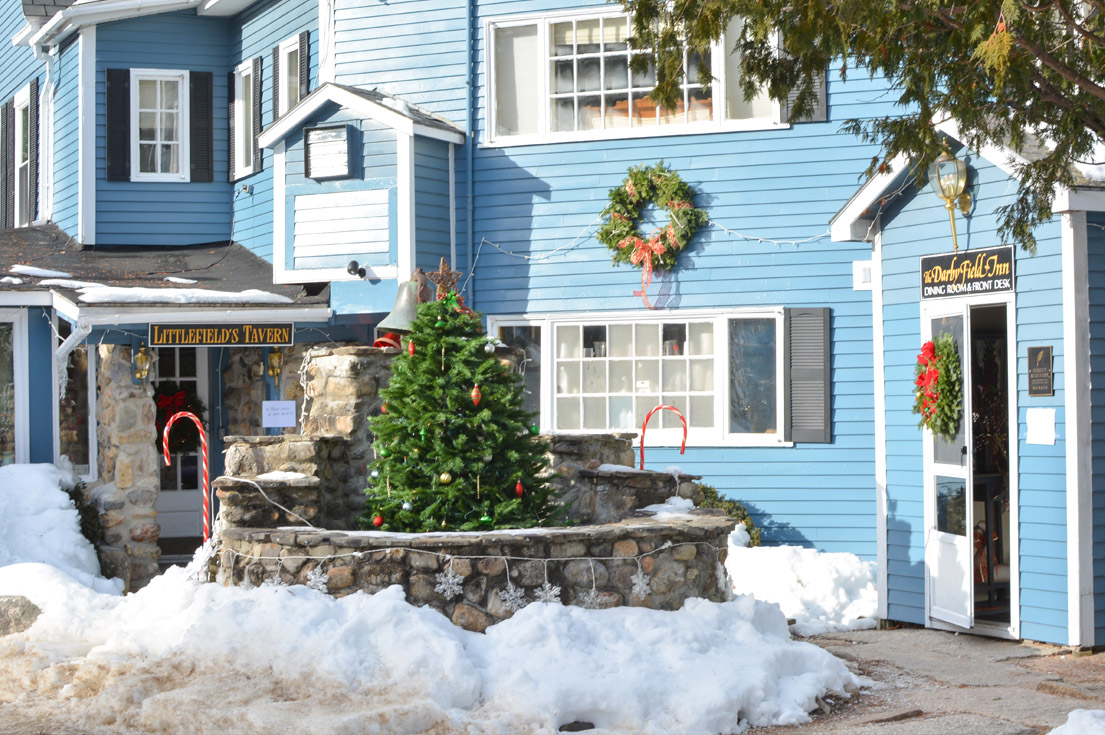 The best way to attend the cookie tour is to book a package at one of the participating inns. Most of the packages include a 2 night stay, full country breakfast, and tickets to the cookie tour. We stayed at the Darby Field Inn which is just a short drive off the Kancamangus Highway and minutes from North Conway Village.
A map was provided and I planned out our route on our self guided tour. A few of the inns were about 15 minutes from each other, and a number of inns were located in the North Conway Village.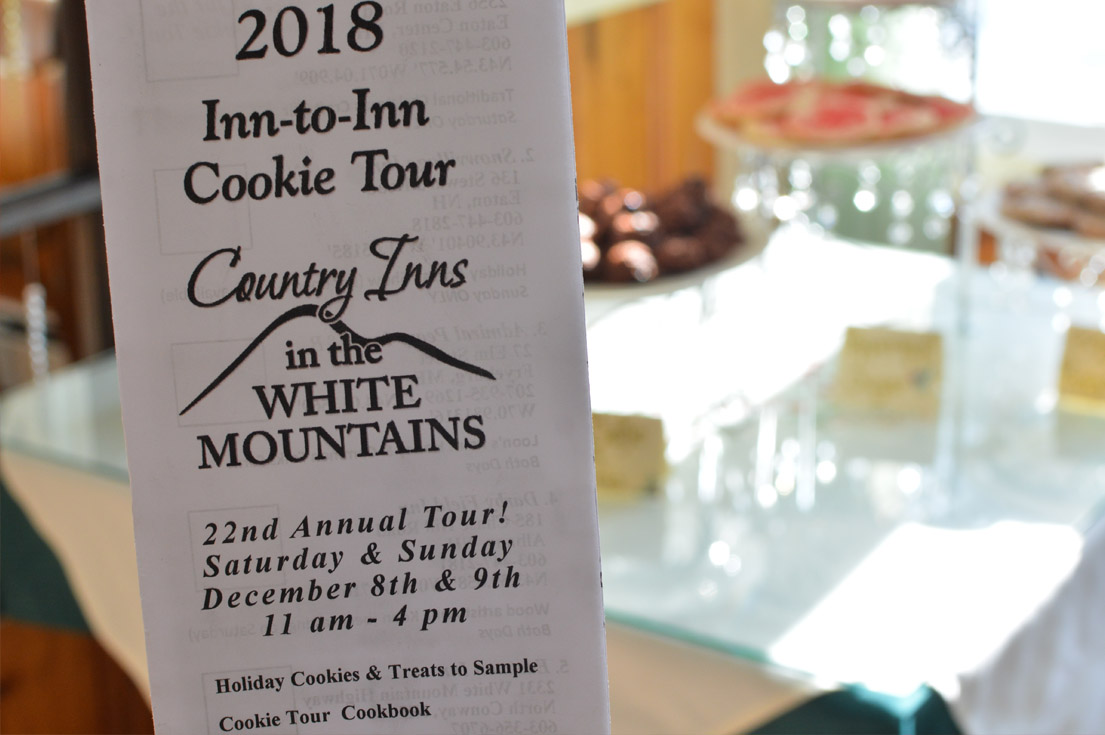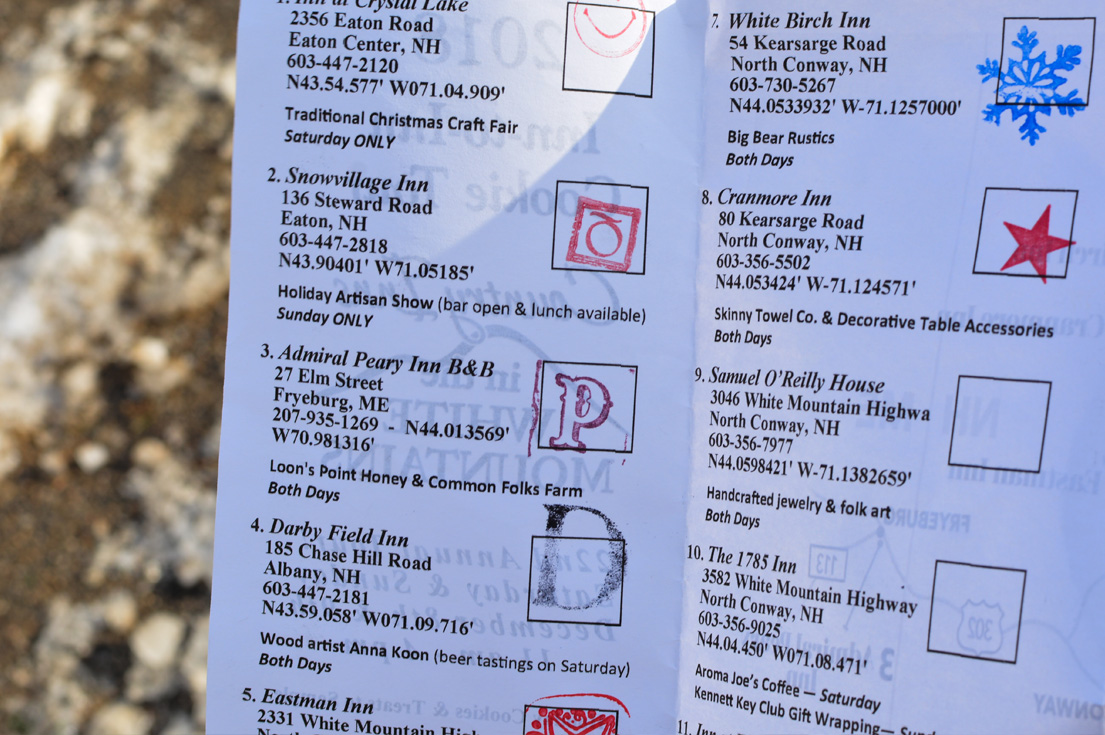 At each stop, your booklet is stamped which is your key to the cookies. In addition to the cookies, you could tour the Mount Washington Valley inns, shop the handmade crafts, and view the holiday decor. This upside down tree was a guest favorite.
If you plan on going on the Inn to Inn Cookie tour, I recommend you bring a cookie tin or Rubbermaid container to store the cookies in. Being a first timer, I wasn't sure what to expect. You spend the day (or two) visiting each of the eleven inns, and get 1 of each cookie flavor at each. Some inns had 2 different varieties, while others had up to 5. A number of the inns had samples to try as well as a cookie to take home.
You could tell the seasoned Cookie tour participants from the newbies as many had cookie tins lined with wax paper to store their cookies in, some were trying to eat their way through the tour and others like me had a ziplock bag that the inn provided. There was no way I could eat all those cookies in a few hours, and the ziplock bag crushed a few, so a tin would have been perfect.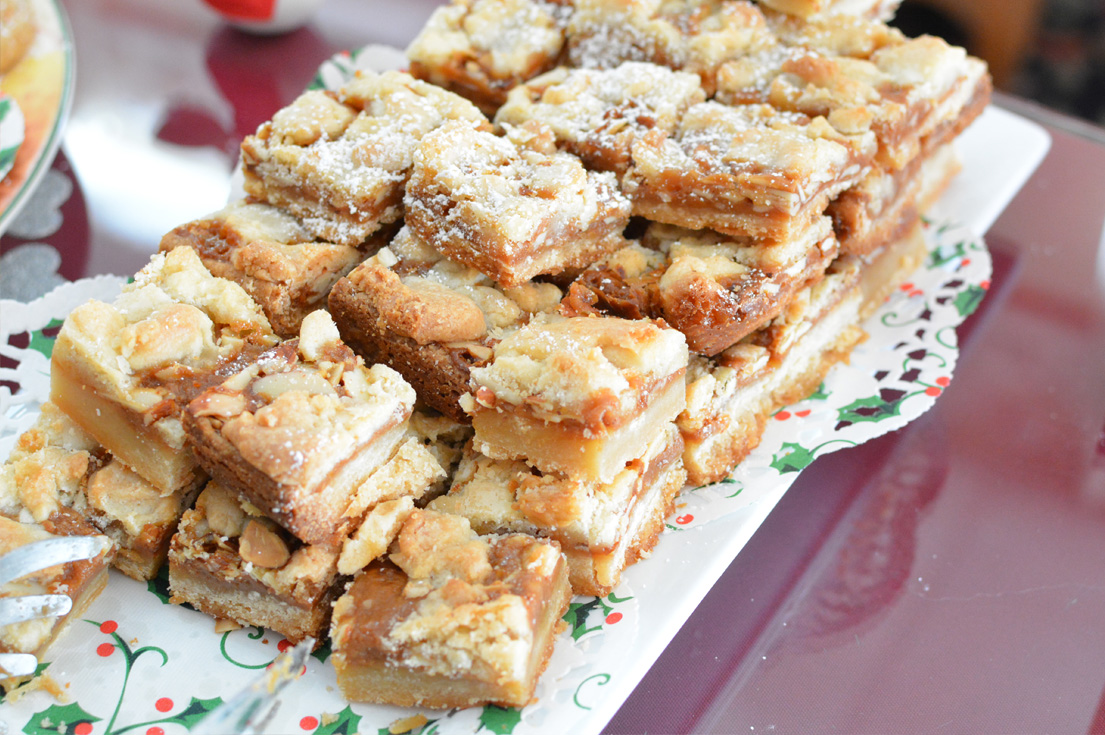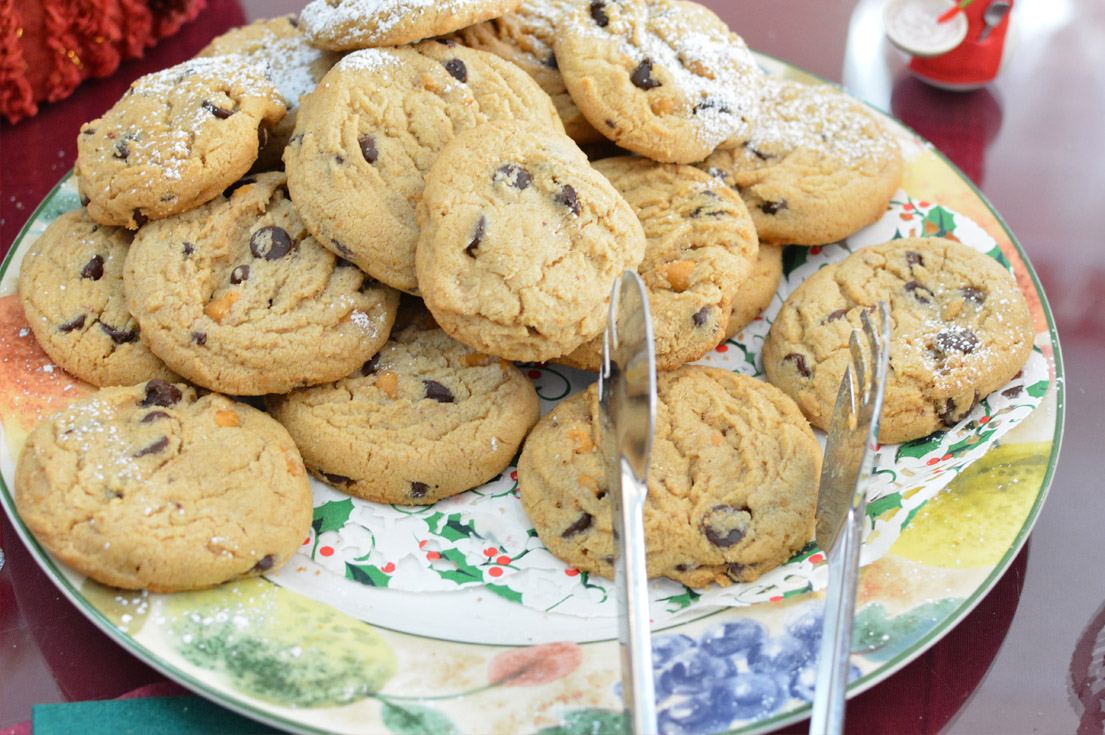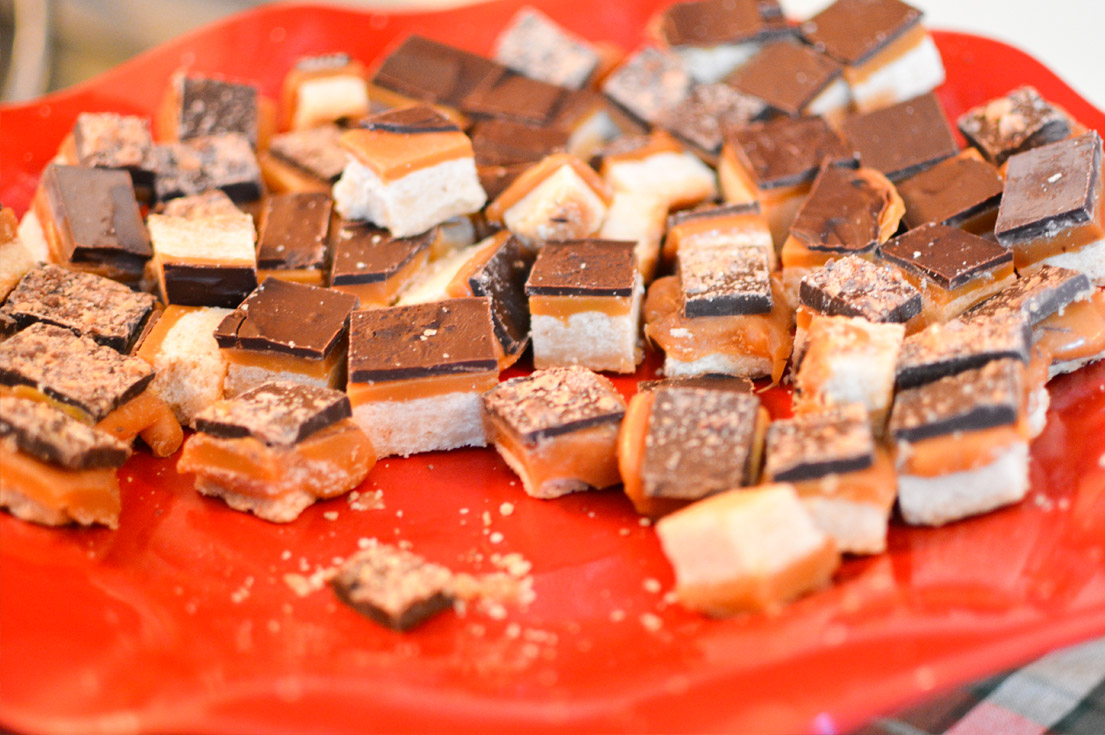 My favorite were the Shortbread Caramel Chocolate Bars from the White Birch Inn. I plan to make them for our Christmas eve party.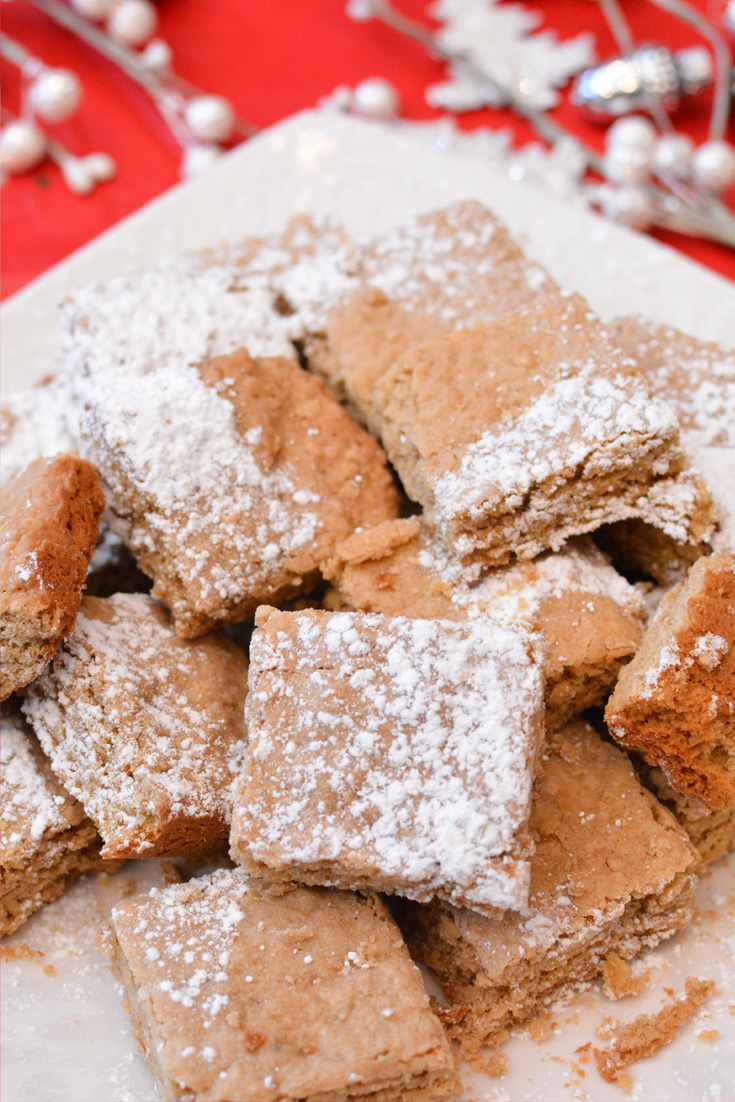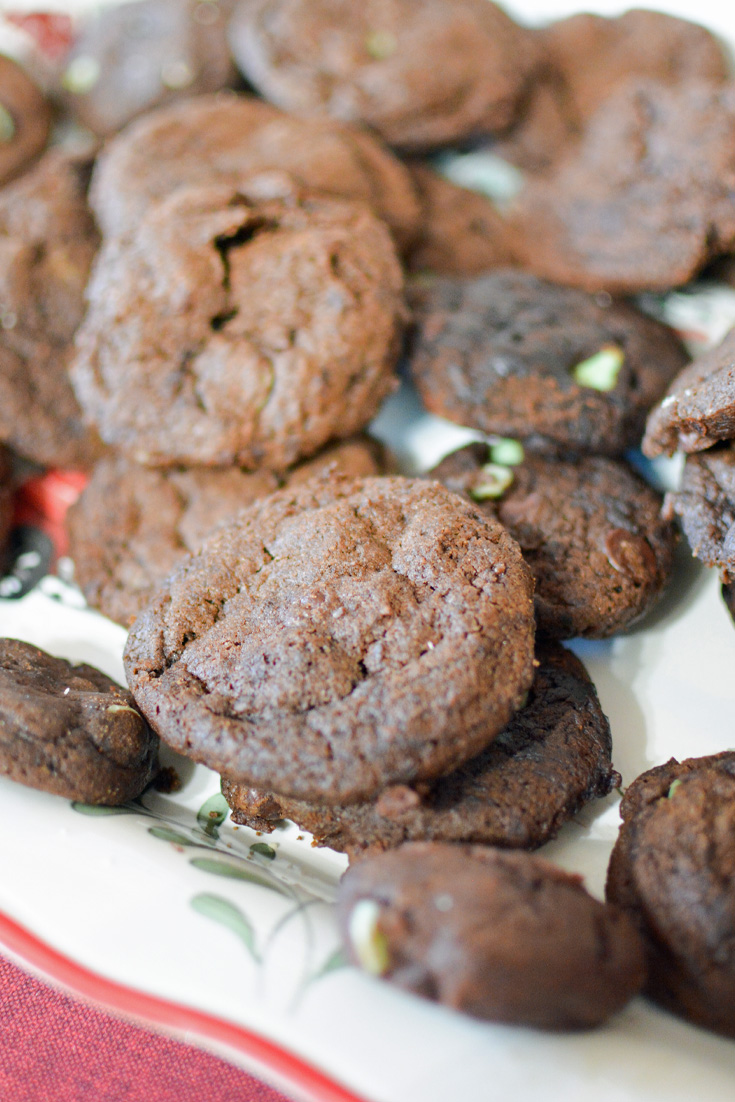 Inn-To-Inn Cookie Tour Tips:
Bring a cookie tin lined with wax paper layers and cash, as a number of the inns have artists and holiday gifts for sale. One inn has a craft fair with raffles as well.
Can you do the cookie tour in one day?
Yes, we were able to visit all eleven inns all in one day.
How to Purchase Cookie Tour Tickets?
The best way is to book a package at one of the participating inns, or select number of tickets are available the week before the tour. No tickets are sold the day of the tour, and many times the tour does sell out.
Receive A Keepsake Ornament:
Visit all eleven inns and receive a keepsake ornament.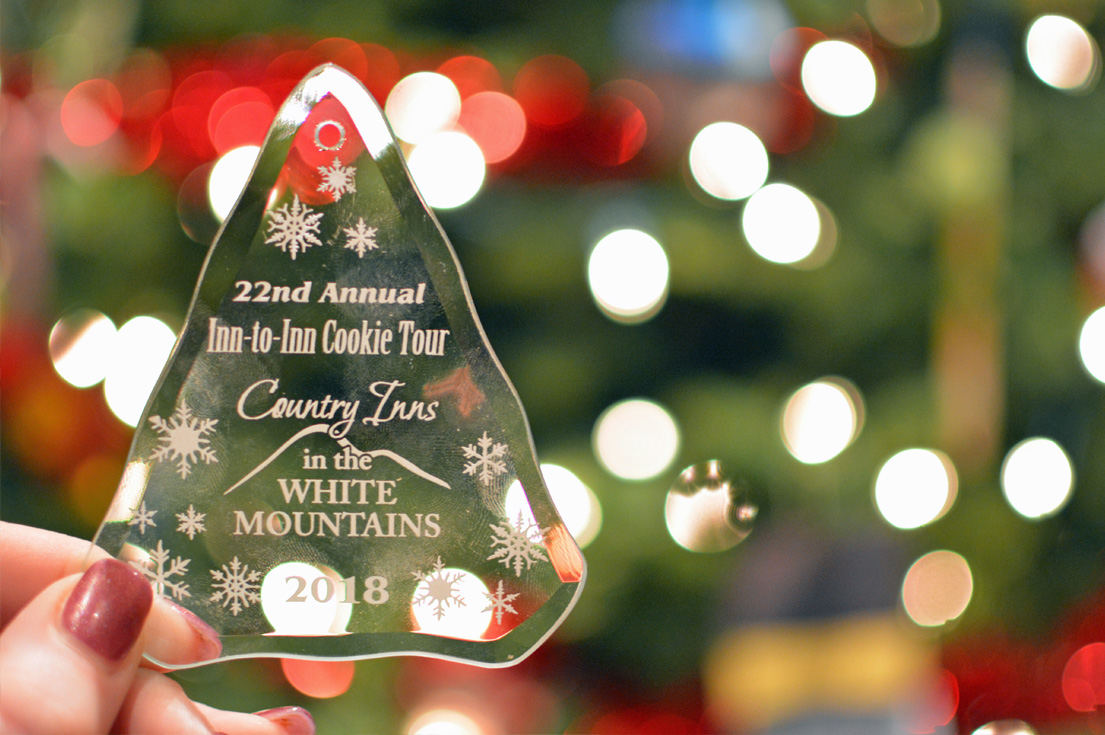 If you're looking for a fun weekend getaway with a loved one or a girls weekend away, plan a trip during the Inn to Inn Cookie Tour. Not only do you get to enjoy some delicious cookies and take home the recipes, but you can also get some of your holiday shopping done while in North Conway.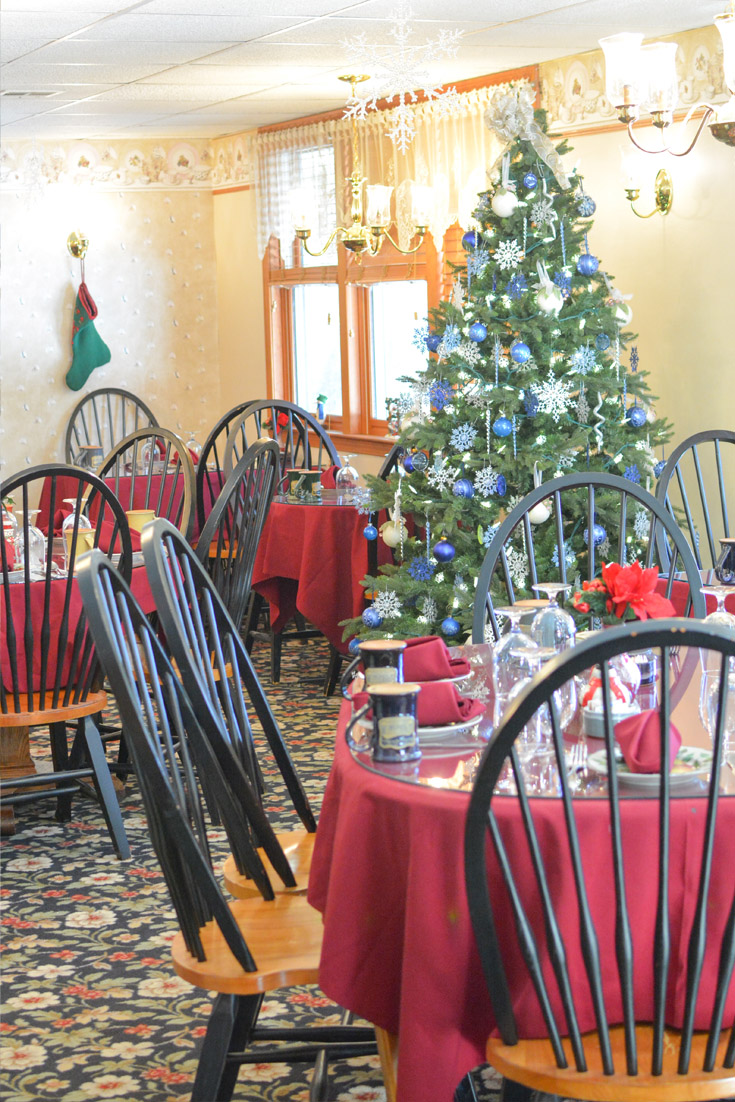 11 Inns participating in the tour this year include:
Albany
Eaton
Jackson
Snowville
North Conway Village
Fryeburg, Maine
A little more about the Darby Field Inn:
The Darby Field Inn overlooks the scenic White Mountains and features 13 guest rooms, each of the guestrooms has a private bath.  Upon arriving at the Darby Field Inn we were greeted by innkeeper Mark Donaldson who gave us a tour of the beautiful inn and showed us our room on the 2nd floor. We chose to dine out that evening, but there is a fully stocked tavern on site and dinner is available on weekends by reservation.
One of my favorite things about staying at an Inn is waking up to a full country breakfast. It's not too often that I can wake up to a delicious breakfast and pot of coffee that I didn't have to make myself. The special for Saturday morning was a breakfast frittata or raspberry pancakes, served with bacon or sausage and homemade bread. I requested the Frittata which was absolutely delicious.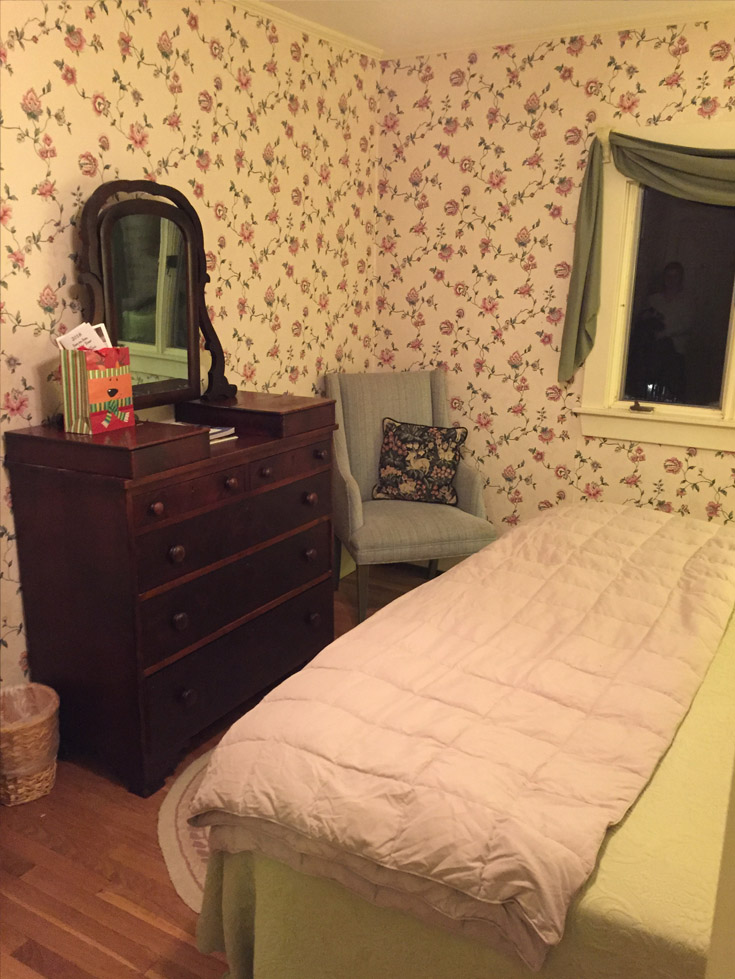 The Darby Field Inn provides a warm and welcoming atmosphere while on your relaxing getaway to the White Mountains. Each guest room is different, and you can choose the classic or deluxe room you would like to stay in during booking. Some rooms are more basic while others include a jacuzzi tub and gas fireplaces. From our clean and cozy king size room we had amazing views of the White Mountains.