Booking a family vacation to the Lakes Region or looking for hotels in Tilton NH on your way to the White Mountains?  The Holiday Inn Express & Suites in Tilton is located in Tilton New Hampshire, right off of I-93. It is close to the Tanger outlets for shopping, restaurants, the Tilton School, Weirs Beach and Lake Winnipesaukee.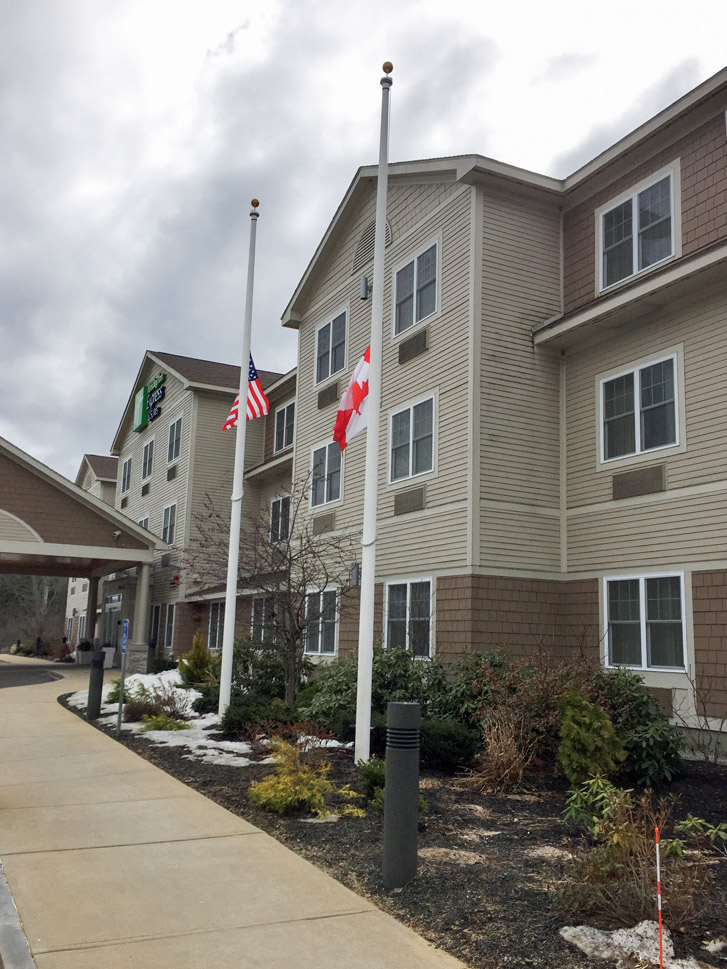 Media Accommodations Provided.
If you asked me years ago if I would spend hours and hours in the car and my weekends in hotels for my children's sports, I would have told you you were crazy. But this journey of motherhood has certainly opened my eyes to new adventures. It turns out my two older boys LOVE hockey and I'll do what I can to make that happen which means spending my afternoons driving for miles and miles and sitting in the stands feeling like an icicle cheering them on.
With two kids in hockey and on two different teams we spend multiples weekends throughout the fall, winter and early spring on the road. Add in an active toddler, and our weekends are quite busy. Staying in hotels and traveling with a toddler who loves his bedroom and his own crib can be hard as he doesn't understand not being able to go upstairs to his room while we are hours away.
Reasons why the Holiday Inn in Tilton is the place to stay during your visit to the Lakes Region.
This past weekend we headed to the Lakes Region for a hockey tournament. With just over a weeks notice I was left with little time to search for hotels in Tilton NH. I wanted a hotel close to I-93, had a spacious guestroom for our family of five with a indoor pool, and breakfast included.
We've had some good stays in our travels, and some not so good stays. Our recent visit to the Holiday Inn Express & Suites in Tilton NH was a great experience and I wish more of our hotel stays went just as great. From the moment we checked in I felt welcomed. That first encounter with the front desk staff can determine how the stay will go, and it's so nice to be able to walk into a hotel lobby and be greeted with a warm welcome and a friendly smile. After taking a quick walk by the indoor pool that the kids requested and grabbing a quick complementary coffee in the lobby we arrived to our clean room with the crib that we requested.
Clean & Spacious Guestrooms:
Queen Suite
The Queen Suite was spacious and gave us extra room to move around with three children. The couch, mini fridge,microwave, cabinets, and extra small sink made it feel more like a home. Since we were staying the entire weekend we had a place to put a few snacks and drinks for the kids, and that extra sink came in handy when I needed to wash sippy cups, ect.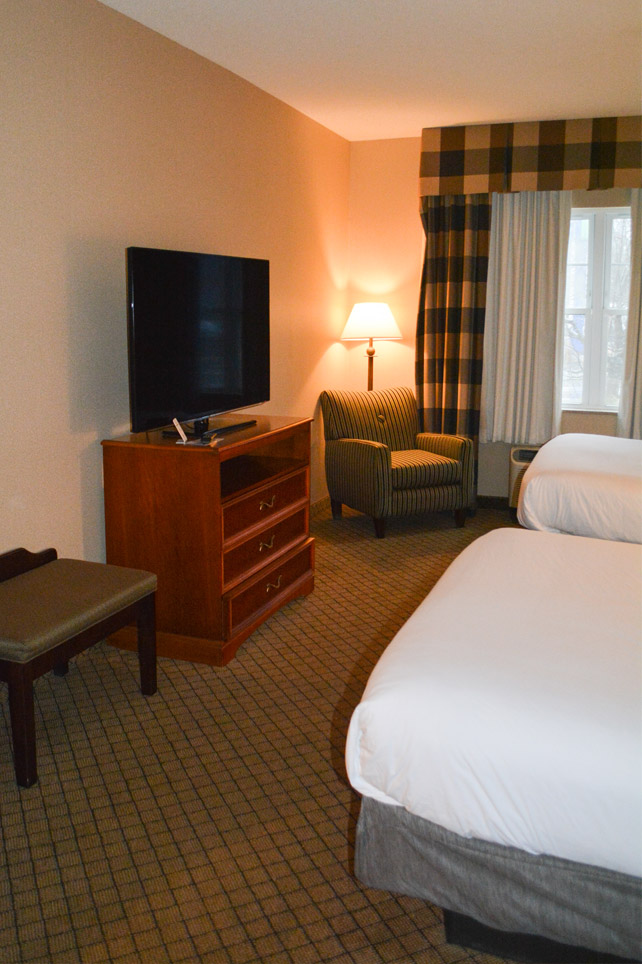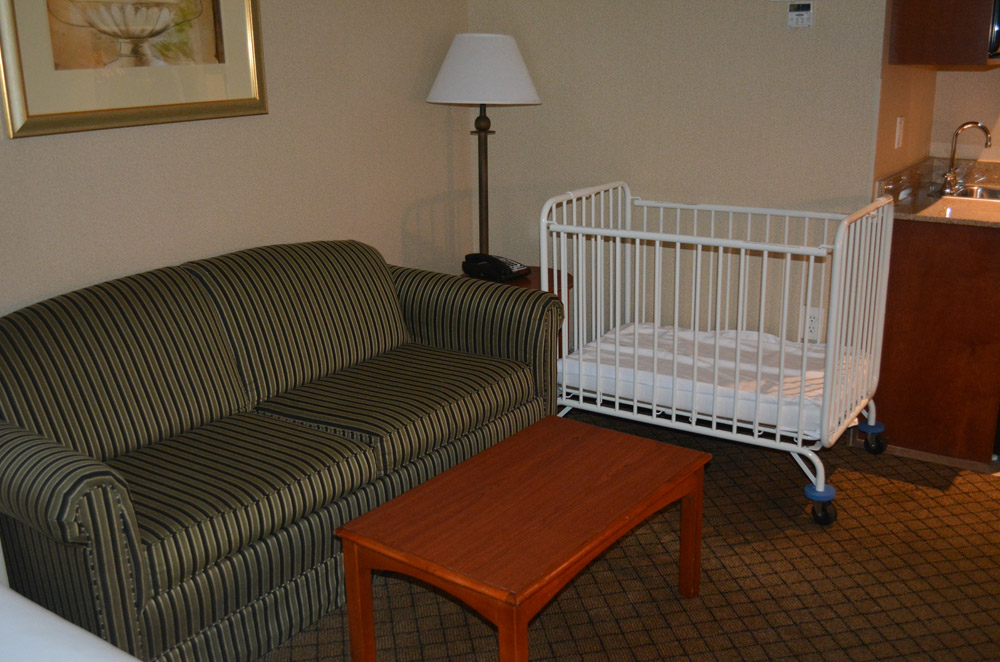 The living room area includes a pullout couch and table. For those traveling with families, the extra table provides additional space for eating lunch or dinner, or even playing card games. There are a number of fast food restaurants and pizza shops nearby. Also pictured is the complementary crib.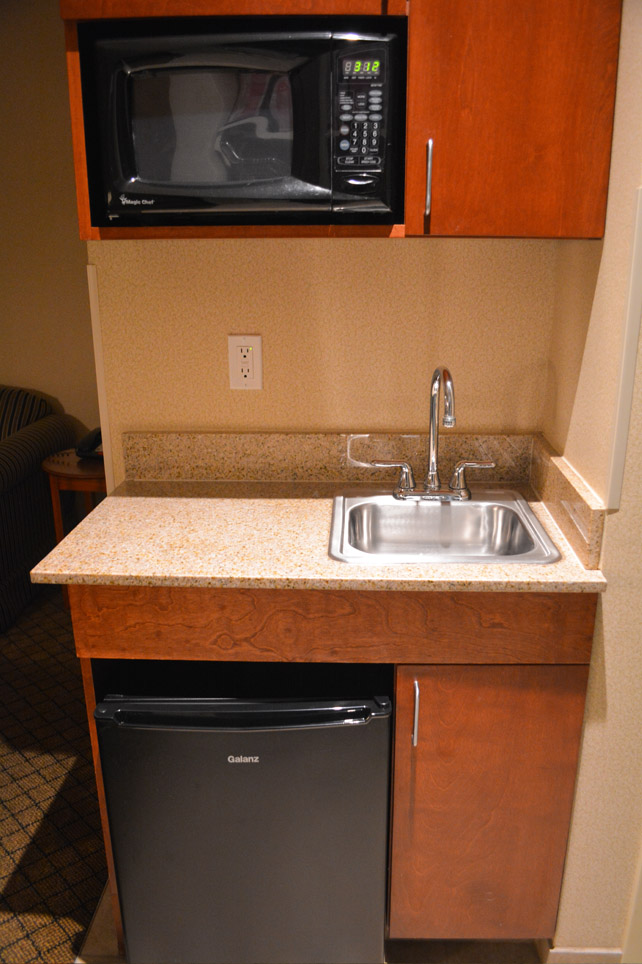 Suites include a small kitchenette area that includes counter space, and extra sink and cabinets.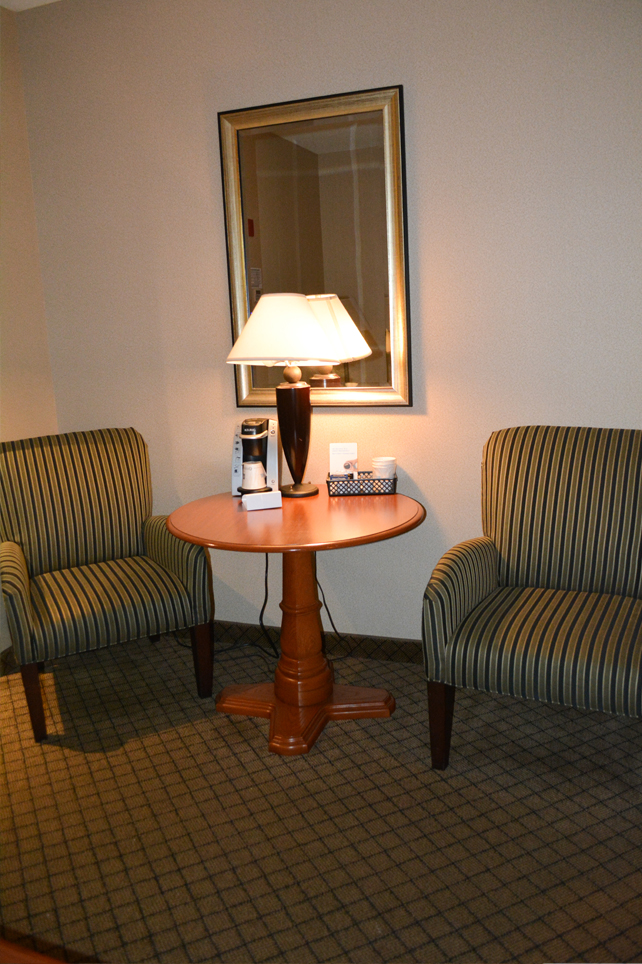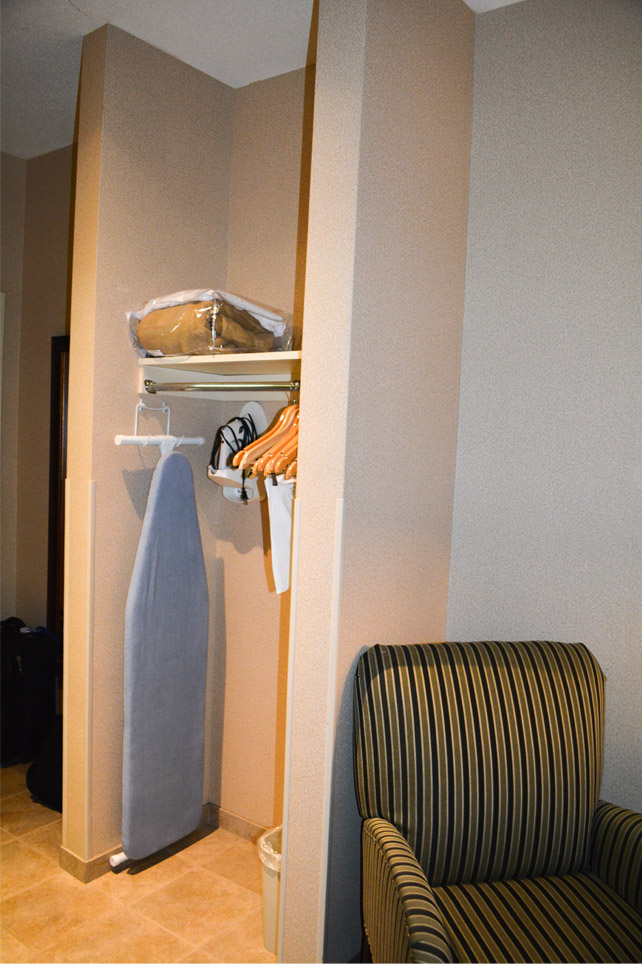 Ironing board with iron and closet space to hang clothes.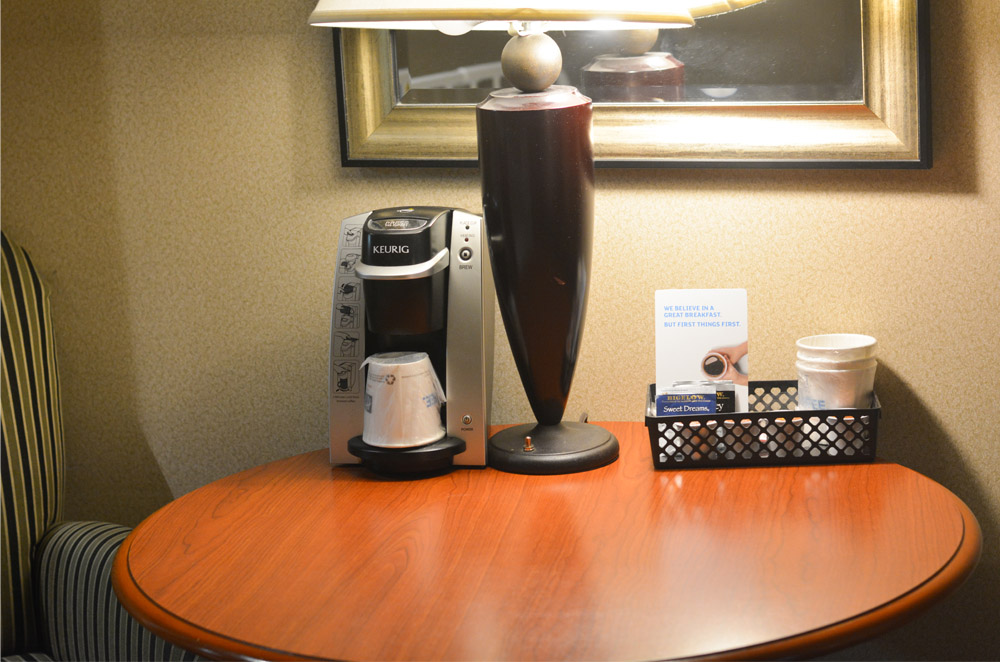 All guestrooms include free Wi-Fi, flat panel HD TV, small microwave and refrigerator, coffeemaker with K-Cups and an assortment of teas, iron, ironing board, hair dryer, and the suites have the extra cabinets counter space and an extra sink. Coffee, creamers, sugar and tea is also available 24/7 in the common area located near the lobby.
Complementary Breakfast.

Traveling with kids I prefer to book hotels that include breakfast. Having breakfast included helps to save on money and time. It's nice to be able to relax during our stay and not have to pack up the kids and head out somewhere to grab breakfast. It also allows part of our family to eat breakfast if the someone else wants to sleep a little longer.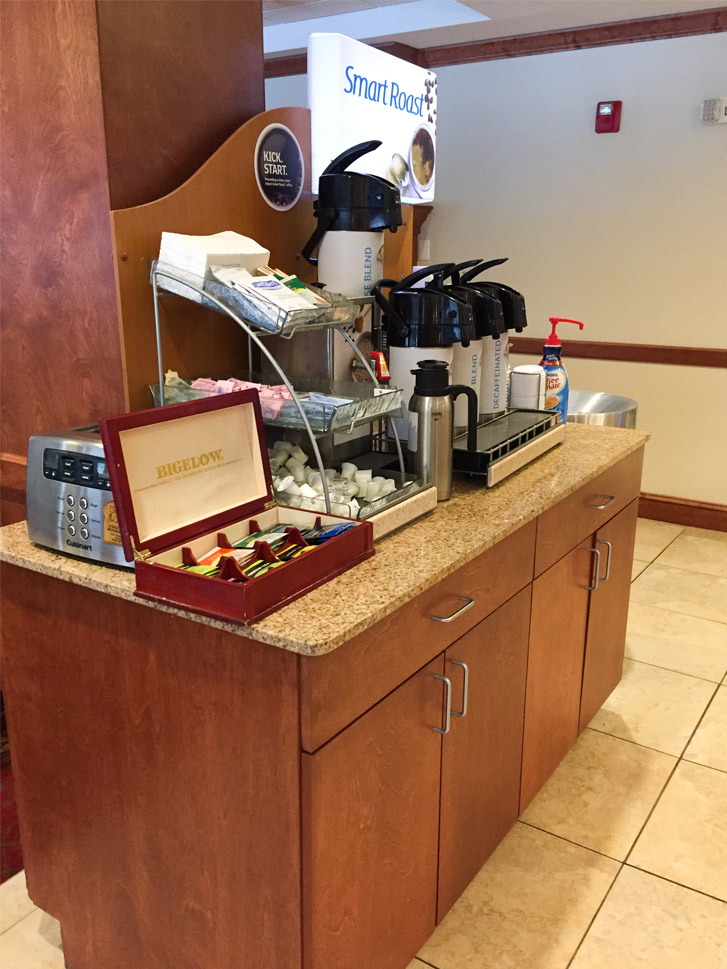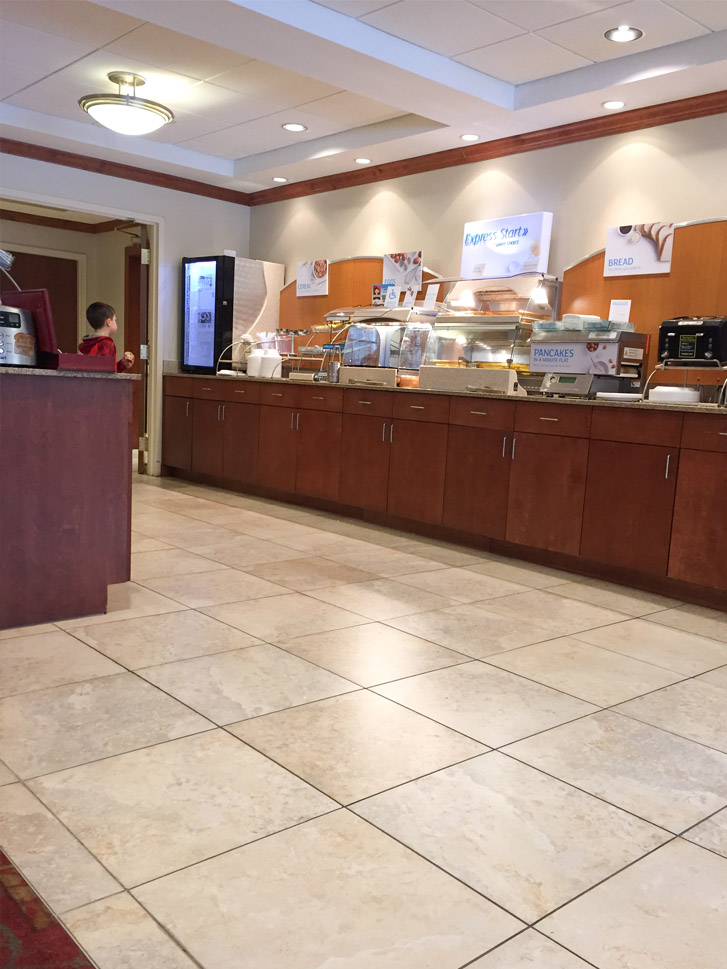 There is a variety of breakfast choices available and something for everyone. Breakfast included coffee, tea, apple juice, orange juice, cranberry juice, milk, fresh fruit, bagels, bread, muffins, multiple flavors of yogurt, hard boiled eggs, scrambled eggs, bacon. sausage patties, biscuits & gravy, veggie omelets, pancakes, cinnamon buns, peanut butter, jelly, cream cheese. The kids thought the pancake machine was the greatest.
Guests seemed to visit the breakfast area in waves so although busy at times we never had to wait for a place to sit. I did notice some guests opted to bring their food back to their rooms. There was at least 2 highchairs which is convenient for those traveling with young children.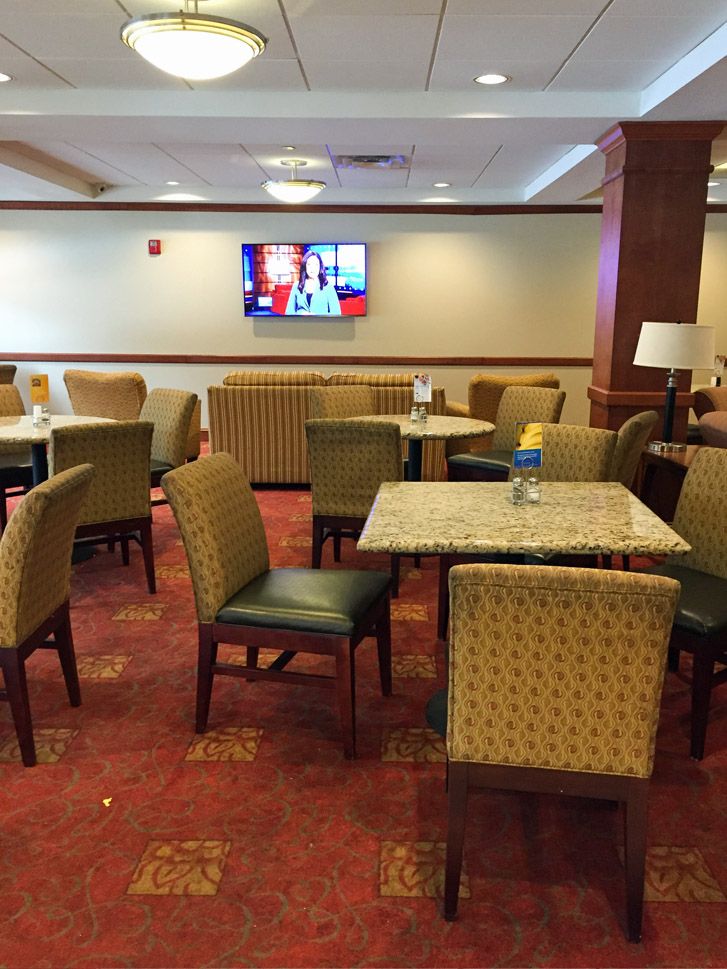 While the juices and food are put away when breakfast time was over there is still hot coffee and tea available 24/7. The breakfast area was always open and there were tables and chairs for groups to get together, read the newspaper or for families to play board or card games.
Indoor Pool with Hot Tub  & Exercise Room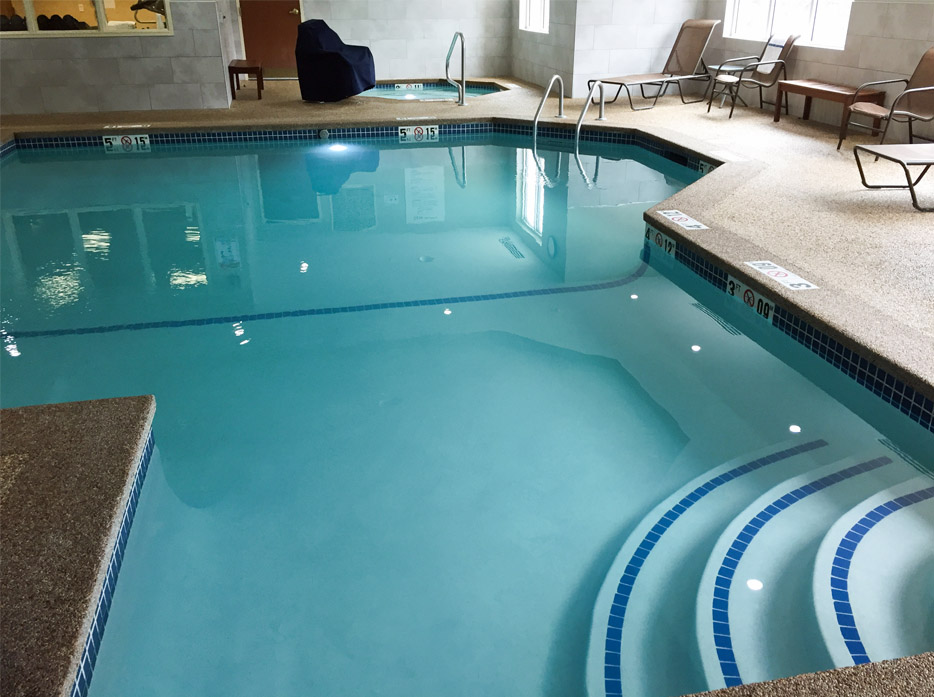 We didn't use the exercise room but we were able to visit the pool area twice during our stay. Both times the pool area was clean and stocked with towels. I packed a few of the kids swim toys including goggles and dive toys and the kids had a fun time swimming in the pool with a few of their teammates who also stayed for the weekend.
I'm sure we'll be in the Tilton area again and I will turn to the Holiday Inn Express Hotel & Suites Tilton – Lakes Region when booking a hotel. The friendly relaxing atmosphere is just what I needed after a busy day of traveling. I wish more hotels had the same layout as the queen suite with mini kitchenette is the perfect size for those staying multiple nights with children.
Looking for hotels in Tilton NH? Book your stay at the Holiday Inn.
Holiday Inn Express & Suites Tilton – Lakes Region 75 Tilton Road Tilton, New Hampshire