Labor Day weekend not only means that summer is coming to an end, but it is also the deadline to make sure we have everything needed for the kids to head back to school. While I would miss the freedom of summer, I always looked forward to seeing my friends again and the back-to-school shopping. I couldn't wait until it was time to head to the mall with my mom and pick out a new backpack, apparel, and shoes.
Living in New England, the new school year also means that fall is fast approaching, and the cooler weather. Knowing that the boys have grown since last fall, I took down the clothes bin in the garage that not only contains hand me downs, but clothes that I purchased on clearance last year. After sorting through the clothes & shoes, I made a list of what would be needed this fall.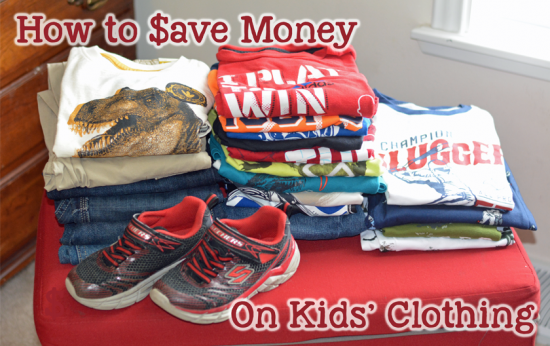 How to Save Money on Kids' Clothing:
Hand me downs. At the end of each season, I sort through the boys clothing, and save most of Jonathan's clothes to pass down to Trevor. Trevor's outgrown clothes are then passed on to a friend or brought to the annual children's consignment sale. I still purchase new clothing for Trevor each season, but I get a huge jumpstart to his wardrobe with hand me downs, which he doesn't mind at all and he actually looks forward to being able to finally wear his big brother's clothes.
Children's Consignment Sale: Twice a year, our local children's consignment shop holds a weekend long sale where hundreds of parents come together and consign their children's toys/shoes/clothes. I consign the children's outgrown clothes and not only do I get to earn a little money back, but it also gives me the opportunity to purchase clothing/shoes for the boys for cheap. You'd be surprised at how many barely worn outfits, and some new with tags outfits that you can score for just $2-5 at consignment sales.
Shop the end of the season clearance: Shop the end of the season clearance & purchase the next size up, right now is the perfect time to purchase summer apparel for next year. Put the clothing in a bin, mark it with the size, and store it in a closet, garage, or basement. I also often purchase the next size or two up for shoes when I find a great deal.
Shop the sales & use coupons: Sign up for reward programs and store newsletters that often send coupons. One of our go-to stores when it comes to shopping for children's apparel and shoes is Kohl's. I've been a Kohl's Charge member for many years, and can always find affordable apparel and shoes for the kids. You can score some great deals by combing their sales, Kohl's Cash, coupons, and Kohl's Reward program.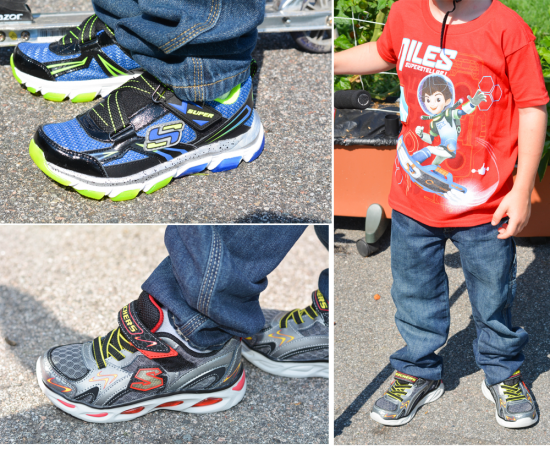 Thank-you to Kohl's for providing a Gift Card for Back-To-School Shopping.
This summer the outdoor fun took a toll on the kids footwear, so sneakers were the number 1 item they needed for back-to-school. Without a thought, the kids immediately went for the Skechers, apparently they make you run faster in kindergarten. New pants for Jonathan, fall pajamas and a couple of fun Miles from Tomorrowland, and Minecraft shirts and our back to school shopping at Kohl's was complete. Now that the kids school clothing and shoes are taken care of, I'm looking forward to spending the Kohl's Cash and Kohl's Rewards points I earned on new bakeware for myself.
How do you save money on kid's clothing?