The kids have only been in school for less than a week, but my oldest is already coming home with the sniffles. I know some of it has to do with his allergies, as I have also been sneezing constantly this week, but I'm pretty sure the other half is some type of cold. Fall and winter are always our rough seasons, as the kids are cooped up inside all day long at school instead of outside playing in the yard. The germs spread like crazy through their classrooms, so I always want to make sure to have our medicine cabinet stocked full of cough medicine, Tylenol, and allergy medicine.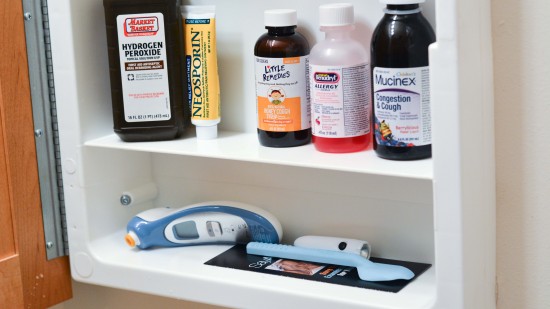 Medicine Cabinet Must Haves For School Aged Children:
Tylenol or Motrin for pain, headache, and Fever relief
Cough Medicine
Benadryl
Bandages
Neosporin
Thermometer
Tweezers- to help remove splinters and ticks
SayAhh! Sore Throat Home Exam Aid
This cough & cold season, we are also adding in the SayAhh! Sore Throat Home Exam Aid to our medicine cabinet. Sickness often starts with a sore throat, and sometimes I go back and forth on whether to bring Jonathan or Trevor to the doctors as the co-pays add up, especially when they are both sick at the same time. Half the time it is just due to a common cold but twice Trevor had step throat. The SayAhh! Sore Throat Home Exam Aid makes it easy and less stressful to examine the throat of children ages six and above or anyone with a strong gag reflex.  The results can help parents & caregivers to determine if a trip to the doctors is necessary.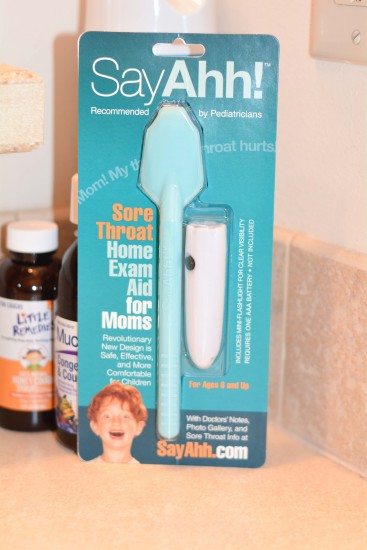 The SayAhh! system includes:
The SayAhh! & Flashlight: The SayAhh! oral retractor and flashlight provide the user with greater ease and accuracy for observation of the throat.
A medical-grade illustrated chart: The SayAhh! packaging comes with a medical-grade, illustrated chart and clear pictures and descriptions of six common childhood  throat ailment,s (strep throat, coxsackie, mononucleosis, ect) providing the user a solid basis for comparison to what should be seen in a normal throat.
SayAhh.com & the SayAhh! Exam Guide App: The SayAhh! Website and SayAhh! Exam Guide mobile app are an integral part of the SayAhh! sore throat system, containing in-depth information and photographic reference for six common throat conditions as well as answers to FAQs, general notes from doctors, and more, to further assist the user in comparing their child's throat.
SayAhh! is currently available for purchase online at www.sayahh.com for a suggested retail price of $9.49. Now through November 1st, 2015, you can get free shipping on your purchase.
SayAhh! Coupon Code:
Save $1.00 on your purchase of the new SayAhh! Sore Throat Home Exam Aid with my special promo code: mom427. Purchase online at http://sayahh.com/purchase.html
Get the latest news and updates – like SayAhh! on Facebook.
What are your must-have products for the cold/cough season?
Now through November 1st, get free shipping when you purchase the new SayAhh! Sore Throat Home Exam Aid online at http://sayahh.com/purchase.html!
This is a product-provided, sponsored conversation that contains affiliate links. All opinions, text and experiences are my own.