Holiday Gift Guide items received.
It's hard to believe that Christmas is just a week away! This year has flown by and it's quickly coming to a close. Our house is all decorated, baking gingerbread cookies is on the agenda for tomorrow and this week I will be finishing up our holiday shopping.  Do you still have a few gifts that you need to check off your list for the holidays? Check out these fabulous toy ideas for children.
Magformers:
My children were first introduced to Magformers this past summer while they were visiting their cousins. Once we left their house, all I heard about is Magformers and how cool they were, that you can build anything you want, like buildings, animals, and vehicles. They quickly became a favorite and are the first toy that they go to when visiting their cousins.
What are Magformers? Magformers are magnetic toys that come in a variety of shapes and sizes. Each set contains multiple pieces that inspire exploration, the possibilities are endless. Make three-dimensional shapes, skyscrapers, houses, or if you purchase a set with wheels, you can make any type of vehicle.
Magnets in Motion 32 Piece Gear Set
Recommended Age: 4+
MSRP: $39.99
Buy It: Available to purchase on Magformers.com, Amazon.com
Inspire 30 Piece Set
Recommended Age: 4+
MSRP: $39.99
Buy It: Available to purchase on Magformers.com, Amazon.com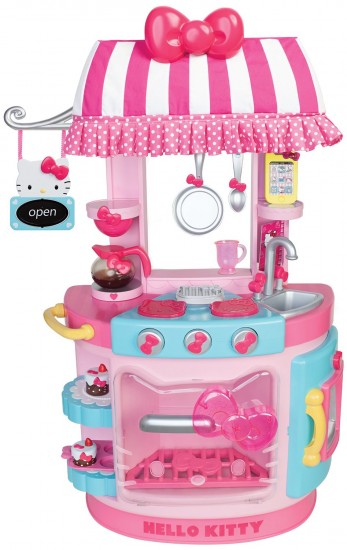 Hello Kitty Kitchen Café:
At 4 and 6 my kids one of our most used "larger" toys is our pretend play kitchen. Throughout the week I'll randomly be served a nice "hot" breakfast or sit down at my desk to a surprise cup of coffee. It is popular among our neighbors especially the two girls who live next door who love to pretend they're baking desserts.  This year for the holidays, surprise the Hello Kitty fan on your list with the Hello Kitty Kitchen Café where children will spend the afternoon baking and creating delicious meals. This deluxe cafe is over 3-1/2 feet high and features a real fabric awning. Accessories include: disappearing coffee pot, coffee mug, two cupcakes and a serving tray, removable oven rack, saucepan, spoon, two ice cubes, a pretend smart phone and a printed menu.   To add to the fun, the stove makes a sizzle sound and lights up when "hot".
Buy It: The Hello Kitty Kitchen Café  is available at retailers nationwide including Toys R Us.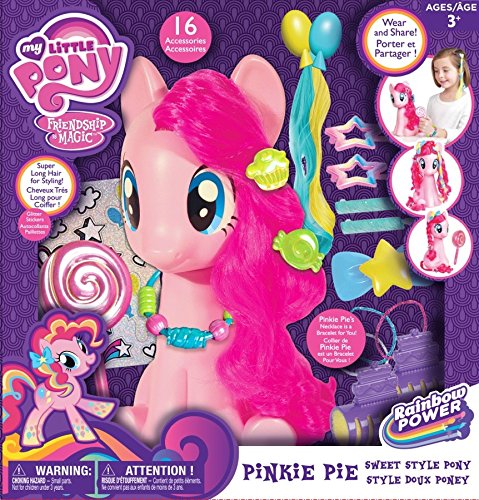 My Little Pony Pinkie Pie Sweet Style Pony
It's hard to believe that My Little Pony is still around, I can remember playing for hours with my sister growing up. Do you have a My Little Pony Fan? The My Little Pony Pinkie Pie Sweet Style Pony comes with everything you need to create new hairstyles, including a lollipop-shaped hairbrush, a hair extension clip, a bow-shaped hair clip, 1 candy and 1 cupcake claw clips, 2 rainbow star snap clips, 2 candy-shaped barrettes, 2 foam rollers, 3 elastic bands, 1 sticker sheet and a wear & share necklace for pony. When not used for pony, the necklace also doubles as a bracelet for the "stylist!"
Buy It: The My Little Pony Pinkie Pie Sweet Style Pony is available at retailers nationwide including Toys R Us.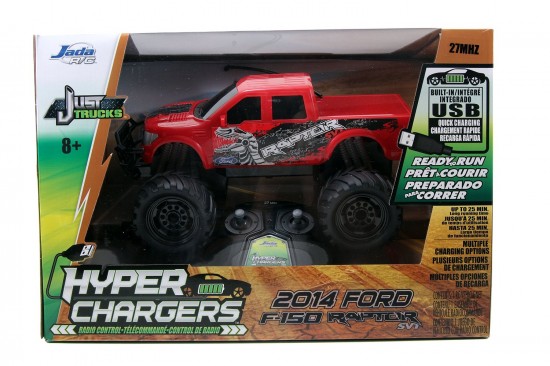 HyperChargers:
While my children enjoy remote control cars and I enjoy the quiet time that comes along with it, as they are often outside or in the basement driving their vehicldes around, I'm not a fan of the amount of batteries they go through. With the R/C cars and trucks from Jada including the HyperChargers, there are no more batteries! The HyperChargers come with a built-in, rechargeable battery and USB cable that works with any USB port including desktop computers, gaming consoles, smart phone adapters or a wall unit. You can pretty much charge the HyperChargers anywhere, even on the go.
Chase 2-Packs: Ford Mustang GT Police car with red Chevy Camaro OR Dodge Challenger SRT 8 Highway Patrol vehicle with blue Chevy Corvette Stingray Concept
Car styles: Bentley Continental SS, Chevy Camaro, Chevy Corvette Stingray Concept, Dodge Challenger SRT 8, Ford Mustang GT, Toyota Supra, Scion FRS. Trucks: Ford F-150 Raptor and Chevy Silverado.
MSRP: $19.99 for cars; $24.99 for trucks and $39.99 for Chase Pack.
Buy It: Available at Walmart and Amazon.


Roaming Reindeer:
Start a new family tradition with Roaming Reindeer. This keepsake set comes with two plush reindeer as well as a colored storybook.  Parents can use the plush reindeer to encourage good behavior at Christmastime, there's no more having to find different places each night to hide that silly elf,and unlike the elf, these reindeer can travel and be held.  One reindeer always stays in the house while the other reindeer leaves to report to Santa when a child misbehaves. Once Christmas arrives, both reindeer leave to help Santa deliver gifts and visit again the following year.
Buy It: Roaming Reindeer is available to purchase at www.roamingreindeer.com
The Principle Gang Series:
The bullying seems to be starting earlier and earlier. While I can remember bullying going on in middle school, my elementary school years were all about having fun and making friends with everyone. Even in Kindergarten my son has come home upset about someone being mean on the bus, in Kindergarten! There's no reason for children to be putting other kids down and making fun of them. In The Principle Gang series there are No Bullies Allowed. We received book one and two out of the new 6-book series that teaches three important anti-bullying lessons: not to be mean, tell a teacher, and to be a friend. At the end of each book there are questions that encourage discussion between children and parents about anti-bullying.
Learn more about the Principle Gang Series by visiting www.theprinciplegang.com.
Book 1: Don't Judge a Lizard by His Scales:
Book 2: Wizard Lizard Rides the Subway:
Buy It: Book 1 and Book 2 are available to purchase online at Amazon.com and Barnes and Nobles.