Disclosure: Samples provided. All opinions are my own personal and honest thoughts.
When the boys were young we traveled quite often with my husband being active duty. He was always out of town so with a newborn and almost 2 year old I traveled quite often to visit family members and friends while he was away training. One  of the things I often ran into was I never had enough space in our vehicle with two kids and two dogs. I would have to purchase a few extra things to leave at my Mom's house since I just didn't have enough room to travel with the baby gear. One of the must haves on every trip was some type of infant seat or a bouncer. Since I would have to chase around my active toddler, I needed a place to securely lay Tyler down.
Tiny Love's recently introduced a Take Along Bouncer that provides a comfortable and secure place for baby, that also fold easily for travel. The Take Along Bouncer offers the flexibility I needed, instead of purchasing two different bouncers, one for my house and one for my parents, I could have easily folded up the Take Along Bouncer and brought it with me.

The light weight design of The Take Along Bouncer' allows parents to carry it on their shoulder when it is folded into the included carry case. Store it in the closet when not needed, or pack it in the backseat or trunk for a trip over to grandma or grandpas house, or even to the park.
Buy It: The Take Along Bouncer is available at retailers nationwide for $39.99-44.99. Amazon.com
currently has it available for $31.99.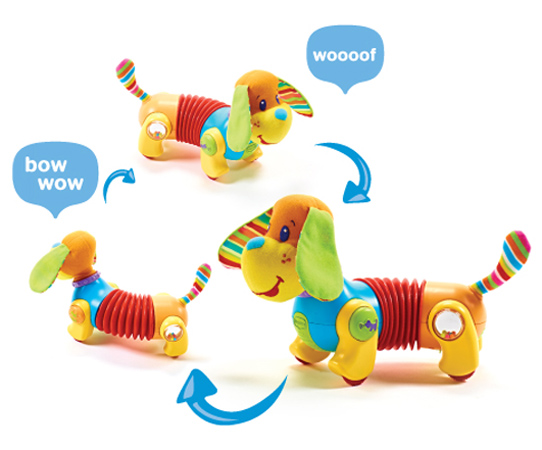 Follow Me Fred and Follow Me Fiona:
Follow Me Fred and Follow Me Fiona are friendly baby activated electronic dogs that roll away when touched to motivate a baby to crawl. They feature a flexible middle that allows them to turn in circles.They also bark and play a tune to further encourage baby's movement.  Available for $24.99 at retailers nationwide including TinyLove.com, Amazon.com, Toys R Us, Target.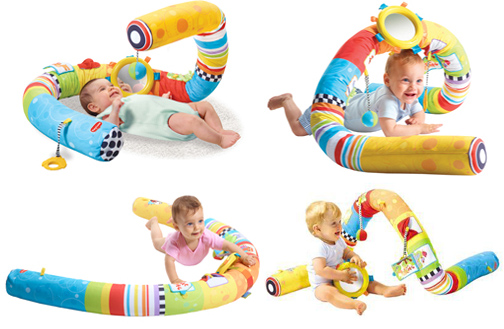 Tiny Love FlexiPlay:
The FlexiPlay is an innovative activity center that grows with your baby from their first months to toddlerhood. The flexible design allows for multiple positions, you can lay it out in a number of ways and even make tunnel with it.  Includes six different toys that can easily be repositioned. Available for $39.99 exclusively on TinyLove.com.