Looking for a tasty family meal that doesn't require an hour in the kitchen at the end of your busy day? Crockpot freezer meals are great solution when families need a home cooked meal, plus they can be a easy way to save time and money. Learn how to prepare crockpot freezer meals with our list of 10 crockpot freezer meals that the whole family will love.
Family Friendly Crockpot Freezer Meals
Freezer meals are a simple and stress-free way to stock your freezer with homemade meals that you can enjoy on busy weeknights. When most people think of freezer meals, they automatically think of cooking in the oven, but crockpots can also be a great tool when you want to come home to a hot meal at the end of the day with very little prep, and cleanup. I prefer to prepare a week or two of meals at a time, and place the ingredients in freezer bags so everything is ready to go.
Meals can be made with little effort throughout the week since most of the ingredients are already prepared in the bags. Simply empty the ingredients in the crockpot in before leaving the house and the crockpot will do all of the work. Even when your mornings and afternoons are filled with busy schedules, families can sit own together and have a warm meal together at the end of the day.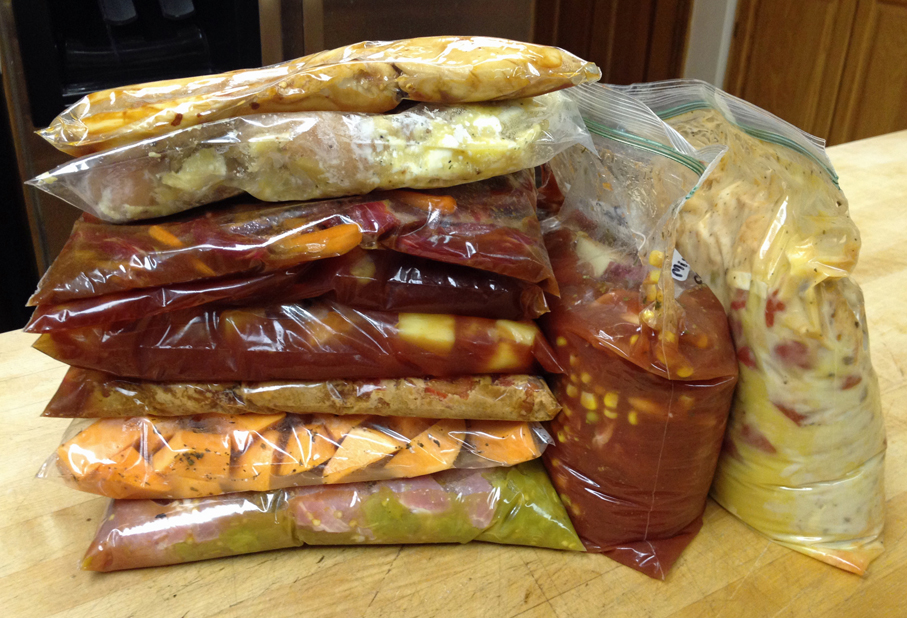 This site uses ad networks and affiliate links to generate revenue.
Save time & money with freezer meals.
Crockpots are good for more than stews and chili. Today I'm sharing a variety of crockpot recipes to help you stay on budget and spend less time in the kitchen and more time with the kids. Get dinner on the table with these quick and easy kid-friendly meals that can be prepped ahead of time and placed in bags in the freezer. Or they can be placed in the refrigerator if you plan to use them that week.
Plan your week with make ahead meals. Print recipes, make a grocery list, shop deals, and dedicate one to two hours to meal prep. Prep and freeze the family meals in a gallon bag, then simply thaw and dump into the crockpot when you need an easy weeknight dinner.
Making crockpot freezer meals can be a great option for families. Families can save money by buying ingredients in bulk, shopping sales, and by spending less money eating out.
I made the Sweet Potato Basil soup this past week and it has become one of my favorite soups to make in the crockpot. My six year old also loved it. I think between the two of us we could have eaten the whole pot in a night. He requested seconds and since we had leftovers, requested it for lunch the next day as well.
Crockpot recipes are becoming more and more popular, especially in the summer months when families don't want the stove heating up the house, or in the fall and winter months when schedules become more and more busy with afterschool activities and sports. When you're trying to find a balance between afterschool activities and making a home cooked meal, these crockpot freezer meals are a great way to feed the family with little effort.
What are some crockpot freezer meal recipes?
Here's ten of our family friendly crockpot freezer meals. Click each link, or scroll down to print the recipe.
Beef Stew:
The best Crockpot Beef Stew made with chunks of beef, red potatoes, carrots, peas, corn, and a simple blend of broth and spices. Easy family dinner to serve when it's cold outside.
Mongolian Beef
The tender flank steak is full of flavor, and it takes just minutes to toss all of the ingredients into the crockpot for a perfect weeknight family meal.
Pineapple Chicken Burritos
Pineapple Salsa Chicken made with with black beans and green enchilada sauce makes a favorite filling in burritos or tacos. Best of all? The chicken is slow cooked in the crockpot all day, all you have to do is shred it, stuff the burrito, and broil it in the oven for 5 minutes.
Thai Peanut Chicken
Skip takeout, and make this crockpot Thai peanut chicken. Chicken breasts are simmered all day in a peanut sauce and served over a bowl of rice.
Creamy Italian Chicken
Only 4 ingredients needed to make this delicious crockpot creamy Italian chicken. This family favorite recipe is incredibly easy to make. Simply dump all of the ingredients into the crockpot, cover and cook on low for 4- 6 hours.
Cheesy Chicken Spaghetti
Crockpot Cheesy Chicken Spaghetti is a simple and kid-friendly recipe even for the pickiest eaters. Kids love the cheesy spaghetti, and you can easily sneak in an extra serving of vegetables by mincing up mushrooms or cauliflower.
Sweet Potato Basil Soup
Warm up with a hearty bowl of sweet potato soup on a cold day made in the crockpot. This creamy soup is made with pureed sweet potato and coconut milk, the ultimate comfort soup on a cold fall day.
Crockpot Sweet Potato and Pork Stew
Warm up to a warm bowl of stew on a cool fall night. This Sweet Potato Pork Stew is a delicious stew recipe, perfect for fall and winter months. Made with pork loin, diced tomatoes, onion and sweet potatoes, this tasty stew takes just 15 minutes to prepare and slow cooks to perfection.
Cashew Chicken
Cashew chicken is a simple slow cooker recipe that combines boneless skinless chicken breasts or chicken thighs with cashews in a savory sauce. Serve over rice and garnish with green onions for an easy weeknight family dinner.
Garlic Lime Chicken
Crockpot Garlic lime chicken is a simple, easy dinner idea that is perfect for any day of the week. Incredibly flavorful this Garlic Lime Chicken recipe doesn't get much easier. Simply place all ingredients in the slow cooker, cover and cook on low for 6-8 hours. Serve with white rice, brown rice or cauliflower rice.
Crockpot Freezer Meals FAQ
Do you have any tips for freezing crockpot meals
Dedicate one afternoon to preparing freezer friendly crockpot recipes.
Take gallon zip lock freezer bags and write the names of each meal, date and directions on each one in permanent marker.
Gather all ingredients, recipes, and prepare all meat, chop up veggies.
Do you recommend any tools for helping to prepare meals easier?
Use a baggy rack stand– these neat little gadgets are perfect for helping to keep the bags open, especially if you don't have someone to help you.
Any advice on how to organize freezer?
I try to freeze the bags as flat as I can to make the freezer shelves look neater. I usually put a small cutting boards or a piece of a cardboard box in between each meal until they start to freeze and then remove the boards. This is not necessary but will make storage neater, it also makes the meals freeze flat so it is easier to remove them.
How Can I Prevent Freezer Burn?
Get as much air out: Try help prevent freezer burn, try to get as much air out as possible.
Make sure the food is cold, if the meat or ingrenients have to be pre-cooked, make sure they are at room tempurate before placing in the freezer.
Use a vacuum sealer
How many people do these recipes serve?
Most of the recipes yield an average of 4-6 servings. We are a family of five, two adults and three children. We almost always have at least one or two servings left over.

Crockpot Recipes originally found at Mongolian Beef, Beef Stew, Cheesy Chicken Spaghetti, Thai Peanut Chicken, Sweet Potato Basil Soup, Mexican Pork Sweet Potato Stew, Cashew Chicken, Lime Garlic Chicken found in B.J.'s Wholesale Flyer.