Do you struggle with what to make for dinner? Today I'm sharing 10 easy crockpot recipes to help you stay on budget and spend less time in the kitchen and more time with the kids. Get dinner on the table with these quick and easy crock pot meal ideas.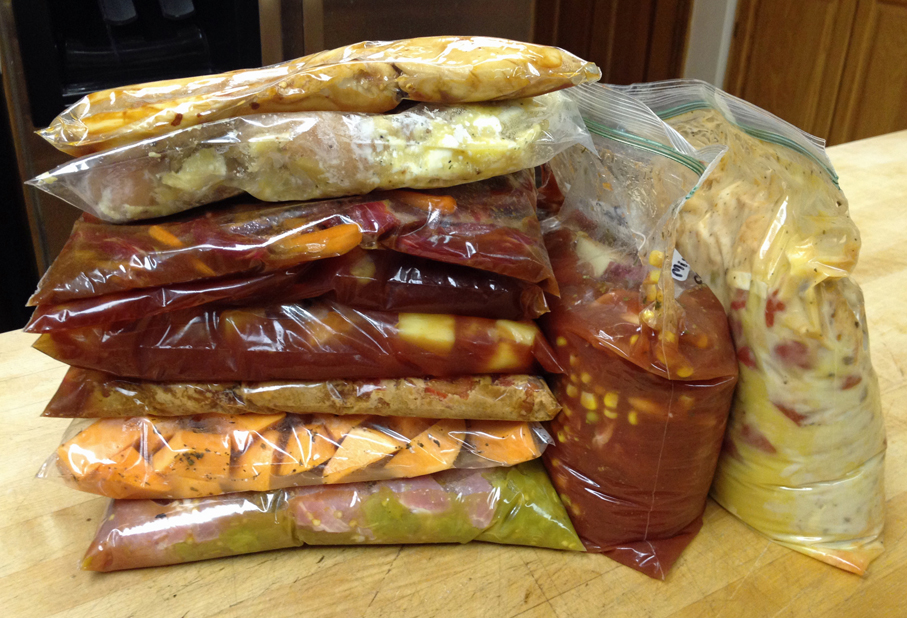 This site uses ad networks and affiliate links to generate revenue.
To save even more time during the busy work or school week, all of the ingredients in these easy weeknight crockpot meals can be prepared ahead of time and placed in the freezer.
Plan your week with make ahead meals that your family will love. Print recipes, make a grocery list, shop deals, and dedicate one to two hours to meal prep. Prep and freeze the family meals in a gallon bag, then thaw and dump when you need an easy weeknight dinner.
I made the Sweet Potato Basil soup this past week and it has become one of my favorite slow cooker soups to make. My six year old also loved it. I think between the two of us we could have eaten the whole pot in a night. He requested seconds and since we had leftovers, requested it for lunch the next day as well.
10 Family Friendly Crockpot Recipes:
These crockpot meals are perfect for any time of the year. They're convenient in the summer when you don't want to heat up the house with the stove, and for busy weeknights when you're trying to find a balance between afterschool activities and making a home cooked meal.
Click on each link to be taken to the ingredient list & printable recipe.
The best Crockpot Beef Stew made with chunks of beef, red potatoes, carrots, peas, corn, and a simple blend of broth and spices. Easy family dinner to serve when it's cold outside.
The tender flank steak is full of flavor, and it takes just minutes to toss all of the ingredients into the crockpot for a perfect weeknight family meal.
Pineapple Salsa Chicken makes a favorite filling in burritos or tacos. Best of all? The chicken is slow cooked in the crockpot all day, all you have to do is shred it, stuff the burrito, and broil it for 5 minutes.
Skip takeout, and make this crockpot Thai peanut chicken. Chicken breasts are simmered all day in a peanut sauce and served over a bowl of rice.
Only 4 ingredients needed to make this delicious crockpot creamy Italian chicken. This family favorite recipe is incredibly easy to make. Simply dump all of the ingredients into the crockpot, cover and cook on low for 4- 6 hours.
Crockpot Cheesy Chicken Spaghetti is a simple and kid-friendly recipe even for the pickiest eaters. Kids love the cheesy spaghetti, and you can easily sneak in an extra serving of vegetables by mincing up mushrooms or cauliflower.
Warm up with a hearty bowl of sweet potato soup on a cold day made in the crockpot. This creamy soup is made with pureed sweet potato and coconut milk, the ultimate comfort soup on a cold fall day.
Slow Cooker Sweet Potato Pork Stew is a delicious stew recipe, perfect for fall and winter months. Made with pork loin and sweet potatoes, this tasty stew takes just 15 minutes to prepare and slow cooks to perfection.
Cashew chicken is a simple slow cooker recipe that combines chicken with cashews in a savory sauce. Serve over rice for an easy weeknight family dinner.
Crockpot Garlic lime chicken is a simple, easy dinner idea that is perfect for any day of the week. Incredibly flavorful this Garlic Lime Chicken recipe doesn't get much easier. Simply place all ingredients in the slow cooker, cover and cook on low for 6-8 hours. Serve with brown rice or cauli-rice.
How many people do these recipes serve?
Most of the recipes yield an average of 4-6 servings. We are a family of five, two adults and three children. We almost always have at least one or two servings left over.

Crockpot Recipes originally found at Mongolian Beef, Beef Stew, Cheesy Chicken Spaghetti, Thai Peanut Chicken, Sweet Potato Basil Soup, Mexican Pork Sweet Potato Stew, Cashew Chicken, Lime Garlic Chicken found in B.J.'s Wholesale Flyer.