Each holiday I like to hand out small treat bags to Jonathan's preschool classmates, cupcakes sometimes get too messy with the frosting so I usually stick with holiday themed cookies. The other night while I was trying to come up with an new idea for a Valentine's Day treat for the classroom , I came across the Cupid's Crunch Recipe from Brett at Mama Loves Her Bargains, I knew this Valentine's Day treat would be perfect for Jonathan and his friends.
Popcorn + M&Ms = perfect combination in my son's eyes.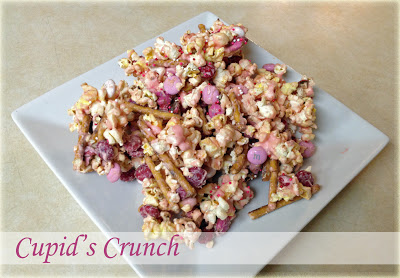 This Cupid's Crunch recipe can also be switched up with different colors for additional holidays, red & green for Christmas, orange & brown for Halloween, ect.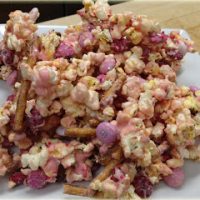 Ingredients
2

bags microwave popcorn or 1/2- 2/3 cup popcorn kernels

popped

12

oz

bag Wilton candy melts

2

cups

pretzels

broken into pieces

1/2

cups

M&Ms

Sprinkles

Nonpareils, or any other Valentine's themed candies
Instructions
Pop popcorn according to directions & set aside. Make sure to pick out any unpopped kernels.

Melt the candy melts at 30 second intervals in the microwave on 50 % power, mixing in between or use a double boiler.

Place broken pretzels and M&Ms into a large bowl with popcorn. Then pour 1/2 the melted candy over the top and mix with a rubber spatula.

Spread the mixture out on a sheet of wax paper- drizzle remaining melted candy over the top.

Sprinkle the nonpareils, candy bits or sprinkles.

Allow the chocolate to harden. After the chocolate dries/hardens, break into bits and store in an airtight container.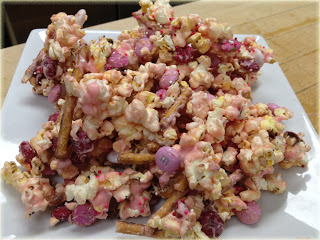 I purchased plastic Valentine's Day treat bags at the Christmas Tree Store for about $1 and it comes with 20 decorative bags with ties. I placed a serving of Cupid's Crunch in each bag and sealed with a twist tie. Of course the boys had to give the Cupid's Crunch a try before we packaged it all up. The candy popcorn was a big hit with the boys, especially when they noticed the M&Ms. Jacob can't wait to hand them out to all his preschool friends after their Valentine's Day party.
More great Valentine's Day Food ideas: