This post is brought to you in partnership with Orchard Valley Harvest.

Winter is the hardest time for us to stay active, with the freezing temperatures and snow I just want to stay inside all day. Now that the weather is warmer, it's time to get a jumpstart a healthy lifestyle. To jumpstart our healthier lifestyle we have become more active as a family, make sure we get plenty of sleep, and make healthier food choices.

Jumpstart A Healthier Lifestyle:
Get Up and Outside: During the summer if it's not raining raining out, you'll find us outside. I find that if I get the kids up and outside early we stay more active, even if it's just weeding the garden, or picking up twigs while the boys ride their bikes. One activity the boys love is to ride their bikes around, with the driveway covered with chalk roads. 10 minutes making roads out of chalk in the mornings, means hours upon hours of riding bikes throughout the day.
Walks: Walks are also a common daily activity. after breakfast the boys help me bring the dogs for a walk, and every night after dinner we have to go on a walk so the boys can ring the fire hydrants. A few streets over there is a dead end with a fire hydrant, and every night we have to go to the end so the boys can clink the chain, it's a ritual that started last summer, and has continued on daily. I'm not sure what it is about the fire hydrants, but making it to the dead end and being the first to ring it, is a big deal!
Get a Good Night's Rest: Although it doesn't get dark out till 9pm, we are trying to keep the boys on the same sleep schedule that we have during the school year, bed at 7:30pm minus a few late nights for special events. I find that when the kids go to bed at a decent time, I'm more apt to go to sleep earlier as well since I still have a couple hours to wind down and get the house cleaned after they go to sleep.
Choose healthy snack options: Snacks are part of our every day life, especially on days when we are out of the house non-stop for fun activities. I'm big into nuts and trail mix especially during the summer when we need something easy and non-messy for walks and hiking. The Orchard Valley Harvest mini stand-up bags are great-for-on the go and can help to satisfy a sweet tooth. I know I'm not the only one who gets that chocolate craving…
New Orchard Valley Harvest Minis:
Orchard Valley Harvest mini stand-up bags have recently launched at Market Basket stores throughout the metro Boston area and are available in the produce section. The one ounce mini stand-up bags are convenient for on-the-go and provide a healthier alternative to chips or candy. The nuts & trail mixes do not contain any artificial ingredients, or GMOs. Whether your looking for added protein or need to satisfy a sweet tooth, the minis are the perfect grab-and-go snack choice.
Orchard Valley Harvest Minis are available in the following varieties:
Dark Chocolate Almonds
Cranberry Almond Cashew Trail Mix
Chocolate Raisin Nut Trail Mix
Cashew Halves & Pieces
Roasted Salted Almonds
Whole Natural Almonds
Dry Roasted Pistachios
Next time you head to Market Basket, stop by the produce section and check out the new varieties. Pick up a bag, or two, or even three and keep the minis in your car, desk drawer at work, or in your purse to help satisfy that sweet tooth or if you're needing a quick energy boost.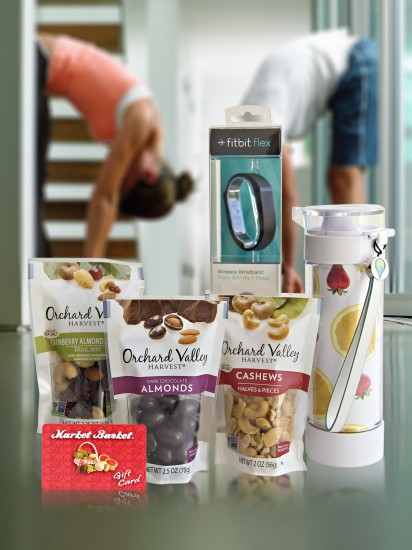 To help celebrate the new product launch & jumpstart a healthier lifestyle, one lucky reader will win a Orchard Valley Harvest Prize Pack:

Variety of Orchard Valley Harvest minis
$250 Market Basket Gift Card
Define Bottle Water bottle
Fitbit Flex Wireless Activity + Sleep Wristband
To enter, simply fill out the form below. Open to U.S. only. No P.O. Boxes
a Rafflecopter giveaway

By entering this giveaway you agree to the Giveaway Rules. This giveaway will end on June 23, 2014 at 11:59pm EST. The winner will be chosen via Rafflecopter. The winner will have 24 hours to respond or a new winner will be selected. You must be 18 years or older. Open to U.S. residents.  No P.O. Boxes. Information, product, and giveaway prize provided by sponsor.