Walt Disney Animation Studios' Wildly Witty, Vibrant World of "Zootopia" arrives home today June 7th on Digital HD, Blu-ray™ and Disney Movies Anywhere!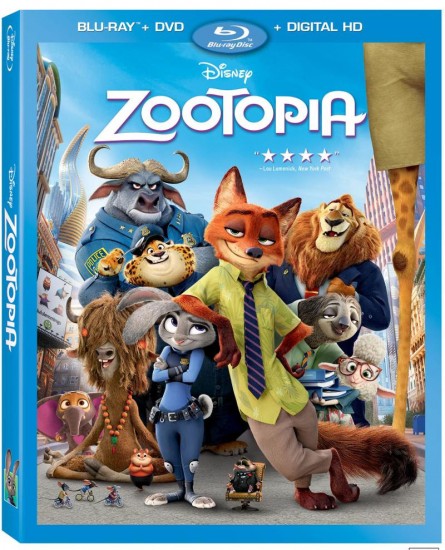 Walt Disney Animation Studios' (WDAS) comedy-adventure, "Zootopia" has broken records worldwide earning more than $900 million at the global box office to date. The best reviewed movie of 2016, critics and audiences around the world have fallen in love with the wonderfully innovative animal metropolis of "Zootopia" and the comedic chemistry of rookie rabbit officer Judy Hopps (Ginnifer Goodwin) and scam-artist fox Nick Wilde (Jason Bateman).  It's been called one of the best buddy cop comedies in years!  Thankfully, there's more—much more.
Bonus features include:
BLU-RAY 3D, BLU-RAY & DIGITAL HD:
Zoology: The Roundtables – Ginnifer Goodwin hosts an in-depth look at the movie's characters, animation, environments and more. The artists at Disney Animation give a rare and in-depth look at the complexities of bringing an all-animal world to life from the ground-breaking technology behind the characters' fur and clothing to the varied and vast environments of Tundratown, Sahara Square and the Rainforest District as well as the deep thought and research given to bringing 64 unique animal species to life through animation.
The Origin of an Animal Tale – Follow the story's development from its origins to a big story shift that turned the film upside down. In this documentary, filmmakers give a candid look into the difficulties of creating the story of Zootopia and the bold decision to switch the main character late in the production process, putting one resolute rabbit center stage.
Research: A True-Life Adventure – The filmmakers traveled the globe to find inspiration for the diverse characters and amazing city of Zootopia. They reflect on the importance of research and how a deep dive into animal behavior at Disney Animal Kingdom theme park and a deep immersion into animal society on the African savanna shaped and inspired the characters of Zootopia and changed the filmmakers' lives forever.
Z.P.D. Forensic Files – Find the movie's hidden Easter Eggs. Every city has its hidden gems, especially when it has been created by the filmmakers of Disney Animation who love nothing more than sprinkling hidden references to some of Disney's greatest animated features throughout the story.
Scoretopia – Academy Award®-winning composer, Michael Giacchino spotlights five of cinema's greatest percussionists and how they brought an org
anic, animalistic sound to his powerful and emotional music score.
Deleted Scenes:
Alternate Opening – Young Judy Hopps rescues a fellow classmate and realizes she can reach beyond a life in carrot farming to a future in law enforcement.
Wild Times! Pitch – Nick desperately pitches the bankers of Zootopia on funding Wild Times!, an amusement park made exclusively for the predators of Zootopia and a sure-fire, money-making scheme for Nick and his friends.
Alternate Homesick Hopps – After a frustrating first day on the force, Judy has a conversation with her parents.  See how this scene changed from a heartfelt conversation with her parents to tough love when her parents discover their daughter is only a meter maid and not a "real cop."
Detective Work – Judy borrows a fellow police officer's computer to conduct research, which turns out to be no small task.
Alternate Jumbo Pop – In this early version of the story where Nick was the main character, the filmmakers and Jason Bateman were able to take hustling to a new level.
Hopps' Apartment – When Judy's entire family pays her a surprise visit they are shocked to discover the company she's keeping.
The Taming Party – In this emotional clip from an early version of "Zootopia," Judy attends her first "taming party" and gains a deeper understanding of the plight of the predator.
DVD:
Scoretopia
"Try Everything" Music Video by Shakira
DIGITAL HD EXCLUSIVE:
International Character Reel – See the variances in news reporters in Zootopia around the world!
We missed seeing Zootopia while it was in the theater and I'm looking forward to surprising the kids this weekend with the new hot release during Family movie night.
Product, information and giveaway prize provided by client. By entering this giveaway you agree to the Giveaway Rules. This giveaway will end on June 10th, 2016 at 11:59pm EST. The winner will be chosen via Rafflecopter. The winner will have 24 hours to respond or a new winner will be selected. You must be 18 years or older. Open to U.S. residents only.