Disclosure: Product and information provided by sponsor. All opinions are my own personal and honest thoughts.
Disney's beloved and adorable 'Buddies' are back in a hilarious all-new movie for the whole family — 'SUPER BUDDIES' debuts August 27, 2013, on Blu-ray™ Combo Pack and DVD.  An action-packed canine adventure, 'Super Buddies' stars the world's most adorable talking puppies – Rosebud, B-Dawg, Budderball, Buddha and Mudbud, as caped crusaders em'barking' on their biggest adventure ever.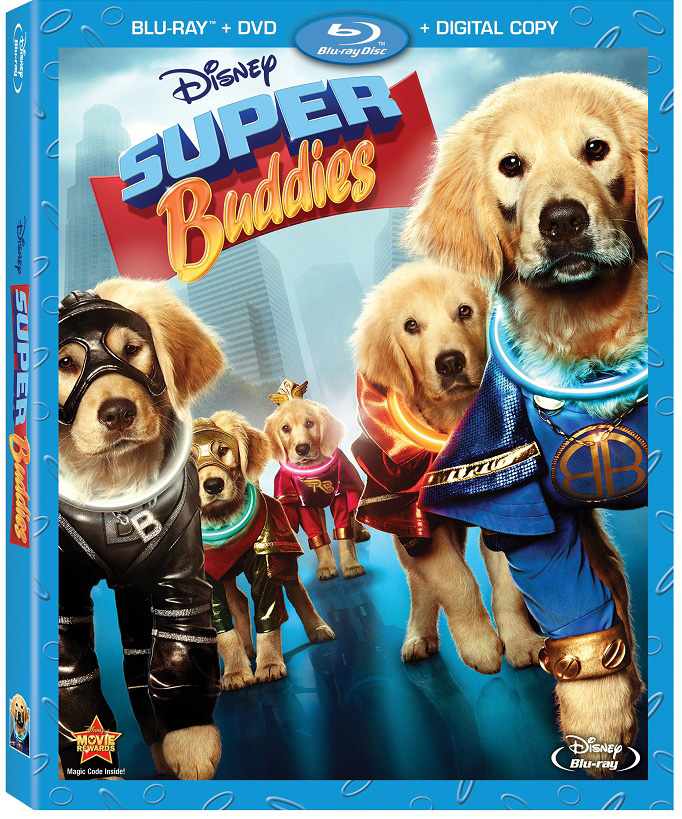 About Super Buddies:

An ordinary day at Fernfield Farms turns extraordinary when Budderball, Mudbud, B-Dawg, Buddha and Rosebud discover mysterious rings that grant them each a unique super power. Before you can say, "Buddies, assemble," the pups unleash their amazing abilities and race to the rescue when a shape-shifting bully from outer space threatens the planet. But can they succeed in kicking major tail without revealing their new secret identities?
A must-own movie event packed with laughter, action and incredible new characters, 'SUPER BUDDIES' proves when you use your wits and work together, you don't need super powers to be a super hero.
Ohh, Sweet Mama!
That's all I  hear out of Tyler's mouth lately, thanks to the beloved puppies, Budderball, Mudbud, B-Dawg, Buddha and Rosebud, from Super Buddies. 3 1/2 year old Tyler absolutely loves Super Buddies and has watched it almost every single day, sometimes twice a day for the past two weeks.  He's not one to sit and watch a 90 minute movie without getting antsy, but Super Buddies has got him hooked. Not only is he obsessed with watching the DVD but he has even recruited our two dogs and pretends that they now have super powers.
Suggested Retail Prices:
$29.99 DVD + Digital Copy
$36.99 2-Disc Blu-ray Combo Pack (Blu-ray + DVD + Digital Copy)
Stay connected with the latest news and information on "Super Buddies."