This sponsored post is on behalf of iConnect, all opinions stated are 100% mine..
With a new little bundle of joy joining our family in just a few short weeks, I have been keeping my eye out for coupons and sales to help stock up on some of the essentials that we will be needing. With our youngest being 6 1/2 years old, we're pretty much starting over new besides a couple of boxes of baby clothes that I had saved, the rest of the baby gear has been passed along or donated through the years. Besides the nursery furniture, clothing, and baby gear, the price of diapers and wipes also adds up, so I've been clipping coupons and checking weekly for deals, trying to stock the closet.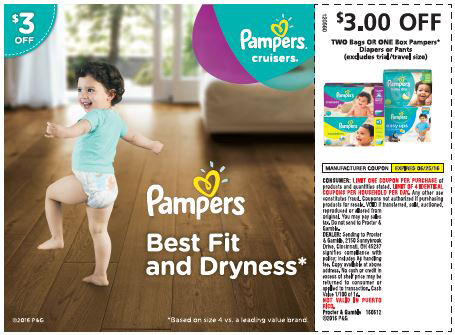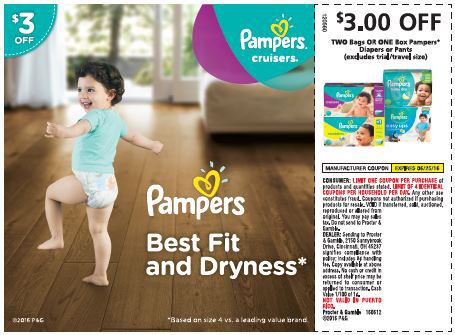 Pampers Coupon Available in Sunday's Paper:
This weekend, you'll want to make sure to pick up the Sunday paper (June 12, 2016) as there will be a P&G insert with big savings from Pampers. There will a high value coupon for Pampers Diapers and Pampers Training Pants – $3 off two bags or one box of any Pampers Diapers or Pampers Training Pants. These coupons can be used at any mass, discount or grocery stores where baby care products are sold.
All Pampers Diapers and Pants are included in this coupon, except trial/travel sized diaper packs. Pampers Diapers and Pants include Pampers Swaddlers, Pampers Cruisers, Pampers Baby Dry, Pampers Easy Ups, Pampers Under Jams, and Pampers Splashers.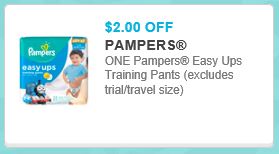 Pampers Easy Ups Training Pants Printable Coupon:
In addition to the coupon available in this Sunday's paper, Pampers is also offering a high value coupon that you can print at home for $2 off 1 pack of Pampers Easy Ups Training Pants. Pampers Easy Ups Training Pants provide up to 12 hours of protection and are sold in sizes 2T-5T. They have a more underwear-like design for growing toddlers and can be found at mass, discount and grocery stores where baby care products are sold.
Clip the Pampers Easy Ups coupon at: http://www.coupons.com/brands/pampers-coupons/
You will need to create a coupons.com account if you do not have one already.
Print, shop, and save – make sure to keep an eye out for additional Pampers coupons in the future.