This is a sponsored post written by me on behalf of Folgers. All opinions are 100% mine.
With the weather in the high 60s this past week, I have been getting more anxious for the summer to arrive. Along with the warmer weather comes outdoor fun, barbeques and iced coffees, three of my favorites. Now that I don't need a hot coffee to warm me up in the morning, I have been back on my iced coffee kick. I'm always down for an ice coffee no matter what time of day it is, especially if it's caramel flavored. Instead of running to the local coffee shop, I picked up caramel drizzle the last time I was at the grocery store and have been making my own caramel iced coffee at home.
Since I'm the only one who drinks iced coffee in the house, my husband prefers hot, I often make a double serving and leave the extra in a pitcher in the fridge. I've been enjoying the convenience of using Folgers Instant Coffee to make my iced coffees to enjoy once the kids get on the bus. Instead of waiting for the coffee brew and having to clean the coffee pot after, I can easily head up a cup of water in the microwave, add Folgers instant coffee, mix with cold water, and have a pitcher of iced coffee ready for me. The second serving that is leftover in the fridge is perfect for after school activities, I can make the caramel iced coffee to-go in one of my reusable cups.
Caramel Iced Coffee:
Ingredients:
3 Tbsp. of Folgers Instant Coffee Crystals
1 cup of boiling water
2 cups of cold water
2 Tbps. Caramel syrup
Milk, cream, or half and half, to taste
Ice
Whipped cream (optional)
Directions:
In a pitcher, dissolve coffee crystals in boiling water, stir until dissolved. Add cold water, mix well.
Fill glass cup or mason jar just over 1/2 way with ice. Pour ice coffee until 3/4 full. Add cream, half and half or milk to taste and caramel syrup, mix well. Top with whipped cream and additional caramel.
Stir together boiling water & Instant coffee. Once crystals are dissolved, add cold water & mix. Pour iced coffee mixture, your favorite cream or milk and caramel syrup into a glass full of ice, & mix well. I prefer my coffee sweet, but the caramel provides enough sweetness so I prefer not to add any additional sugar.
Top with whipped cream, and additional drizzle of caramel.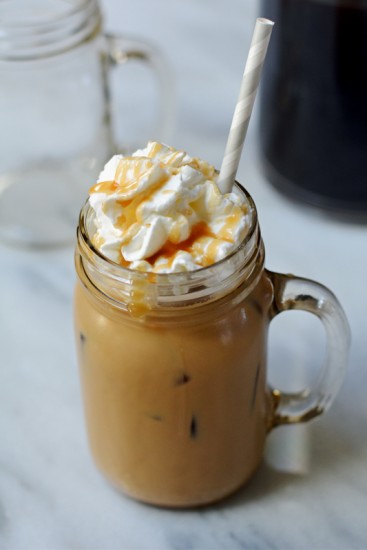 For additional inspiration, check out these Folgers Recipes.
Do you prefer hot or iced coffee? Do you have a favorite flavor?