Chicken Alfredo Stuffed Shells is an easy family meal that is perfect for a those busy weeknights. Jumbo pasta shells are filled with shredded chicken, broccoli, and a creamy Alfredo sauce. Serve these chicken and broccoli shells with a side salad and garlic bread for a tasty dinner the entire family will enjoy.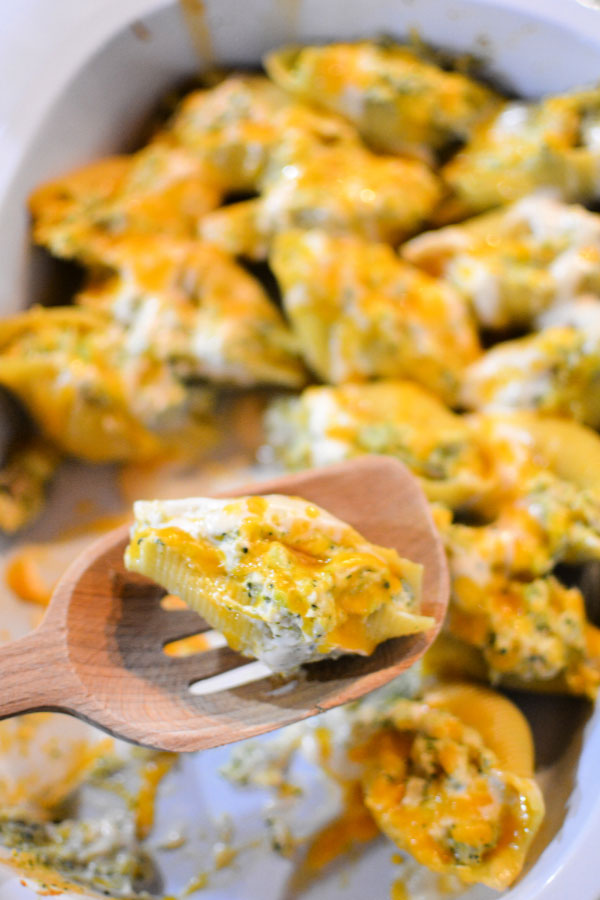 Try a new take on stuffed shells with these Chicken Alfredo Stuffed Shells.
When it comes to dinner time, I'm always on the lookout for quick recipes that the whole family will enjoy, especially those with chicken. Chicken is budget friendly and is my go-to for easy family dinners. I tend to stock up when chicken breast when it goes on sale for $1.79 and freeze them in individual portions. I'll cut the fat and place each piece of chicken in a fold top sandwich bag, and then place about 8 in a gallon ziplock bag with the date.
My children and I could eat chicken every day of the week, but my husband gets tired of it really quick, so I have to try and to incorporate it in new recipes.
Open up a jar of Alfredo Sauce and the possibilities are endless.
In addition to the typical Chicken Broccoli Alfredo pasta dish there are number of easy recipes you can make using Alfredo Sauce. Chicken and Broccoli Braid is shredded chicken mixed with alfredo sauce stuffed inside a crescent dough and Creamy Tuscan Garlic Chicken in made in the Crock Pot. These chicken broccoli alfredo stuffed shells are also pretty amazing.
This recipe for chicken alfredo stuffed shells has become a family favorite. I'll often double the recipe so that I can make half of it a freezer meal.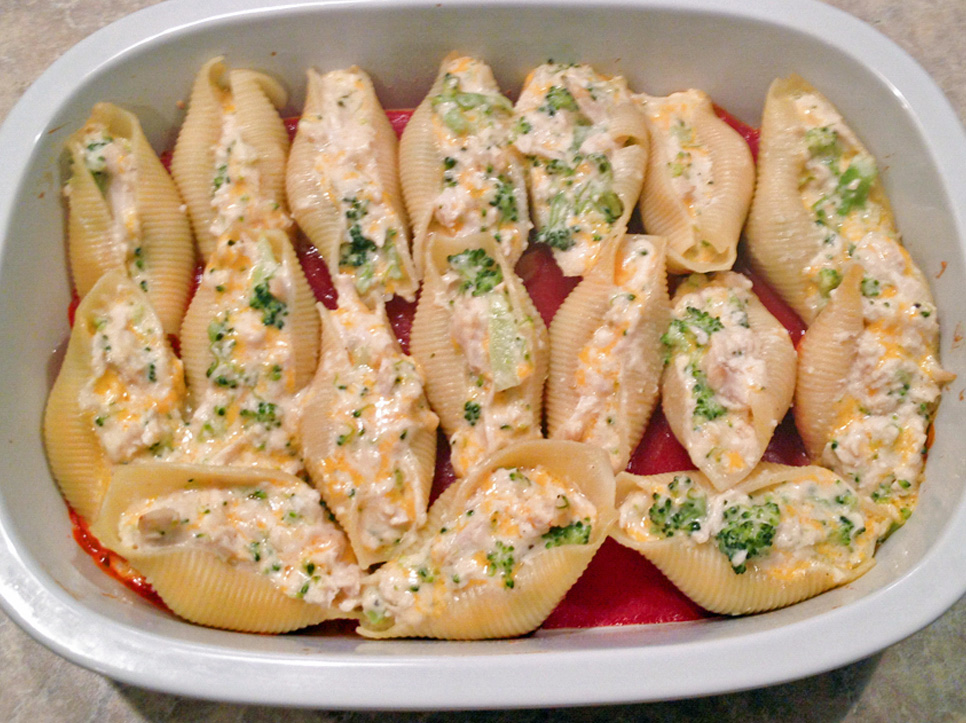 Chicken Alfredo Stuffed Shells
What you'll need to make this recipe for chicken broccoli alfredo stuffed shells:
Jumbo Pasta Shells (about 20 shells)
2 cups cooked chicken, shredded
1 jar (16oz) Alfredo sauce, or 2 cups of your favorite homemade alfredo sauce
2 cups steamed broccoli
1 cup shredded cheddar cheese
cooking spray
2 cups spaghetti sauce
Salt and pepper (to taste)
Instructions:
Preheat oven to 350°F.
Cook pasta according to directions on package, minus one minute. Rinse with cool water & drain.
Lightly coat baking dish with olive oil.
Spread spaghetti sauce evenly in baking dish.
In a large bowl, combine the Alfredo sauce, broccoli, shredded chicken and cheddar cheese.
Spoon the chicken and broccoli mixture into cooked pasta jumbo pasta shells and arrange into baking dish, filling side up.
Bake the chicken and broccoli stuffed shells for 20-25 minutes or until filling is hot.
While I prefer cheddar cheese, you can also substitute for mozzarella cheese, or top with grated Parmesan cheese.
Favorite Kitchen Products:
Cookie scoop – Great for filling stuffed shells, scooping dough to make cookies, pancakes, meatballs, and cupcakes.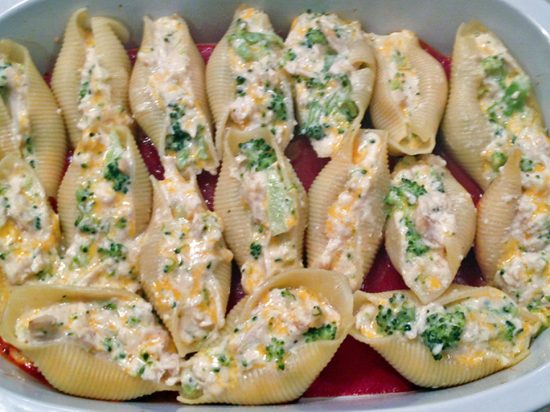 Tips for making Chicken Broccoli Alfredo Stuffed Shells:
Use a cookie scoop to stuff the chicken broccoli alfredo mixture into the jumbo pasta shells.
To save on time at dinner, prepare this recipe for chicken alfredo stuffed shells ahead of time. It can be made in the morning or before guests arrive and kept in the refrigerator until you are ready to bake it.
Short on time? Use rotisserie chicken
What are the best sides to serve with stuffed shells:
house salad
caesar salad
brussel sprouts
Italian bread, warmed
Make This Stuffed Shells Recipe Into A Freezer Meal
As a busy mom, I love the make ahead meals. I'll double our favorite recipes and freeze. We always have something to cook when I know we're going to have a busy afternoon or when I don't feel like making a shopping list and running to the grocery store last minute.
To make this a freezer meal, start preparing this stuffed shells according to the recipe, but do not bake. Cover and place the unbaked dish in the freezer. To use, transfer to the refrigerator and allow to thaw overnight. Remove from the refrigerator and let set on the counter 20-25 minutes before baking. Bake at 350°F for 20-25 minutes or until shells are heated though.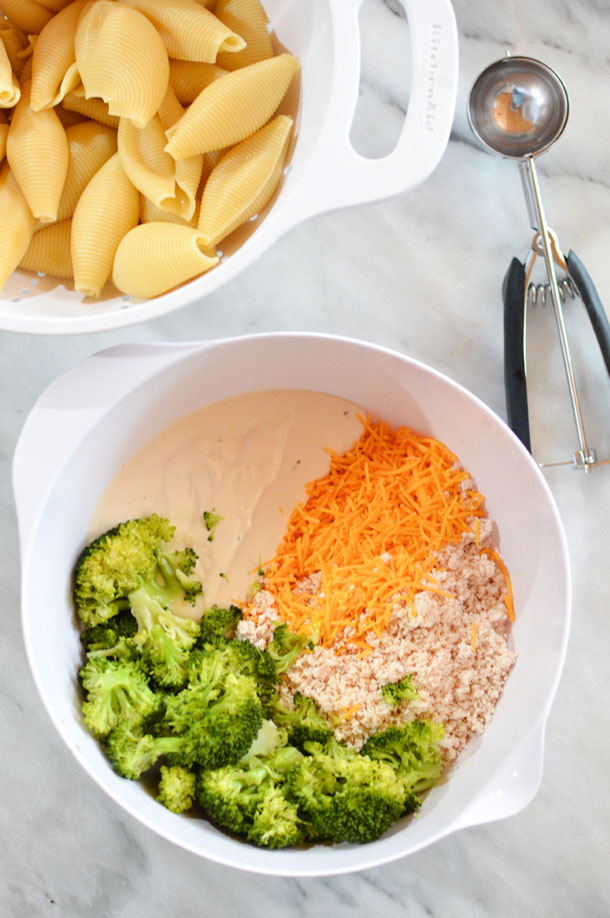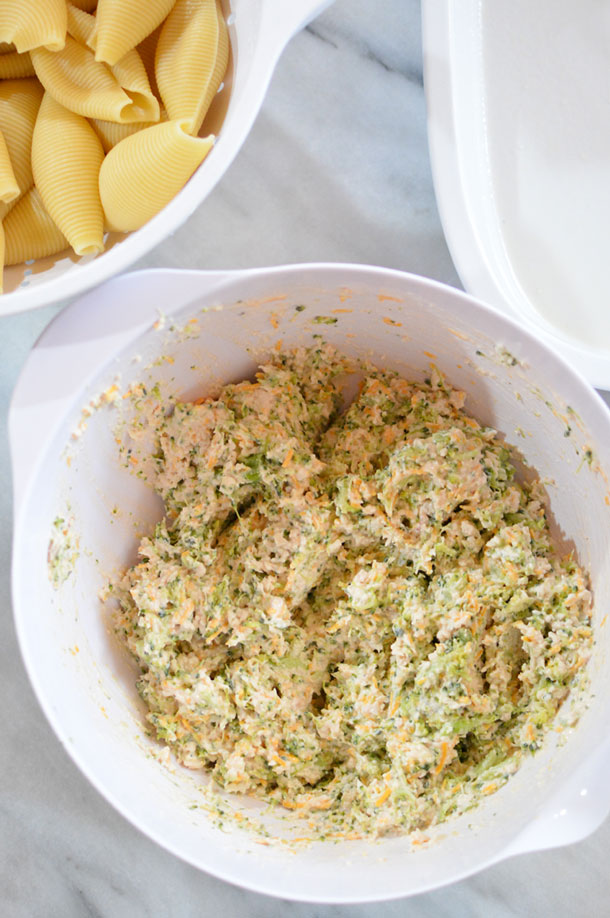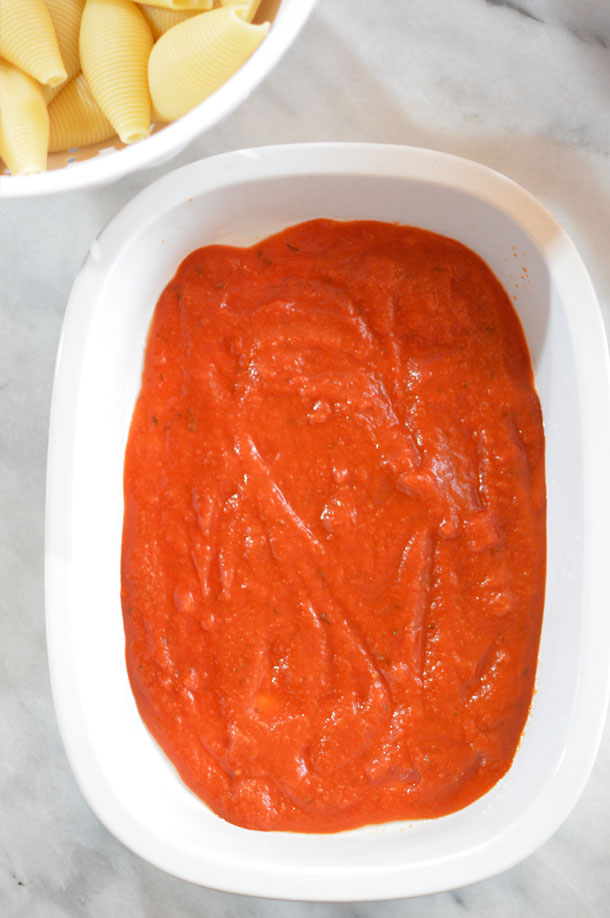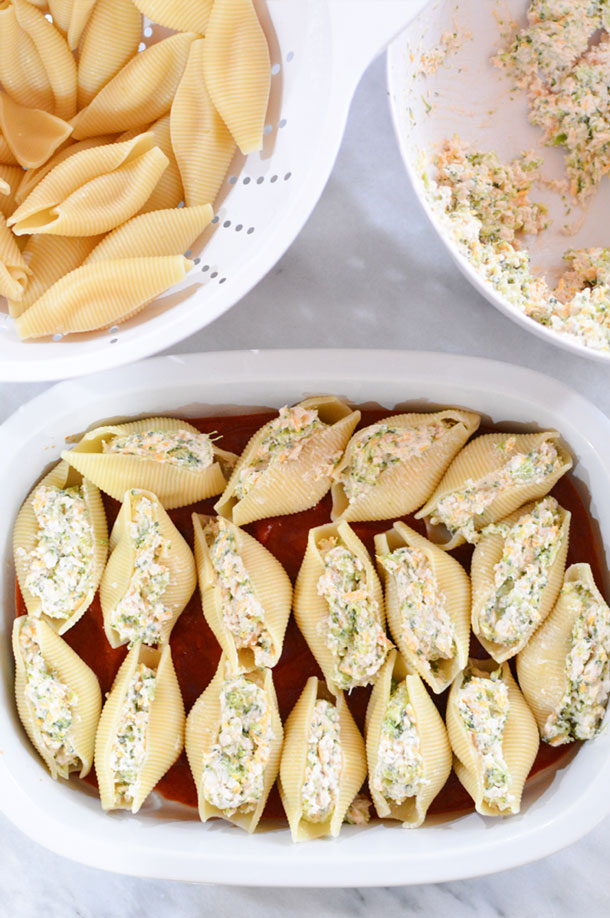 [mv_create title="Chicken Alfredo Stuffed Shells" key="6″ type="recipe"]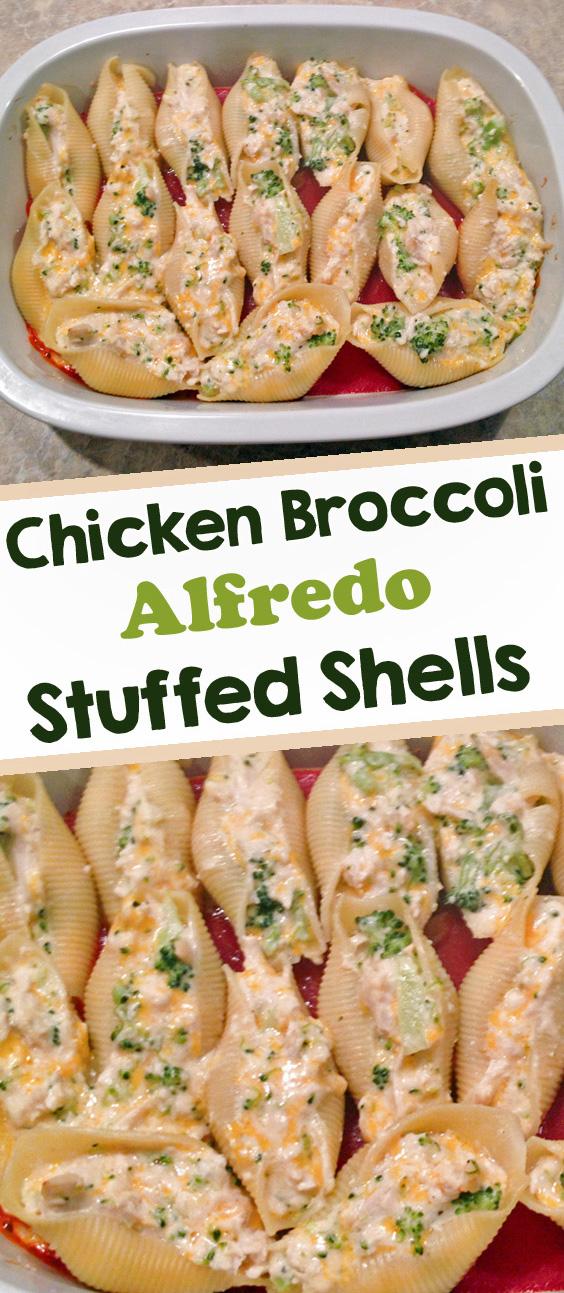 If you enjoyed these Alfredo Stuffed Shells, make our tasty recipe for Buffalo Chicken Stuffed Shells.