I am not musically inclined, and neither is my husband but maybe the boys will be a different story as they have recently shown interest in playing the piano. Growing up our next door neighbor was a piano collector, she still is, and has at least a dozen pianos throughout her house and barn. While I never played songs myself I did enjoy listening to his player pianos. My parents still still live next door and the boys enjoy going over to visit the "music neighbor" just like I enjoyed as a child. Jonathan has asked about having a piano in our house, but we just don't have room for it right now, so when Casio offered to send us one of their newest keyboards, the CTK-2400 Sound EFX Sampler, I knew it would be compact and perfect for the boys.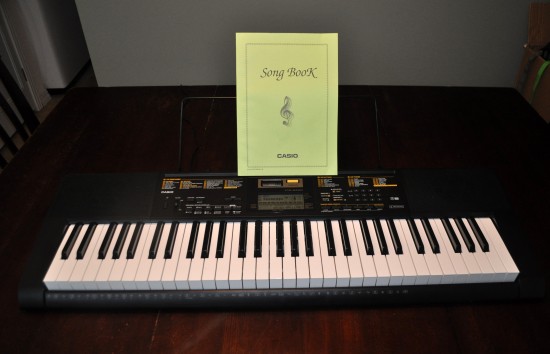 My brother had a keyboard growing up, I'm pretty sure it is still in my parent's basement, but it doesn't even begin to compare to the CTK-2400 Sound EFX Sampler.
Casio ctk 2400 features:
LCD Display
Built-In Microphone
Step-up learning system
400 Keyboard Voices
48 Note Polyphony
150 Rythms
110 Songs
10 digital effects
Includes AC adapter (or use 6 AA batteries)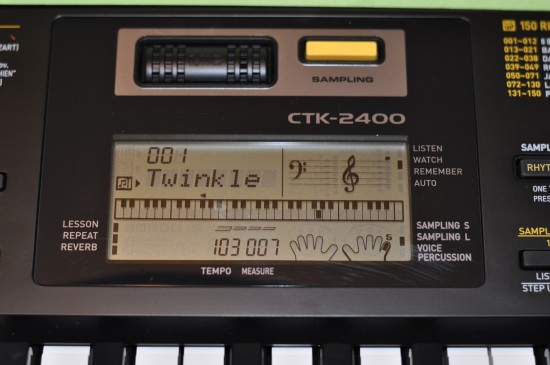 For children learning to play the keyboard, the CTK-2400 Sound EFX Sampler features a library of  110 built-in songs including "Twinkle, Twinkle, Little Star," "Mary Had A Little Lamb" and "Jingle Bells". Play along with the song, or use the Step Up Lesson system to learn how to play with the right hand, the left hand, and then with both hands. The LCD display shows users exactly when and what keys to place their fingers on. Within an hour, my kids were learning how to play twinkle twinkle little star on the keyboard.
Learn how to play the keyboard with the Casio ctk 2400: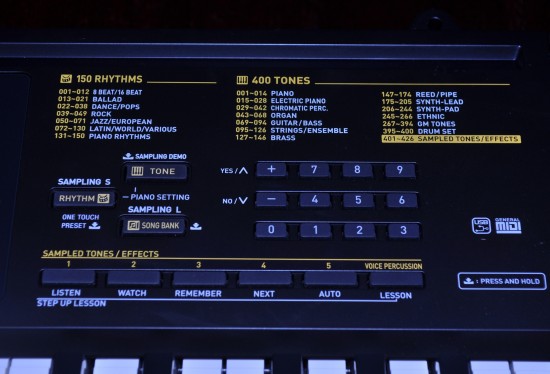 Jonathan and Trevor have been busy exploring all of the options on the CTK-2400. The buttons were overwhelming at first but we are slowly learning how to use all of the keyboard's features. Their favorite part has been the ability the use the built-in-microphone to record a sound and then play it through the keys, my weekend mornings are often greeted with ribbit and barking tunes. Long sampling can be used for a single sound that lasts up to 2 seconds, with short sampling you can record up to five sound samples that are about 0.4 seconds each.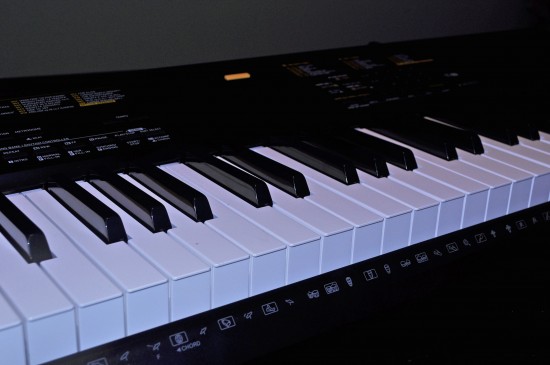 Whether you're looking to introduce your child to a variety of sounds, or want to teach them how to play the piano, but do not have room, the Casio CTK-2400 keyboard is a perfect first keyboard for your beginner musician. It's lightweight and portable, making it easy to store in a closet or pack in the car to go to Grandma's house for children to put on a little show after Christmas dinner.
Head on over to Casio where you will find a full portfolio of digital pianos and keyboards, as well as more information on the CTK-2400 which retails for $169.99.
Did you play an instrument in elementary or middle school?
Thank-you to Casio for sending the CTK-2400.