The LeapPad has come a long way since J first received an original LeapPad for Christmas a few years ago. The new LeapPad3 features a 5" touchscreen display with LeapFrog's powerful new quad-core chip for high-performance fun. One of the most convenient features in the new LeapPad3 compared to the original LeapFrog is the built in Wi-Fi and the included AC Power Adapter to recharge the battery.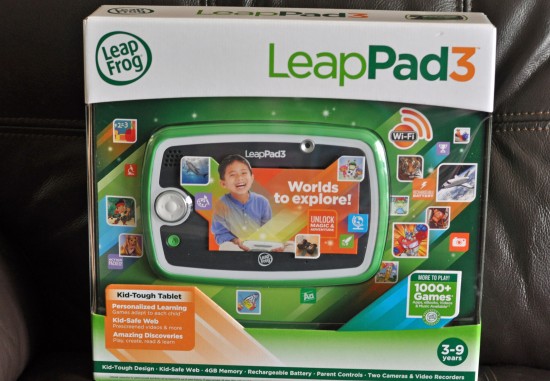 LeapFrog LeapPad 3 Features:
Kid-tough design
4GB Memory
Rechargeable Battery & AC Power Adapter (Icon to show battery life)
2 Cameras
LeapSearch: Kid-Safe Web
Peer-to-peer play over Wi-Fi.(Pet Chat and Pet Pad Party apps, LeapFrog Kart Racing, Roly Poly World)
Compatible with LeapPad games
4 Year Old T was thrilled when he found out LeapFrog was sending him the new LeapPad3. I was excited when I found out it comes with the AC Power Adapter so that I could recharge it. With all of the electronic toys in our house I am constantly running out of batteries, the ability to recharge at night has come in handy.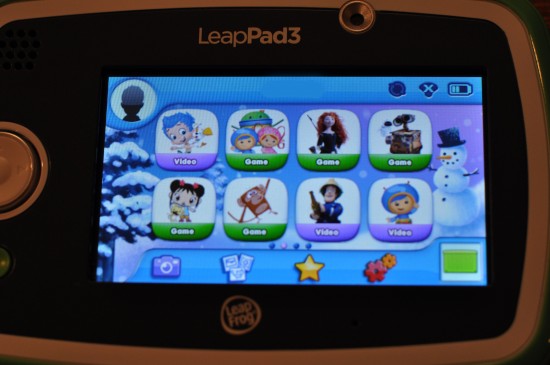 The LeapPad3 can be customized  for each child and you have the ability to sign up to receive updates on how they are progressing through each game. Since I knew 6 year old J would want in on the fun I made each of the boys have their own sign on name, which they think is awesome.  Having their own area is a big deal, it offers them a sense of individuality and each child is only supposed to sign onto their own name. The games also adjust to their levels of learning, so J would be on a higher level then T who is only in preschool.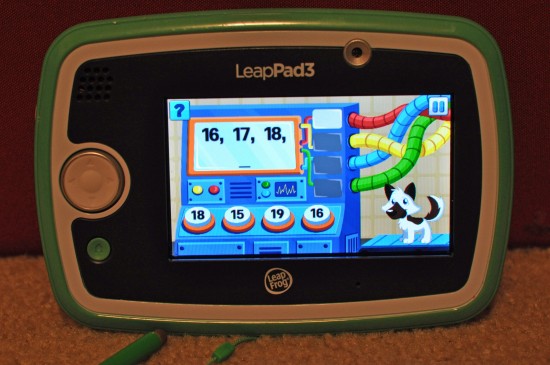 The LeapPad3 includes Photo Fun Ultra, Pet Pad Party game, Pet Chat, Utility Suite and the choice of 1 app download. J & T's favorite feature of the new LeapPad3 is Pet Pad Party where they each have their own individual pet that they feed and play games with daily. Each day they give their pets a bath in the Scrub-a-dub station game but before you clean your pet you have to answer math problems, addition, subtraction, counting down ect. The boys are competing math problems without even realizing it, they're focusing on giving their pet a bath and seeing who can do it the quickest.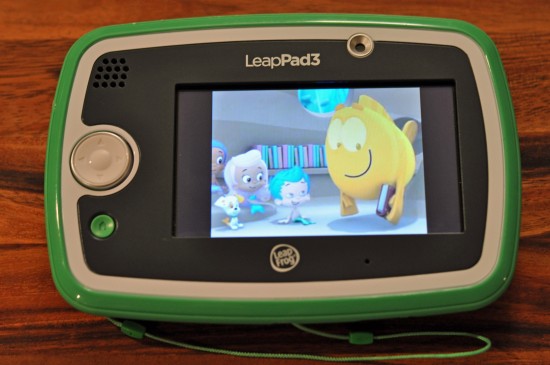 In addition to the included apps there are over 1,000+ apps,  games, eBooks, videos and more to purchase and download at App center.Children can learn and interact with some of their favorite characters including Team Umizoomi, Mickey Mouse Clubhouse, Octonauts, Tickety Toc, Transformers, and Paw Patrol. T is saving up his chore money to purchase Paw Patrol – the new favorite in our house.  If you have a previous version of the LeapPad you can download your previous purchased games over to the new LeapPad3. We had a number of videos, eBooks, and games that I was easily able to re-download. Cartridges from the previous LeapPads can also be used with the new LeapPad3.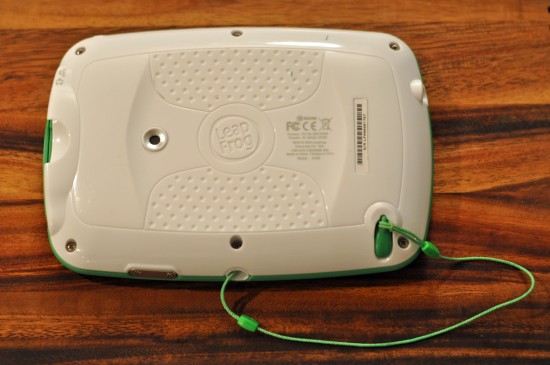 The two cameras and video camera give me a peak into the boys world. I enjoy going through and seeing what they find interesting, T is learning how to center his pictures and to focus for a second before moving the camera, no more blurry pictures and no more cutting off heads. I'm looking forward to him taking pictures, now maybe I can sneak into some photos since I'm almost always the one holding the camera.
In addition to being used at home, the LeapPad3 is convenient for on-the-go and can be easily stored in a backpack or pocket book. Parents have complete control over what games can be played, and what videos can be watched.  We take numerous 1 hour + drives a week and T can play and interact with the learning games in the car, I don't have to worry about him accidentally deleting something on my phone or getting into an area that he shouldn't be as he now has his own tablet packed with learning.
Buy It: The LeapFrog LeapPad3 is now available in green & pink, and will soon be available in teal.
LeapFrog LeapPad 3 was provided as  part of a promotional program with LeapFrog.