This past summer Jonathan started to express interest in learning how to play an instrument. He had spent two weeks playing on my brother-in-laws piano during our visit to Michigan and was looking forward learning how to play additional songs, besides Mary Had a Little Lamb and Hot Cross Buns, the only two songs I learned in my childhood and knew how to play.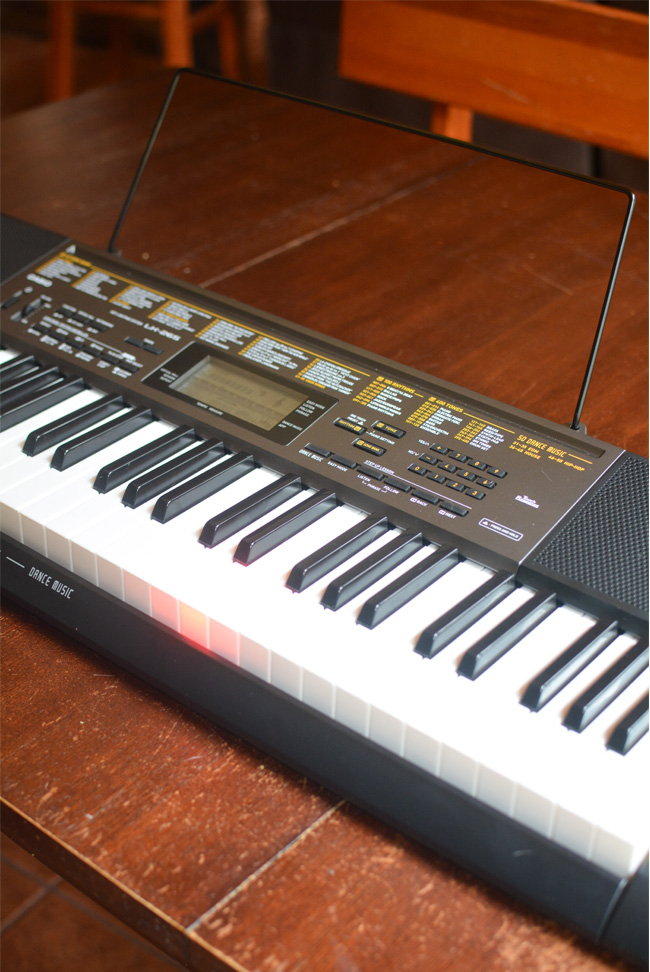 Casio LK-265 provided.
The Casio LK-265 could not have arrived at a better time as it provided the perfect introduction to music-making. Not only did this portable keyboard feature a digital screen that showed which notes needed to be pressed by what finger, but the keys also lit up with the Step-Up Lesson system. Since I don't know the first thing about playing the piano, the lessons gave me the ability to learn with the kids and without having to pay for lessons.
Make learning and playing the keyboard easier with the Casio LK-265 portable keyboard.
Casio LK-265 keyboard features:
61 piano size keys
48-note polyphony
400 Tones
100 Rhythms
Dance music mode
60 song bank tunes
Key Lighting System
One touch preset – 100 presets
Metronome
Digital Effects: Reverb (10 types)
Audio in jack
Connect headphones for quiet playing
Stereo speakers
Chordana Play" lesson app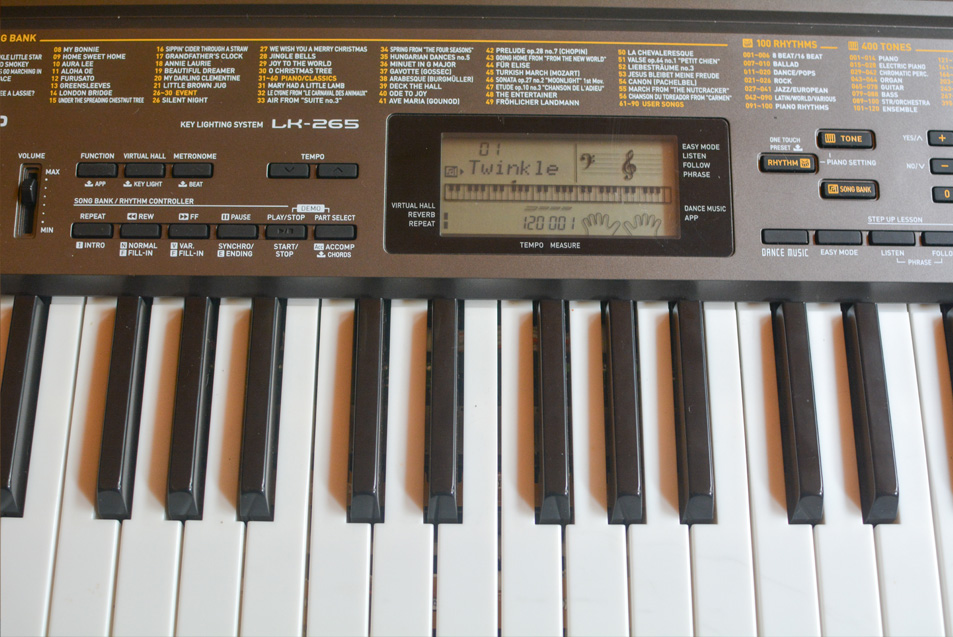 Right now our schedule is a little bit too hectic to fit in music lessons, but the Casio LK-265 portable keyboard allows the kids to learn how to play music at their own pace and in the comfort of our home. They can turn it on whenever they have some free time, and it is perfect for rainy days and for when they're inside this upcoming winter.
There are 60 built in songs available in the song bank and the Step Up Lesson option provides lessons for all 60 songs including On Top of Old Smokey, When the Saints Go Marching In and Jingle Bells which the boys are determined to learn by Christmas. The kids are shown on the display which finger to use and the keyboard lights up with which key needs to be pressed. Even baby boy can get in on the fun, he loves when I play the music from the song bank and will run into the room and start dancing.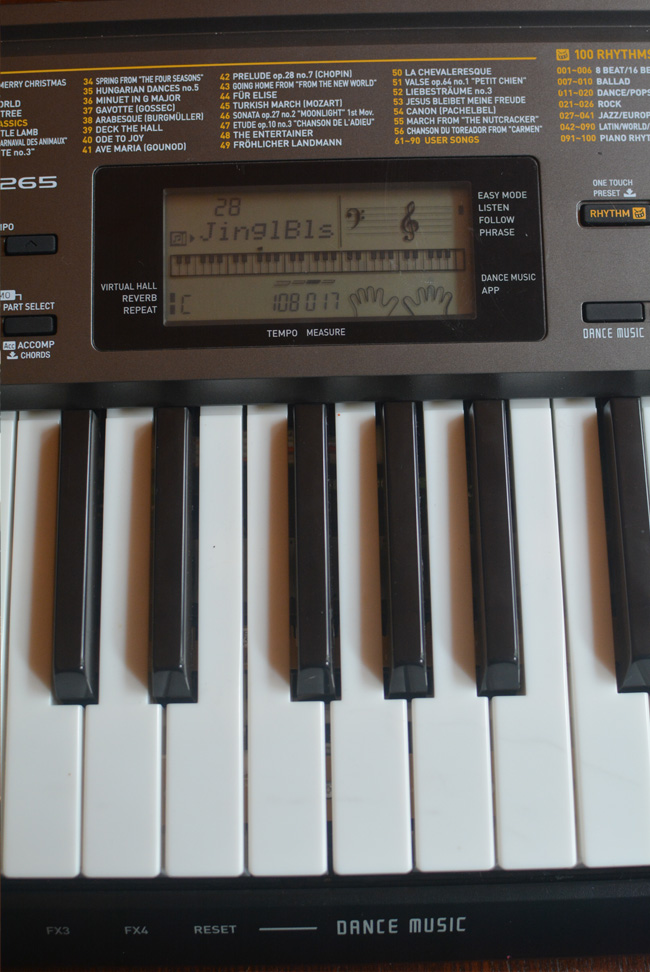 Dance Music Mode
The all-new Dance Music Mode allows users to create and remix dance music styles quickly and easily. Select from 50 styles of electronic dance music and use the lower keys to choose different variations of drum beats, bass lines, and synth parts. You can even add filter, flanger, gate, roll, low-fi, and other effects to your tracks.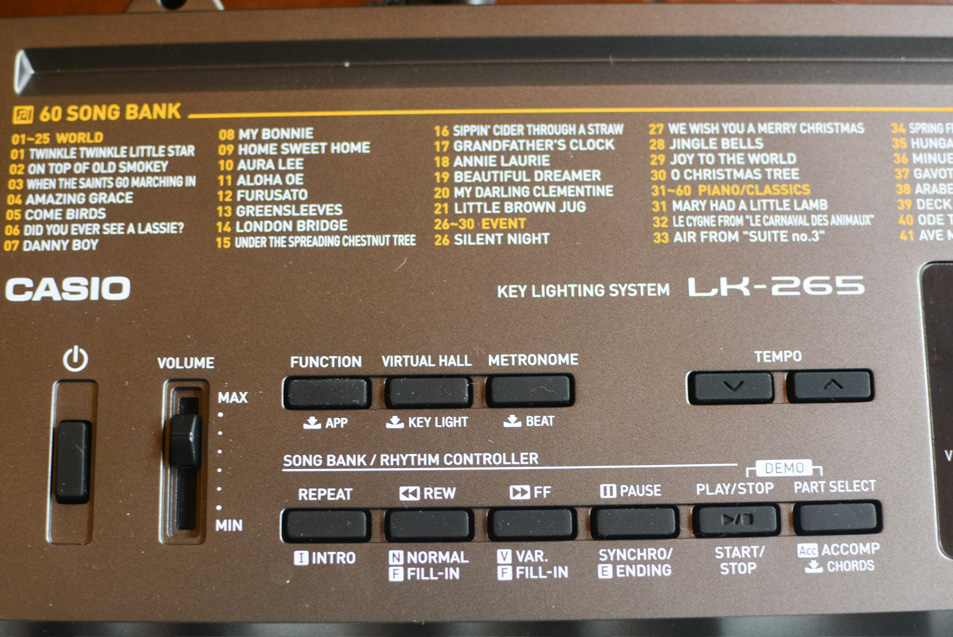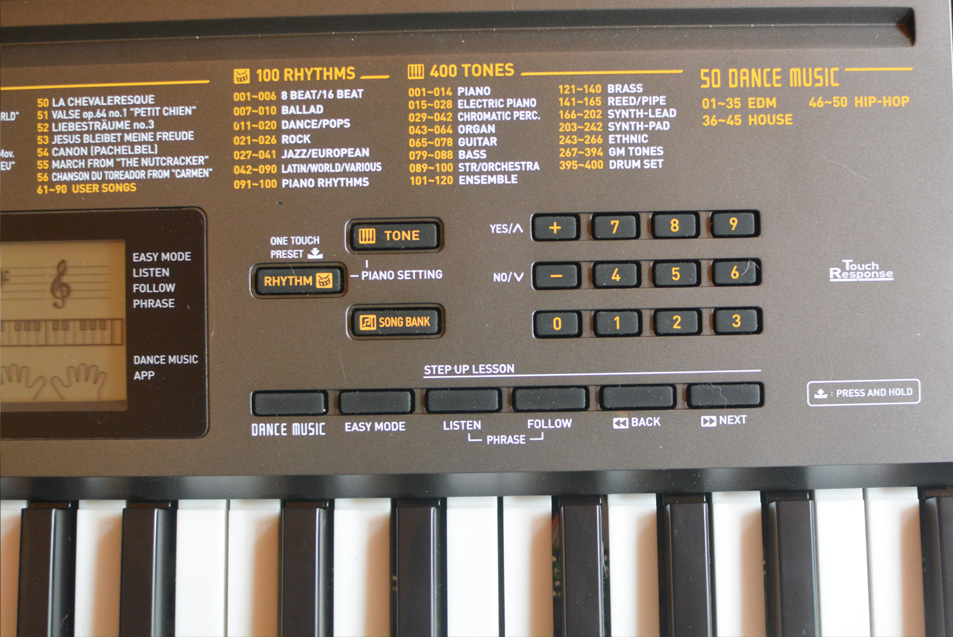 "Chordana Play" lesson app:
Link your keyboard with the "Chordana Play" lesson app on your Android or iOs devices. (audio cable sold separately). Just download your favorite MIDI files, connect your device's headphone output to the LK-265's audio input, and choose from an endless library of music. You can even transfer your favorite MIDI songs to the keyboard, and learn them when your device isn't connected.
Do your kids play an instrument?