This review was made possible by Double Duty Divas and Cascade. I was provided the featured product free of charge to facilitate my review, but all opinions are 100% mine.
Not that I look forward to cleaning, but cleaning dishes has become more convenient now that I am using the Cascade Platinum pac and Cascade Platinum Rinse Aid. I grew up in a household in which we had to completely rinse off dishes before we placed them into the dishwasher, or they would not come out clean. My parents were big into that rule and I never understood why we even had a dishwasher if we practically had to wash the dishes beforehand. My husband never understood why I completely rinsed them off either, but it was something I grew up doing, and continued to do, until about a month ago.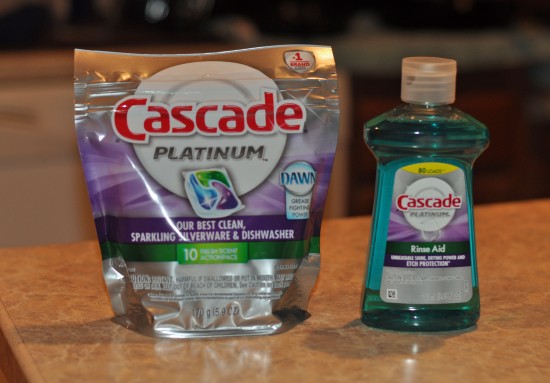 Now I skip the pre-wash, and you should too.
In fact, the Cascade Platinum works best when the pre-washing is skipped as the special enzymes latch onto the food to break it down. Most people like myself think that the food will harm the dishwasher and pipes, but I learned that most dishwashers have a built in garbage disposal. Toss the large scraps away and place the dishes right inside the dishwasher, even dishes that's been sitting on the counter or sink for the past 24 hours.
This past week I shared the power of Cascade Platinum with a few friends during a mid morning brunch while the older kids were off to school. We cooked up a batch of french toast and then put the  Cascade Platinum and Cascade Platinum Rinse Aid to the test. Once brunch was finished the dishes went straight to the dishwasher, there was no rinsing with water allowed and many were covered with sticky syrup. There were a few concerned faces since I didn't allow rinsing, but once the dishwasher cycle was complete those expressions turned to amazement as the dishes and utensils came out clean & sparkling.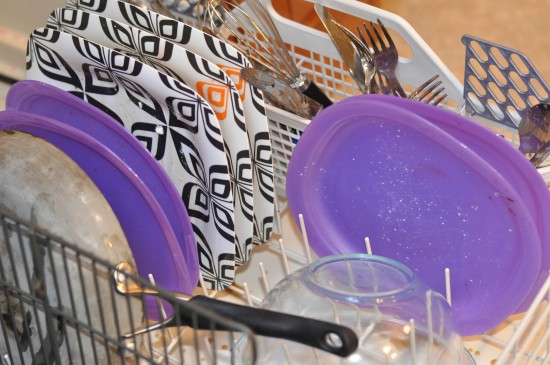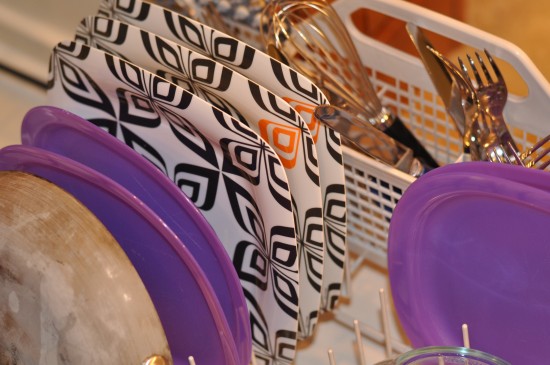 Two thumbs up for convenience from these busy mothers! Save time, and skip the pre-wash! Let the dishwasher do what it's made to do.
Tips for loading your dishwasher:
Place glassware and fragile items in the top rack, as there are powerful sprayers on the bottom.
Place glassware in between the tines on the top rack, placing them over may cause spots.
Thread long utensils/spatulas through coffee-mug handles to prevent them from moving around during washing.
Place big dishes on the bottom rack, face down so that the water reaches all the nooks and crannies.
Make sure bulky items or stray utensils that are blocking the nozzle or sprayer.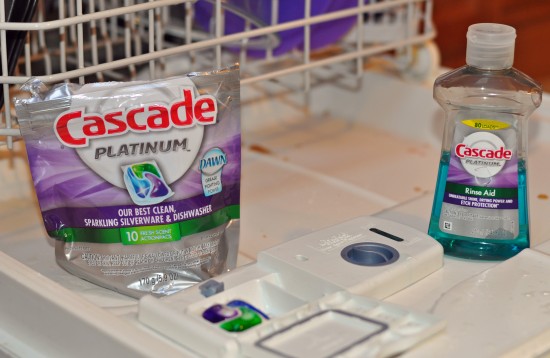 For a limited time, enjoy a $5 prepaid card when you purchase any Cascade Action Pac. Offer expires 12/31/14. Visit www.cascadeclean.com/us/cascade/coupons to learn more.
Have you tried the Cascade Platinum pacs?  Head to the Cascade website and leave a short review, include #CascadeShiningReviews in your review for a chance to win a Kitchen Aid Dishwasher!
Stay connected with Cascade on Twitter  and on Facebook.
Win a Cascade Prize Pack!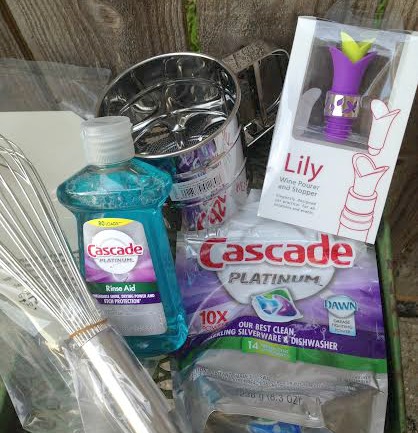 Enter to win a Cascade Prize Pack that includes:
1 pack of Cascade Platinum
1 Bottle of Cascade Rinse Aid
Whisk
Spatula
Wine Topper
Sugar Sifter
a Rafflecopter giveaway

By entering this giveaway you agree to the Giveaway Rules. This giveaway will end on September 22, 2014 at 11:59pm EST. The winner will be chosen via Rafflecopter. The winner will have 24 hours to respond or a new winner will be selected. You must be 18 years or older. Open to U.S. residents, no P.O. Boxes. Product and giveaway prize provided by sponsor. Allow 4-6 weeks for prize fulfillment. All opinions are my own personal and honest thoughts.