Pink or Blue? Throw a gender reveal party to surprise your friends and family with what your baby's sex will be. Find gender reveal party ideas including decorations, a gender reveal cake, and pink & blue food.
With our first two children, we found during my 20 week ultrasound the sex of our baby, but with this baby we decided to keep it a surprise until we were surrounded by friends at our Gender Reveal Party. Soon after I shared the news of my pregnancy, a few friends started talking about a gender reveal party. I went back and forth trying to decide if I wanted one or not, but in the end we decided to have one. It was hard not to find out during the ultrasound, we had asked the tech to keep it a surprise from us, but if she could write it in an envelope which she was more than happy to do.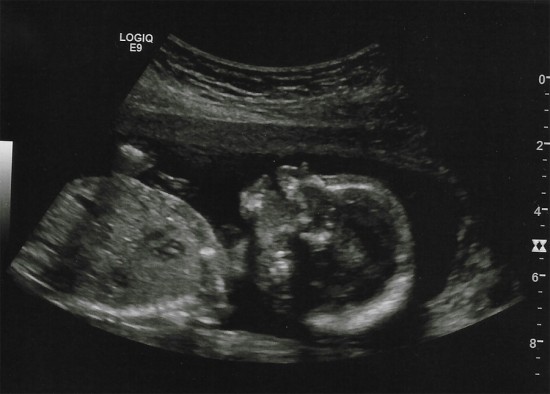 There were numerous gender reveal ideas to choose from, paint on my stomach, pink & blue silly string, balloons, paint ball, or a cake. With the boys excited about a new baby, I left the decision up to them and they wanted a cake to reveal the new baby's gender. We planned on having the big reveal the night of my ultrasound, but we were gifted last minute tickets to the Bruins game for that night. We had to wait 2 more nights which seemed to be the two longest days ever as we were all excited to find out if baby #3 was a boy or a girl. Before heading to Boston for the game I dropped off the sealed envelope from the ultrasound to a friend who was baking a cake.
Gender Reveal Party Ideas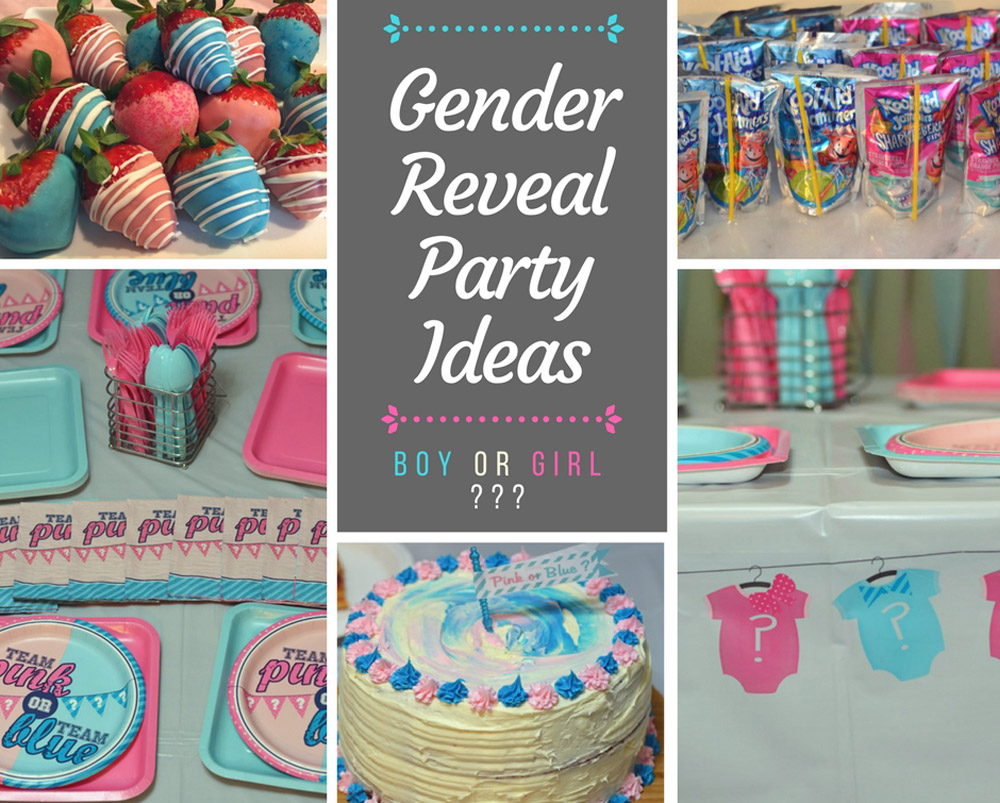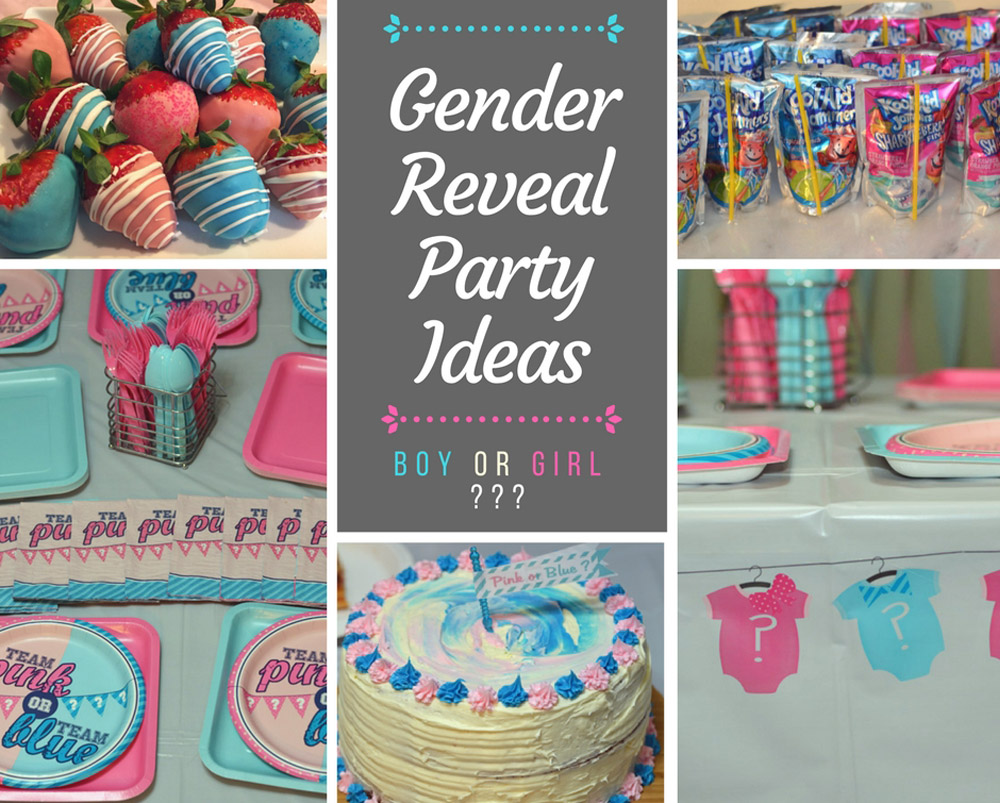 Thank-you to Oriental Trading for sending product for our Gender Reveal party.
Throwing a gender reveal party was an exciting way to share the big news. While I wish our extended family could have been there (we recently moved away), we were surrounded by a number of friends who we have become close to over the past year. We ordered a few pizzas, served pink and blue snacks, and when the time came, we had both of our children slice into the cake together to reveal either pink or blue candy.
Food Ideas for a Gender Reveal Party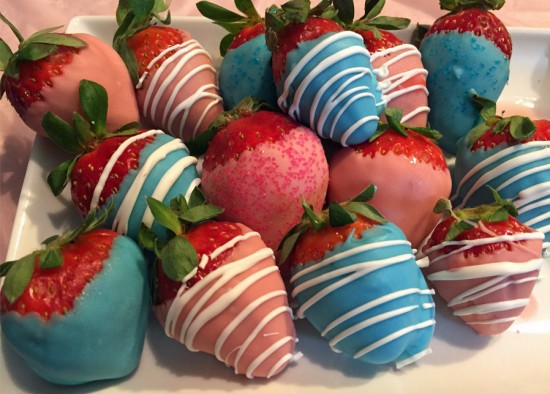 There are so many cute gender reveal party ideas that I had to set a limit for myself so that I didn't go overboard making pink and blue food. These Blue and pink chocolate covered strawberries were a favorite and were made with Wilton candy melts that I picked up at Walmart.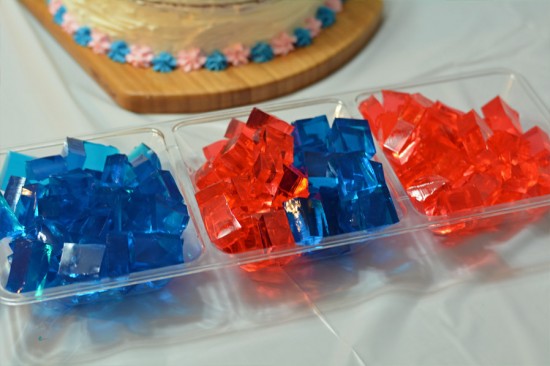 Blue and pink Jello. Watermelon and blue raspberry Jell-o squares.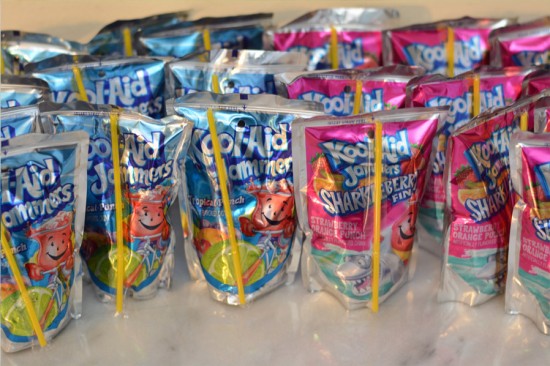 Blue and pink colored juice boxes for the kids.
Gender Reveal Cake
Find out what the baby's gender is all at once! New mom and Dad or older siblings can slice into a cake which will reveal a pink or blue center. Our Baby Gender Reveal cake was filled with blue colored candies.

As you can see, they were quite excited for Team Boy!
The Gender Reveal party supplies were provided by Oriental Trading. Oriental Trading has all of the party supplies that you will need to host a gender reveal party including tableware, serve-ware, decorations, and large selection of pink and blue colored candies, perfect for a candy buffet. The Gender Reveal cake was made using Sparkling Powder Blue Chocolate Candies hidden in the center.
Baby Gender Reveal Party Ideas
Team Pink or Team Blue Dinner Plates
Team Pink or Team Blue Luncheon Napkins
Bow or Bow Tie Tablecloth
Candy Pink Square Dinner Plates
Light Blue Square Dinner Plates
Candy Pink Forks
Light Blue Spoons
Ice Blue Jumbo Streamers
Pink Jumbo Streamers
Sparkling Bright Pink Chocolate Candies
Sparkling Powder Blue Chocolate Candies
 
Some people keep the sex of the baby a complete surprise until delivery but I need to be able to plan ahead. Hosting a gender reveal party was a great way to find out the sex of our next child, surrounded by friends. You don't need to go all out, a cake or a cupcake will do just fine, but I had an exciting time decorating and making pink and blue colored treats. It was a special night for my two children as they  anxiously awaited their new baby, seeing their eyes light up with excitement as they cut into the cake was priceless.
Do you have any fun Gender Reveal Party Ideas?