Although I enjoyed spending the summer with the boys home, I'm ready to get my house back in order and get back on a schedule. With kids running in and out all day long, it's hard to keep up with keeping the countertops, furniture and carpets clean. After celebrating the kids heading back to school with an annual Mom's Day out breakfast, I plan to tackle the house and reclaim my house.

Tips for keeping the house in order during the busy back to school season:
Menu planning: Write down a list of meals that you plan to prepare for the week and make a list of ingredients that you will need to purchase. Knowing what meals you plan on making, and having the ingredients on hand will cut down on the infamous "what to make for dinner tonight?" question. Plus, you won't have to run to the store last minute as you already have the ingredients at home.
Meal prep: Plan simple breakfasts and/or lunches for the week in a grab and go reusable container. I prep all of the kid's school lunches on Sunday afternoon, often for Monday-Thursday as I let them purchase hot lunch on Friday. Each morning, they can just grab one and place it in their lunchbox with a cooler pack. This helps tremendously during the before school morning rush.
Have reliable cleaners at your fingertips to help with the messy fingers and dirt covered carpets.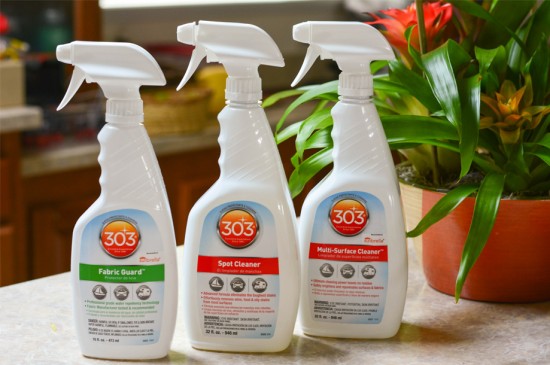 303 Spot Remover: Formulated to remove the most difficult carpet and upholstery stains that your kiddos leave behind. Lifts and suspends oil, grease and dirt to be easily wiped or rinsed away. Safe to use on all water safe fabrics and rinses away with no residue.
303 Multi-Surface Cleaner:  One-stop cleaning solution that will help you clean up all of your kids messes with just one bottle. Smells great and safe to use on anything from furniture to counter tops and even kids outdoor toys.
303 Fabric Guard: Once you finish cleaning all the mess, protect your fabric from future attacks. This fabric guard is built to resist stains and greatly increases water repellency for any unexpected spills. Its strong stain-fighting agents are strong enough to fight off red wine and keeps cushions, covers and carpets looking factory new even after braving little messy fingers. Only use outdoors.
Where to buy?
303 Products
can be purchased online through Amazon.
Ever wonder how obsessive you are with cleaning?
Take the quiz to find out.
Win 303 Cleaning products & a $50 Amazon Gift Card.
Could you use a little help reclaiming your house? Enter to win a variety of 303 Products as well as a $50 Amazon gift card!
a Rafflecopter giveaway

Sample, giveaway prize and information has been provided. By entering this giveaway you agree to the Giveaway Rules. This giveaway will end on September 3, 2015 at 11:59am EST. The winner will be chosen via Rafflecopter. The winner will have 24 hours to respond or prize will be forfeited. You must be 18 years or older. Open to U.S. residents only. No P.O. Boxes.  Allow 4-6 weeks for prize fulfillment.  All opinions are 100% my own.