When the older boys were younger I loved dressing them up in a theme for Halloween, one year they were Buzz and Woody from Toy Story, another year they were fireman and police officer, and this year I was hoping I could once again have a themed photo with their baby brother.
I had my heart set on matching costumes for all three of the kids this year for Halloween, but that idea was quickly shot down. At 8 and 6 each of the older boys have a strong opinion and they each had their hearts set on what they wanted to be for Halloween, a scary werewolf and a ninja, there was no changing their minds.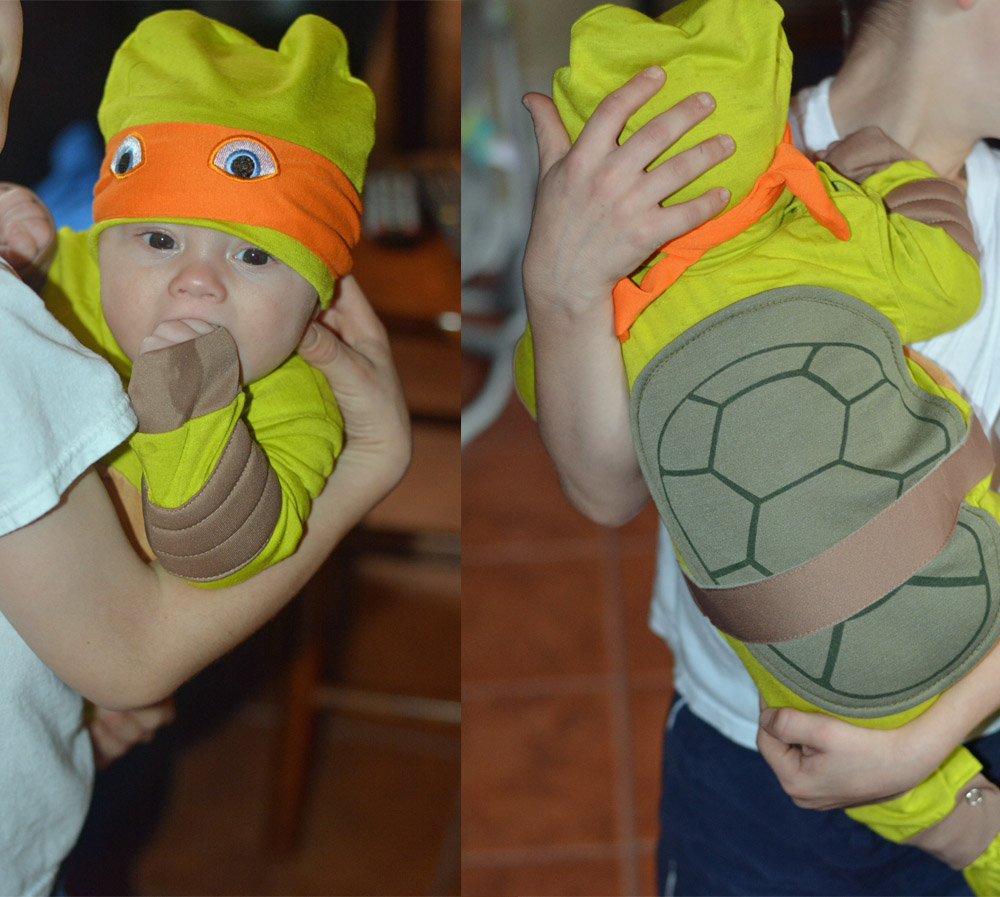 Thank-you HalloweenCostumes.com for providing the costume.
Even with a little bribing there was no talking them into the same theme. A family of ninja turtles or superheros would have made for some fun family portraits. With the theme out of the picture I was left to decide what Baby Boy would be for his first Halloween.
After searching through the baby costumes at HalloweenCostumes.com I decided on a baby Ninja Turtle. The neat thing about the Infant Ninja Turtle Jumper is that baby can be either Raphael, Leonardo, Michelangelo, or Donatello as there are four different scarfs included: red, orange, blue, and purple. Trevor wanted Raphael, Jonathan wanted Leonardo and since we have a few different Halloween events planned, Baby boy gets to be each of them.
After placing the order,  I was quoted just over a week for delivery but it arrived a couple days sooner. The makers of this costume kept mom & dad in mind as it is made with snaps in between the legs that make for easy diaper changes, we all know how many times a day baby needs to be changed.
HalloweenCostumes.com is one of the largest costume retailers on the web. They have costumes to fit all needs, budgets, and occasions.
Receive FREE Shipping on orders over $65 at HalloweenCostumes.com