Book your stay at the Camelback Lodge and Indoor Waterpark, your family friendly destination all year long. From winter skiing on Camelback Mountain to the water park, ropes course, arcades and mini golf – your adventure awaits at Camelback Resort!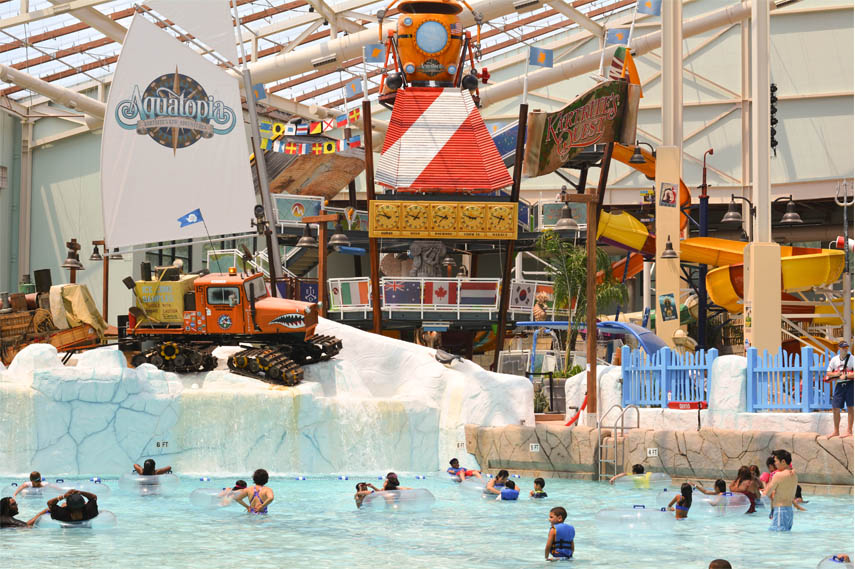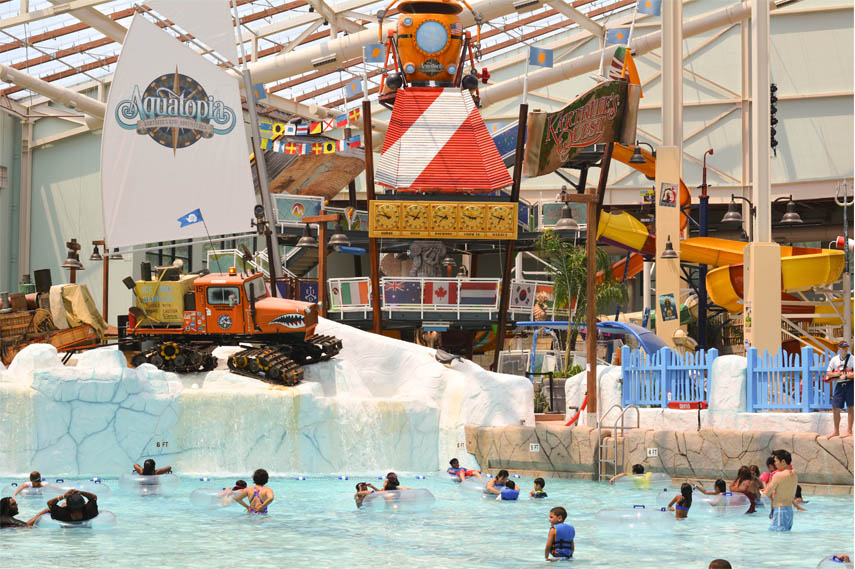 Every summer we travel from the east coast to Michigan, and every time the kids and I do not look forward to the 15 hour drive. But this year was different, we decided to stop half way and start our vacation off at the Camelback Lodge and Indoor Waterpark,  located in the heart of the Pocono Mountains. While the kids knew that we would be staying at the Camelback Resort, they thought it just an ordinary hotel. Seeing their eyes light up when they spotted  Indoor Waterpark, the video games, and ropes course was priceless. My husband is often left out when it comes to visiting attractions due to his work schedule, so it was great to experience this year-round destination as a family.
Camelback Resort – Lodge and Aquatopia Indoor Waterpark
193 Resort Drive – Tannersville, PA 18372
The eight-story Camelback Lodge is located at the base of Camelback Mountain and transforms the Camelback Resort, which is widely known for skiing in the winter, into a year-round family friendly destination with the addition of Aquatopia Indoor Waterpark. The Camelback water park is the largest indoor water park in the Northeast with seven pools and 13 waterslides. Families will enjoy soaking up the sun indoors at a comfortable 84-degrees with plenty of water fun for adults, teenagers, as well as toddlers.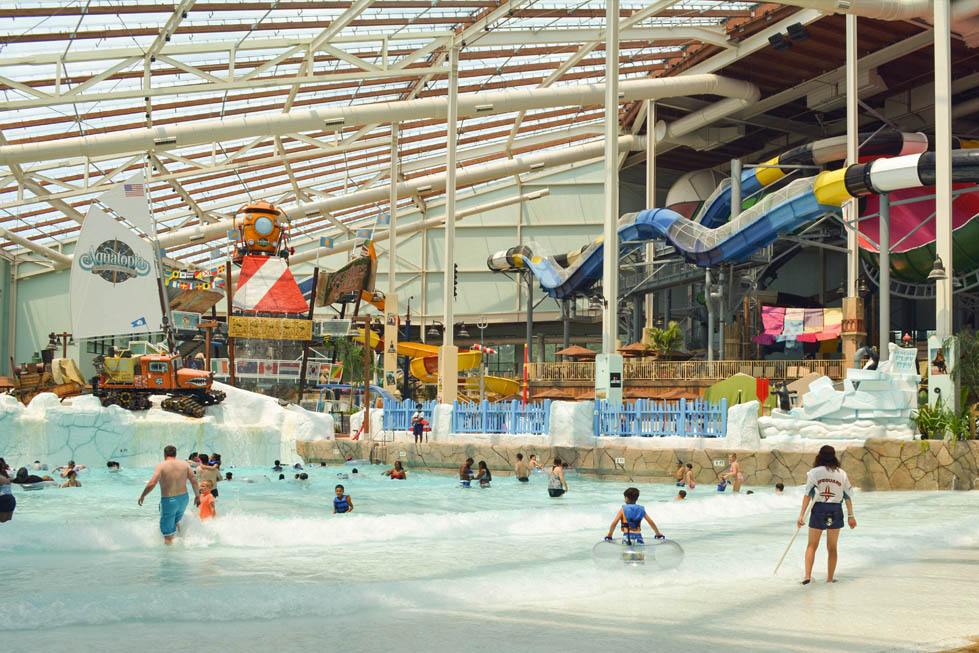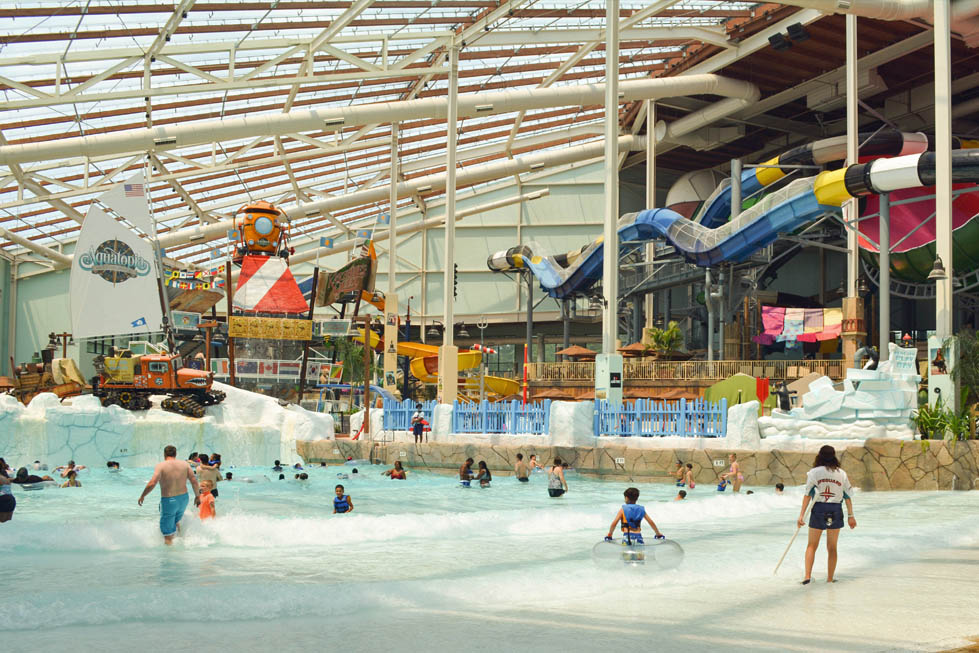 The theme of the Camelback Resort is based off of the adventures of Kartrite Van Der Berris.
Kartrite Van Der Berris, the legendary explorer, having traveled the world over, came upon Camelback Mountain on one of his frequent expeditions to the PoconoMountains and envisioned a grand lodge at the base of its peak, filled with wondersfrom the corners of the Earth. Here visitors would stay and experience the splendor ofthe mountain year-round in a lodge with a blend of rustic craftsman style andcontemporary finishes, and at its core, an awe-inspiring indoor waterpark namedAquatopia, filled with the relics and treasures from his worldly travels.
More about the Camelback Indoor Waterpark:
84-degrees
7 pools and 13 waterslides.
Storm Chaser- the longest gravity-defying uphill water coaster to exist in any indoor waterpark in the U.S.
Venus SlydeTrap- a world-premiere attraction that combines three exhilarating waterslide experiences in one.
The Lost River-  a dark, adventure river experience with LED underwater and theatrical lighting.
Kartrite's Quest- the world's first 'Next Generation' fully themed and immersive multi-level exploration AquaPlay structure. 84 interactive water effects that include bubbler and geyser jets, pull ropes,tipping cones, water guns, plunger jets, water wheels, water cannons and more
The Great Ka-Na-Gawa Wavepool – zero-depth entry to six feet deep.
Bombora FlowRider surfing simulator – For beginners or more advanced riders.  42ʺ″ height requirement for Boogie Board; 52ʺ″ for stand up FlowBoarding.
Swim up bar – 21 and older only area.
Colonial Commons-  quick service restaurant located inside the water park area. Americana-themed eatery offering burgers, hot dogs, fries, pizza and cold beverages.
 *Towels are provided, life jackets are available for use and lockers are also available for rental.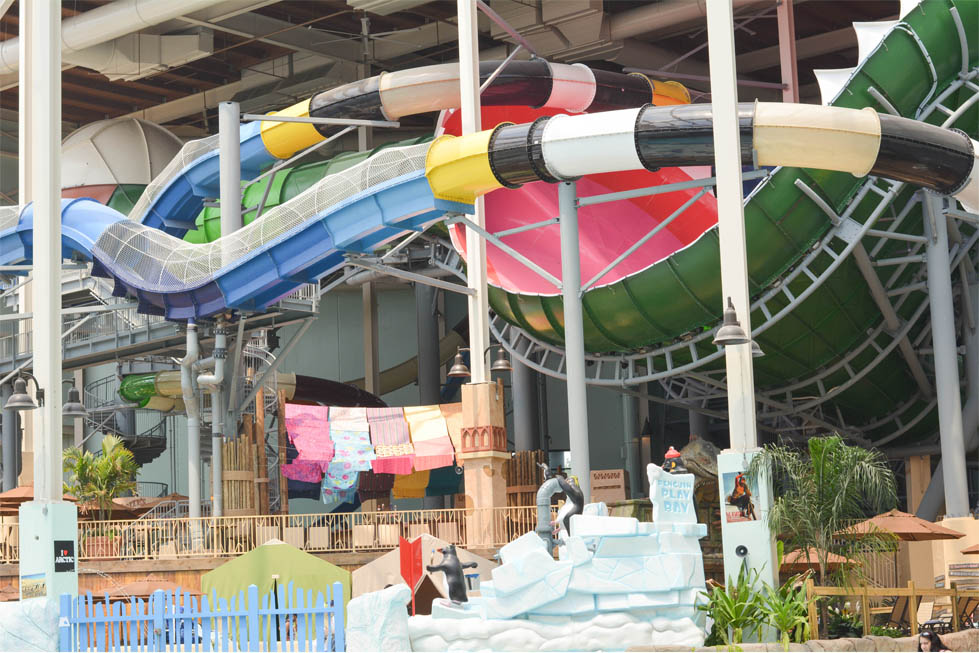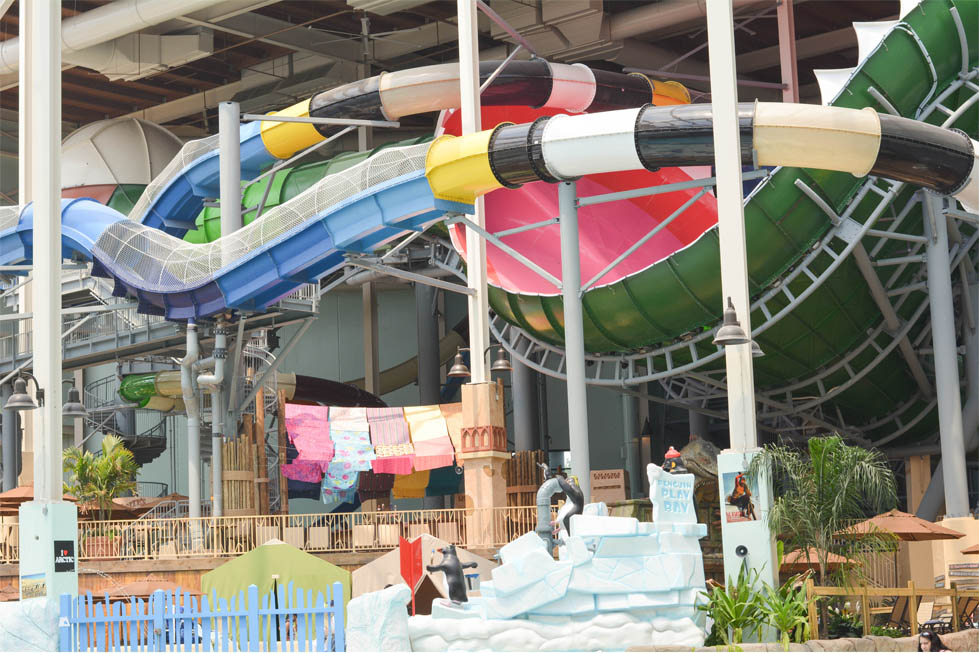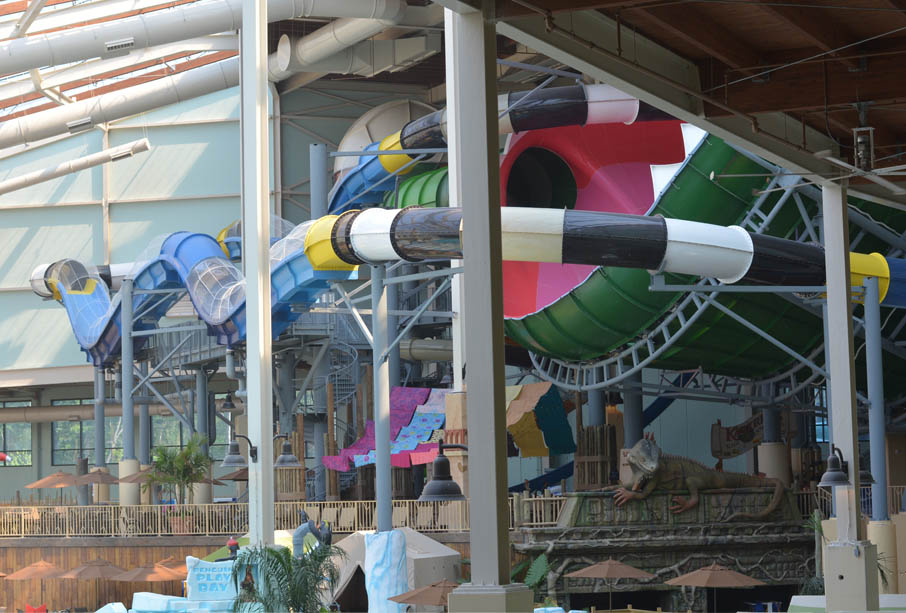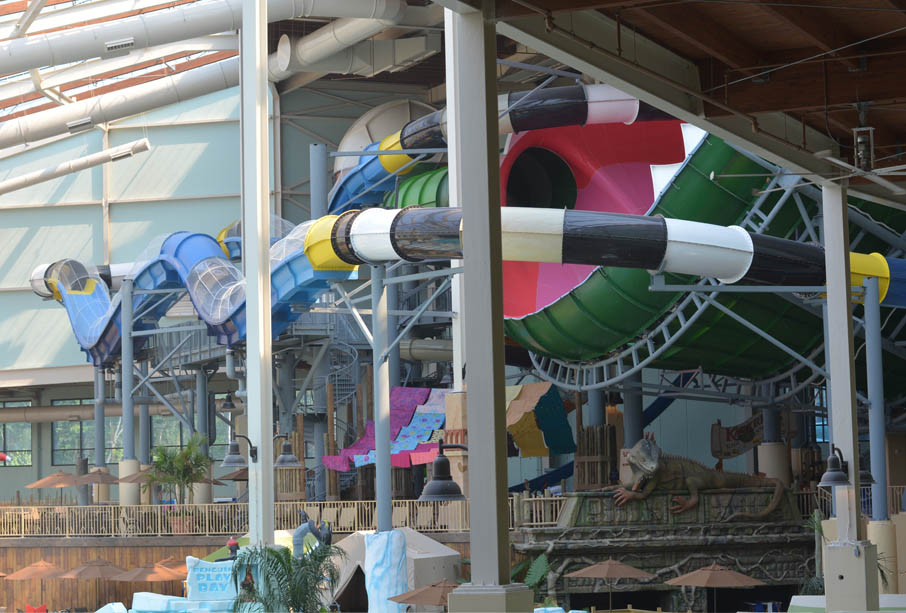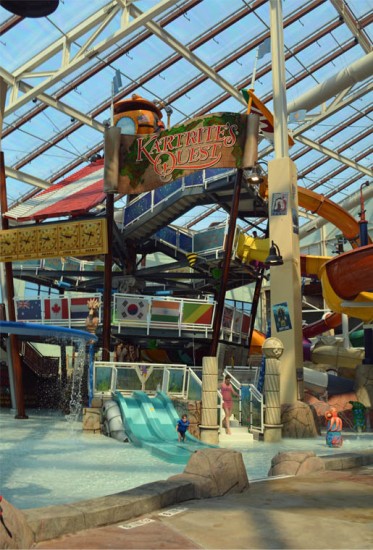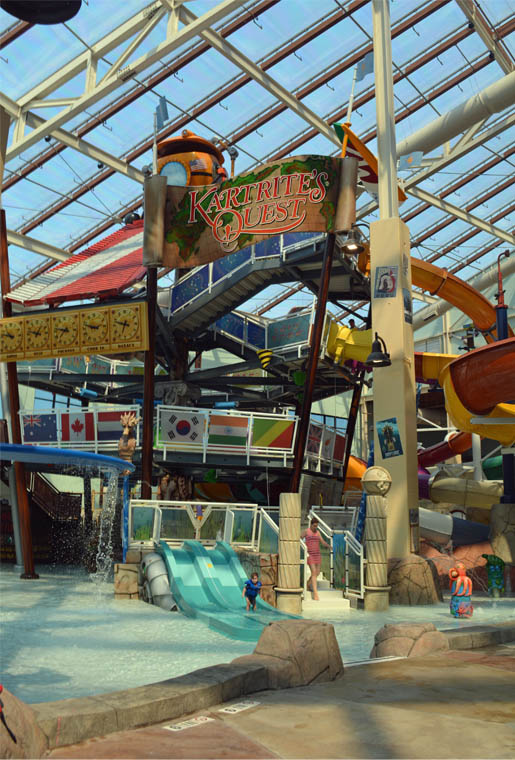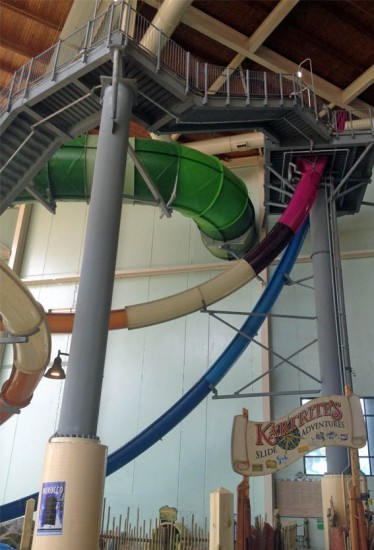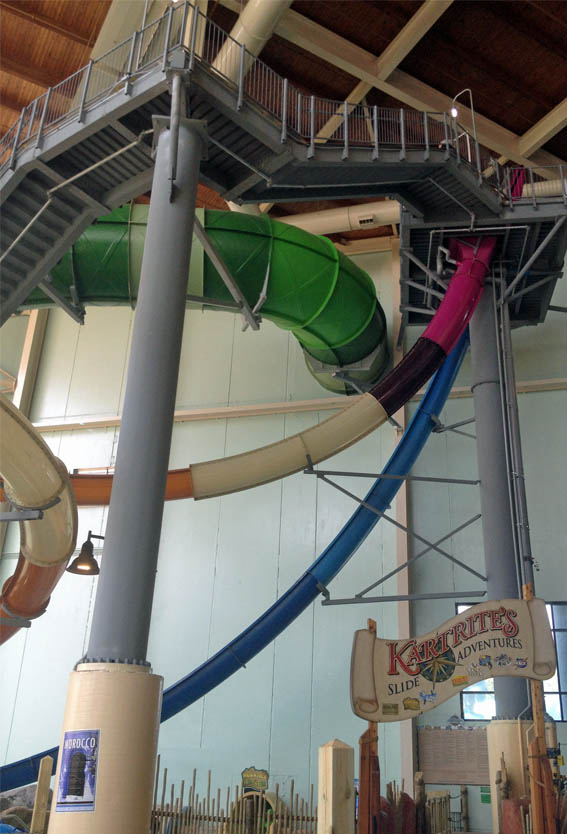 Camelback Lodge Activities:
In addition to the 125,000 sq foot indoor waterpark, there is plenty to do at the Camelback Lodge including the ropes course, mini golf, laser tag, and over 100 arcade games.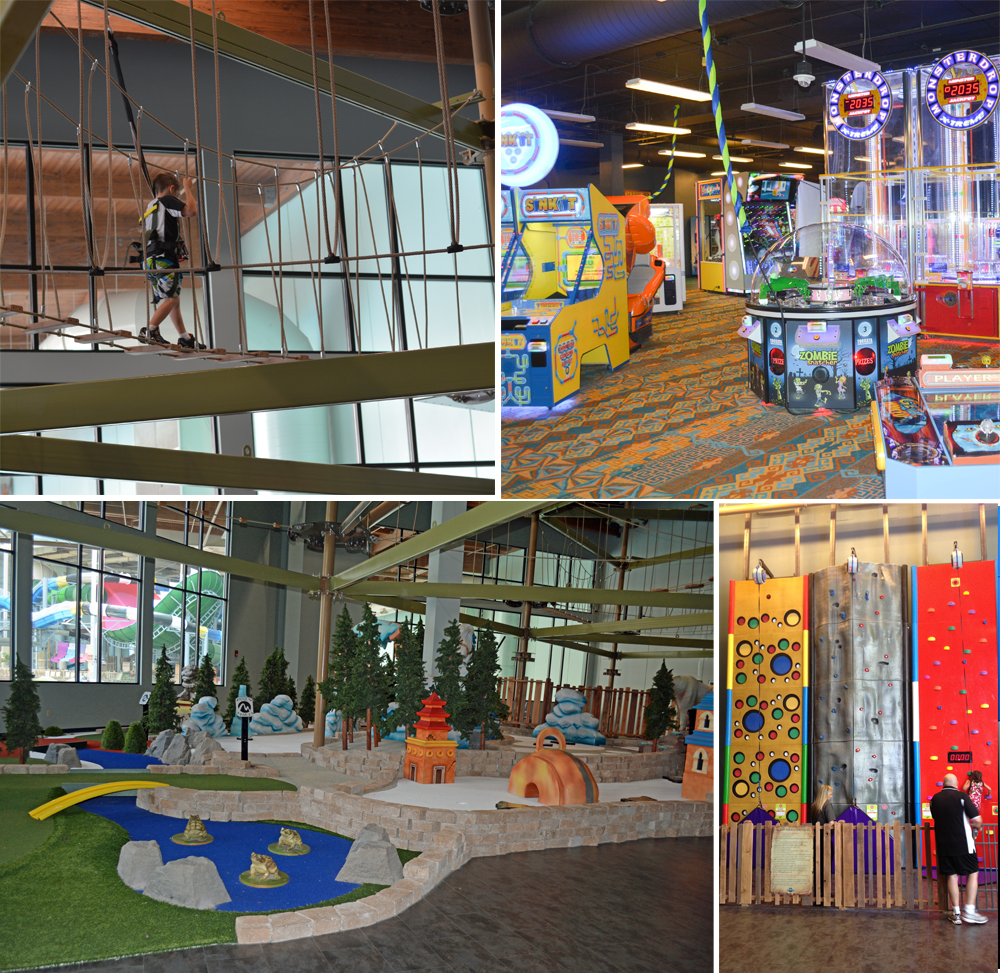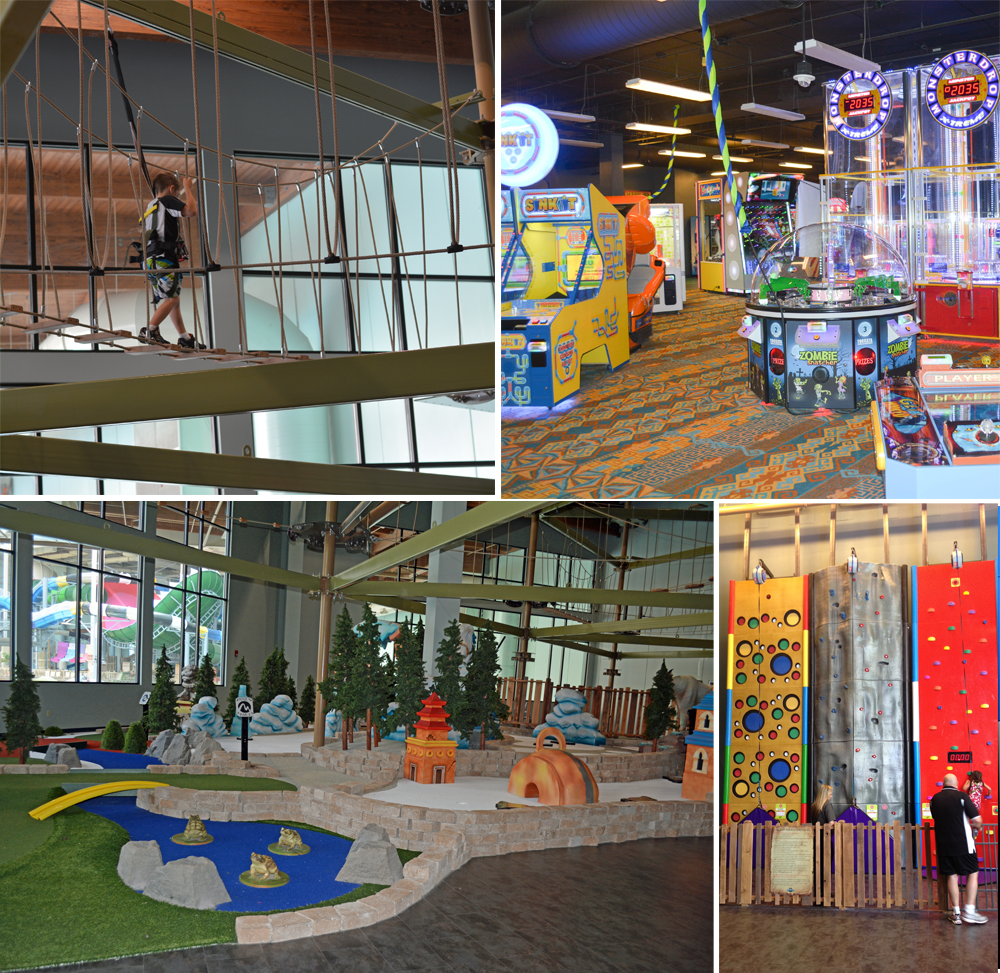 Arcadia Family Adventure Center –  two levels of themed activities including over 100 video, interactive and ticket redemption games.
The Ascent – A vertical rock climbing wall
K2 Klimb – Overhead ropes courses for adults and kids
Meh-Tah's  Mini Golf
Lazer Runner – black light laser tag
Polka Dot Pots – paint your own pottery
Kartrite's Kids Quest – a themed soft play area for the littlest of adventurers.
Oasis Kids Spa–   manicures and pedicures to the youngest of guests
Serenity Spa and Fitness Centre
Dining
3 Sit-down restaurants: Hemispheres- offering family meals and ambiance.  Neptunes – a maritime-themed lobby pub serving soup, salad, sushi and more. Trails End Pub & Grille.
Double Queen Suite: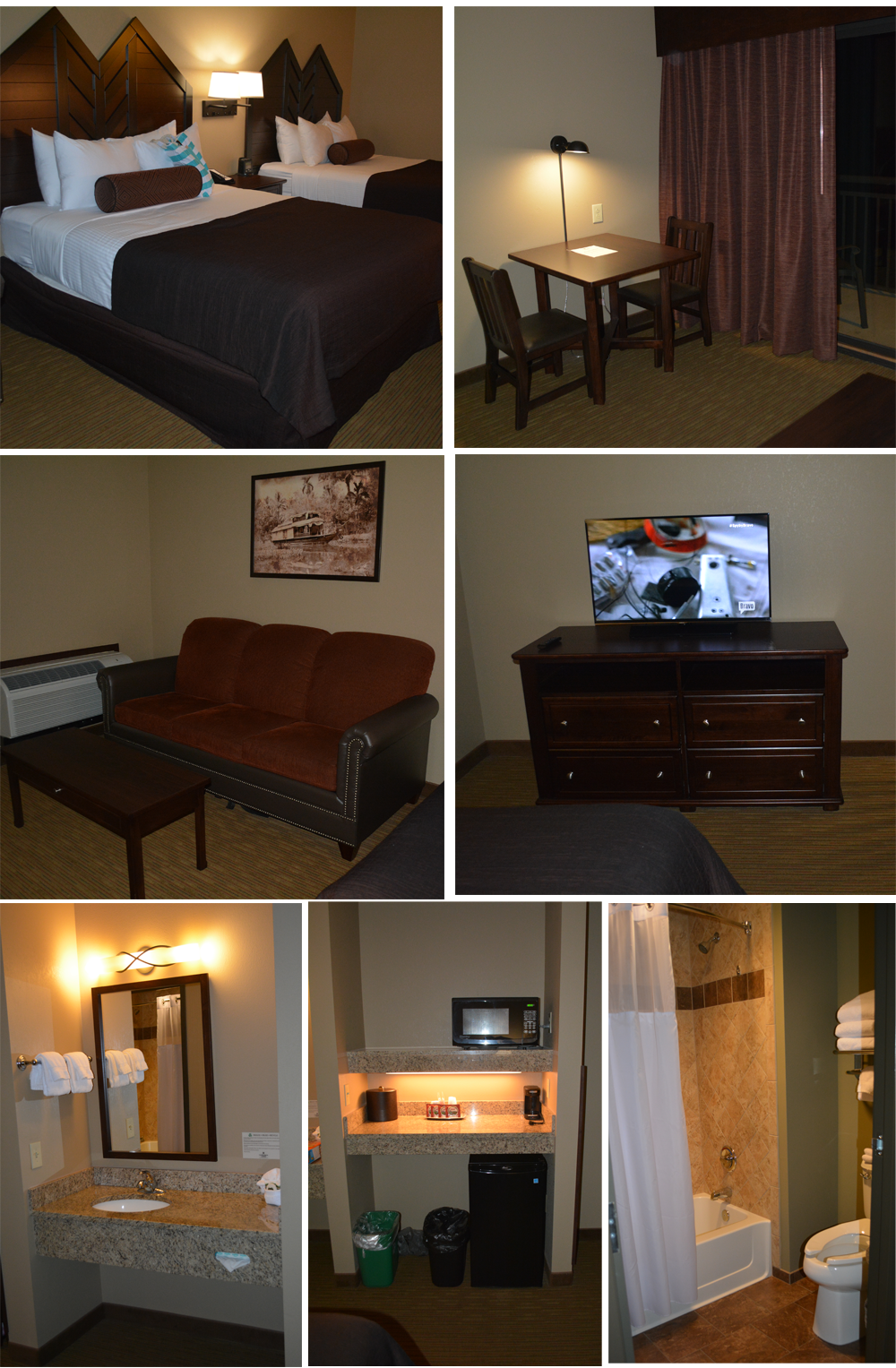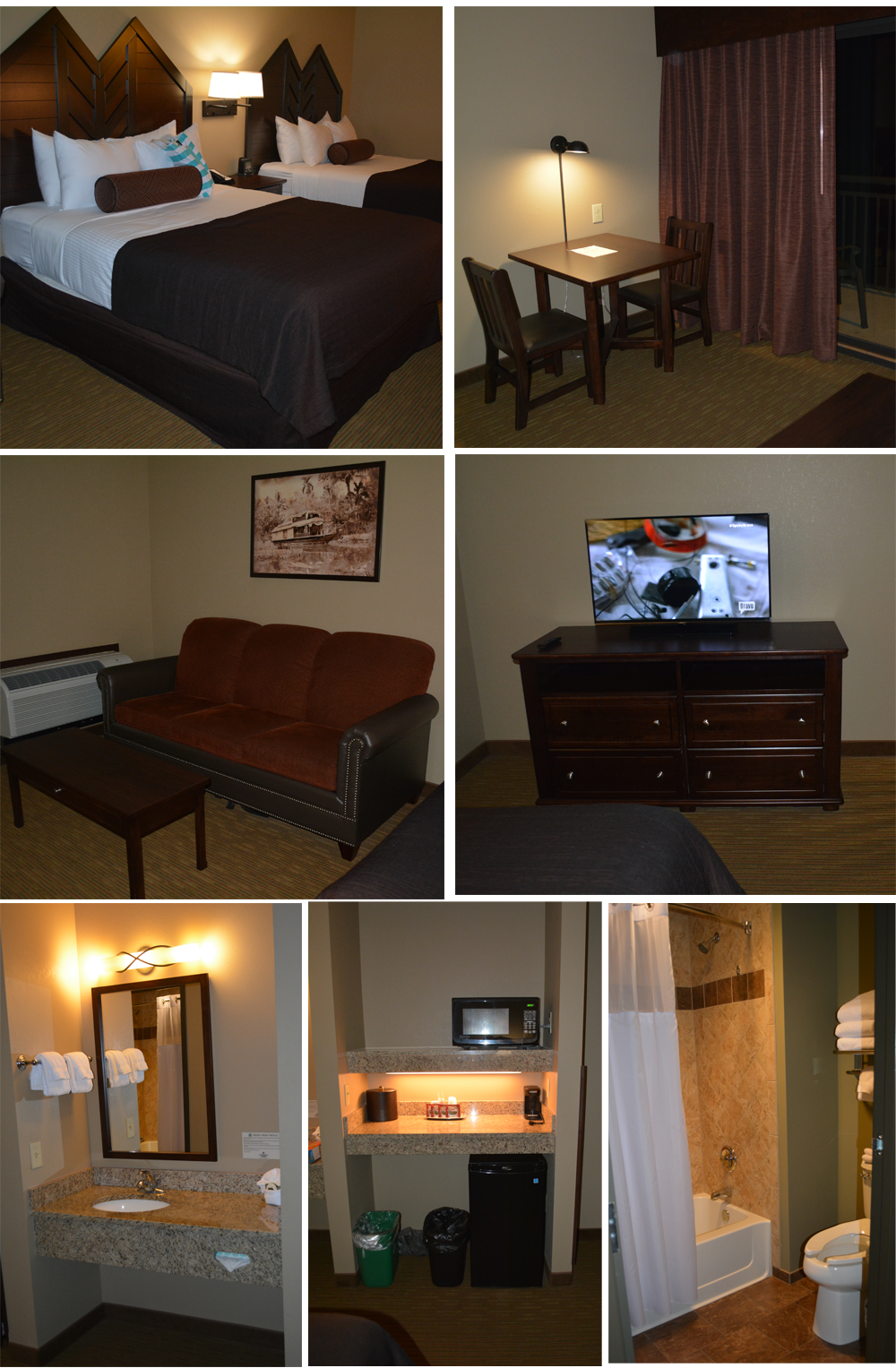 Double Queen Suite Features:
2 Queen Beds
1 Queen Sofa Sleeper
Snack-size Refrigerator
Microwave
Iron & Ironing Board
In-room Safe
While there are restaurants and snack bars available on site for meals and beverages, all guest rooms include a snack-size refrigerator as well as a microwave that allows families to bring their own meals, as well as reheat previous meals. We used our Camelback Resort Amenity Credit to purchase a pizza, and combined with the coupon for buy 1 pizza, get 1 free, we had leftovers pizza to reheat. We also brought along drinks, as well yogurt and milk for cereal for breakfast and had plenty of room in the fridge to keep them all cold.
While most of our stay out spent in the indoor waterpark area, we did take a break from swimming and water slides to visit Arcadia Adventures where the kids played arcade games and challenged their inner self balancing on beams on the ropes course. The staff was more than accommodating to Jonathan who was scared to cross the ropes course, but with their encouragement and one-on-one assistance, he overcame his fear and then didn't want to get down.
Although checkout is at 11am, you can continue to use the indoor water park as well as the other amenities for the remainder of the day. There are changing rooms in the indoor water park area, as well as lockers. With the snack bar located right in side the water park area, you can pack up your vehicle and spend the day by the water, or down the street at CamelBeach Mountain Waterpark.
Camelbeach Mountain Waterpark admission is included with your stay at Camelback Lodge & Indoor Waterpark.
Book Your Stay & Receive Over $200 in Discounts!
Book your stay at Camelback Resort Lodge & Indoor Waterpark by Labor Day – September 7, 2015 and receive a booklet with over $200 in discounts and deals to make your stay even more memorable.
Use Online Promo Code: GOPEN or call (855) 515-1283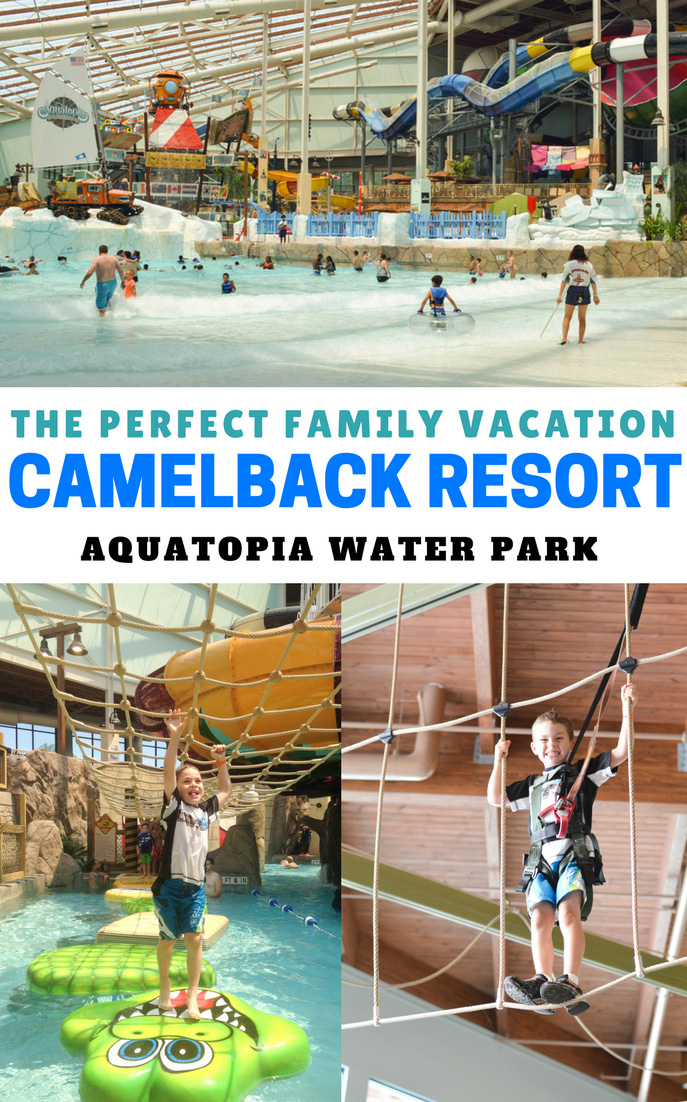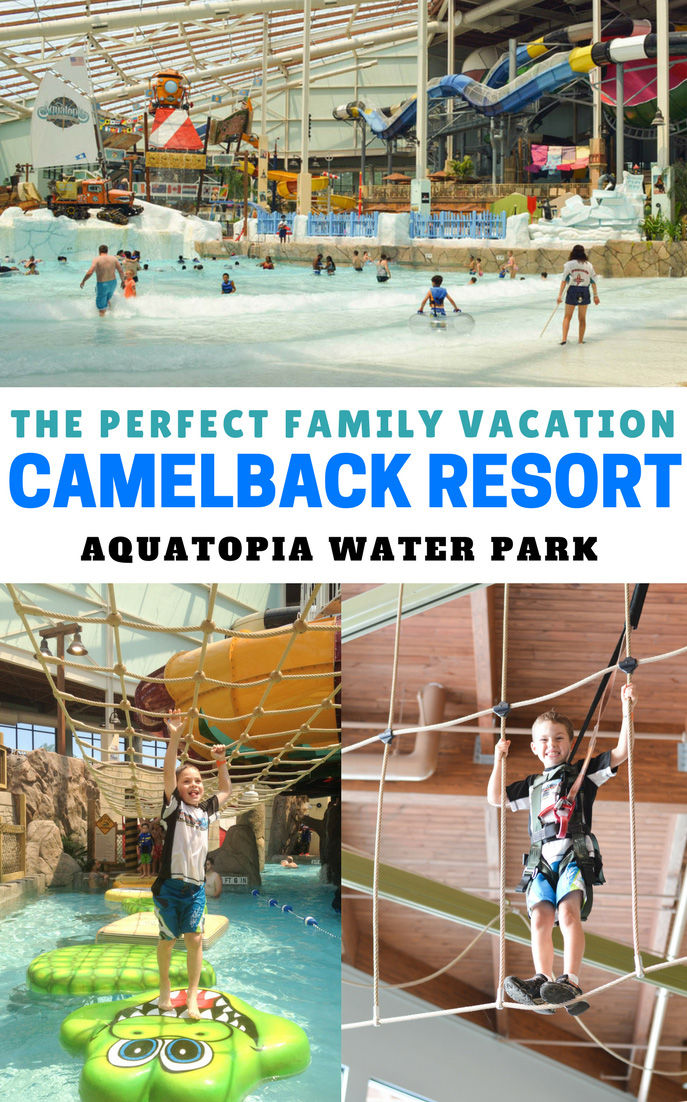 * Complementary stay provided.