Great Wolf Lodge New England is well known for their 68 thousand square foot indoor water park and 11 water slides, but did you know there is also a dry play area that can keep the kids and teens entertained for hours?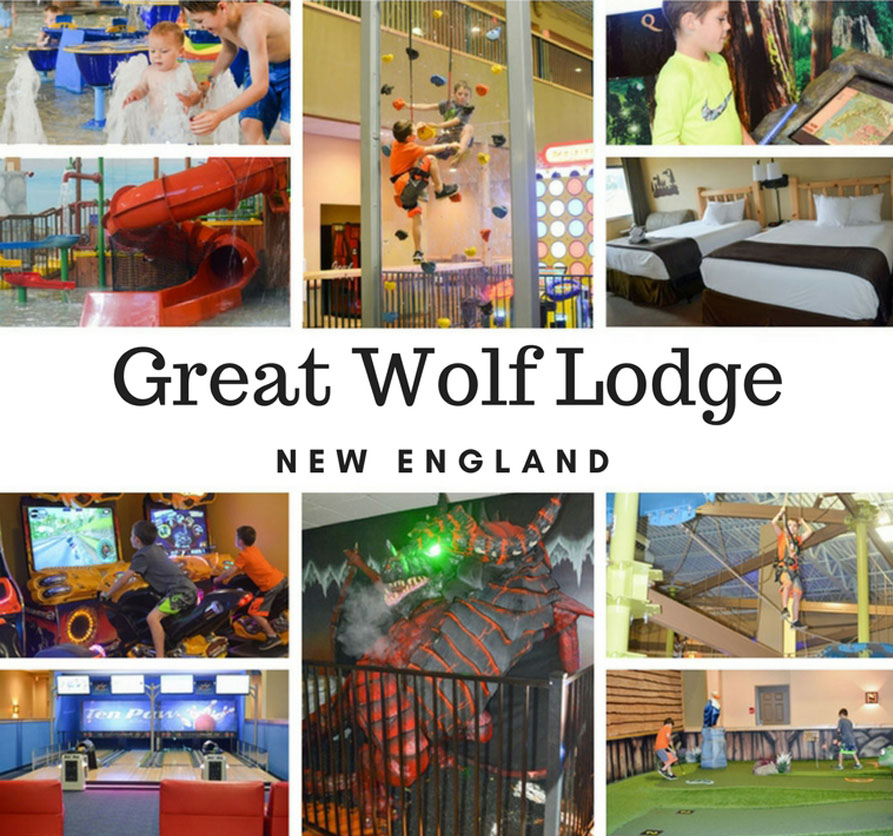 Last week our family was invited to a day of play at Great Wolf Lodge New England to check out their newly upgraded version of the popular interactive MagiQuest game along with the Northern Lights Arcade and Howlin Timbers Play Park that features a ropes course, climbing wall, mini golf, bowling, and Oliver's Mining Co where guest can sift through sand to find beautiful gemstones.
Howl at the Moon Mini Golf: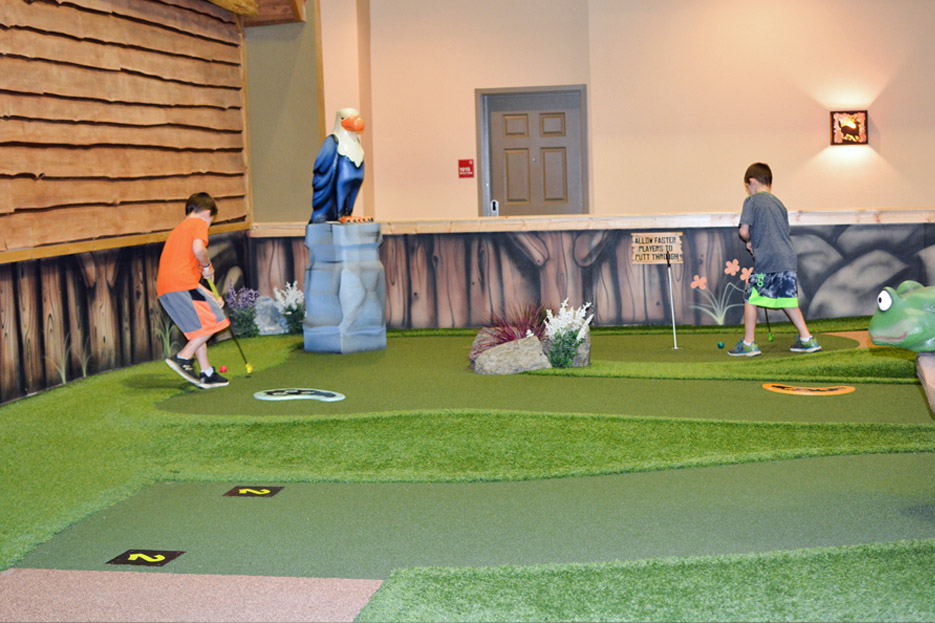 Ten Paw Alley: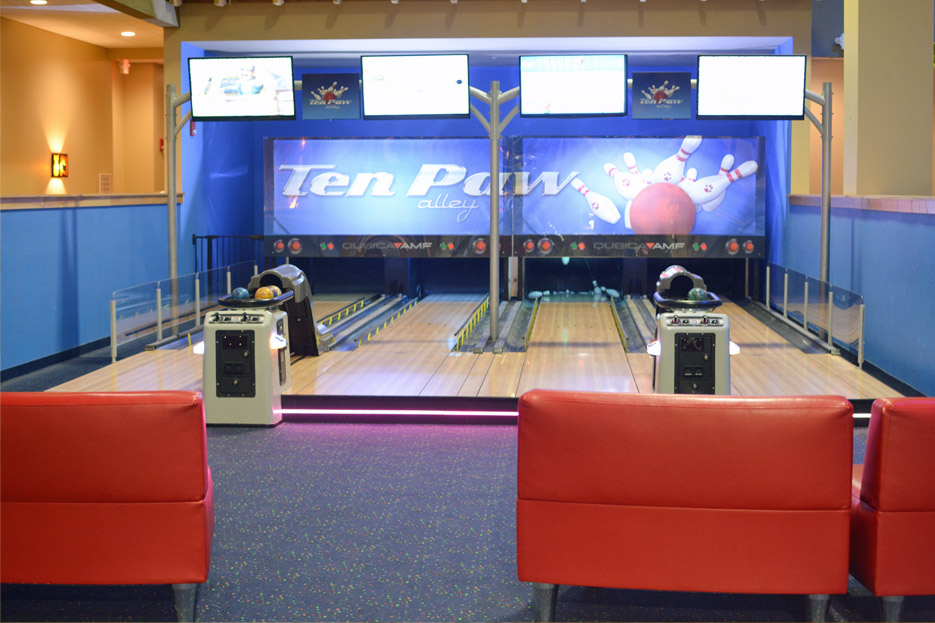 Oliver's Mining Co.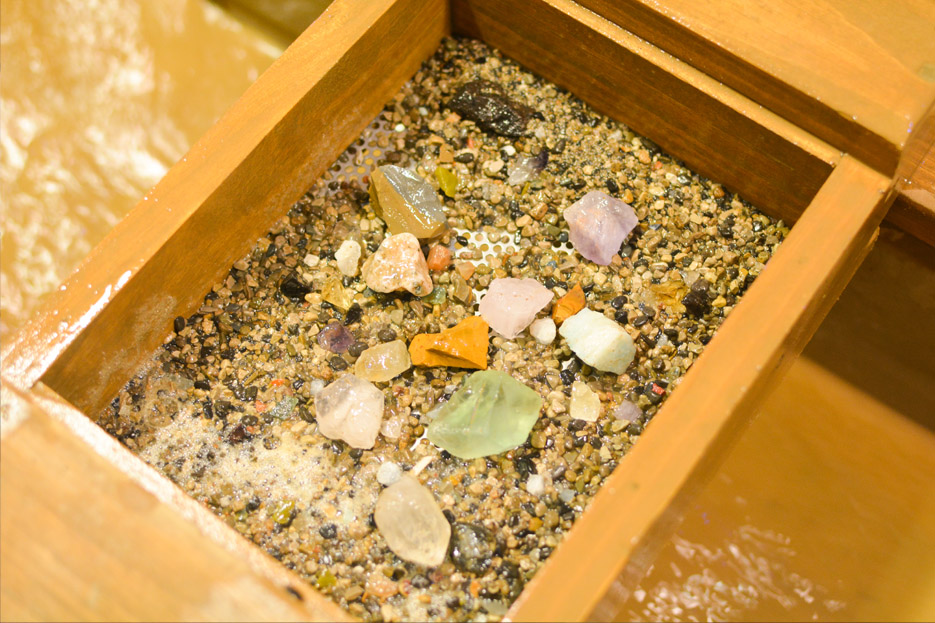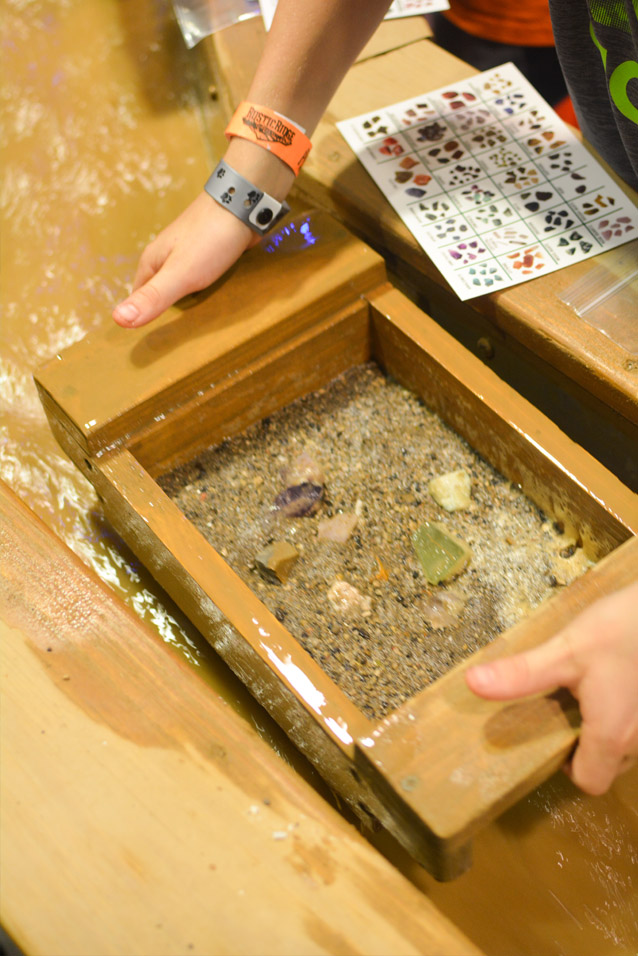 Rustic Ridge Climbing Wall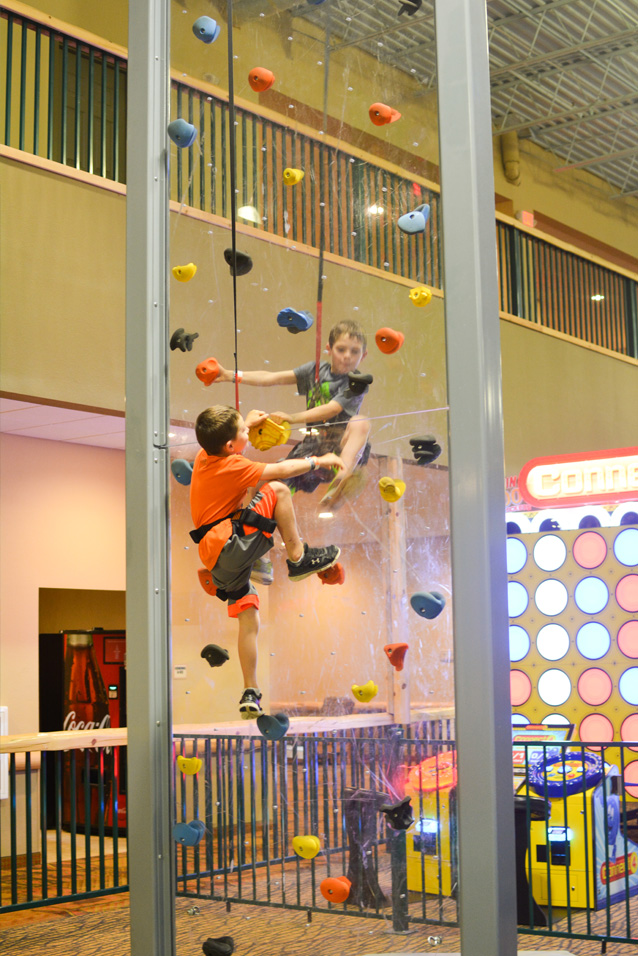 Howlers Peak Ropes Course:

MagiQuest: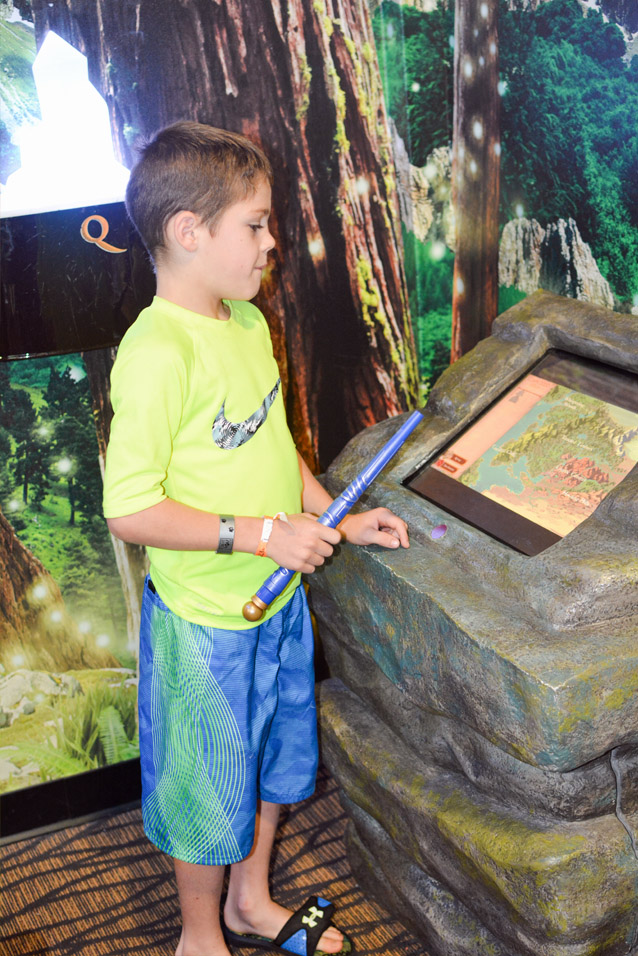 MagiQuest is a live-action adventure game that is played throughout the main floor of the Great Wolf Lodge New England resort. Children, tweens, teens, and even adults complete quests to become a true Magi. You'll need to stop by the MagiQuest Marketplace to pick out your wand, and any other accessories that you would like to purchase but are not needed to complete the game – a special topper to unlock special powers, belt, cape, ect. Once you purchase your wand you'll be on your way hunting for hidden runes to complete the quests.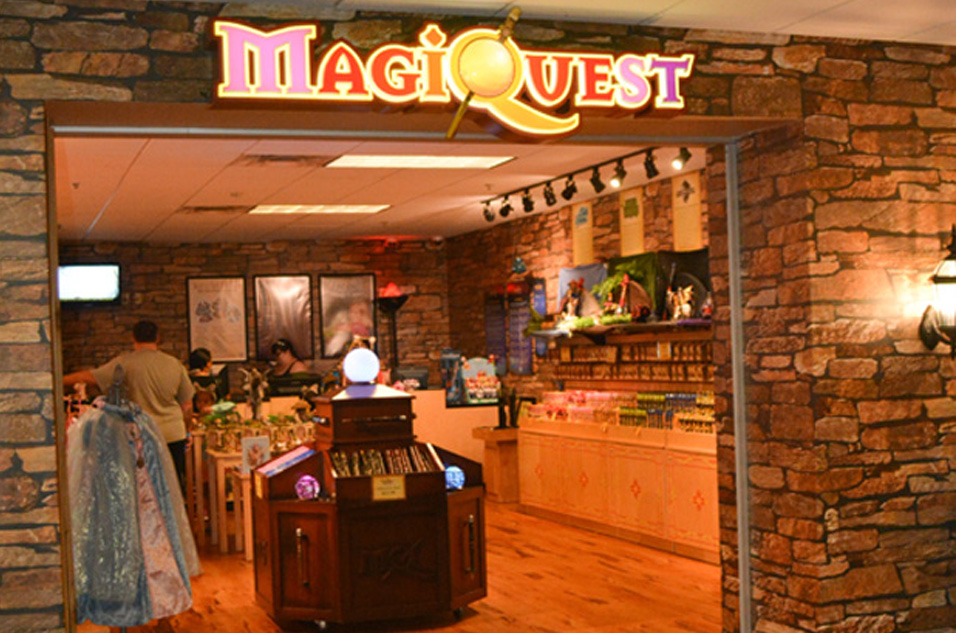 The magic wand is how you play your game, it's like a remote control. By waving the wand at certain objects you can collect magical items and can activate portals. The magic wand is customized to you and it remembers all of your achievements and your character.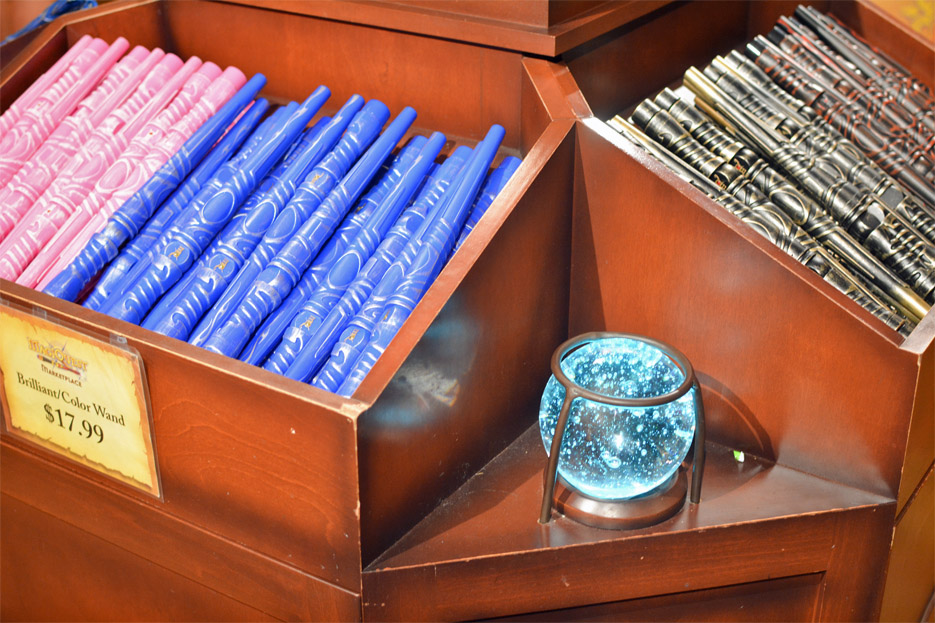 The game is like a scavenger hunt as you walk around the lodge and complete quests. There are five areas that are included in the quests, and you'll have to walk back and forth to complete them all. Some quests will take you to the lobby of the hotel, while others are in the arcade area and Howlin Timbers Play Park. So be prepared to do some walking.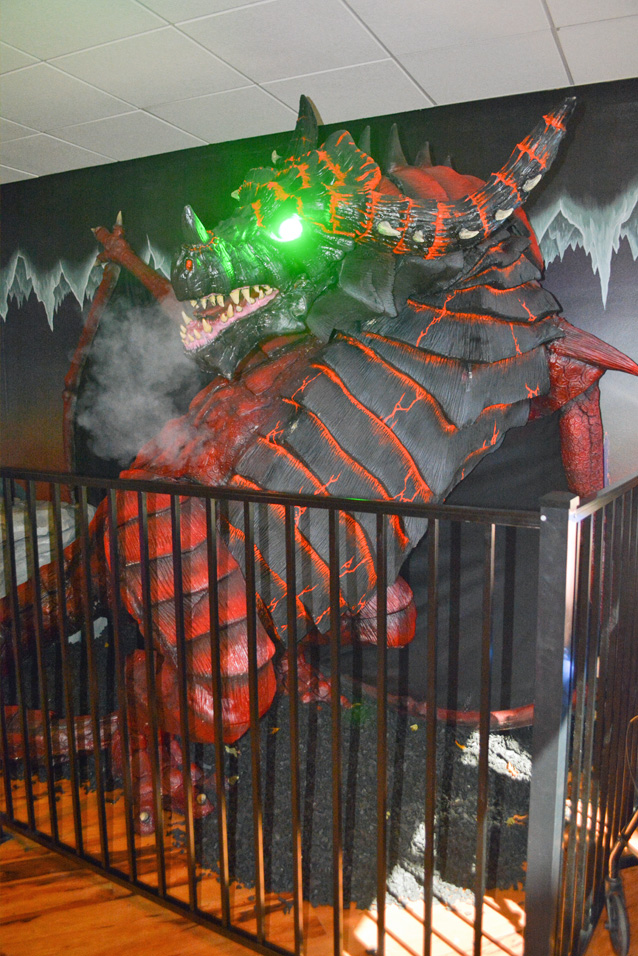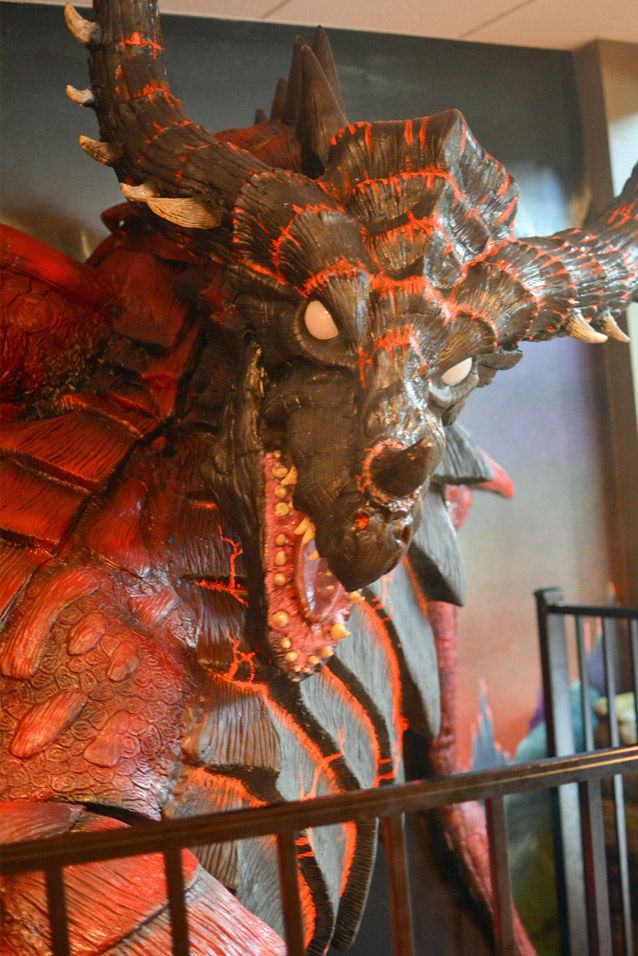 One of the new additions to MagiQuest, the Dragon.
As you walk around the main floor of the resort you'll notice numerous chests, pictures, and other objects for the MagiQuest game including a star on the ceiling. Wave your wand and the pictures will talk to you and the chests will open and flash.
When you first start MagiQuest, take a look at the map (provided at the MagiQuest Marketplace) and become familiar with the 5 different areas. When you visit the portals, you can click on an object to get clues & find out what area it is located at, and having the map on hand or knowing where the areas are can be of great assistance.
Whispering Woods
Tangled Timbers
Cryptic Cavern
Howling Hills
Coastal Cliffs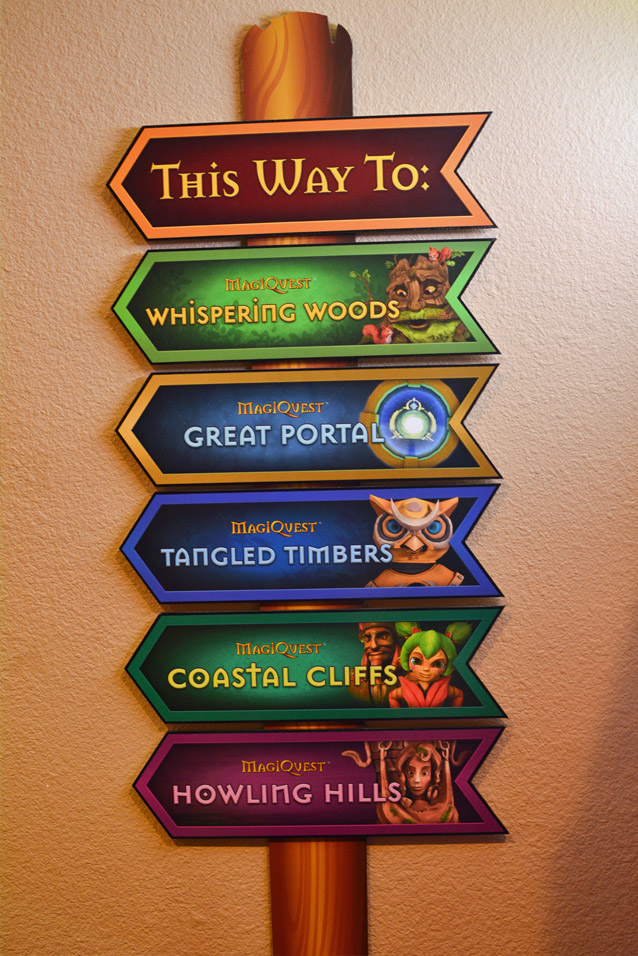 Play for as little or as long as you want.
You can play for as little as you want, or as long as you want. Depending on how many quests you undertake, play can last anywhere from 30 minutes to three + hours. You can take a break at any time and start back up during your stay. We would complete a quest and then take time off to enjoy the water park area, go mini golfing, enjoy the ropes course ect.
Once we got the hang of the game, my 7 and 9 year old were eager to complete the quests. They would keep their eye out as we were walking around and remember where certain objects were. When one particular object was needed – a horseshoe for example they knew exactly where the spotted it and needed to go – in the lobby hanging on the wall.
The wand is yours to keep, take it home as a souvenir and if you plan a future visit, bring back your wand and all of your information will be saved.
___________________________________________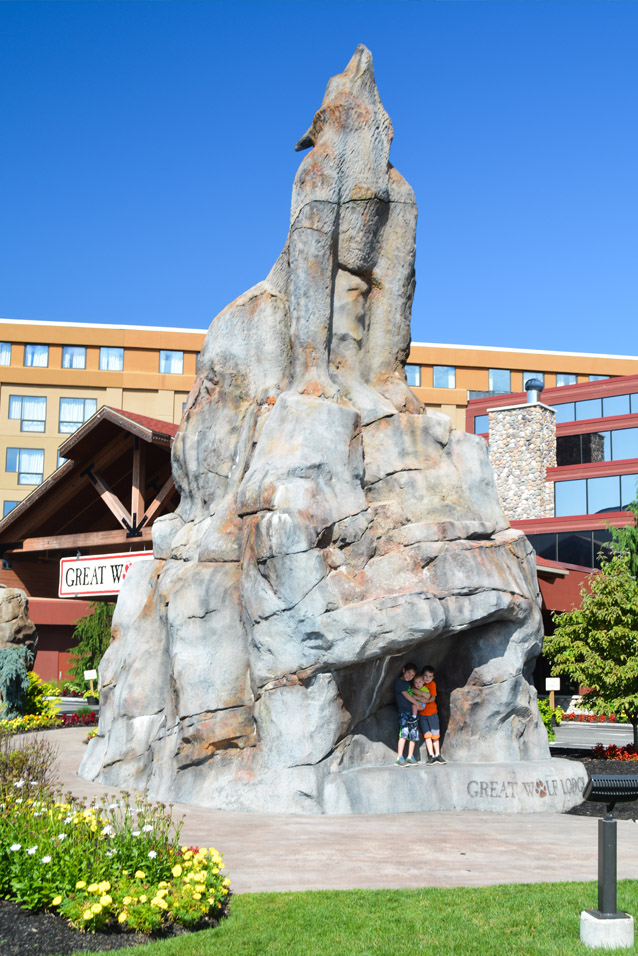 Tips for Visiting Great Wolf Lodge:
Each guest room has a fridge, microwave, and coffee maker – pack snacks and drinks.
Life jackets and Puddle Jumper Life Jackets are provided at the water park – save room and keep yours at home. Towels are also provided.
Pack goggles, flip flops and/or water shoes – if you do forget you can purchase them on-site at the store next to the water park.
Check the schedule to see when there are character appareances, storytime, and activities (BINGO, face painting, balloon animals, ect)
Play all day even after checkout – Check out is at 11am but you can use the water park & attractions until they close. Pack everything in the car but leave a small bag with a change of clothes.
Purchase packages – Expenses can easily add up with all of the attractions and dining options. If you are on a budget I highly recommend purchasing a package as they can offer some great savings.
A few packages available at Great Wolf Lodge New England as of our visit on 8/2017:
Breakfast, Lunch and Dinner
$40 per person/per day. Save up to 49% off the retail price of $77.10.

Breakfast buffet voucher, $20 lunch credit, $30 dinner credit, Refillable sipper – unlimited soft drinks for the duration of your stay
Breakfast and a Meal:
$25 per person/per day. Save up to 28% off the retail price of $34.10.
Includes Breakfast buffet voucher $20 lunch credit
Howlin Timbers Play Park Pass $34.99
Howlers Peak Ropes Course  – unlimited
Rustic Ridge Climbing Wall – unlimited
Oliver's Mining Co.
Howl at the Moon Mini Golf – 1 game
Ten Paw Alley – 1 game
Water Park: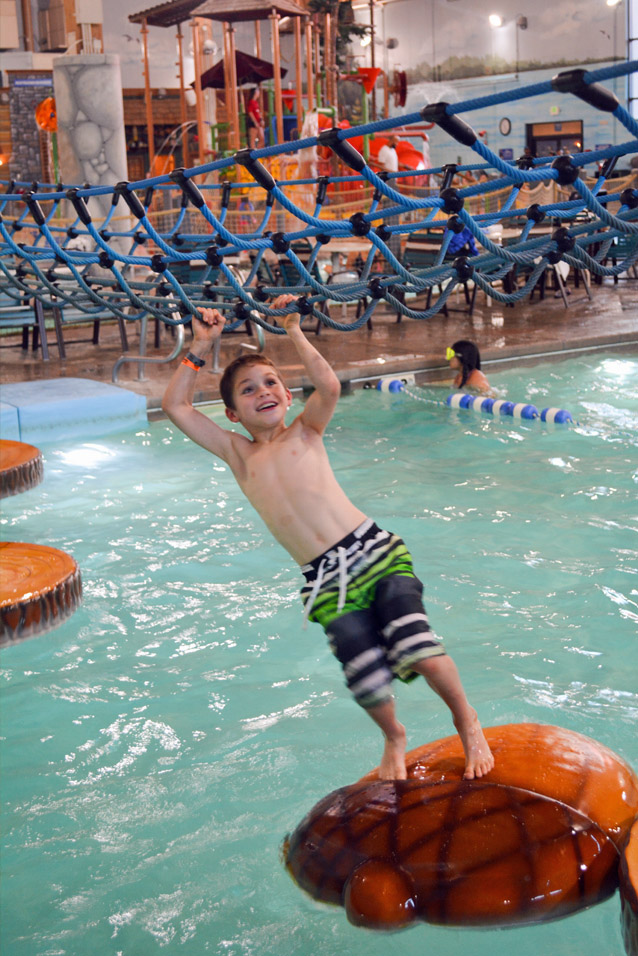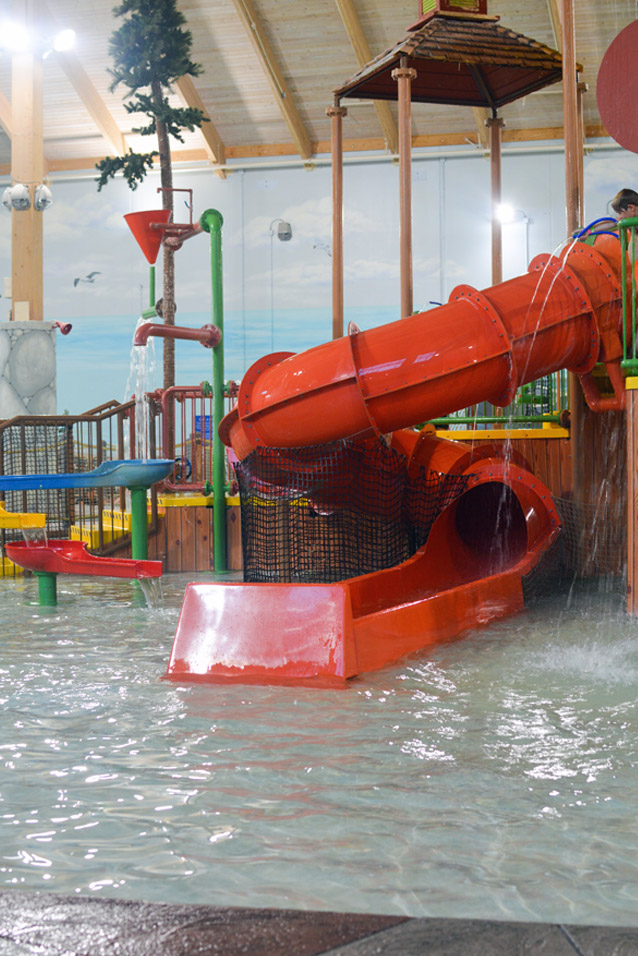 Birthday Wolf Ears for the Birthday guests.
Happy 1st Birthday to the newest member of our Wolf Pack!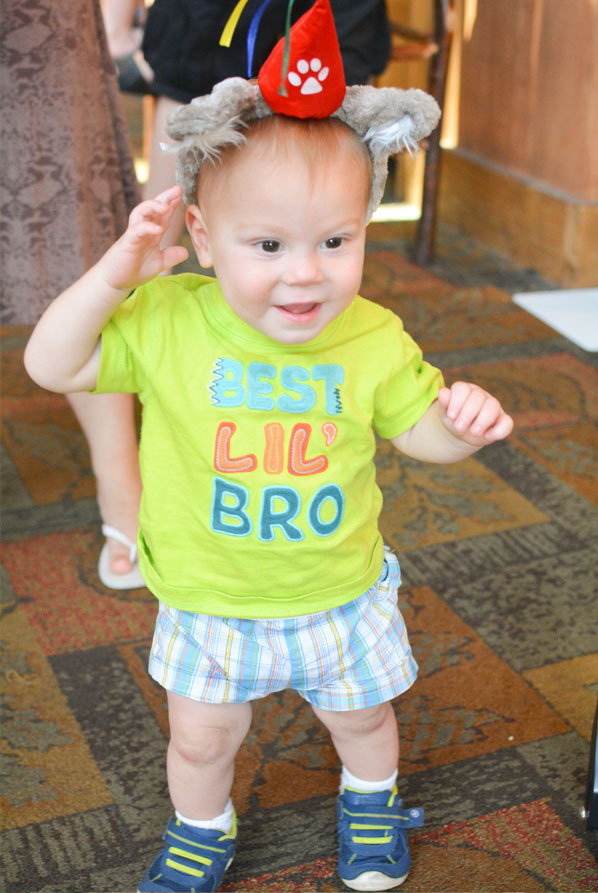 Save
Save
Save