Growing up one of my favorite family dinners was a Chinese Lemon Chicken that my mother made, a recipe passed on from my grandmother. My mother didn't make it too often, but whenever she did, she would always doubled the recipe so I could have the leftovers, I was lucky if there was any left for the next day. Every birthday my siblings and I could choose what we ate for dinner and my answer was always…..lemon chicken. Bite sized battered chicken covered in a sweet lemon sauce. When I moved to Virginia I made sure that she wrote the recipe down to that I could continue making my favorite meal. The first time I made it for my husband it was a huge hit, and is now it is one of his favorite meals also. My husband never eats leftovers, but he will eat lemon chicken leftovers.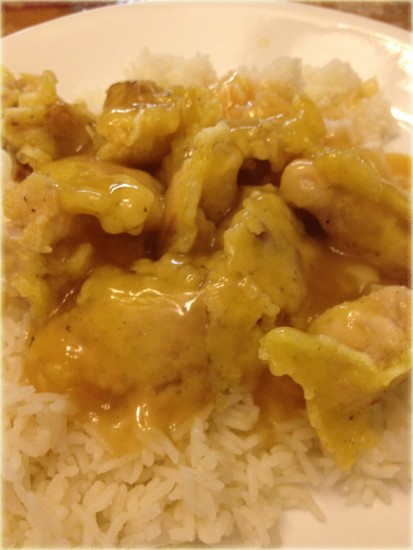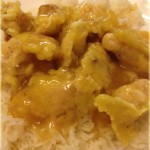 Lemon Chicken
Ingredients
Chicken:
4

whole chicken breasts

1/2

cup

cornstarch

1/2

tsp

salt

1/8

tsp

pepper

1/4

cup

water

4

egg yolks

lightly beaten

3

cups

vegetable oil

4

green onions

sliced (optional)
Lemon Sauce:
1 1/2

cups

water

1/2

cup

lemon juice

3 1/2

tbsp

packed light brown sugar

3

tbsp

cornstarch

3

tbsp

honey

2

tsp

instant chicken bouillon granules

1

tsp

ginger
Instructions
For Chicken:
Remove skin & fat from chicken and discard. Cut breasts in half. Pound chicken lightly with mallet or rolling pin.

Combine cornstarch, salt, and pepper in small bowl. Gradually blend in water and egg yolks.

Pour oil into wok. Heat over high until oil reaches 375 degrees. Dip chicken breasts, one at a time, into cornstarch-egg yolk mixture. Fry breasts 2-3 at a time in the hot oil until golden brown. Drain breasts on paper towel and keep warm until you are finished cooking remaining chicken.

Cut each breast into three or four pieces and arrange on a serving plate, sprinkle with onions.
For Sauce:
Combine all ingredients in medium saucepan, stir until blended. Cook over medium heat, stirring constantly, until sauce boils and thickens, about 5 minutes. Pour over chicken.
I usually cut the chicken into 1 inch pieces, instead of cooking 1/2 a breast at a time, this is just something my mother always did and I continue to do. The sauce is the best part and it's very important that you stir the lemon sauce constantly, if you don't it will not come out correctly, I made this mistake the first time I made it myself, the cornstarch will not dissolve and it doesn't look or taste right.
We serve the lemon chicken and sauce on top of white rice.