This post is brought to you by Kaspersky Lab and The Motherhood. All opinions in this blog are my own
Along with the end of the year, comes the end of the subscription to our Internet security. I always try to grab a deal on Black Friday or Cyber Monday but this year I completely forgot until I recently received the "end of subscription" notice. Luckily for me, I can still score a great deal before our currently subscription expires next week. If you're still looking for a last minute gift this holiday season, Kaspersky Lab is a gift that can keep families safe. Take advantage of up to 50% off Kaspersky Core Products including Kaspersky Antivirus, Kaspersky Internet Security, and Kaspersky Total Security – the best protection for families.
8 Tips For Holiday Shopping Online: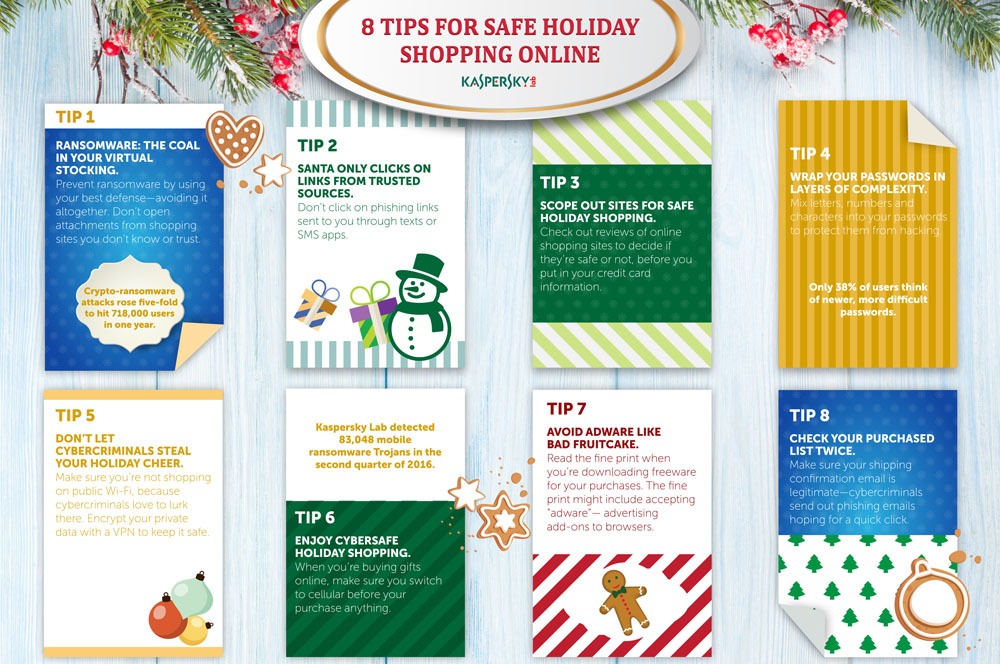 As our family relies more and more on the Internet and WiFi for work, banking, photo storage and entertainment, it's important to have total protection. Kaspersky Total Security not only helps to protect our desktop, but it also protects smartphones and tablets. Until recently I only had Internet security on our desktop and laptop, I never thought to add security to our smartphones and iPads.
Kaspersky Total Security:
Secure computers, smartphones and tablets with multi-device protection
Shop and bank safely with award-winning Safe Money technology
Protect, monitor and set limits for your kids online with Safe Kids technology
Stop webcam hackers from spying into your home
Confirm the security of your Wi-Fi connection
Easily create, sync and manage your passwords
Backup valuable data for free online—including photos and videos
A few years back my children received iPads for Christmas from their grandparents and while they have been great to watch movies and play educational apps with, my third grader has recently learned about Google at school and YouTube. As their knowledge expands so does their curiosity, and as of now I don't have to set screen limits as they only go on their iPads when I tell them they can, but I'm sure in no time they'll be trying to stretch those limits and sneak on after bedtime.
Keep your kids safe

Kaspersky Safe Kids lets you set screen limits, view real-time GPS tracking, receive location and safety alerts.

Protect your family's savings


Safe Money provides layers of protection so you can be sure your shopping or banking site is real and hasn't been hacked.

Privacy: Your browsing is your business

Make safe Wi-Fi connections, block webcam spying and browse the Internet without being tracked.

Don't let your data go public.

Keep complete control of your data by encrypting confidential files, "shredding" deleted files and safeguarding important files with local and online backup.
Don't wait until it's too late. Protect your banking accounts, connected devices and curious kids this holiday season with Kaspersky Lab—the world's most awarded internet security.
Save 50% off!
Through January 10th, receive 50% off Kaspersky Lab core products.