Chicken Parmesan is a classic Italian dish that is perfect for a weeknight dinner.  Breaded chicken tenderloin is topped with tomato sauce and mozzarella and Parmesan cheese and served on top of pasta. This family favorite chicken dish is so easy to make. Double the chicken and you'll have chicken parm subs for lunch the next day.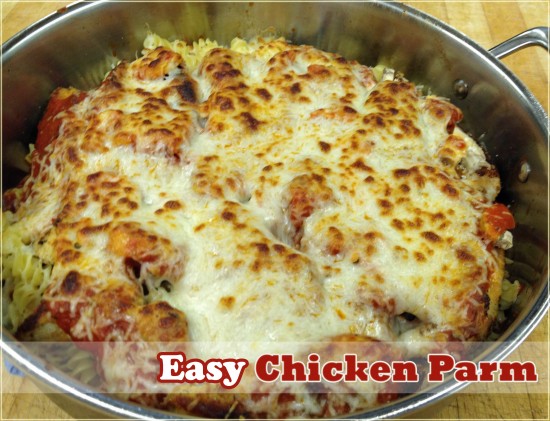 When it comes to cooking dinner for our family, I know I can always count on no complaints with this easy Chicken Parmesan recipe. The kids love it and I know I don't have to deal with trying to get them to eat dinner. Lately my 3 year old has been in a picky phase when it comes to dinnertime and doesn't want to eat what I make. Everything is "yuck!" The joys of a three year old"
This Chicken Parm is an easy yet delicious recipe, and I can quickly double it in case we have friends or family over. If there are any leftovers it makes for an easy lunch the following day. While the children finish up the pasta, my husband and I can enjoy a Chicken Parm sub.
Easy Chicken Parmesan Recipe: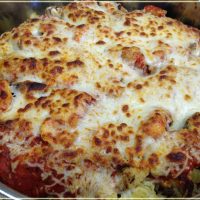 Ingredients
8

chicken tenderloin

about 1 1/2 pounds total, or 4 boneless, skinless chicken breasts, halved horizontally

3/4

cup

breadcrumbs

1

large egg

lightly beaten

16

oz

jar of tomato sauce of choice

warmed

1/4

cup

olive oil

1/2

cup

grated Parmesan cheese

3/4

cups

shredded mozzarella cheese

Pasta of choice
Instructions
Boil pasta according to box. Drain & set aside once finished.

Mix bread crumbs with 1/4 cup of the Parmesan cheese.

While pasta is cooking, dip the chicken tenderloins in the egg and then in the bread crumbs/Parmesan cheese mixture turning to coat both sides. Heat olive oil in a large skillet over medium-high heat. Place the chicken in the oil and cook 3-5 minutes on each side or until cooked through. Remove from skillet.

Spray the bottom of an oven-safe skillet or casserole dish and add 1 cup of spaghetti sauce. Add in pasta, then top with chicken, remaining sauce,1/4 cup Parmesan and mozzarella cheese. Broil until cheese is melted and lightly browned in spots, about 5 minutes.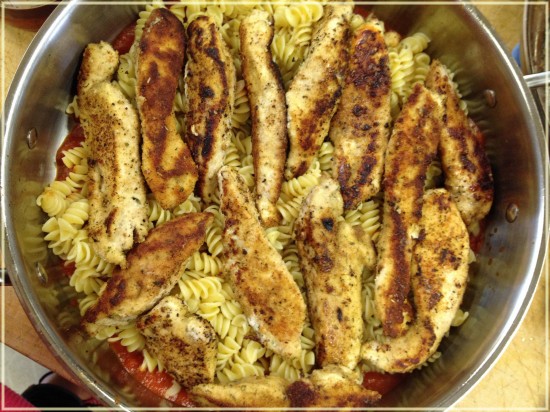 Double this recipe to make lunch the next day. The leftover battered chicken tenderloins are perfect for chicken parm subs!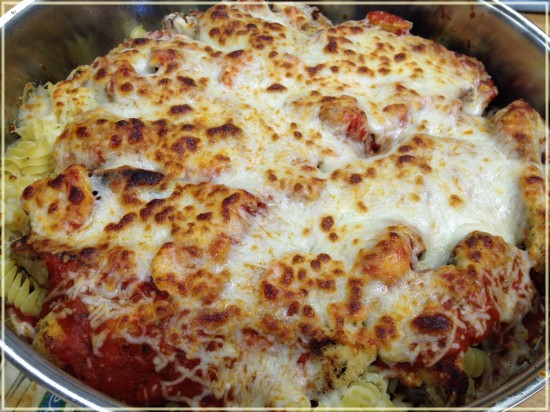 Don't have an oven-safe skillet? Add one to your wish list! I love ours. Instead of having to dirty a couple different dishes, I can cook the chicken on the stove top in the skillet, and then also place it into the oven to broil the cheese. Less cleanup= happy mama.